Review of the Best and Online MP3 Cutters for Mobiles and Desktops
You might also have the same problem of unnecessary parts of a long MP3 audio file that need to be removed which led you to this article. When ensuring the quality of the MP3 file, you don't want to hear any unwanted parts in the audio hence the trimming of MP3. Just one annoying part of an audio and it will surely ruin the entire mood of the song.
Anyhow, there are a lot of tools that can help you trim or split a part of audio. But taking into consideration the accessibility and functionality, we've come up with a list of great MP3 splitters. Depending on your preference, this post includes apps suitable for online and offline usage. In addition, there are tools for both Android and iOS users. Having that said, you can pick the app that matches your requirements.

Part 1. Best Free MP3 Cutters for Web
If you are unsure where to start, you may use some online MP3 cutters that will allow you to edit your MP3 files and remove the unwanted noise on the audio file directly from the webpage. Here we outlined the impressive audio trimmers online which you can utilize absolutely for free.
1. 123 Apps: Audio Cutter
123 Apps is a web-based app that is loaded with lots of useful editing tools for both audio and videos. One of these is the audio trimmer which allows you to select the section that you want to cut using its easy-to-use start and end slider. You can also enter the duration second of the audio that needs to be cut using this free MP3 cutter.
Pros
Comes with a built-in audio player
Specify the duration time to cut
Save audio as iPhone ringtone
Cons
Takes so much time uploading long audio file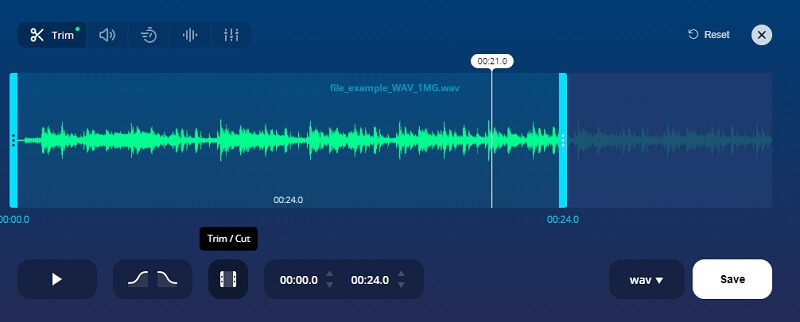 2. Audio Trimmer: Online Audio & Mp3 Cutter
Online Audio & Mp3 Cutter is another online program that enables you to cut or trim MP3 audio files from the comfort of your web browser. Therefore, you can achieve your task without installing any software on your computer. The program is in fact simple and easy to maneuver. There are two modes in this app that makes it unique. You can select between Keep and Remove mode that will determine what action the audio trimmer online tool will perform on the selected parts of the audio.
Pros
Supports audio formats like MP3, WAV, WMA, OGG, etc.
2Comes with fade in and out function
Simple and clear bar menu
Cons
Only available in M4A and M4R output format
Large portion of ads on the interface of the program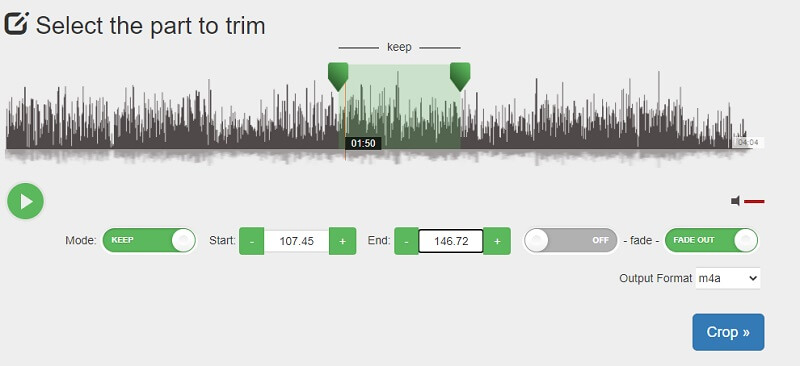 3. Clideo: Audio Cutter Online
The list of online audio cutters will not be complete without Clideo. It provides you the opportunity to import your media files from local drive, via link, and from Dropbox and Google Drive. Similarly, the program enables you to trim MP3 files by defining the required time in seconds as well as the conventional way of dragging the sliders.
Pros
Offers 3 ways to upload MP3 files
Compatible to almost all well-known browsers
Export to other audio format you may need
Cons
Uploading and analyzing of files can be a bit slow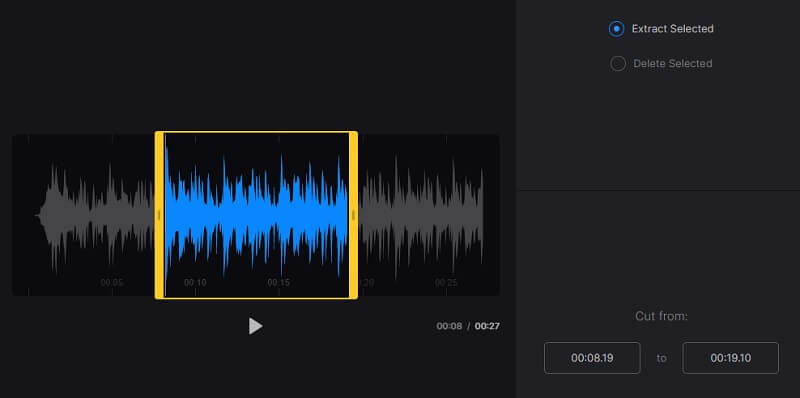 Part 2. Excellent MP3 Cutter Program for Desktop
Vidmore Video Converter is one of the remarkable tools when it comes to the MP3 cutters. It's got a lot of impressive and innovative features such as the capability to convert files to many formats. The modus operandi of this tool is to convert media files into other formats. Through this feature, you will be able to extract audios from videos with great ease.
More importantly, you will be able to edit your MP3 files through the split and trim function of the software. That means you'll be able to remove the unwanted or unnecessary parts of the MP3 audio file. In addition, you can convert the file to M4R allowing you to produce an iPhone ringtone. On top of that, the program provides support to device formats like Android, iPhone, Samsung, TV, and so much more. To learn more about this tool, you may look at the following instructions to utilize it.
Key Features:
1. Comes with various music editing features like adjusting volume, delay, and channel.
2. Trim MP3 files without compromising the quality.
3. Split audio into multiple segments or fragments.
4. Cut MP3 files without compromising the quality.
Step 1. Download and install MP3 Cutter Software
Before anything else, acquire the program by clicking the Free Download button presented above. If your computer is running Windows OS, choose the button for Windows. On the other hand, choose the button for Mac, if you are using a Mac computer. Then install the program and launch it.
Step 2. Load the MP3 file
After that, click the Plus button in the middle of the running interface and it will open a folder. Browse through the files, select your target MP3 file and click the Open button.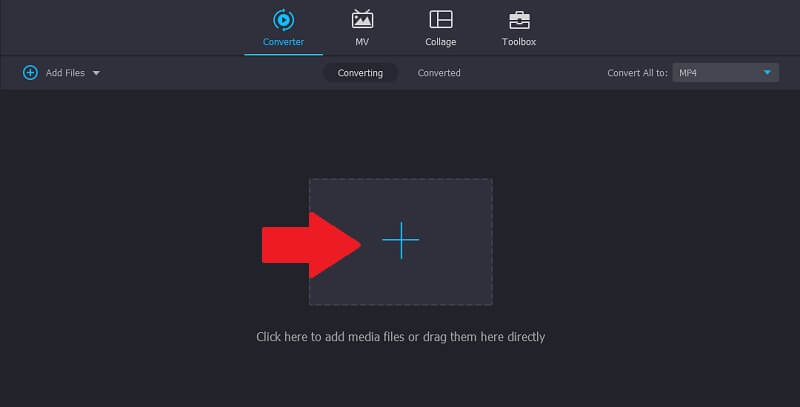 Step 3. Cut unwanted audio parts
To cut some parts of the audio, click the Cut icon associated with the audio file and the music editor of the tool will emerge. On the right section, you will see the navigation controls for editing the sound. Determine which part you want to remove by moving the Playhead in the timeline then click the Split button.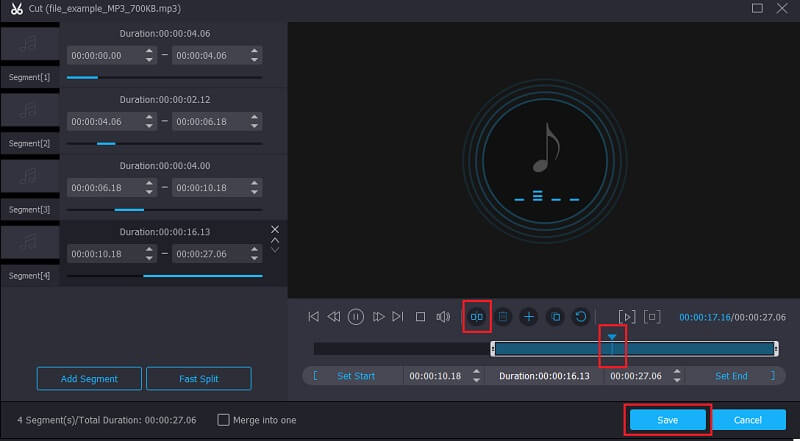 The left portion from where the Playhead is placed is the only part that will be removed. While the right portion will remain. Hit the Save button once you are done with the changes.
Step 4. Save the edited MP3
Now go back to the Converter tab and click on the Profile menu. You can keep the original file format by selecting MP3 from the Audio tab as an output format or choose from other available audio formats to meet your needs. After choosing an output format, click the Convert All button to save the edited MP3.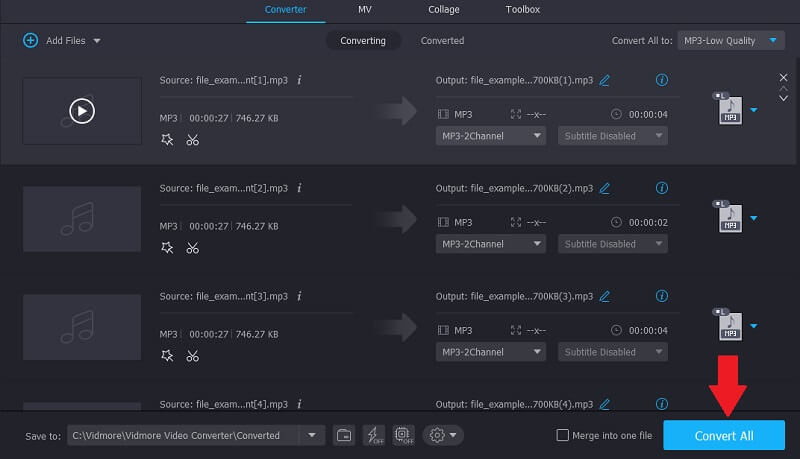 Part 3. Top Android and iOS MP3 Cutter Apps
For a simple trimming of audio files, mobile apps should be able to get you through. Here we will have an overview of the best MP3 cutters that are compatible with Android and iOS devices.
1. FilmoraGo
First on the list of mobile MP3 cutter apps is FilmoraGo. It comes with trim and split capabilities that allows you to omit the unnecessary parts of an audio. Besides, there is a music library that you can freely use along with the built-in sound effects to enhance your audio. Aside from that, you can also easily share the tracks you created on social networking sites. This includes Facebook, YouTube, Instagram and many more.
Pros
Integrate sound effects to audio
Record voice narration
Simple and clean user-interface
Cons
Cannot import music from iCloud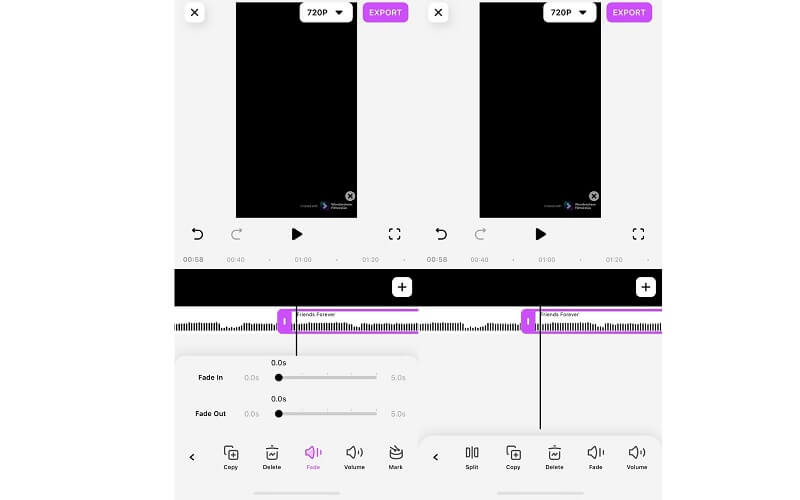 2. GarageBand
You can also use GarageBand to edit your music track from the comfort of your mobile device. This MP3 cutter can be downloaded on Android and Apple devices for cutting, editing, mixing, and recording songs. Moreover, it has all the necessary capabilities for producing high-quality audio. With it, you'll be able to record using a MIDI tool, create drum loops, make beats, incorporate filters, and a lot more. The best part is the tool lets you upload songs onto iTunes directly.
Pros
Upload music to directly to iTunes
Record songs with real instruments
Combine upto 8 tracks
Cons
Has a high learning curve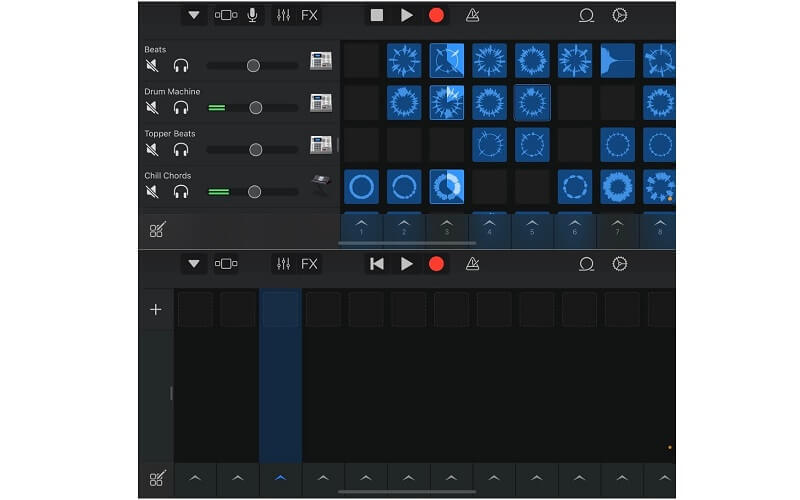 3. MP3 Cutter
Another MP3 cutter and ringtone maker that you can opt to use is MP3Cutter. This is a mobile app used for editing music files including MP3. It is equipped with cutting and merging functionalities. Not only can it trim MP3, but also WAV, WMA, FLAC, M4A, AIFF, and many other audio files. Aside from that, you are also entitled to modify the output of the music track by changing the export quality as well as the file size as you like.
Pros
Recognizes and lists all MP3 songs stored in the SD card
Comes with built-in MP3 media player
User-friendly and responsive interface
Cons
Does not allow setting personal folder for the edited audios
Shows ads on the screen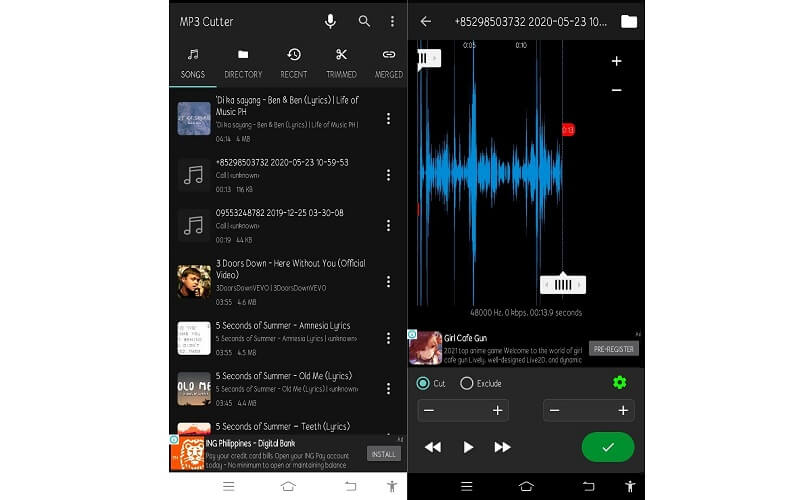 Part 4. FAQs of MP3 Cutter
How to use Windows Media Player to trim an MP3?
Windows Media Player is a multimedia player intended for streaming audio and videos on Windows. Hence, if you're running a Windows computer, you might want to learn how to cut MP3 from Windows Media Player directly. Unfortunately, you cannot edit MP3 files straight from WMP. To achieve this, you need to download and install a plugin to the program called SolveigMM WWP WMP Trimmer Plugin. By then, you'll be able to edit and remove unwanted parts that are loaded into the MP3 audio file and even let you make iPhone ringtones.
Can I mashup songs?
By definition, mashup is a process of combining two or more pre-recorded songs to compose or produce a seamless soundtrack. In layman's terms, it is simply overlaying the vocals of a song over another track with no apparent parts or gaps. Yes. You can do this using free tools like Audacity as it enables you to merge audio tracks at the same time. On top of that, it's an easy MP3 cutter free to download for Mac or Windows PC.
How can I shorten an MP3 audio file?
You will still need an MP3 cutter or trimmer to get this job done. Open any MP3 cutter you wish to use and choose a part that you would like to cut. Then click the trimming button provided by the program. Then, you should have a shortened version of your MP3 file.
Conclusion
All the tools mentioned above will enable you to trim, cut, or split audio and remove unwanted parts of the MP3 file. On the other hand, this post presents 3 methods for cutting MP3 files. The MP3 cutters can be categorized into online, offline, and mobile methods yet share the same purpose of cutting audio files to cater to every user's needs. Being that said, you can pick the online solutions if you are in search of an MP3 clipper for Mac or Windows and are not willing to download third-party software. Yet if you need software that is not limited to features and functionalities, you can opt to use a desktop program. As for users who are looking for an audio editor that can be accessed from mobiles, the latter solutions would be nice options.