6 Most Reliable MP3 to MOV Converter: Online and Offline
It is common knowledge that the MP3 format is one of the most widely used audio file types and is suitable for practically any device. On the other hand, this format is lossy, eliminating part of the information previously associated with the audio. Because of this, some people find it more convenient to save their files in a video format such as MOV. It is not yet the end since you may still convert your audio file to a video format if you want to ensure that the quality of the file you saved is preserved. Examine the most effective MP3 to MOV converters available online and offline in great detail.

Part 1. The Best MP3 to MOV Converter
1. Vidmore Video Converter
Vidmore Video Converter is your best bet and most likely your pick when it comes to converting MP3 to MOV. It is a piece of software that can convert audio and video and may be used on Windows or Mac computers. This application does not function as a straightforward converter. In addition to that, it can edit, extract, and create collages. In addition to that, it supports over 200 different file formats.
Because it offers simple editing features, this program satisfies the needs of many users who enjoy converting their files to various formats. In contrast to other video and audio converters, where only experienced users can traverse the interface, everyone may use this one. Another benefit of using the Vidmore Video Converter is that it does not degrade the quality of the files you convert. Because of this, many people are shocked by it.
Here is a simplified instruction on how to convert MP3 to MOV.
Step 1: First, you have to visit the software's main page to get it. When you get to the official website, tap Free Download and stand in line until the software is deployed. But that's not the end of it. You must also install the Vidmore Video Converter's launcher to work right on your device.
Step 2: Second, you are free to launch the program at this time. To upload the MP3 file onto your smartphone, choose the Add files option on the left side of the screen or select the Plus button.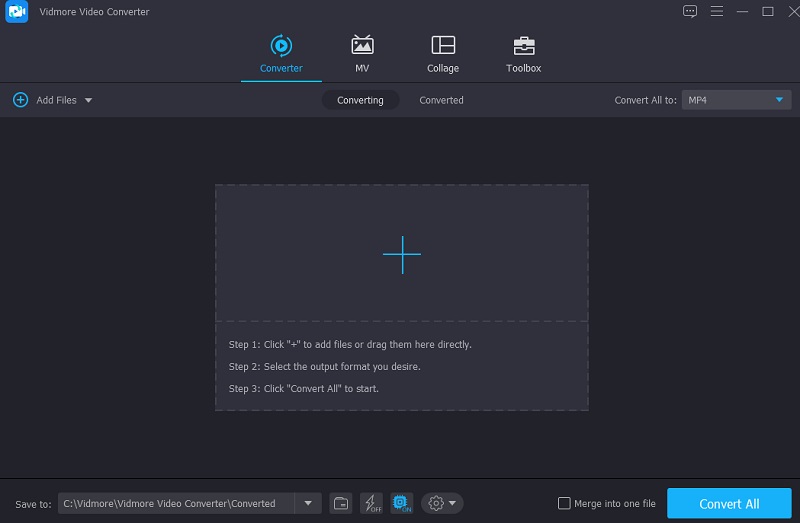 Step 3: An arrow with a dropdown menu will appear next to the audio file. To access the videos, you'll need to press that button. Choose the MOV file format.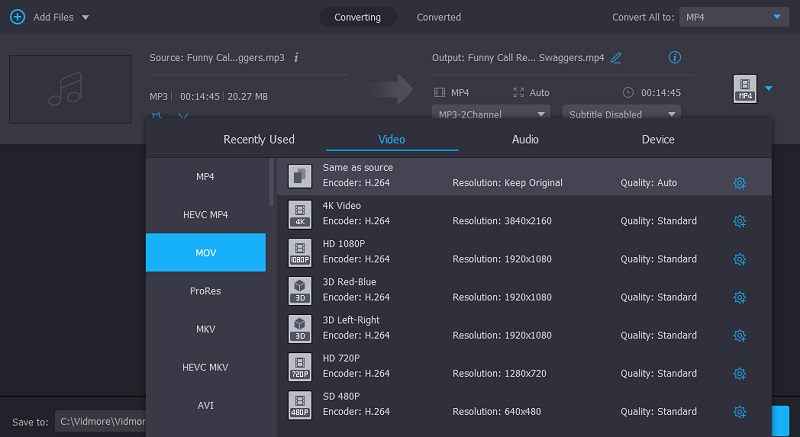 You may locate the Settings icon on the MOV format by looking to the right side of the format. This symbol stores the remaining information about your file. By adjusting the bitrate, channel, and sampling rate, you may increase or decrease the file size of the output. Once you are satisfied with everything, click the option labeled Create New.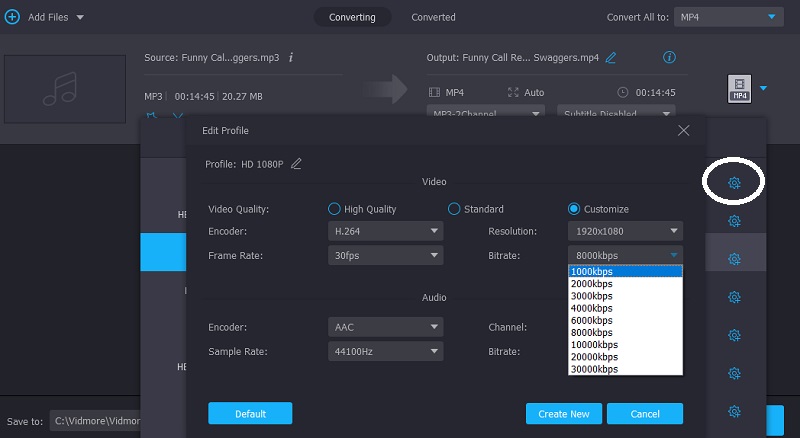 Step 4: In conclusion, after making changes to your file, you must convert it and export it to the appropriate location. To begin the conversion, choose the symbol that looks like a conversion sign and presses it.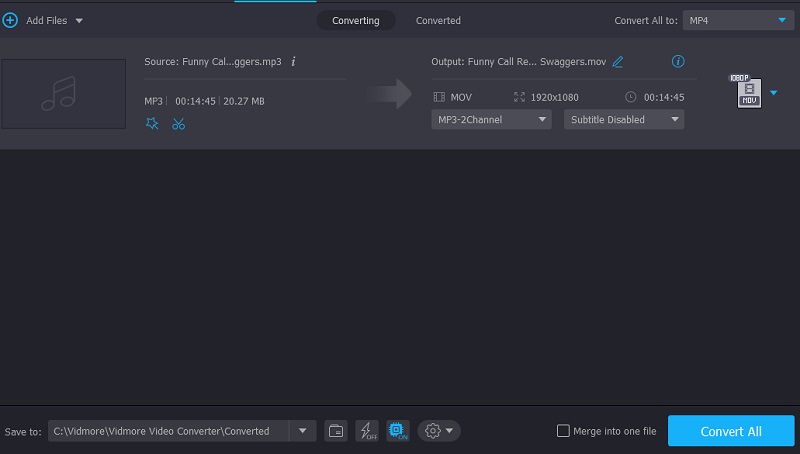 Part 2. MP3 to MOV Converters Offline
2. Freemake Audio Converter
The Freemake Audio Converter is compatible with Windows and can convert audio files to various formats. Because this software was designed to convert audio precisely, the finished product will be of very high quality. It includes several valuable capabilities, such as converting many files simultaneously while maintaining quality.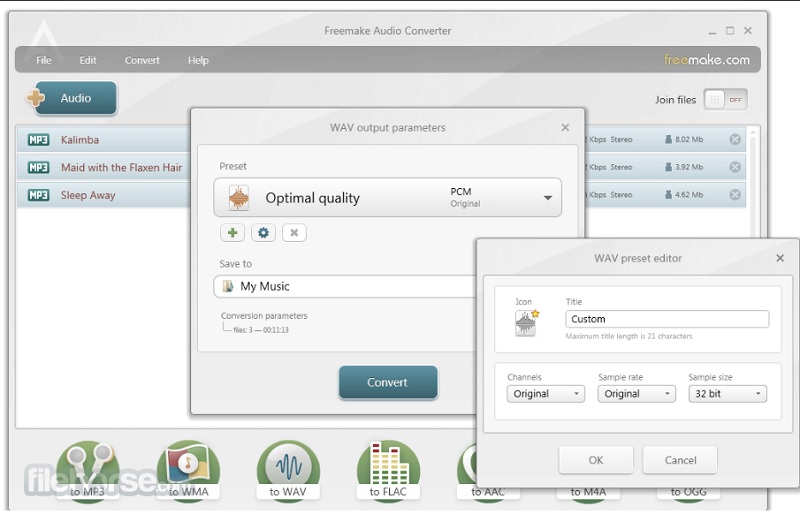 3. Format Factory
The program is not very advanced, but it offers comprehensive support for all aspects relating to media files. It supports various file format conversions and has several entertaining features, such as converting many files at once in a batch. The program supports various languages and provides a selection of skins that you may apply to the interface to give it a customized look.
The program known as Format Factory runs on Windows. In addition to that, it has the capability of decreasing the size of large files. Additionally, it enables some file formats to reduce their size without lowering the quality of the material they contain.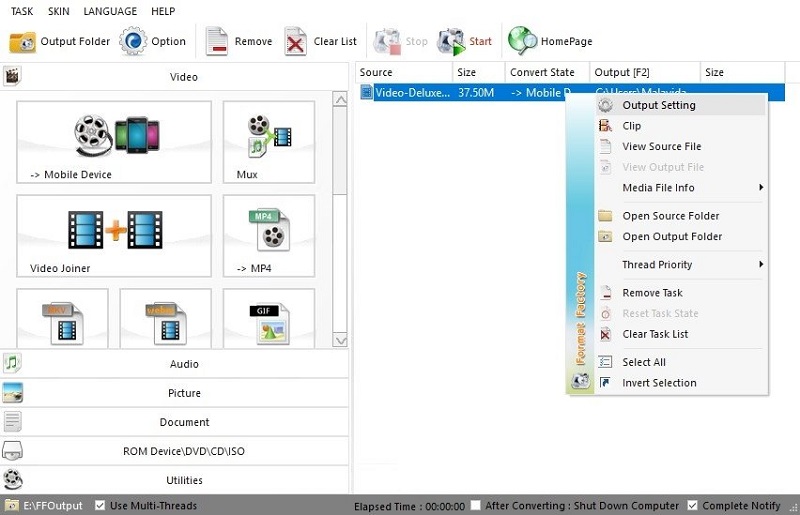 4. Handbrake
Handbrake is a free and open-source video encoder and decoder that works on all three major operating systems: Linux, Mac, and Windows. Anyone may use Handbrake to make movies. In post-production, the tool known as Handbrake is used. You will have the slightest difficulty converting videos from recognized input types to MP4, MKV, or MOV format. Please make use of the proper video editing software if you desire to make modifications to your source video. In addition to that, it may modify the original video following your preferences.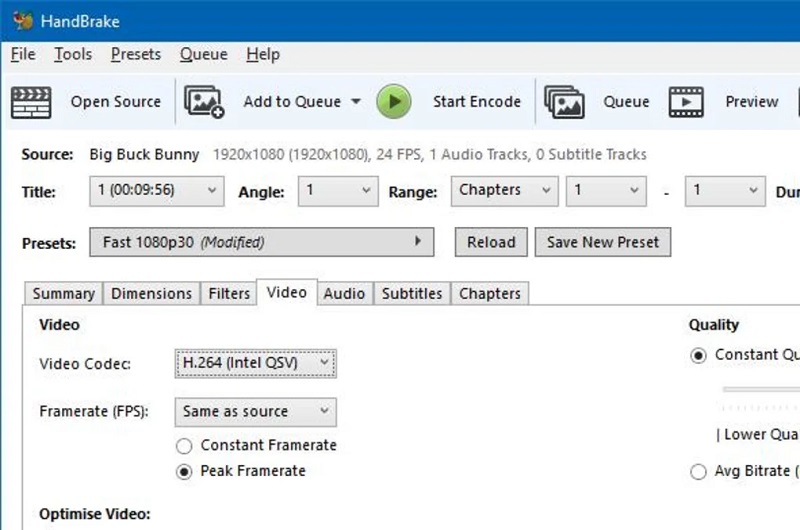 Part 3. MP3 to MOV Converters Online
This section will show some of the most used MP3 to MOV converters on the internet.
5. Freeconvert.com
FreeConvert.com is yet another trustworthy piece of web software that you are free to make use of. It can convert films, audio files, pictures, and documents into various formats. This web-based application provides compatibility for several file formats, all of which are appropriate for usage with your file. Because its conversion process is quick, using it to convert the files you need will take much less time. Because of this, it becomes an even more helpful tool for users.
However, you may only upload the file size to a specific limit. You will be required to register on their website to have access to files of a larger size.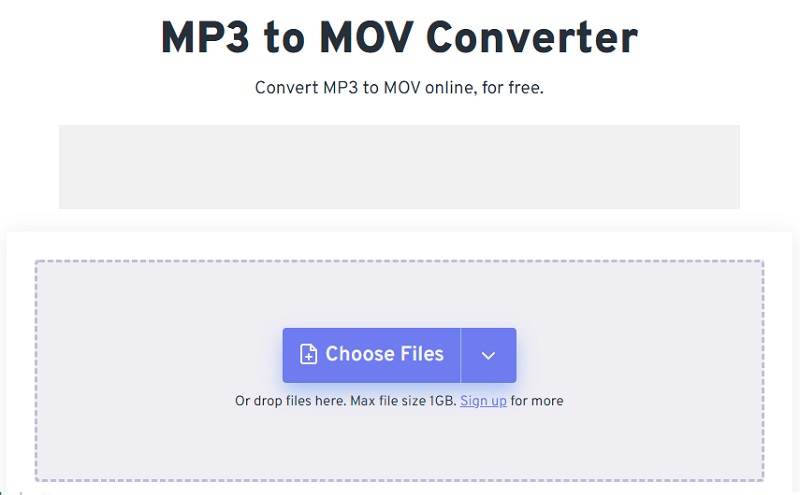 6. CloudConvert
Cloudconvert is an application that enables users to convert audio files swiftly and has a simple interface. In addition to selecting all of the other information shown on the main page, such as the resolution, aspect ratio, consistency, and quality, you will also be required to choose the file. Choose each one, and you will automatically get the document in the appropriate format. The overall quality of the video will not suffer in any way at any point throughout the process.

Part 4. FAQs About MP3 to MOV Converter
Is the MP3 format still widely used?
Even though more effective audio codecs with more sophisticated features are available today, consumers strongly prefer the MP3 format. Conversely, most cutting-edge media services, including streaming or broadcasting on television and radio, use contemporary codecs like those in the AAC family.
What are some of the benefits of using the MOV format?
MOV files often have more excellent quality, but their size is much more significant. Because they were developed exclusively for QuickTime, MOV files are the preferred format for video editing on a Mac.
Does MOV employ lossy compression?
MOV uses the notion of tracks to save data, which can swiftly apply to storing movies, video files, and dates. It also employs lossy compression to lower the size of the videos to store them, which results in the videos having the lowest possible quality after compression.
Conclusions
With the assistance of the most valuable converters listed above, you can now convert MP3 to MOV format without encountering difficulties. You can access additional applications online that will be of use to you and do not need software installation on your device. Vidmore Video Converter is a piece of software that you should trust if you want to have the ability to convert videos on a Windows or Mac device. While still maintaining a user-friendly interface.