How to Convert MP4 to MOV in Four Effortless Methods
MP4 format is undeniably the best choice for flexibility and compatibility. That is why many users prefer this format in terms of video formats. Considered the king of video formats, it can be played on various tablets, smartphones, laptops, and media players without any limitation. Additionally, this file type compresses the video in smaller file size while retaining the quality.
Due to obtaining MP4 files from the internet or friends, there may be cases when you find that applications on Mac do not support your MP4 file. Say you wish to play it in iTunes, QuickTime Player, or iMove, yet it is not playable. One easy hack you should learn is how to change MP4 to MOV. As we know, MOV is the default media format for Apple applications and devices. With this in mind, we will show you five notable solutions to get this done effortlessly.

Part 1. Why Need to Convert MP4 to MOV
The first format that will come into mind in terms of video format is MP4. You can expect high compatibility and flexibility. As a matter of fact, it can produce a decent video quality in smaller file size. In other words, it does not sacrifice the quality even when the file size is reduced. This is perfect if you are storing a large number of video files.
Although MP4 is hailed as the king of formats, it has its own share of disadvantages. One is that there are times when you can not play MP4 files on Mac applications and OS applications smoothly. Be it in editing and playback, it does not always work flawlessly. That is why Mac users would want to change videos from MP4 to MOV. Fortunately, reliable tools are tuned to help you achieve this conversion task. Continue reading to learn about these programs.
Part 2. Ultimate Way to Convert MP4 to MOV on Windows/Mac
Utilizing a professional program such as Vidmore Video Converter can help you convert MP4 to MOV on Mac or Windows PC. This tool is so great because it does not have file size limitations. Not to mention, you can convert multiple files simultaneously without worrying about your number of converts. Furthermore, it can customize the video resolution and output quality to your preference.
Over and above, it is not only designed for converting but also for cutting, rotating, and combining videos. Overall, the performance, especially conversion, is more than satisfying. If you wish to use this video converter for MP4 to MOV conversion tasks, look into the following step-by-step procedure.
Step 1. Download the MP4 to MOV Converter
First things first, get the application. To do so, click on the Free Download buttons underneath and install the app. Afterward, launch the program to see the main interface.
Step 2. Upload the MP4 to be converted
After loading the app, click the Plus symbol in the Converter tab and browse your target MP4 video you wish to modify. Upload it afterward. Another way of uploading media files is by dragging and dropping the video into the upload area.
Step 3. Choose MOV as the output format
Next, open the Profile tray of the app and head over to the Video tab. On the left-hand side of the tray, look for MOV and select it. Choose quality from the list of options that will appear.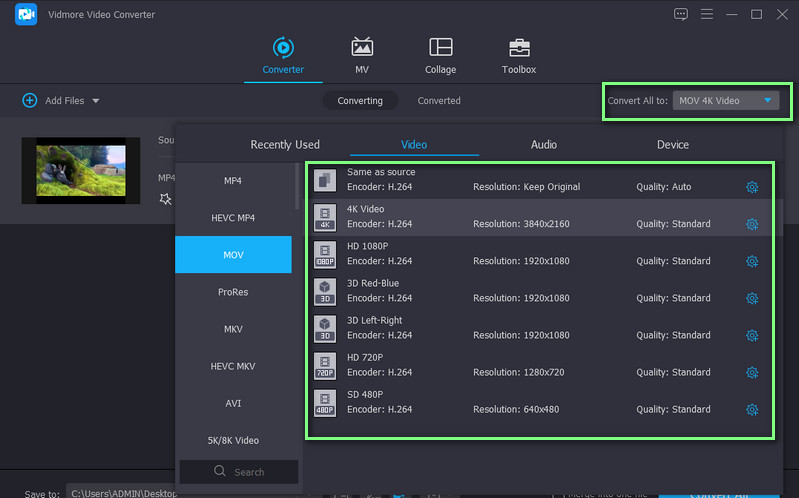 Step 4. Convert MP4 to MOV
Once done, set a file directory by clicking the Folder icon at the bottom interface of the tool. Then, click the Convert All button at the bottom right corner. The result will appear from a folder after the quick conversion.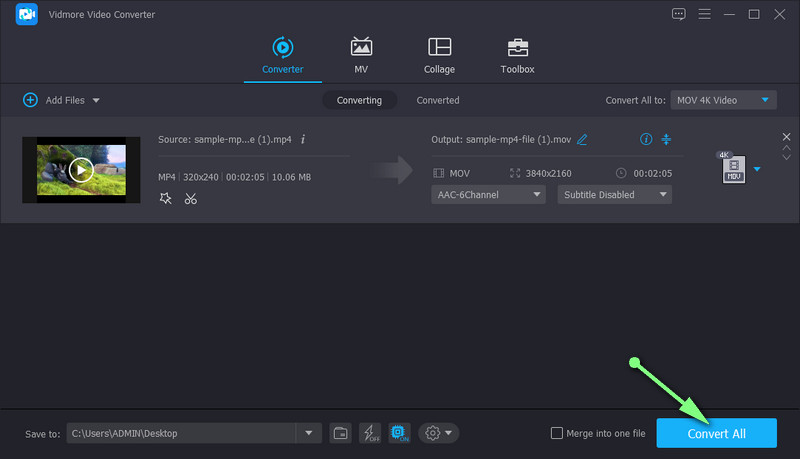 Part 3. Methods How to Convert MP4 to MOV for Free
If you are looking for MP4 to MOV converters for free, these four applications are recommended for you to use. You shall not be limited to one option but convert with more video converter solutions. Refer to the programs given below.
1. FFmpeg
FFmpeg is a free application designed to solve problems related to audio and video. It can help you convert, record, and stream media files. With it, you may re-encode videos allowing you to alter codec settings according to your requirements. Apart from that, this can also be used to create GIFs and trim videos. Overall, it is a helpful program for users looking for a free and effective solution to manipulate videos. However, not every user finds it friendly since it runs using a command prompt to communicate with the tool. You may refer to the FFmpeg MP4 to MOV conversion task below.
Step 1. First off, download FFmpeg from its official website and install it on your computer.
Step 2. Now, navigate to where your target MP4 track is located. On the folder directory path, type in CMD, and it will automatically bring you to the same folder from the CMD.
Step 3. On CMD, type in ffmpeg -i . It should look like this: ffmpeg -i sample.mp4 output.mov. Then, hit Enter to process the file.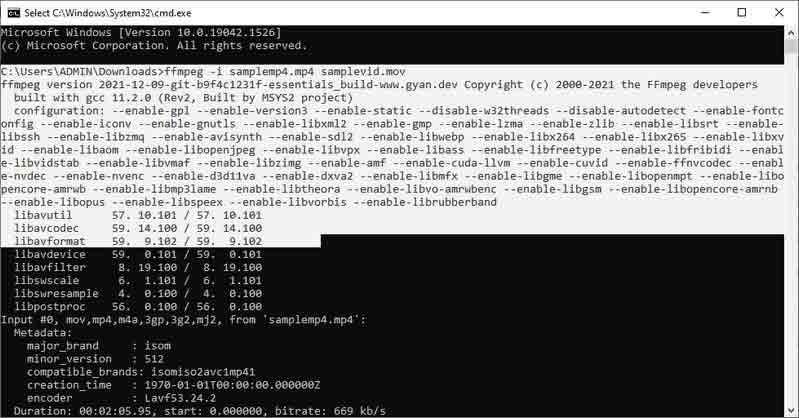 2. VLC media player
Yet another program that can aid in converting MP4 to MOV effectively. That is right. Aside from its media streaming capability, it comes with more advanced functions such as converting, trimming, editing, rotating, etc. The tool is 100% free to use whether you are using a Mac or Windows PC. There are also no restrictions or limitations. If you are asking, can VLC convert MP4 to MOV? Absolutely! Here are the steps on how to do it.
Step 1. Make sure that the program is downloaded on your computer and launch it.
Step 2. Navigate to Media > Convert/Save. Then a dialog box will appear. From here, click Add and choose the MP4 file you wish to convert.
Step 3. This time, click on the Convert/Save button and create a new profile. Tick on the MP4/MOV radio button from the Encapsulation tab and click Create.
Step 4. Drop down the menu from the Profile and select the newly created profile, and hit Start to initialize the process.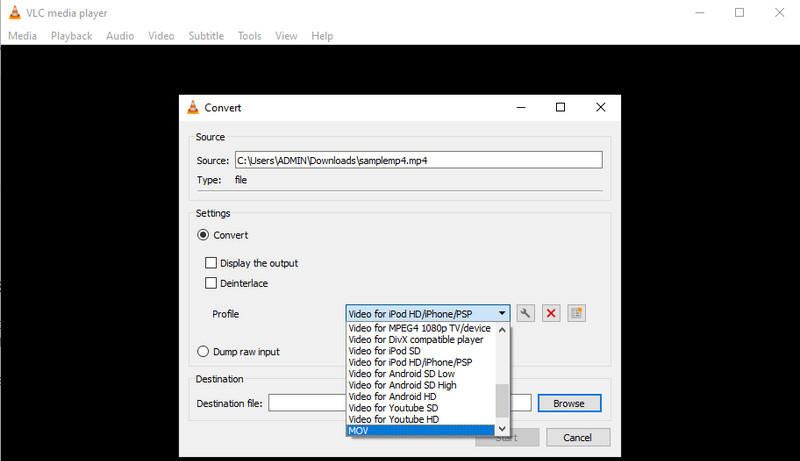 3. Any Video Converter
Another tool that could help you convert MP4 to MOV on Mac on Windows 10 or Mac is Any Video Converter. The tool enables you to convert files of your chosen format at high speed without compromising the original quality. Besides, it also comes with adjustable parameters to help you get your desired output. Come to know how this tool works by following the guidelines below.
Step 1. Firstly, acquire the program and install it by following the wizards.
Step 2. Next, open the app and add the MP4 file you wish to modify.
Step 3. Open the Profile tray at the top right portion of the interface and choose the MOV format from the menu. Lastly, hit the Convert Now! button next to the profile menu to begin converting.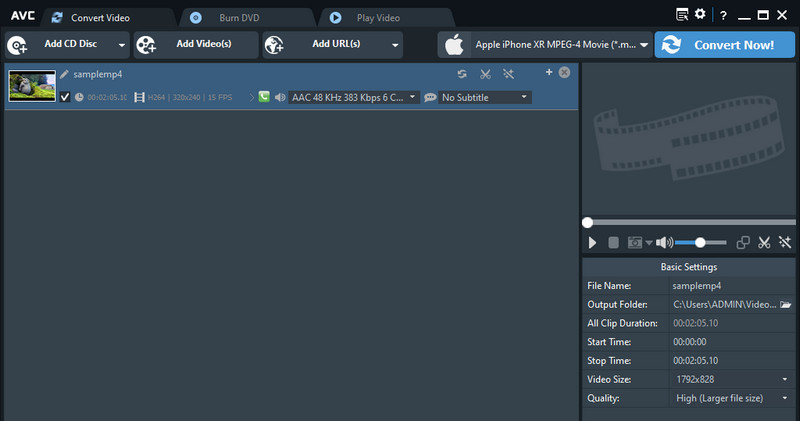 4. MediaHuman Video Converter
Last on the list of MP4 to MOV converters is MediaHuman Video Converter. This is also a free program developed to ease the stress of converting media files. The tool is compatible with both Windows and Mac computer systems. It is desirable to use because it comes with a clean and easy-to-use interface. There is no complicated setup, and you can convert files in bulk limitlessly. Learn how to convert MP4 to MOV through the instructions underneath.
Step 1. The first thing you have to do is grab the tool's installer and launch it.
Step 2. Now, upload a video by dragging and dropping the file into the program's interface. Or, click the Plus symbol and locate your target MP4 video.
Step 3. At this point, click on the Format button and select MOV from the menu to set it as the output format. Then, hit the Start conversion button next to the profile menu to commence the conversion task.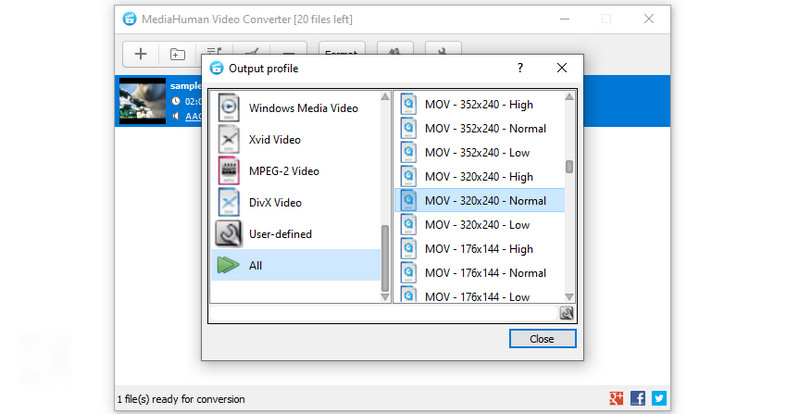 Further Reading:
Best MOV Metadata Editor on Mac and Windows Devices
Top 5 MP4 Trimmer and Cutter Solution to Cut MP4 Videos
Part 4. FAQs on Converting MP4 to MOV
Can you convert MP4 to MOV in Adobe Media Encoder?
Yes. This can be done by launching the tool's Export Settings. From here, select QuickTime, which is under the Format menu. Once done, hit the Start button to begin transcoding from MP4 to MOV instantly.
Can I HandBrake convert MP4 to MOV?
Unfortunately, no. It can only convert MP4 files to MKV and WebM video files. But, there are advanced functions you can access for free, like adjusting the parameters and so on.
Can you convert MP4 to MOV in Premiere?
Absolutely! Under the Export Setting of the app, select QuickTime from the Format option. Adjust the parameters to fit your preference and Hit Export to transform the MP4 file to MOV.
Conclusion
Converting MP4 to MOV does not need to be complicated. Using the appropriate program for your needs will make the task easier and faster. Hence, we sorted some effective yet efficient solutions for this kind of need. It is up to you now which app you think suits your personal preference well.