Best Filmora File Converters to Convert & Share Your Projects
Filmora project files are the backbone of your video editing projects created in Wondershare Filmora. These files contain all the media assets, edits, effects, and options that make up your unique video creation. However, there may be situations where you need to share or convert your Filmora project files for different purposes. That is where a Filmora project file converter comes in, which this post will present. It allows you to transform your Filmora project files into different formats, ensuring compatibility and ease of sharing. Without further ado, let's embark on this journey.

Part 1. Best Filmora Project File Converter Offline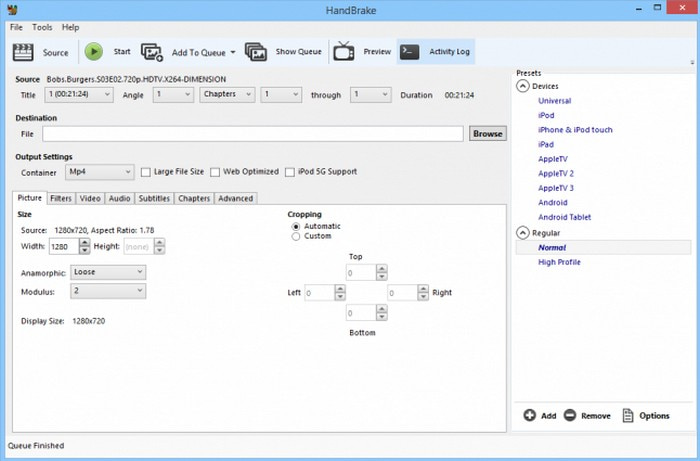 HandBrake is a popular and widely used open-source video converter and transcoder. It is available for multiple operating systems, including Mac, Linux, and Windows, making it accessible to many users. It offers a user-friendly interface and excellent features for converting video files to various formats. This program supports various input and output formats, such as popular video formats like MP4, MOV, AVI, MKV, and more. Besides that, it supports various codecs, such as VP9, H.264, and H.265, etc. HandBrake allows users to convert multiple videos at once using the batch conversion feature. It can help users save time when they have multiple files to convert. In addition, it enables users to customize the settings, including audio and video codec, bitrate, frame rate, resolution, and more. Amazing, right?
This program can help you convert the WFP file to another video format it holds. Users must export the file from the converter and select their desired output format for the converted file. In addition, users can configure any additional output options or settings if required. Once settled, users can start the conversion process and wait for it to complete. Afterward, the converted file will be placed in the specified output folder.
Part 2. Free WFP File Converter Online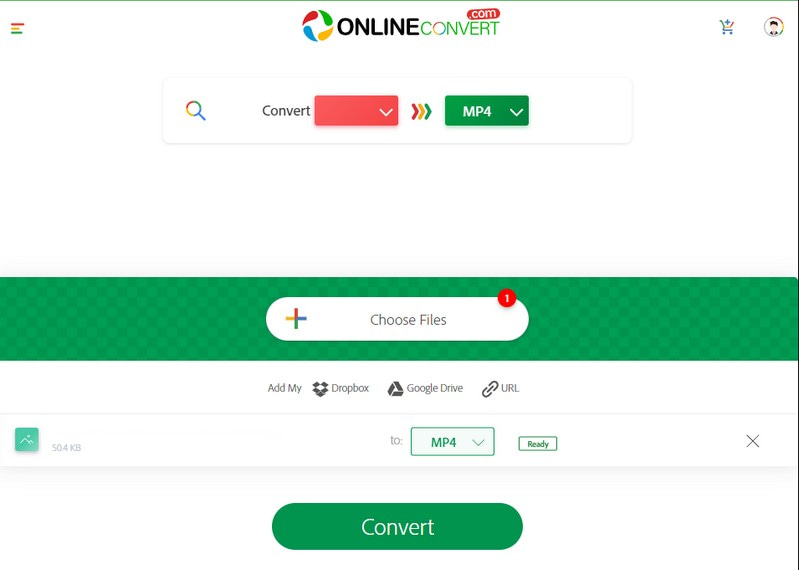 For instance, if you prefer to use a free WFP file converter you can access online, you can count on OnlineConvert. It is a popular file conversion platform that enables users to convert various file formats quickly and conveniently. It supports many file types, such as audio, videos, images, documents, archives, eBooks, etc. This web-based converter helps convert a file format to make it compatible with a specific platform or device. Besides that, it is helpful if you want to change the format for other purposes.
This platform provides an intuitive interface, making it easy for users to upload files, select the desired output format, and initiate conversion. It performs all file conversion in the cloud, eliminating users needing to install plugins or programs on their devices. On top of that, it is a WFP file converter online, which can help you convert WFP files to another format, like MP4, a widely used format for almost platforms. In addition, OnlineConvert offers additional customization settings, like modifying the parameters like compression, quality, resolution, and more for specific file types. The converted WFP file will be downloaded once the process is complete.
Part 3. How to Convert WFP File With No Watermark
Is there one program that can help you convert WFP files without embedding a watermark on your output? If so, we introduce Vidmore Screen Recorder, a program that can help you record video and audio using your computer.
Vidmore Screen Recorder allows you to record WFP file and save it in another format you prefer. It permits you to record the entire screen or select your desired screen size to record everything. While recording, you can add shapes, texts, arrows, highlights, and more. In addition, you can turn on the Webcam, System Sound, and Microphone to record your face and audio while the recording is ongoing. Once the recording is finished, you can pick your desired format to convert the WFP file to another format without a watermark.
Rely on the steps below to learn how to convert a WFP file with no watermark using Vidmore Screen Recorder:
Step 1. First and foremost, download Vidmore Screen Recorder from the official website. When downloaded, proceed to install and run the program on your computer.
Step 2. From the main interface, you will see various recording features; from there, select Video Recorder. Turn on Display1 and pick your desired screen size to record full screen or custom. Next, turn on Webcam to add your face to the recording. Then, turn on the System Sound to record the audio from the video playing through your computer. Lastly, turn on the Microphone if you want to incorporate your voice into the recording.

Step 3. When the settings are settled, return to Filmora, and prepare the WFP file you will play. When settled, hit the REC button colored in red to start recording the WFP file.

Step 4. Once the recording begins, you will see options to pause, resume, and stop the recording. You can use these options to control the video screen recording process. Once you are done recording the WFP file in Filmora, click the Stop button to end the recording process.
Step 5. The window player will appear on your screen once you click the Stop button. Here, you can play your recorded WFP file and remove unnecessary parts from start to end. With that, the essential parts from the recording will remain, and the unnecessary will be removed.
When satisfied with the output, hit the Save button, and save it based on your desired format. After that, the WFP file is converted to another format without a watermark embedded.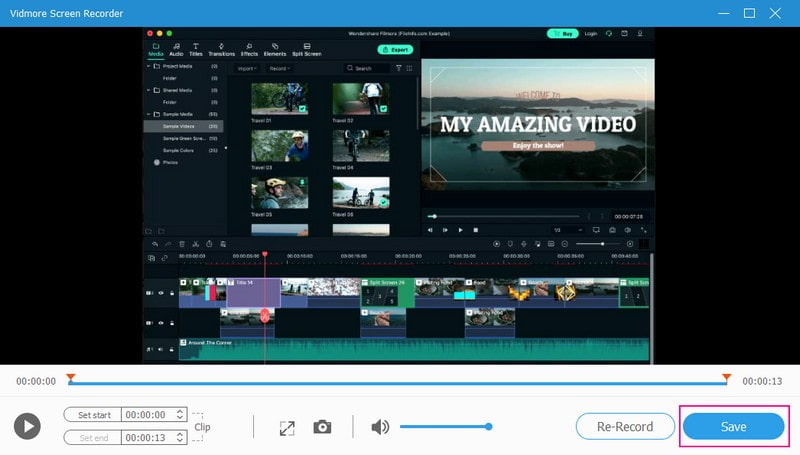 Part 4. FAQs about Best Filmora Project File Converter
Why would I need a Filmora project file converter?
You may need a Filmora project file converter if you wish to share your Filmora project with someone who does not have Filmora installed. In addition, if you wish to work on your project in another video editing program that does not support Filmora project files.
What formats can the Filmora Project File be converted to?
The Filmora project file can be converted to various popular video formats, such as MP4, MOV, AVI, MWV, and more.
Can I share Filmora Project File with others?
Fortunately, yes, you can share Filmora project files with others. However, to open and edit the project, the receiver must have a Filmora or compatible program capable of opening the project file.
Can I convert a Filmora project file to a different editing program's format?
In most cases, Filmora project files cannot be directly converted to formats specific to another editing program. But you can export your Filmora project as a video file and then import it into your preferred editing program for further editing.
How long can I record on Vidmore Screen Recorder?
You can record your desktop screen and audio on Vidmore Screen Recorder without time limitations. Therefore, you can record as long and as many as you want.
Conclusion
It is essential to convert WFP files to other formats widely supported by many devices or platforms. Therefore, you can still open, play and edit the file further if you want to. Select a reliable converter that provides the features you need, and unlock the full potential of your projects. But if you want to convert the WFP file to other formats without a watermark embedded, you can rely on Vidmore Screen Recorder. It can help you record the WFP file and save it in another format you desire.