How to Play WFP File & Fix Filmora Cannot Open Project
WFP files mainly belong to Filmora by Wondershare, which contains Filmora video projects. You may wonder how to open a WFP file on computer and mobile devices. This post will help you do that. It will present a guide to open your files using different devices. In addition, it will help you convert the WFP file to another format using different methods. Are you ready to learn? If so, check out the following details.

Part 1. How to Open a WFP File on Computer
Opening a WFP on the computer is different depending on the operating system. They need a specific program to help you open these files. Without further discussion, learn how to open a WFP file on the computer.
Step 1. Look for a WFP file in Windows OS File Explorer and double-click on it to launch the corresponding application.
Step 2. If you get a Windows cannot open a file error message, you must look for a program to open the file.
Step 3. If you know a program that can open a WFP file, run it and see if it can play the file you imported.
Step 4. If you do not know the program, which functions as a WFP file opener, consider searching online for a WFP viewer. Besides that, you can also search for applications to open WFP files or open WFP file queries in your desired search engine.
Step 5. Install the program you found and check if it can open and play the WFP file.
Part 2. How to Open a WFP File on a Phone
This section will present a step-by-step procedure for opening a WFP file on mobile devices. If you downloaded a WFP file on your mobile device, you can open it by following the steps provided.
Step 1. Find My Files or File Manager application using your mobile device.
Step 2. Press on the Downloads folder inside the application. You will see all your downloaded WFP files in that folder.
Step 3. Select one and see if your device supports opening the file you downloaded or saved; it will open the corresponding application.
Step 4. If you cannot open the file with the applications from the Play Store, the file cannot be opened on desktop platforms. It is also possible that the file you downloaded is no longer supported or outdated.
Part 3. How to Fix Cannot Open Project in Filmora
If you are experiencing a problem opening a project in Filmora, try the following troubleshooting steps to resolve the issue. Check out the ways how to fix cannot open the project in Filmora using the below's guide.
1. Check the Project File Location
Ensure that the project file you want to open is in a known and accessible location on your desktop. If the file has been deleted, moved, or renamed, Filmora may be unable to locate it.
2. Update Filmora to the Latest Version
An outdated program version can have compatibility issues. Check if there are any updates available for Filmora and install them. Launch Filmora and navigate to the Help or About section to check for updates. Updating to the latest version may include bug fixes that address your issue.
3. Restart Filmora
Close Filmora entirely and then relaunch the software. Sometimes, the program glitches or temporary problems can prevent projects from opening correctly. Restarting Filmora can help refresh its state and resolve such problems.
4. Check for Conflicting Plugins or Effects
If you have installed third-party plugins or effects in Filmora, they may sometimes cause issues that prevent project files from opening. Try temporarily disabling or removing any plugins or effects you have installed, and then attempt to play the project again.
If Filmora cannot open the project, you can use the abovementioned ways to resolve your problem.
Part 4. Recommended Formats to Play the Video on All Platforms
This part will introduce popular formats like MP4, MKV, AVI, MOV, and WMV. Besides that, it will present a guide on how to convert WFP files to these mentioned formats. Are you ready? If so, continue reading.
MP4
It is a widely used supported video format known for its high compatibility with several devices and platforms.
MKV
It is an open-source multimedia container format that can hold multiple audio, video, and subtitle streams within a single file.
AVI
It is one of the oldest and most widely compatible video file formats, which can utilize an enormous codec range.
MOV
It is a video format developed and introduced by Apple that can be played in Quicktime player.
WMV
It is another video format that is a good option for sending videos through email or other sources.
1. Filmora
Filmora powerful tool that adds wings to your imagination with its basic and advanced features. This program is an easy-to-use video editing software that supports MP4, MKV, WMV, MOV, AVI, and more. For that reason, you can convert your WFP file from the mentioned popular formats. Do you want to learn how? If yes, please continue reading.
Step 1. First, you must visit the Filmora website to download and install the program on your desktop. Once installed, proceed to run the program to get started.
Step 2. Click New Project on the main screen and import the WFP file. You can drag and drop the WFP file into the main interface. Alternatively, click the Import Media Files button under the Import tab.
Step 3. Drag and drop the video over the timeline. Once you have it there, hit the Export button. Get into the Local and select your preferred output format, like MP4, MKV, AVI, MOV, WMV, and more.
Step 4. Once satisfied with your settings, press the Export button to initiate the process. Within a short while, your WFP file will be converted successfully.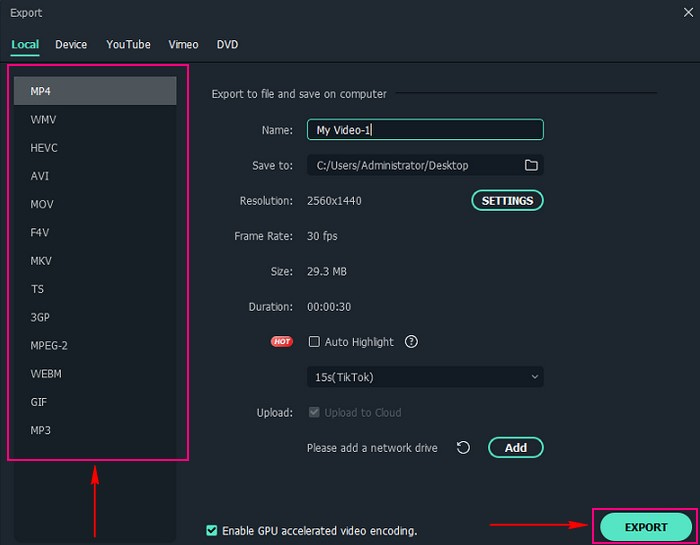 2. Vidmore Screen Recorder (No Watermark)
Vidmore Screen Recorder is one of the leading screen recorders in the market, allowing you to record WFP file and save it in another format. You can record the entire screen or pick your preferred screen size to record everything. While recording, you can incorporate shapes, arrows, texts, highlights, and more. In addition, you can turn on the System Sound, Microphone, and Webcam. After recording, you can select your desired format, allowing you to convert the WFP file to another file format. Are you ready to learn how to do it? If so, please continue reading.
Step 1. Download and Install Vidmore Screen Recorder from the official website. Once downloaded, proceed to run the program.
Step 2. Select Video Recorder from the features presented on the main interface. The video recorder options will then appear on your screen. Turn on Display1 and select your preferred screen size. Turn on the Webcam to incorporate your face into the recording. Turn on the System Sound to record the audio from the video playing through your desktop. Lastly, turn on the Microphone if you wish to add your voice to the recording.

Step 3. Once the options are settled, return to Filmora, and prepare the WFP file you will play. Once settled, click the REC button colored in red to begin recording the WFP file.

Step 4. When the recording starts, you will see options to pause, resume, and stop the recordings. When you are done, hit the Stop button to end the recording.
Step 5. The window player will appear on your screen, where you can play the recorded WFP file. Once satisfied, click the Save button, and save it according to your desired format. After that, the WFP file is converted to another format without a watermark incorporated.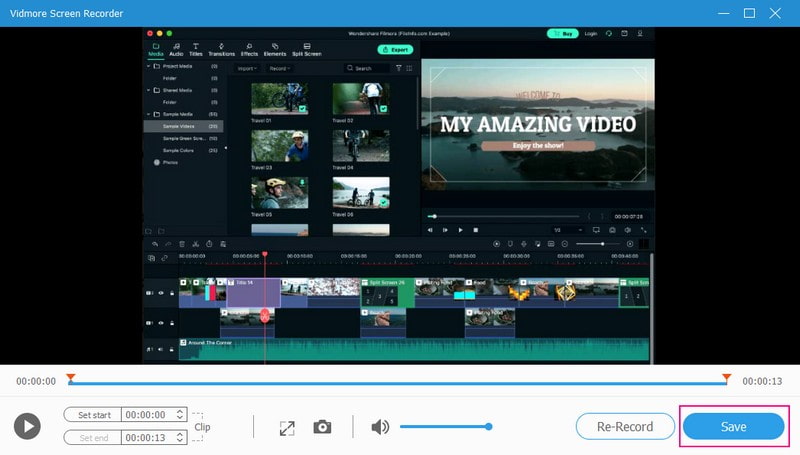 Part 5. FAQs about How to Open a WFP File
How to open 2 projects in Filmora?
You can use the shortcut key using your keyboard Ctrl + N, to open multiple windows; multiple projects can be opened simultaneously.
Can I convert WFP audio?
Yes, you can use Vidmore Screen Recorder to convert WFP audio to MP3 through recording. In addition, you can incorporate your voice into the recording if you want to.
Does Filmora have a watermark?
The paid version of the software does not embed a watermark; in contrast, the free version does embed a watermark to your project.
Can we open Filmora 11 project in Filmora 10?
Unfortunately, projects created below version 9 cannot be opened with Filmora version 9 and above.
Can I open Filmora X WFP project files in Filmora 9?
No, Filmora X project .wfp files are not supported on Filmora 9.
Is Vidmore Screen Recorder have a watermark?
Vidmore Screen Recorder does not add a watermark to your video or audio recording projects.
Conclusion
Opening a WFP might be difficult for you when using another application. However, converting them to another format is the best way to open them hassle-free. Besides that, this post taught you how to resolve Filmora cannot open project issues. If you want to convert a WFP file to another format, you can rely on Vidmore Screen Recorder. It can help you record the file and save it to another format you desire.