How to Make GIF With Audio: Make That Possible Using These 3 Tools
Do you want to learn how to add audio to GIFs? We all know that GIF or Graphic Interchange Format has become part of our social media lives. We use it as another way to express our feelings aside from sending an emoji. That is why to make your GIFs funnier and more entertaining, you might want to add audio GIFs. With that, in this post, we will help you make that possible with the help of the proper tools to combine GIF and audio successfully.

Part 1. Is It Possible to Add Audio to GIFs?
You may be wondering if it is possible to add audio to GIFs. Well, the truth is, in comparison to other picture formats, GIF is a basic image format that does not and will not enable sound in every form. To produce graphics that include sound, you'll need to generate a video for your project first. You will need a video editing program to convert a GIF into a video file type if you want to include audio. You will use the MP4 format for the output.
Part 2. How to Create High-Quality GIF
You may believe that adding audio to a GIF is difficult, but this is not the case with Vidmore Video Converter. Because of its user- and beginner-friendly interface, this excellent editor will assist you in inserting audio into your GIF files almost immediately after installation. You won't have to be concerned if you are not a member of the elite group. Aside from that, this user-friendly program is compatible with both Windows and Mac operating systems.
Vidmore Video Converter can also convert between more than 200 different audio and video formats. As a result, this tool will open whatever files you have. Because of this, if you'd like to learn how to make a GIF with audio using this convenient tool, you can rely on the detailed, step-by-step instructions provided below.
Step 1: Download the GIF Editor
To get started, click on the Download button to download and install the program on your computer. Once the program has been downloaded and successfully installed on your computer, the operation for installing it on your device is simple.
Step 2: Upload Your GIF File
As you open the tool, you will see the main interface. To add your GIF file, you need to click the Add Files on the left upper part of the screen. But for a quicker way, you can tap the Plus icon at the center.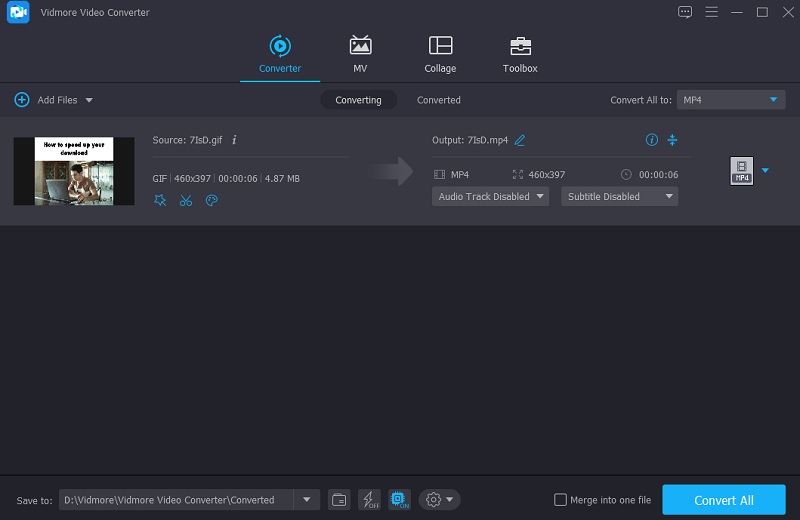 Step 3: Convert GIF to MP4
Since you cannot add audio to GIF, you need to convert it to a video file format. Go to the drop-down tab on the right side of the GIF file. Then, click the Audio tab and look for the MP4 format.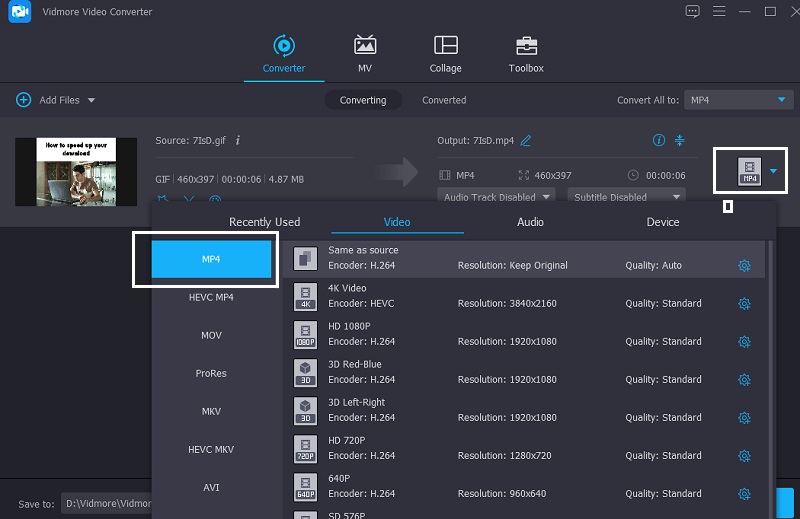 After that, to successfully convert the GIF to an MP4 file, click Convert All button on the right lower side of the screen. Once your GIF is converted to MP4, begin adding the MP4 file on your screen. Repeat the step by clicking the Plus icon at the center.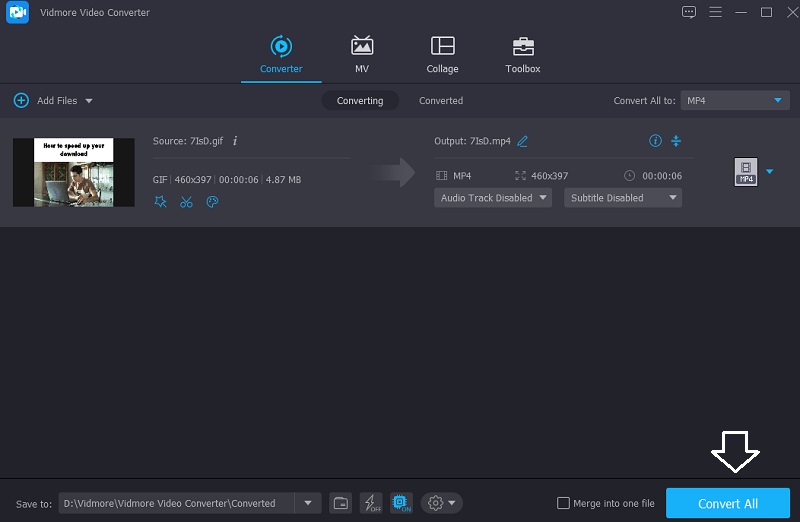 Step 4: Add Audio to Your Converted GIF File
After adding your MP4 file on the screen, click the Editing icon under the video's thumbnail and click the Audio tab on the upper part of the screen. After being directed on the Audio Settings, click the Plus icon on the bottom and choose the audio you require. Then, click the OK button. Once you are done, click the Convert All button again and wait to convert your file. And that would be all!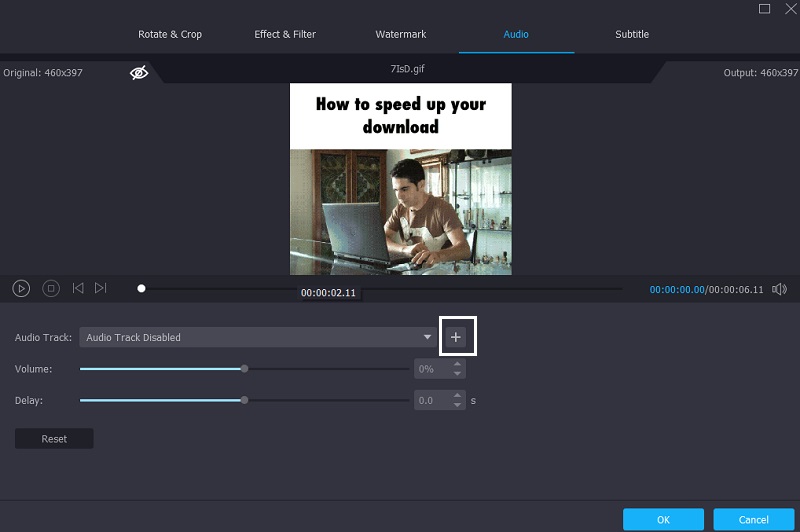 Part 3. Compromise Approaches to Add Audio to GIF
However, there is another way for you to add audio to GIFs through online tools. With that, take a look at the written GIF editor app and see which one is more convenient for you.
1. Gfyc
If you want to add audio to GIF with the help of an online tool, you can use Gfycat. It is a program that is intended for making GIFs. This tool is perfect for those elite editors who want to be creative on their GIF files. However, it will be a bit complicated for those beginners who are not used to this tricky editor. On the other hand, if you want to know how to make GIFs with audio utilizing this program, a simplified illustration is below.
Step 1: Go to Gfycat's official website and join up using your Google account to get started. After that, choose the Cloud symbol located in the upper right-hand corner of the screen. Then select the video to be edited by tapping on it.
Step 2: As you click that option, pick the file or the video clip you require to generate as GIF. Then, please wait for it to be uploaded.
Step 3: After that, you must click on the Speaker button to keep the sound associated with the GIF that you are creating active. Finally, you may pick whether or not you wish to distribute it throughout other social networking platforms.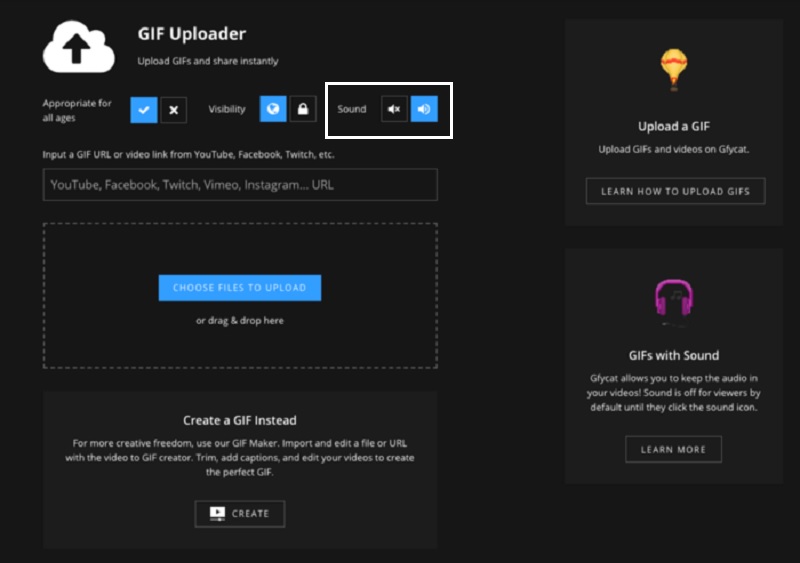 2. VEED.IO
The VEED is yet another online tool that you can rely on if you want to add audio to your GIF files, and it is free to use. It enables you to include text and animations in your GIF files of choice. To correctly add sound to your video, you must convert it to an MP4 format before proceeding. After that, everything was as simple as icing on the cake. This straightforward approach can assist you in better-mixing GIFs and audio in any video or audio project.
Step 1: Visit the VEED's official website and submit your GIF picture by selecting Choose GIF File from the drop-down menu.
Step 2: Following that, you may add audio to your animated GIF and convert it to a video. Click Upload or the Plus symbol in the lower-right corner and browse for your audio files.
Step 3: Finally, select the Export option, and your video is now ready to publish on media platforms.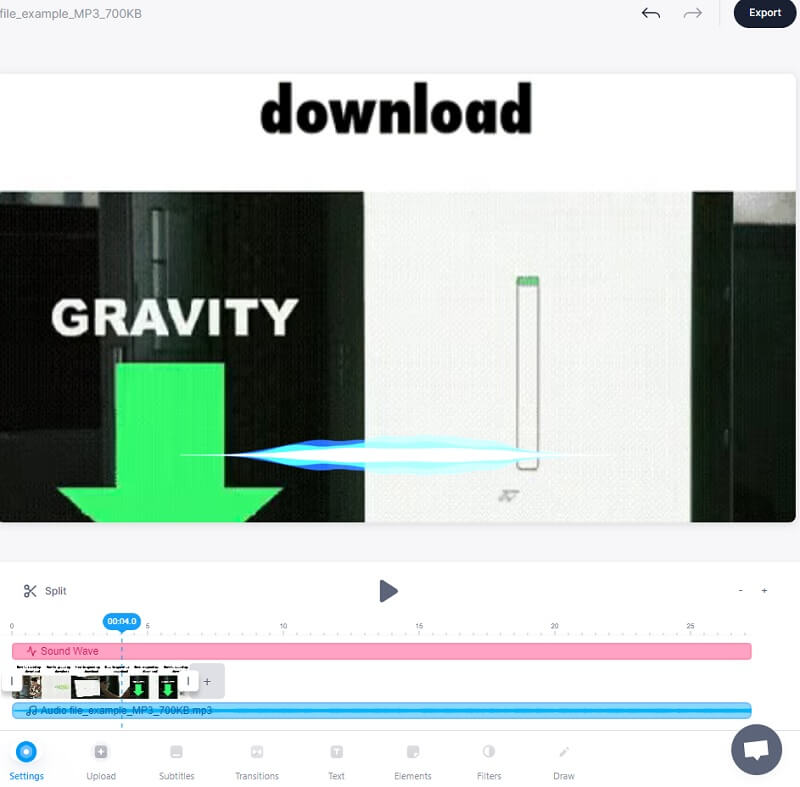 Part 4. FAQs About Adding Audio to GIF
How can I create a GIF with sound on my iPhone?
First, open the Photos app on your phone and choose the live photo you require to make as GIF. Then, swipe up the live photo for you to see the options offered. Lastly, click the Loop to turn the live image into a GIF.
What other formats can I add audio to my GIF file?
Aside from MP4, you can also use the AVI and Web.m format to convert your GIF file.
Is it possible for a GIF to play music?
GIF is an image format that does not permit playing music due to its inability to contain audio data.
Conclusion
With this post, you can easily add audio to a GIF by converting it to a video format. And it will all be possible through the help of the online and offline tools given above. But if you are a beginner and want to be creative on your GIF files, you better choose the Vidmore Video Converter as a partner.