Insert the Best Songs for GoPro Videos with a Helpful Video Editor
Adventures, getaways, or travels deserve documentation. For this, you want to ready your best equipment for recording videos and capturing the unforgettable moments you experienced. It is essential to keep those memories for sharing with your friends and loved ones. Especially when you want to upload it to your social media accounts, bringing the best camera such as GoPro can surely provide your needs to capture the best quality videos.
Apart from this, what makes a video great is its music. You will not be able to appreciate the beauty of the video without setting the mood and atmosphere. This can be achieved with the help of music. To turn your raw GoPro footage into a great and appealing video, continue reading and add music to the GoPro video using the best and sought-after software program.

Part 1. What You Need to Add Music to GoPro Video
Before using the program, it is just right to learn and have an in-depth overview further. This way, you will evaluate and assess if the tool meets your needs. Refer to the main features of Vidmore Video Converter below and see how they are helpful.
1. Add favorite music to video
With the help of Vidmore Video Converter, you can add your favorite soundtracks to video. Regardless of the file format, the tool supports nearly all audio formats.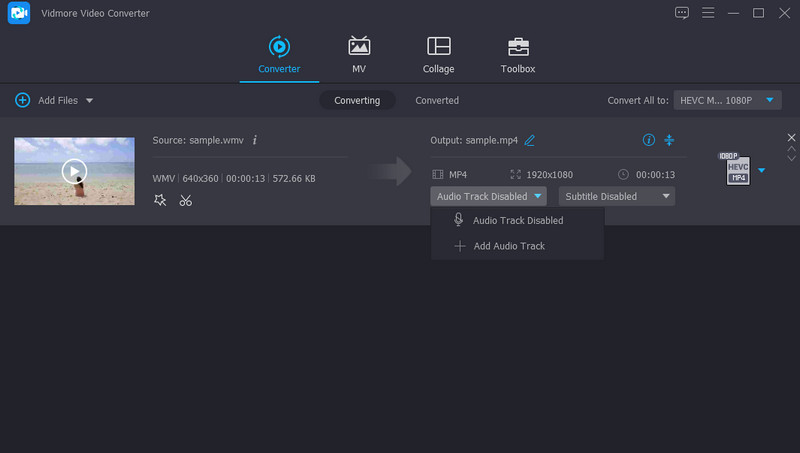 2. Edit audio files easily
This program enables users to quickly trim, split, or crop music tracks. In this way, you can remove the unwanted parts in the audio and keep what is needed for the video. Also, it offers functions for adjusting the audio volume and delay.
3. Basic and advanced video editing tools
Besides adding audio for GoPro videos, this tool also grants you the ability to apply filters and effects to the video. You can also rotate, crop, add watermark, replace audio, and add subtitles. Moreover, its video enhancer offers advanced features for editing videos, such as upscaling the resolution, removing video noise, improving video stability, and optimizing brightness and contrast.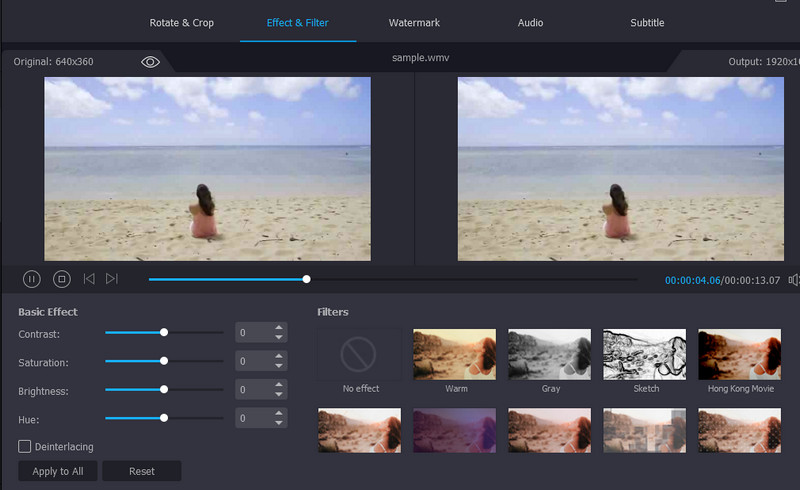 4. Comes with MV Maker
Using the MV Maker, you can also create a presentation or slideshow with a confluence of pictures and videos. There are various stylish themes that you can apply to your slideshow. Not to mention, you can change the video orientation to fit the platform where you are uploading the video clip or presentation.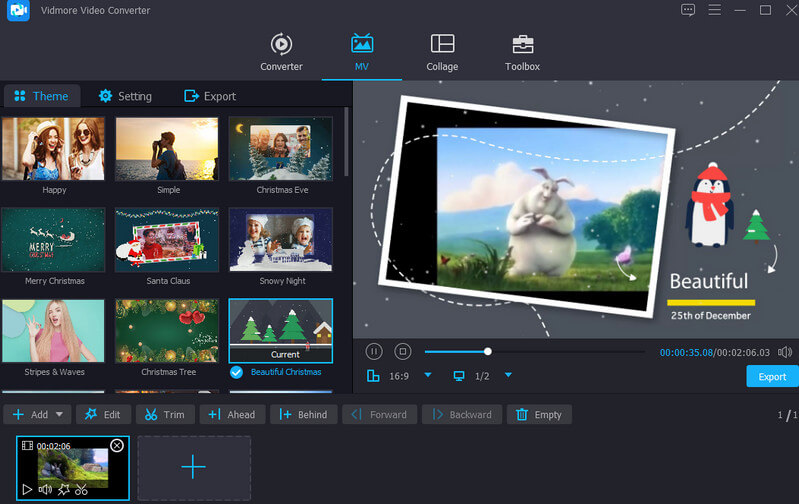 5. Transcode media to different file formats
The tool enables you to convert the media file you are editing to different file formats. There are available formats for audio, video, and devices. Furthermore, it comes with a parameter setting to get the appropriate output. On top of that, it provides support to 4K video resolution to preserve the quality of your videos taken using GoPro.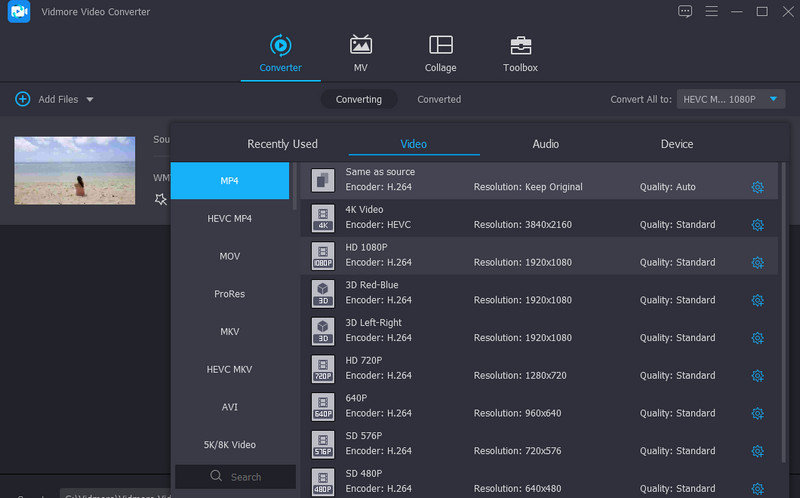 6. Cross-platform program
This video editor, video converter, MV maker program is available on Windows PC and Macintosh. Thus, whatever OS your computer runs, you can add audio for GoPro videos using the tool.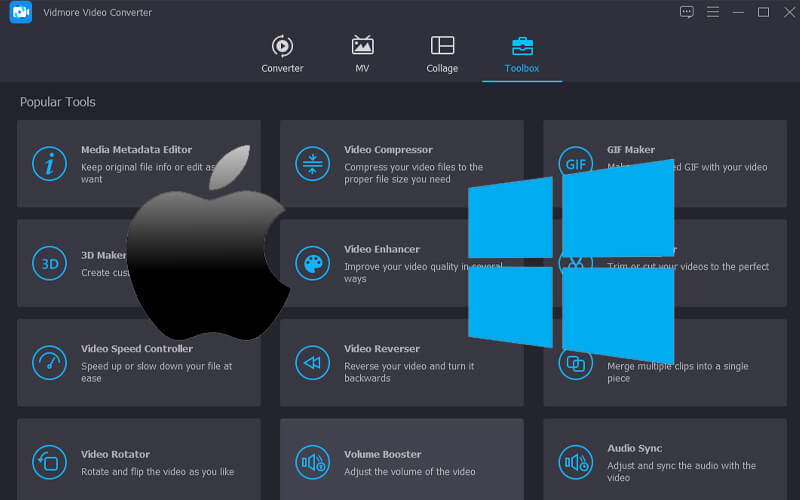 Part 2. How to Add Music to GoPro Video
Now that you have a comprehensive overview of the program and its main features, let's proceed with utilizing it. You may refer to the given steps below.
Step 1. Download and install Vidmore Video Converter
First and foremost, have the app downloaded on your PC or Mac by clicking on the provided Free Download buttons. Follow the setup wizard to install it properly. Once done, launch the program and start using it.
Step 2. Upload a video clip
You will see a big Plus icon from the program's main interface. Click on it to open the File Explorer on your computer. After that, locate your target GoPro video and load it into the software. You may also press the Spacebar on your keyboard to open your computer folder and upload the video. Another way to upload is through the drag and drop feature which is an easy method for loading files as well.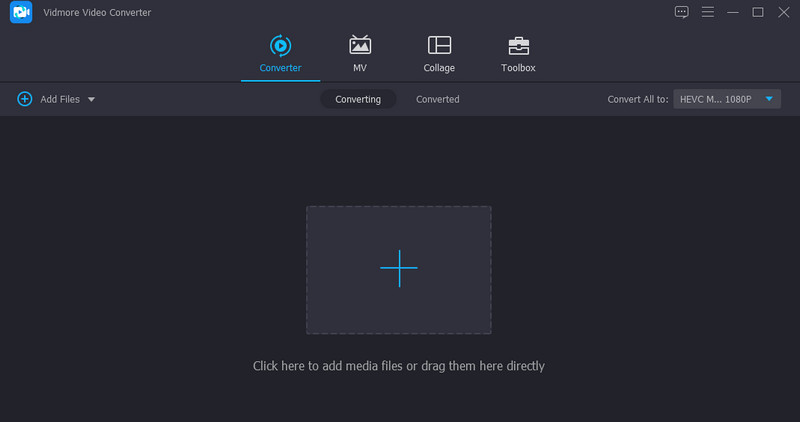 Step 3. Insert music to GoPro video
When the GoPro video is loaded, you should see its thumbnail from the interface displaying different information about the clip. You will see two drop-down menus on the right portion of the thumbnail. Click on the first drop-down under the media file name. Choose Add Audio Track and load your favorite music or recording to add it into the video clip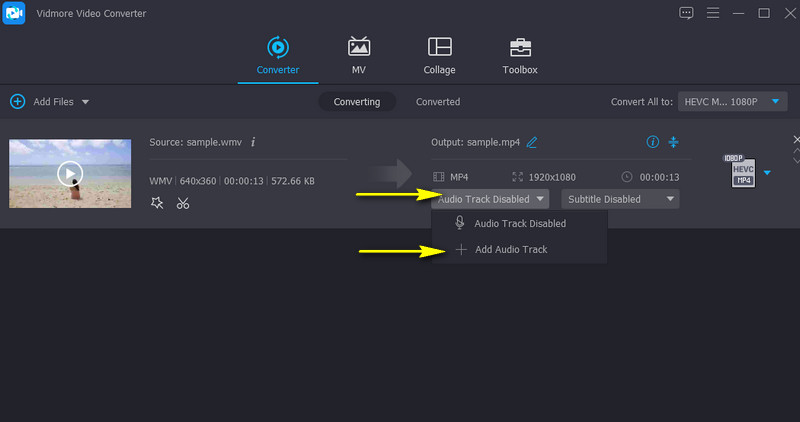 Step 4. Save the video
Finally, export the final result of the video. To do this, select first a format for the video by unfolding the Profile tray. Next, select an output format followed by the output quality. After that, hit the Convert All button and allow the tool to do the work for you. After completion, you should be able to get the video playback.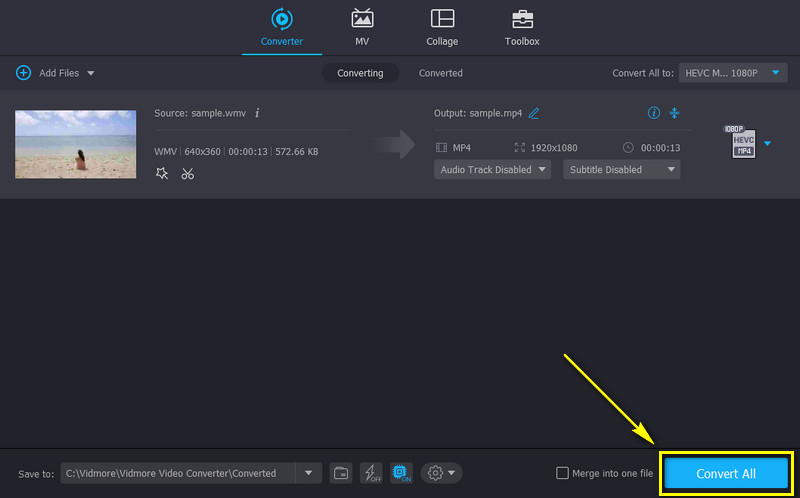 Part 3. FAQs of Adding Music to GoPro Video
How can I view my GoPro videos and photos?
GoPro comes with its own application that you can install on your phone or tablet. With it, you can watch your media content from your mobile devices. But first, you must locally download the files onto your device. Install the GoPro app on your device and view your files via this program.
How can I add music to the GoPro video on an iPhone?
With the Quik app on your iPhone, you can open and edit the GoPro video. You will be able to access several editing features, including adding the best songs for GoPro videos. From the toolbar, choose the Music Note icon. If you wish to add your converted Apple Music tracks, click on the My Music button and insert the music.
Can I add Spotify music to the GoPro video?
Sadly, you can not insert songs from Spotify to GoPro videos. Unless they are downloaded or saved locally on your phone, you will not be able to add them to your GoPro videos. But you can do this using iTunes. You can make the songs local and add them to GoPro videos by syncing the playlist on your iPhone.
Conclusion
That is how fast and easy to add music to GoPro video that includes your own music, recording, or voiceover. With the help of the Vidmore Video Converter, you will be able to add music and enhance your GoPro videos with the added features and functions offered by the tool. Further, you can edit and convert the video at the same time without losing the quality as it can preserve videos with up to 4K video resolution. Learn how to make cool GoPro videos with music, and go ahead unleash your creativity.