Most Reliable Background Music Cutter App: Online and Offline Tools
Have you experienced annoyance with the audio track you are playing because of the background music? You are not alone. There are times wherein the background music of a particular song takes too long to play. Or there are instances where it becomes annoying because there are unwanted sounds recorded. But don't you worry because, in this post, we will help you to remove the background music of your audio tracks. At this point, we will review the background audio cutter that is suitable for Windows, Mac, and mobile devices.

Part 1. Top 4 Background Audio Cutter
We will review the most recommended background music cutter app for Windows, Mac, and mobile devices. Please look at them and see which one suits your device better.
1. Vidmore Video Converter
Sometimes, we love a part in the audio track wherein we want to remove it, but we don't know-how. You don't have to search on the internet because Vidmore Video Converter is here to help. It is a professional tool compatible with both Mac and Windows devices. Vidmore allows you to edit your most loved audio to increase the volume, merge, cut, and trim. That is why if you wish to remove the background music of your audio tracks, this tool is a good fit for editing your files. Aside from that, you will not have a hard time modifying your files because of its trouble-free interface.
Vidmore Video Converter is not particular in your file format because it supports more than 200 file formats. You can edit your audio tracks here in just a snap, primarily because of the fast conversion speed. Here is a simple illustration of how to cut the background music of your audio.
Step 1: Install the Background Audio Cutter Software
Before you begin, you need to get the software's installer by clicking one of the Download buttons below and after installing it, let it run on your device.
Step 2: Upload the Audio Track on Timeline
Once the tool is running, you can now upload the audio track on the Timeline. Tick the Add Files on the left upper part of the screen's main interface. And you can also click the Plus icon then select the audio track you want to edit.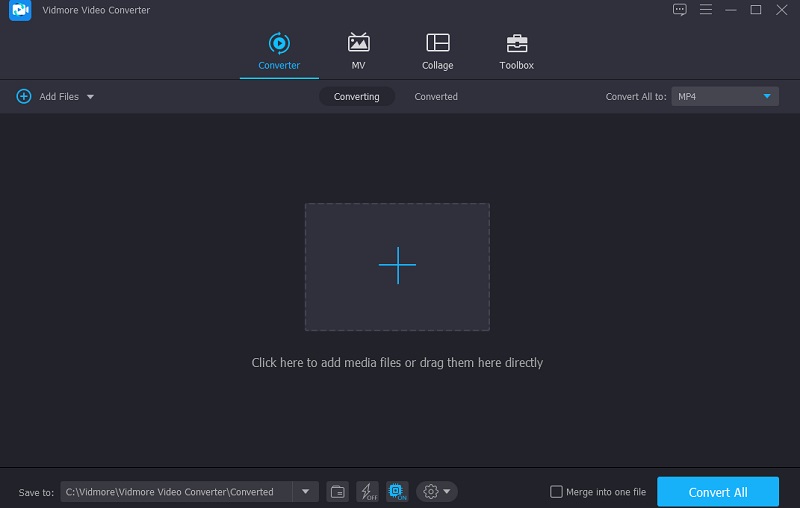 Step 3: Proceed to the Audio Editing Section
After uploading the audio track on the screen, you can proceed to the audio editing section by ticking the Scissor icon below the audio. Then, move the left and right cursor of the audio to cut the background music of the audio. Once you achieve the edit you want, click the Save button below.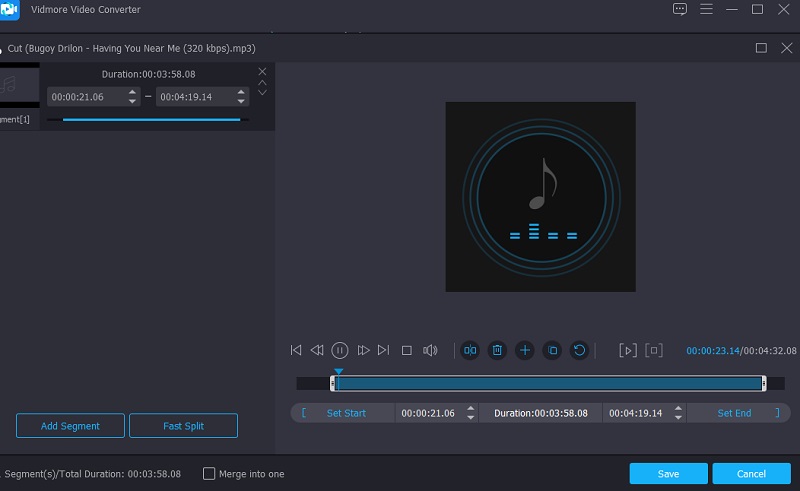 Step 4: Convert the Enhanced Audio Track
After following the instructions above, you can now go to the conversion. Tap the Convert All button on the right lower part of the screen and wait for a few seconds for your audio track to convert. And that's all!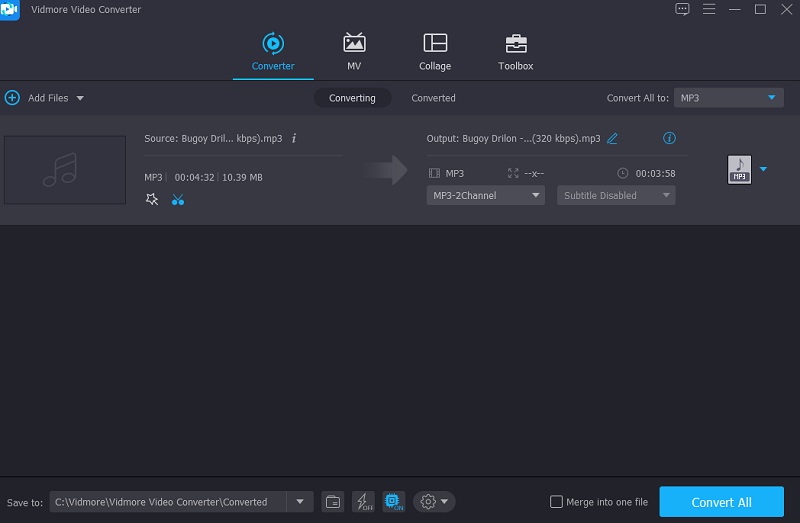 2. VEED.IO
If you lack storage on your device and want to cut your audio track's background music, VEED.IO will definitely help you. You don't have to download any software on your device. You can use this to create excellent quality audio tracks, recordings, and podcasts. Aside from that, it allows you to edit your video clips too. To remove the background music of your file, all you have to do here is click the Clean Audio button, and everything will be okay then. It's easier than ever to remove background noise from your digital material with a flexible solution like VEED!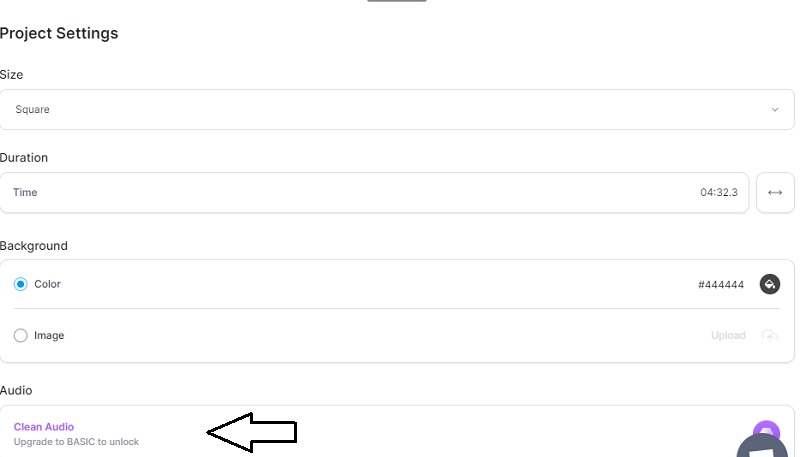 3. EZAudioCut
If you don't have a desktop that will help you cut the background music of your audio tracks, you can just go to an app for mobile devices such as the iPhone. We all know that the iPhone is a high-end device. Therefore the app that you will install is also high quality. With that, you can count on EZAudioCut. This tool allows you to record and edit your audio tracks and create your music. You may also use EZ Audio Cut to apply audio effects like pitch, reverb, and gain. You can insert the song endlessly. You may also quickly intercept and combine audio, apply sound processing, and remove clip operation.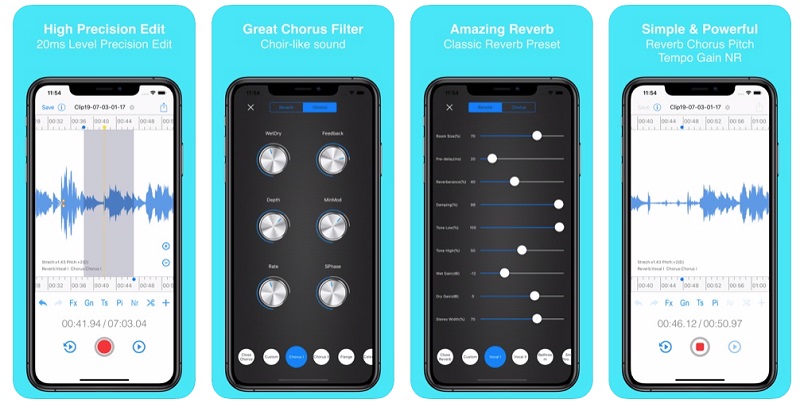 4. MP3 Cutter and Audio Merger
MP3 Cutter and Audio Merger is an Android app. It is a viable solution if you don't have access to a full-fledged computer. It offers a user-friendly interface that makes cutting the background music from audio tracks considerably more accessible for users. Aside from that, it supports various formats for conversion, including OGG and AAC and other editable formats. One of the best programs for fast and effortlessly manipulating music files is MP3 Cutter and Audio Merger.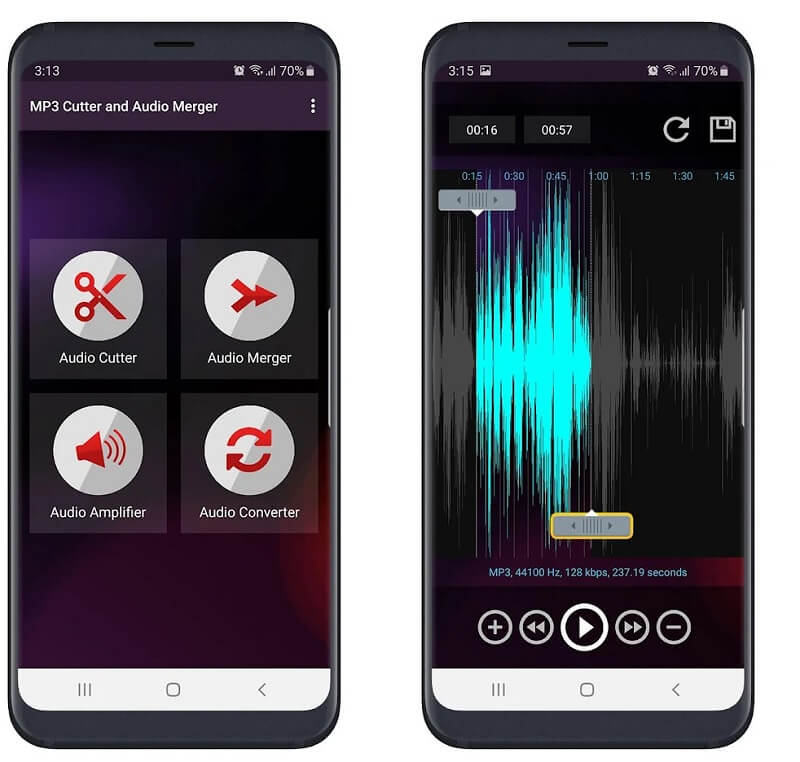 Part 2. FAQs About Background Audio Cutter
How to remove background music in Audacity?
Open Audacity, then go to File, then Open and find the file you wish to repair. Drag your cursor over a part of the screen with little or no audio sound to select your Room Tone. Then pick Noise Reduction from the Effect menu. Wait for the popup to vanish after clicking Get Noise Profile. To clear your choices, return to your audio timeline. Select Noise Reduction from the Effect menu once again.
How to cut background music on VLC Player?
First, you need to acquire VLC Media. Then, go to View on the main menu of the VLC window and select Advanced Controls. After that, open the audio file in the VLC media player. Then, scroll down to the bottom and choose where you want to begin cutting your audio file, then click the red button in the lower-left corner of the window.
What is the best way to remove background music in iMovie on iPhone?
In the movie Timeline, find your video clip. Then, above the Viewer, click the Noise Reduction and Equalizer button. After that, reduce background noise by checking the box, then adjusting the slider to the desired reduction percentage.
Conclusion
We cannot avoid the necessary noise on our audio tracks. There are also instances wherein the background music takes too long before the actual music plays. As a result, we cannot fully enjoy the audio tracks that we are listening to. But with the help of the background audio cutter online and offline, you can now easily cut the unnecessary background music. By choosing from the tools above, cutting your audio track is more accessible now!