Rundown of Best Audio Mixer Software for Computer and Smartphone
Do you plan to kick start your music-making journey? Or maybe you want to unleash your creativity with music by producing a seamless mixed audio recording out of multiple tracks. Whatever your reason is, all you need is a virtual or digital audio mixer to help you achieve your goal in a quick and easy manner. Gladly, there are various programs that have unique and different features. That being said, we handpicked the best audio mixer for every platform including desktop, web, and mobile. Read the rest of the post to acquire the needed information.

Part 1. Best Audio Merger Software for Windows PC/Mac
On the list, we have Vidmore Video Converter which is not only dedicated to converting media files but also for editing both audio and video. It enables users to shorten audio clips through the split feature. In that way, you will be able to get rid of unnecessary parts like a long introduction. Most importantly, you can merge multiple music tracks into one. This is especially helpful when you want to play music tracks according to the desired order they should play. On top of that, you have the option to convert the audio file to any audio format allowing you to stream the music on your desired media player. Having said that, here we will walk you through the steps on how you can use this audio mixer on PC and Mac.
Step 1. Download the Audio Merger Software
First of all, download the program from its official site. There are also Free Download buttons above for you to quickly get the installer of the app. Once you are done downloading the app, have the app installed by following the wizard guide then run the app.
Step 2. Upload an audio clip
After a successful installation, you may click the Plus button provided on the main interface to upload an audio file. Or, click the Add Files drop-down button at the upper right-hand side of the interface. Then select between Add Files and Add Folder options. Once you are done uploading audio clips, you can now merge the clips.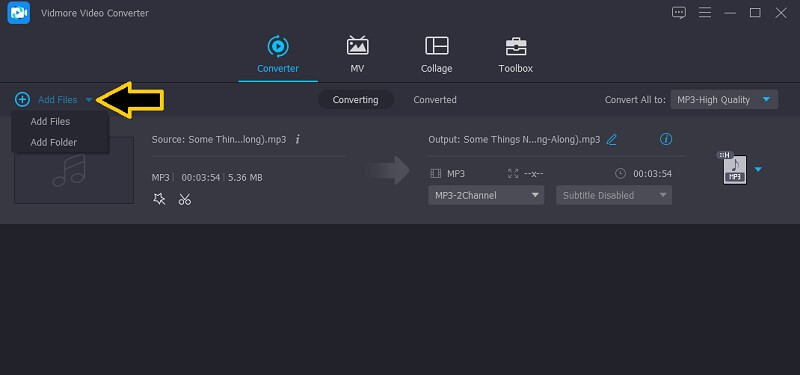 Step 3. Select an output format
Prior to merging the clips using this audio mixer app, you may select from the available format options located under the Profile tab. From here, click on the Audio tab and select an output format on the left section.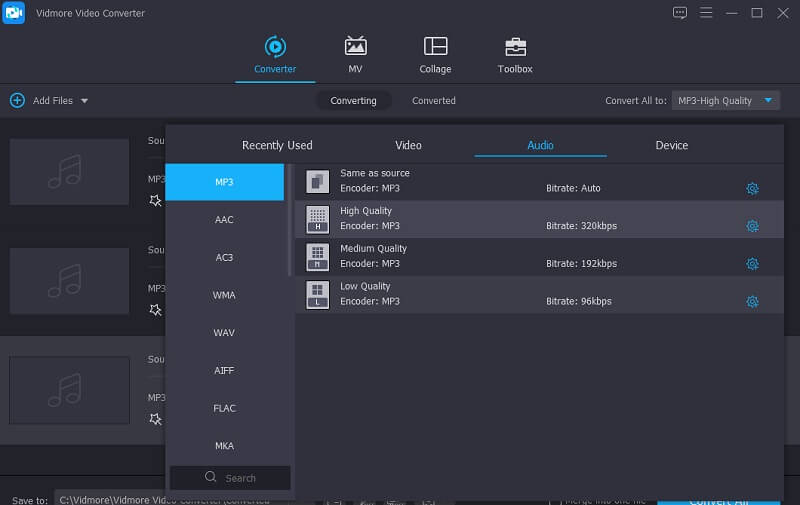 Step 4. Merge audio clips
Next, set a folder location where you want to save the merged audio tracks. Then, tick on the Merge into one file option alongside the Convert All button. Before rendering the file, you can input a name for the new audio by clicking the Pencil-like icon attached with the audio thumbnail. Finally, click the Convert All button to begin the process and you will get the audio playback right after the rendering of the file.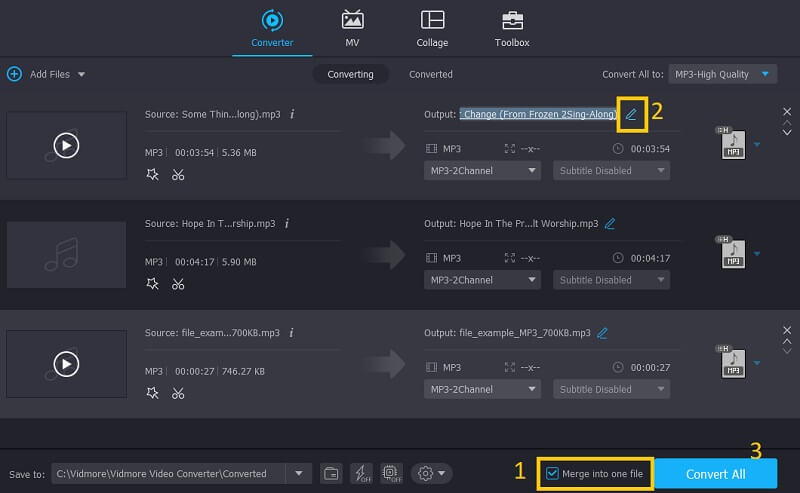 Part 2. Apps for Android/iPhone to Mix Audio
If you are more comfortable with a smartphone for mixing audio sounds, you can think of mobile apps as mini mixer audio apps. Tons of programs can be used for Android and iPhone. Thus, we researched the best audio mixer for streaming your own mixed music on your smartphone.
1. MP3 Audio Merger and Joiner
MP3 Audio Merger and Joiner is a mobile application that offers many features for editing audio. With it, you can combine various tracks into one seamless audio clip. This small audio mixer also supports many audio formats and there are no limitations to the number of audio files that you can process. Moreover, it does not matter if they have different extensions or bitrates because the tool can work it out for you.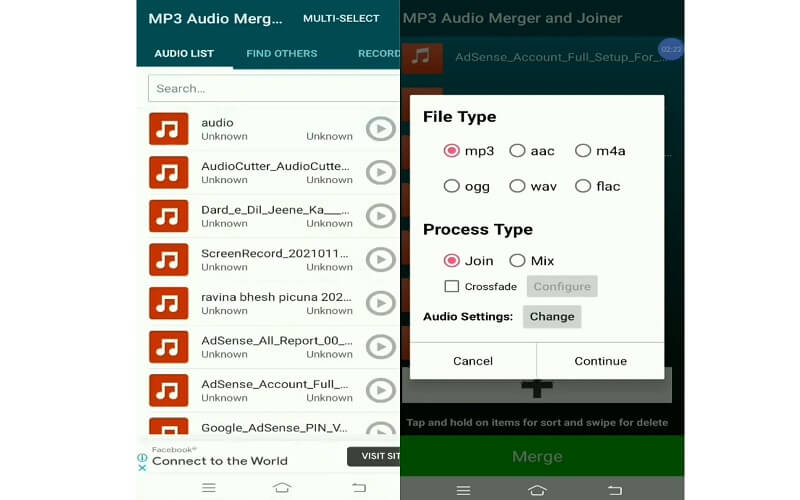 2. MP3 Cutter & Merger
You can also customize and mix audio files using another Android application called MP3 Cutter and Merger. Besides merging or mixing audio clips, it possesses many other helpful features such as cutting MP3 or other audio formats. This can come in handy if you want to remove unnecessary parts of the audio. Moreover, this specializes in Android devices, hence the support for SD cards. As such, users can move their merged songs on an SD card and display a list of your songs.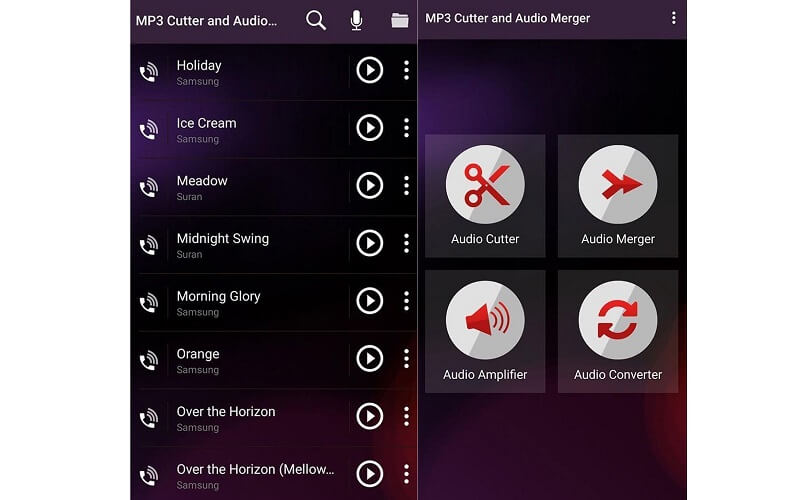 3. iMovie
For iPhone or iOS devices, there is a native iPhone and Mac audio mixer app that you can use to mix multiple audios in one single file. iMovie is popularly known for editing videos allowing you to flip and rotate audio. Besides this feature, this lets you add a soundtrack, sound effects, and music from your local music library. Aside from that, you can also record your voice and add it to the clip. However, you may need to convert the modified clip to an audio file format in order to stream it onto your music player.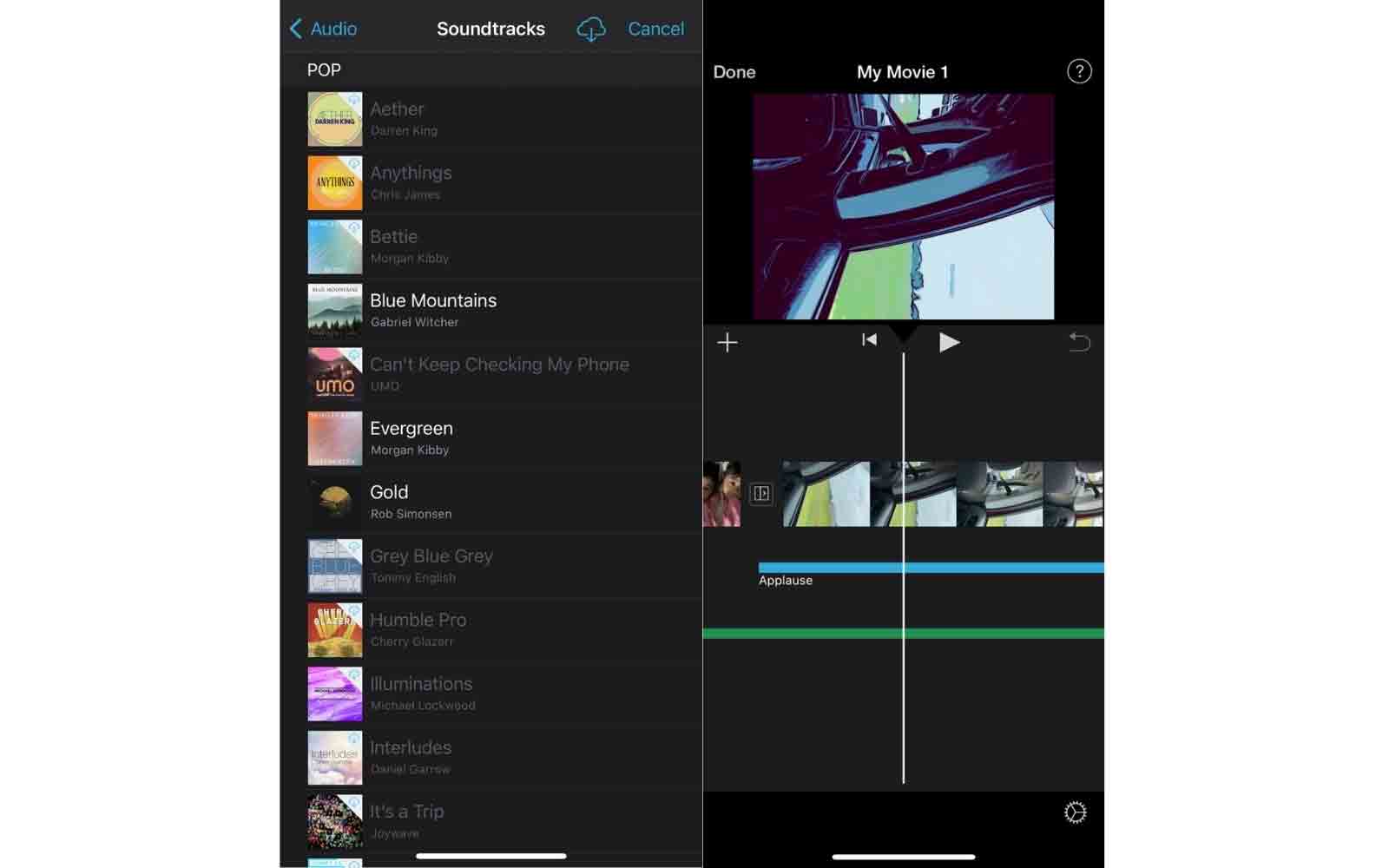 Part 3. Best 3 Online Audio Mixers
For those who don't want to install additional programs on their computer, an online free audio mixer is your way to go. See the efficient audio mixing tools after the jump.
1. BearAudio MP3 Merger
Bear MP3 Merger is a web-based audio editor that enables you to combine several songs or audio files together without the requirement of account registration. This program offers support to MP3, WAV, and OGG. Therefore, whether you are merging a series of MP3 files or a combination of these three audio files, you will be able to accomplish that with the help of this audio mixer program. The best part is, it is easy to operate due to the fact that all the navigation controls are easily identified. Whether your purpose is to split, merge, delete, cut, delete or adjust pitches, you'll be able to finish them in a fast and easy manner.

2. 123apps: Audio Joiner
Online Audio Joiner by Clideo also acts as a great Mac and Windows audio mixer since it can be run on almost all web browsers. All you need is an internet browser and you will be able to get the job of mixing audio files done either on Windows or Mac. Moreover, you can import audio files from online sources like Google Drive, Dropbox, and via URL. Alternatively, it lets you upload files from your local drive giving you the opportunity to choose which method is convenient for you most. Using its drag and drop feature, you can easily rearrange the order of the tracks. Then you can immediately get the audio playback once you are done merging the clips.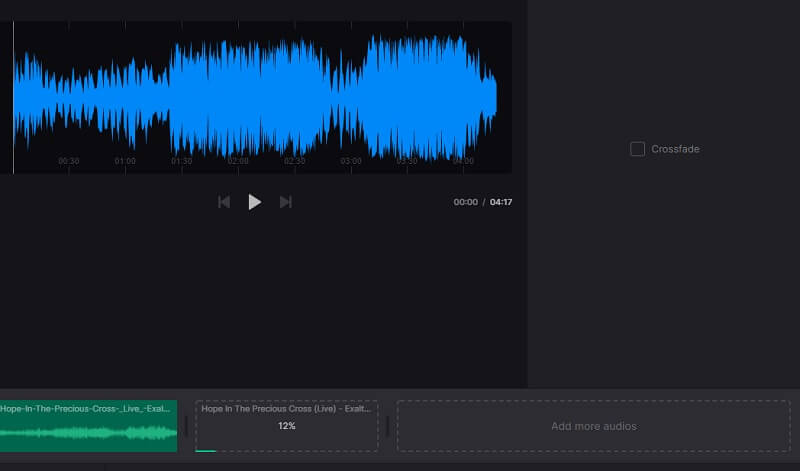 Part 4. FAQs of Audio Mixer
Does Windows 10 have an audio mixer pre-installed?
If you are looking for a tool built-in on Windows 10 for mixing or merging audios, there is no Windows 10 app developed for such need. But you can control the sound from the system coming from different sources such as speakers, system sounds, and browsers. You can access this from Volume Mixer on Windows 10.
Is it safe to mix audio files online?
You can accomplish any task online including mixing and merging audios provided that the website does not ask for your personal details or information.
How does the process of audio mixing happen?
In audio mixing, you are joining two or more audio tracks particularly manipulating their volume level, frequency content, panoramic position, etc. This will enable you to enhance the overall performance of the audio.
Conclusion
Now you know what are the best audio mixer software programs to help you kick start your audio-making journey. Moreover, this post covers all platforms so you can pick which one is most convenient for your needs.