8 Best iPhone Ringtone Makers for Phone Notifications
By default, your smart device, be it iPhone or Android phone comes with lots of free ringtones that you can use for any phone notification. However, there will be cases when you have the same ringtone as your friends that you can't recognize whose phone is ringing. This usually occurs when you have the same devices which is also the reason why you have the same set of ringtones.
But when you know how to make your own ringtone, this won't be burdensome to you any longer. After this jump, you will learn how to make your own ringtone on iPhone and Android devices as we contemplate some of the best ringtone maker software.

Part 1. Top 5 Ringtone Maker Programs
1. Vidmore Video Converter
If you've gotten tired of your default ringtone, Vidmore Video Converter can greatly help you make a custom ringtone for your device. It can get audio from your video file with ease.
Besides this feature, Video Converter by Vidmore enables you to cut audio files to shorten or cut a long introduction on the audio. As we know, ringtones typically run in a 30-second loop. As such, you need to trim or cut the audio to set it as your ringtone. On the other hand, you can also merge multiple songs into one single file and arrange them in order according to your preference. Now let's learn how to make a song a ringtone by following the steps below.
Step 1. Download and install the software
First of all, have the app downloaded then install it afterward. Run the program on your computer and you should see its running interface.
Step 2. Import and edit the clip
Next, import the audio clip that you wish to make your ringtone. Just click the Plus icon from the main interface and select your target clip. Once the clip is loaded into the app, click on the Cut icon. From the editing panel, select the part that you wish to remove and retain by moving the start and ending sliders. If you are satisfied with the results, click the Save button.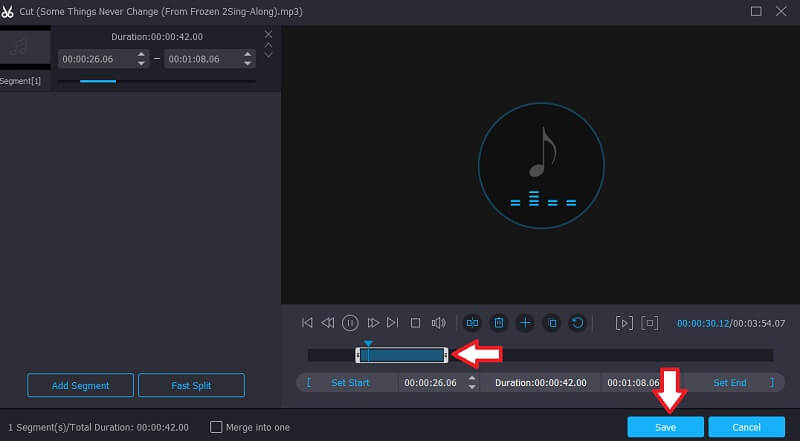 Step 3. Select output format
After that, unfold the Profile menu and select an output format for your ringtone from the Audio tab. You can also do the same method to learn how to make a ringtone from a video by selecting an audio format for the video that is loaded into the program.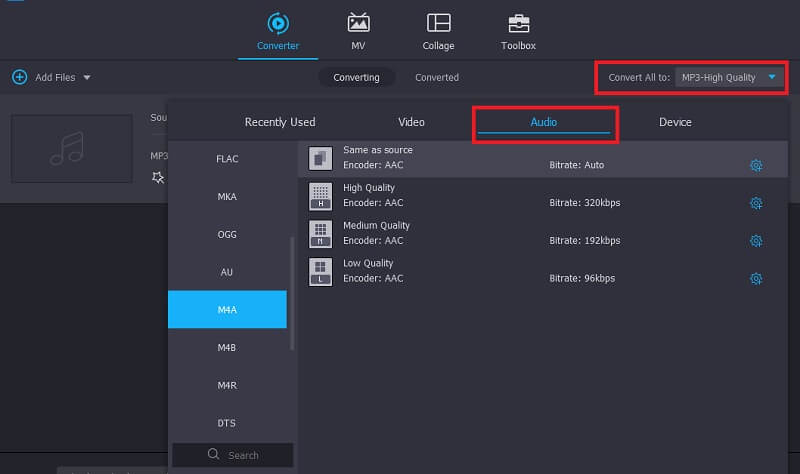 Step 4. Save the final version
Once you are done with all the necessary changes, select a file location and click the Convert All button to render the file.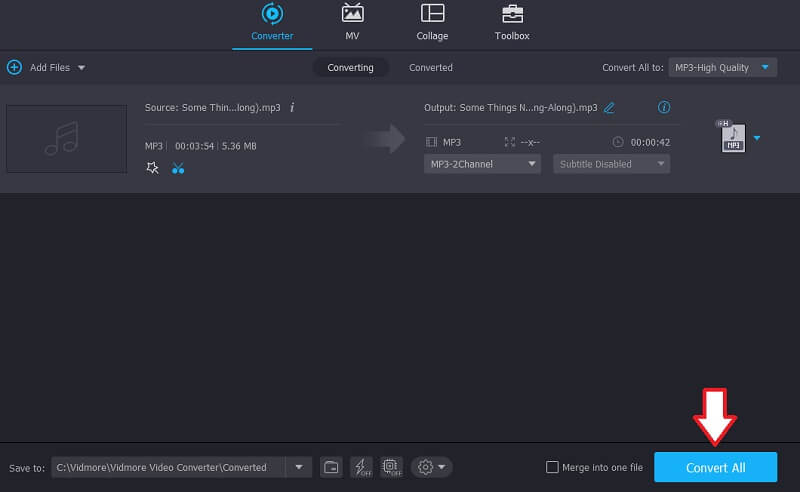 2. Online MP3 Cutter
In case you want to learn how to make a custom ringtone on iPhone online, you should consider using Online MP3 Cutter by 123apps. This web app comes with a useful feature that will enable you to generate a quality ringtone. With it, you can save your output file to iPhone-compatible formats such as M4R. In addition, you will be able to cut the song to make it 30 or 40 seconds long and set it as the ringtone for your iPhone. In the below steps, we will walk you through on how to make a song a ringtone on iPhone.
Step 1. To start, visit the official webpage of the program using any browser on your computer.
Step 2. Click the Open file button on the main interface of the tool and select the song that you want to save as your ringtone.
Step 3. From there, you can trim the audio to 40 seconds long ringtone, add effects like fade in and fade out.
Step 4. After that, click the drop-down menu for audio formats and select m4r which is the intended format for the iPhone ringtone. Click the Save button to confirm the changes.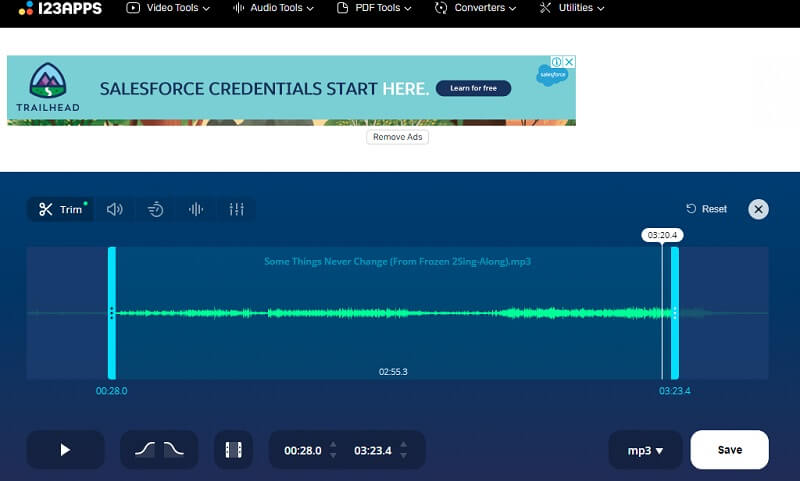 3. Mad Ringtones
At any moment that you want to get a ringtone tailored for your iPhone device, Mad Ringtones by Zedge is the place to be. There are lots of ready-made iOS ringtones that you can set as your iPhone ringtone. You can opt for simple ringtones or venture to mixed audios that will make your ringtone stand out. Aside from that, if you missed the ringtone from old iPhone versions, the website provides ringtones from the older to the latest iOS models. Want to know how to make a song your ringtone on iPhone from this site? Take the instructional guide below for your reference.
Step 1. Go to the website of Mad Ringtones by ZEDGE and you will see a bunch of ringtone ready to download.
Step 2. Browse and listen through the ringtones on the site. To listen to the chosen song, simply click the Play button.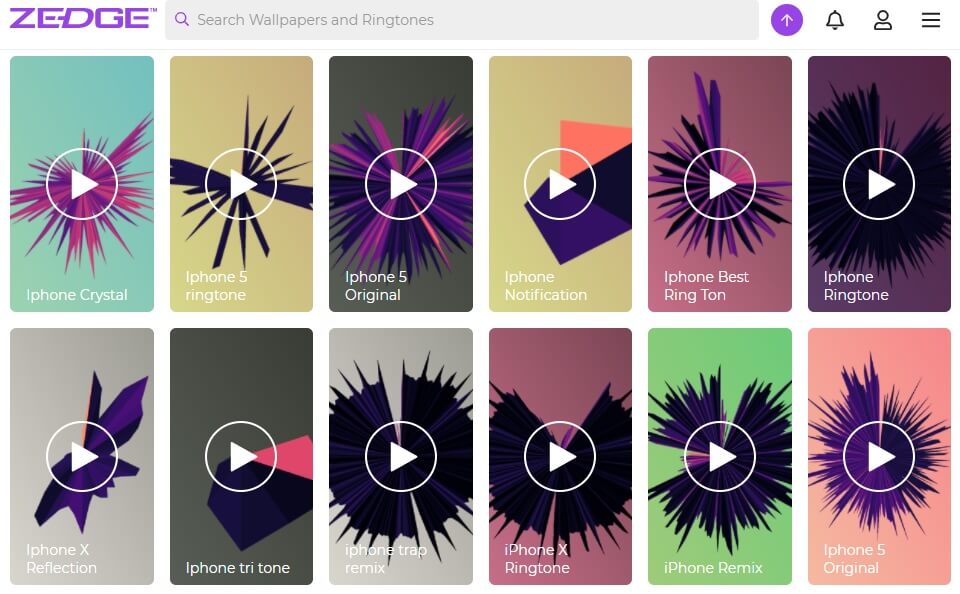 Step 3. Then, click the title of the ringtone followed by the Download button at the upper right side of the interface to get the ringtone downloaded.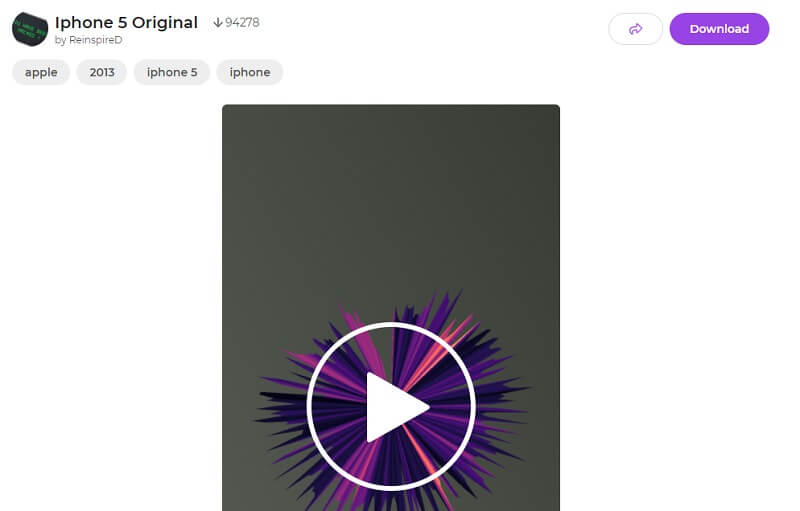 4. Melofania
Melofonia is another ringtone maker program that lets you make a custom ringtone. Essentially, it is equipped with basic music editing tools wherein you can cut parts of audio and export the audio either as M4R or MP3 audio format. It is easy as ABC when making a ringtone using this tool, find out below.
Step 1. Launch Melofania on your web browser to reach the main website.
Step 2. Click the Upload button and import the song that you wish to set as your ringtone. Optionally, you may choose to extract and edit sound from YouTube videos and know how to make a video into a ringtone.
Step 3. Select the part that you need by moving the sliders and hit the Create ringtone button.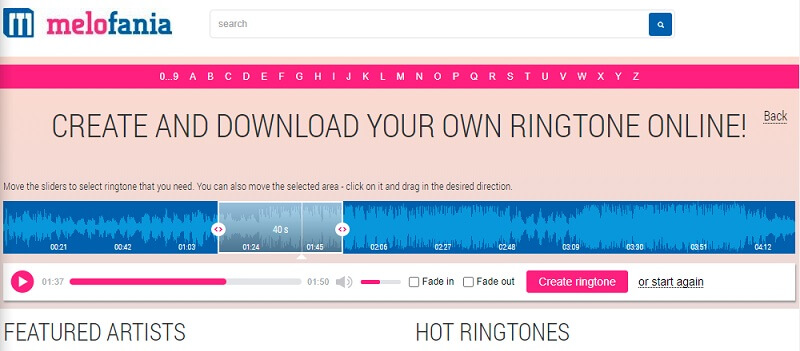 5. Ringer
If you are looking for another online iPhone ringtone maker, you should look no further than Ringer. Not only can it create a ringtone for iPhone but also for Android devices allowing you to process files like MP3, M4A, AAC, FLAC, OGG, and many others. It can crop audio by specifying the duration by seconds as well as using the sliders for your convenience. The below steps will instruct you on how to make your own ringtone.
Step 1. Visit Ringer using any browser on your computer.
Step 2. Import an audio clip by clicking the UPLOAD FILES button from the main interface of the program.
Step 3. After uploading the song, mark the part of the audio that you want to keep and create as your ringtone.
Step 4. Select between MP3 and M4R as the output format. Then click the MAKE RINGTONE button to confirm the changes.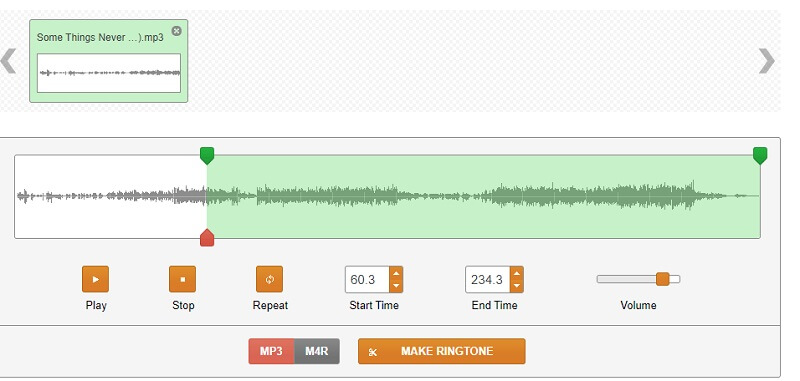 Part 2. How to Make Ringtone on iPhone
1. GarageBand
Garageband is a mobile app that you can use to learn how to make your own ringtone on an iPhone. It has a modern and professional user interface packed with recording and mixing capabilities. With it, you can enjoy lots of sounds and loops from its large library which you can integrate into your music recording. Expect that you will know how to make a ringtone in Garageband as you explore more of its features.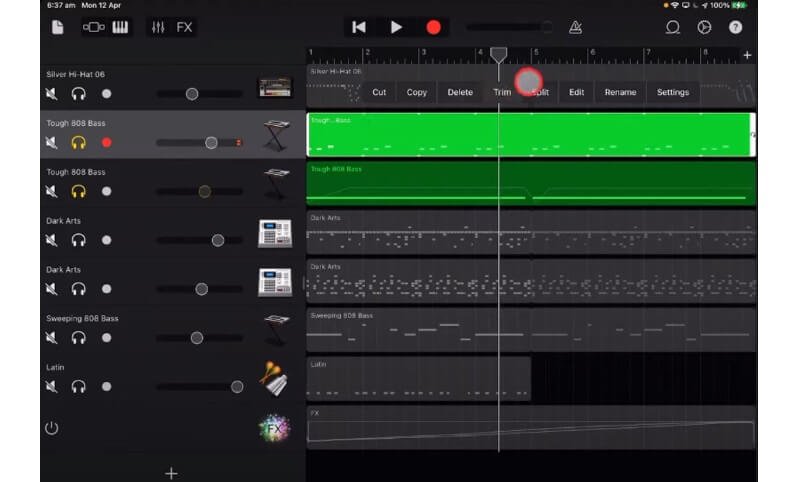 2. RingTune
ZEDGE also has a mobile version for downloading ringtones which is called RingTune. Similarly, it comes with an extensive collection of ringtones that you can freely get without any membership required. Moreover, you can also choose from the categories according to the ringtones that you like hearing.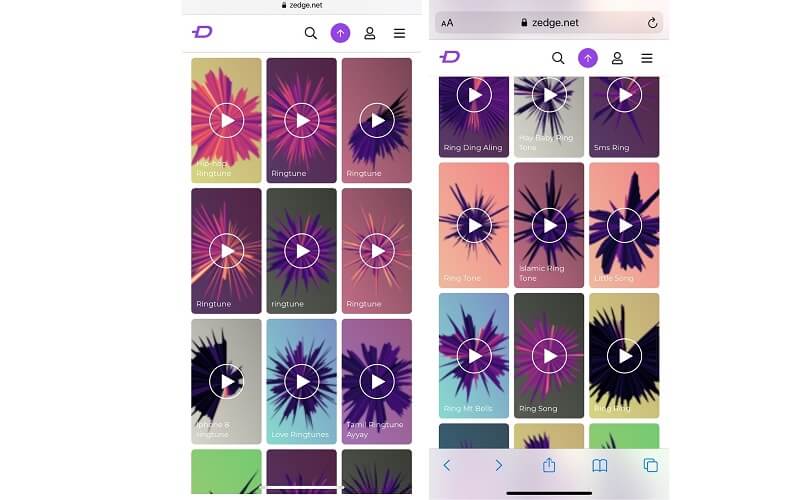 3. Hokusai Audio Editor
Another mobile app that is worth trying for making a ringtone on an iPhone is Hokusai Audio Editor. There are a set of features useful for editing sounds like cutting, trimming, special effects, and filters. Aside from that, you can also adjust the volume level, mute, and access familiar mobile gestures. This includes pinch and swipe gestures.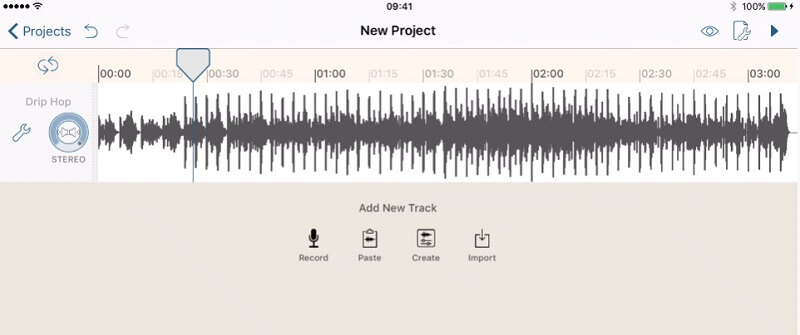 Part 3. FAQs of Ringtone Maker
How to make a ringtone for iPhone without iTunes?
If you are one of those people who are not satisfied with iTunes for making ringtones, you may consider the above tools to accomplish this job. Just follow the same procedure for making ringtones.
How to make a song a ringtone on Android?
There are specific apps that you can use for your Android in order to make a song a ringtone for your Android device. One of the popular choices is RingDroid. Same with the mentioned solutions, this has basic trimming and merging capabilities to help you make ringtones for your Android device.
Can I modify the name of my ringtone?
Yes. Among the tools mentioned above, Vidmore does not only allow you to create a ringtone, but also enables users to rename the ringtone to make it more personalized.
Conclusion
You might have gotten tired of using the same ringtones on your iPhone over and over again. The above-mentioned ways on how to make your own ringtone for iPhone are developed for this kind of need. Through these, you can create the coolest ringtone yourself without even having technical skills.