Great Ways on How to Make a Movie on iPhone
Apple devices nowadays have been hitting the market because of their unique features. And what makes it worth buying is that it has useful built-in apps. Speaking of, one of its default apps is the iMovie app⁠, a free movie-editing tool for iPhone and iPad, especially for those units that you purchased on or after September 1, 2013, or to devices with iOS 8. Like with usual video editing tools, it also offers the basic editing features, whether you want to add titles, music, and effects, this tool has that, and you can save your output in 4K. Meanwhile, let this article help you how to make a movie on iPhone. With this, you will be able to edit like a pro and learn how to add special effects, soundtracks, and filters conveniently using your mobile phone.

Part 1. How to Make a Film in iMovie on iPhone and iPad
Step 1: Open the app and launch it. Upon opening it, you will see your video library. It is where you will export your videos.
Step 3: After inserting all the files you want to include on your output, like video, image, audio, and even text, you can now adjust the filters of your entire video by tapping the Change themes and more button at the right side of the screen.
Step 4: Next, you can also add transitions. To do so, you'll see a button between each clip. Once you tapped that, you will have a choice to pick the video transition that you need. Meanwhile, if you want to change the video's speed, audio volume, insert text, go to the editing tool icon at the bottom of the screen.
Step 5: Once done changing and adding elements for your video, tap Done to save your move. Or share it on Facebook, YouTube, and even in email. Additionally, you can also use iMovie Theater to view it on Mac or Apple TV.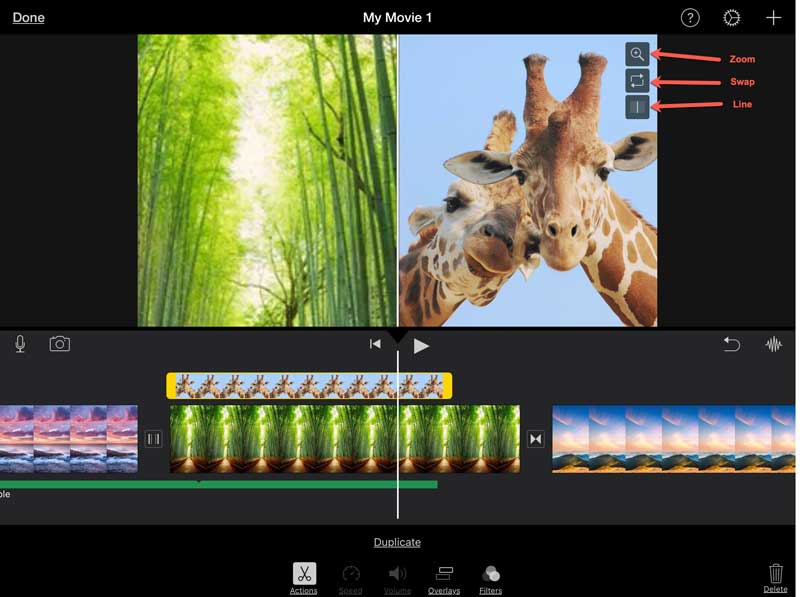 FURTHER READING
· How To Brighten a Video on iPhone
· 10 Best Video Mergers for PC/MAC, iPhone/Android and Free Online
Part 2. Top 3 Movie-Making Apps for iPhone and iPad
If you search for the best movie maker app for iPhone, this part will give you a list of the top three movie-maker apps for your Apple devices like iPhone or iPad. Check these apps now by reading further.
1. Horizon Camera
Typically for a broader area to capture, videographers use landscape mode when capturing whatever the scenes will be. If you recorded your video in portrait mode, many would surely raise their brows at you. To avoid that, start recording now with Horizon Camera. This app is available on iPhone and iPad, where-as its unique features are automatically capturing video in landscape mode. It acts as a stabilizer, too, whereas whether you are recording in portrait mode or moving, your recording will remain in landscape mode. How great is that, right? Aside from that, it also has 60 and 120FPS slow-motion features, and your output is in 2K.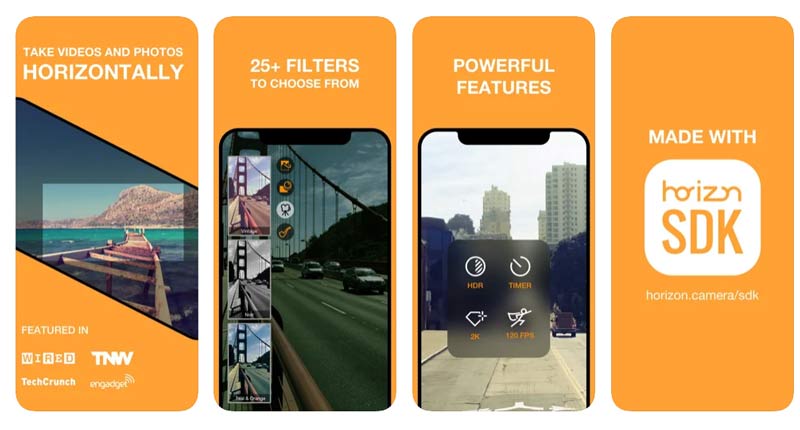 2. Adobe Premiere Rush for Video
Maybe you feel intimidated upon reading the word Adobe now, right? But don't you worry because alt-hough we all know how great apps from Adobe are. This app can be your go-to video editor for free. If you want to learn how to make a movie from pictures on an iPhone, this app combines video and imag-es to create quality output. And what makes it an easy-to-use app is its drag-and-drop function when im-porting files from your local storage to the app's interface. Furthermore, besides iPhone and iPad, this app also can adapt to Android mobile phones.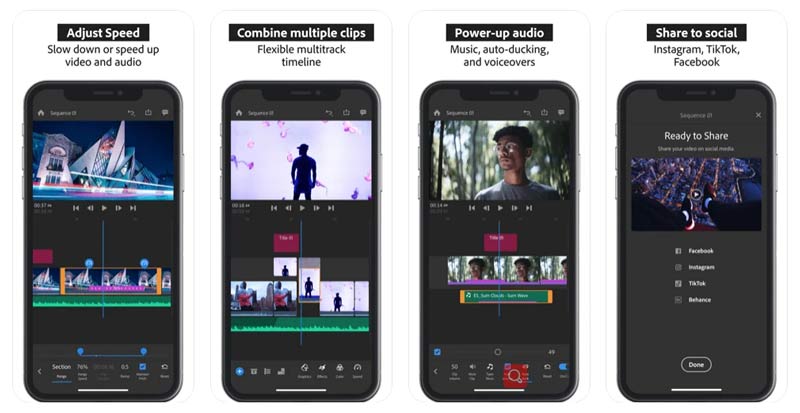 3. Hyperlapse from Instagram
Do you love posting videos on Instagram? Then Hyperlapse must be the tool you have to install on your Apple device. It lets you record time-lapse while maintaining the video stability even without a tripod. With this, you don't have to worry about your shaky arms or bumpy road when recording⁠— which is perfect for walking and running video.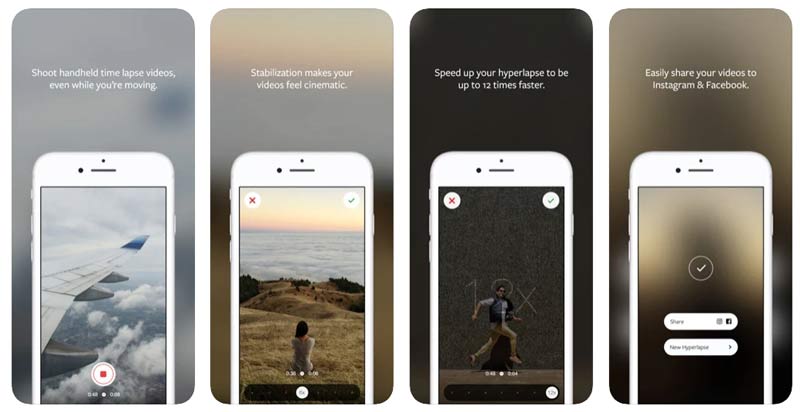 Part 3. How to Make a Movie with a Professional Movie Maker
After mentioning several options for editing video using your mobile phones, this part will help you with what tool to use when you want to use your PC to edit videos and how to use it, and I'm talking about Vidmore Video Converter. Although you might get confused with its function as a converter (as it can convert one media file to different formats), this tool can also be your editing software. You can add multiple clips to merge it, use its editing features like trim, rotate, crop, or add effects and filters, water-mark, audio, and subtitles. Yes, this converter is a great video editing tool too. To use this, check the steps guide below.
Step 1: Download and Launch the Tool
To start editing videos using this tool, click the download button provided below. Get the suitable down-loader for your OS, and follow the installation step as directed.
Step 2: Import files
On the app's interface, click the MV tab to navigate on its editing feature. Click the + Add button to im-port files from your local storage. Choose from the File Explorer and click Open to include the video. You can add videos or images as many as you want.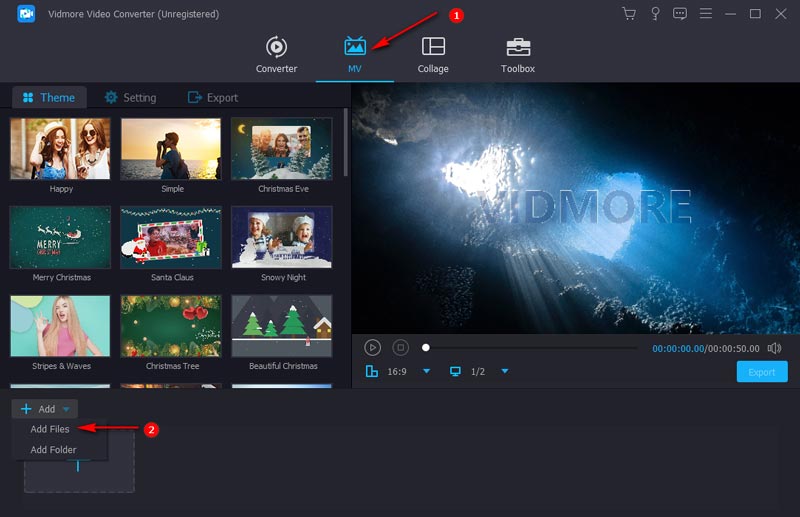 Step 3: Edit the Video
You will see buttons here like Theme, whereas you can set the mood of your entire video. You can choose between Happy, Romantic, Travel, Wedding, etc. After that, select your video ratio at the bottom-right corner of the playback video. If you want to edit your video or the inserted clip, you can click Edit button. Here, you can rotate, crop, add effects, filter, watermarks, audio, or subtitles on your video. Once satisfied, click OK to save all the changes. Meanwhile, to shorten or remove unnecessary clips, hit Trim.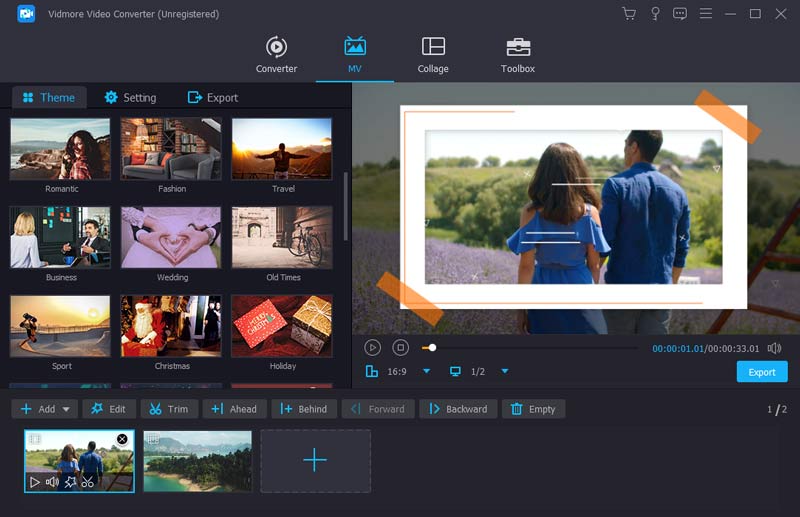 Step 4: Export the File
After putting all your desired changes on your video and adding clips you want to merge, it's about time to export the video. To do so, go to Export tab and finalize all the settings you want from your video. Finally, click Start Export and wait until it finishes.
Step 4: Play Your Output
After exporting the video, you will see that your File folder is highlight. Open that folder, and you will in-stantly see the video. Play it by double-clicking or through right-click and select Play.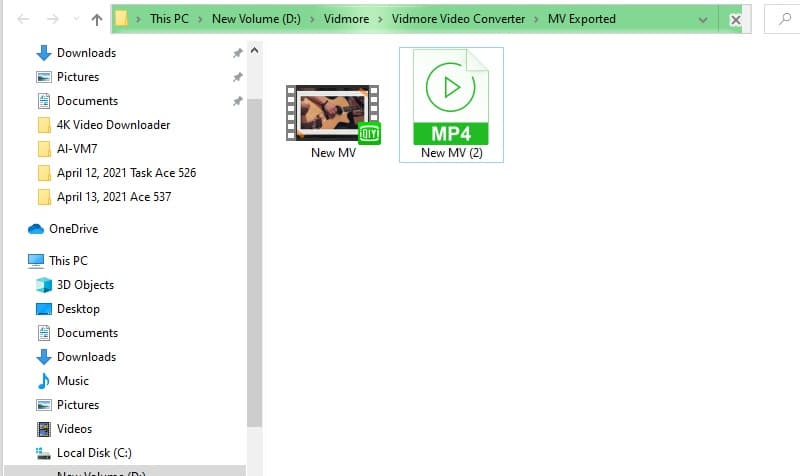 That's all for making your own movie on your computer. Want to know about how to make amazing YouTube videos, read on Best YouTube Movie Maker.
Part 4. FAQs of Making a Movie on iPhone
1. Is the iPhone great for movie-making?
It depends on the iPhone version you have. But the latest versions are great in capturing video. They can record video with quality⁠— sharpness, good colors, and impressive slow-motion. Plus, it has iMovie as its built-in movie editor. However, battery-wise, you must consider using a video recorder that can last longer than iPhone.
2. What iPhone is best for filmmaking?
You're lucky if you own an Apple iPhone 12 Pro. This device can record great footage that can give you quality movies. Plus, it has been tagged as one of the best camera phones for filming in several re-views.
3. How do I create a movie on Mac?
To turn your video into movie on your Mac, you can try Vidmore Video Converter. It provides you the quick way to browse, merge, edit your clips, and creates professional-like trailers and stunning 4K-resolution movies.
Conclusion
That's all for making a movie on iPhone. If you are looking for a free app to turn videos into a cinematic film, iMovie is a good choice for iOS devices. If you want to go further editing and creating Hollywood-style movies on your Mac or Windows PC, Vidmore Video Converter can help you accomplish the moviemaking task easily.