Volume Booster Apps to Set Different Audio Volume Levels
You might have downloaded music or albums from different sources that have irregular or inconsistent volume levels. This is a common dilemma if you got your albums and music from various audio-sharing websites. They don't share the same audio quality and volume level. Some songs are inaudible or too loud, which is a great concern especially if you are a music lover.
This indeed ruins the great music listening experience. As a result, you need to get a good hold of the volume controller on the speaker of your computer or headphone. With that being said, we geek out on the best volume booster programs to help you set different volume levels for your music collection. Read on to discover more about them.

Part 1. Best Volume Booster for Windows PC & Mac
1. Vidmore Video Converter
Vidmore Video Converter comes with a volume controller that will enable you to normalize inconsistent music and produce a comfortable sound level. With it, you can choose to increase the loudness up to 200% from the normal volume which is particularly helpful for inaudible songs. It also features a volume booster to help you increase or decrease the audio in a video. Besides, cutting and splitting can also be done using this program. That means you can remove the unwanted parts of the audio and keep only the most relevant part. On top of that, it has flexible settings for audio output that lets you gain access to modifying the audio sample rate, bitrate, and channels. To use this volume booster for PC and Mac, take a look at the steps underneath.
Vidmore Video Converter
1. Increase volume up to 200% high.
2. Synchronize the audio with the video using the delay feature.
3. Supports a wide range of audio formats: MP3, WMA, WAV, AAC, etc.
4. Select audio profiles.
5. Cut, split or merge audio files in one file.
6. Export audio files into any desired audio format.
Step 1. Acquire the Volume Booster app
First off, download the program by clicking one of the Free Download buttons below. Make sure to get the installer based on the OS that your computer is running. After that, install the app and run it after the successful installation.
Step 2. Upload an audio
Now click the Plus sign button to load the audio file that you wish to enhance the volume of. Pressing the Spacebar on your computer keyboard also works well for uploading your target files.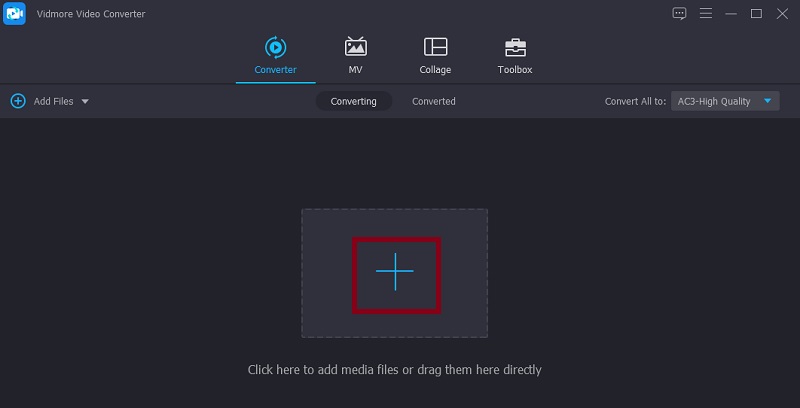 Step 3. Access the volume booster
Once the file is loaded into the program, click on the Edit icon to access the volume booster of the tool. From the editing interface, adjust the slider for the Volume according to your requirements. Listen to the song then click the OK button if you are happy with the results.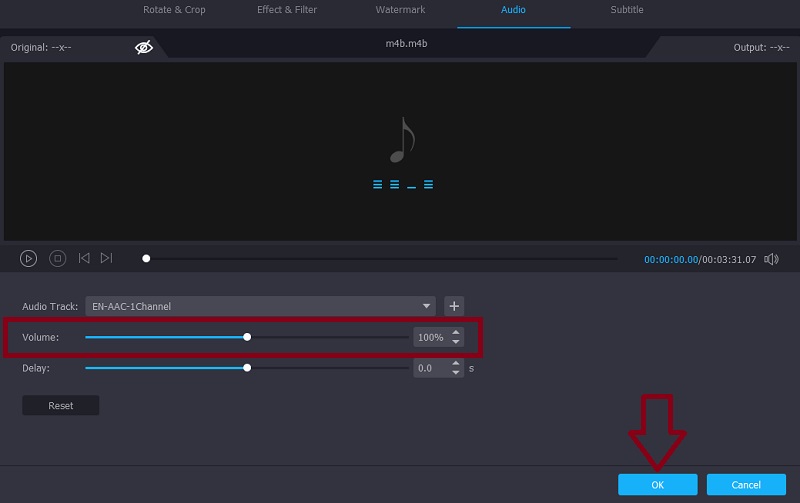 Step 4. Save the output
To finally save the final version of the file, go back to the Converter tab. Then, select an audio format from the Profile menu under the Audio tab. Once done, click on the Convert All button to start processing the audio file.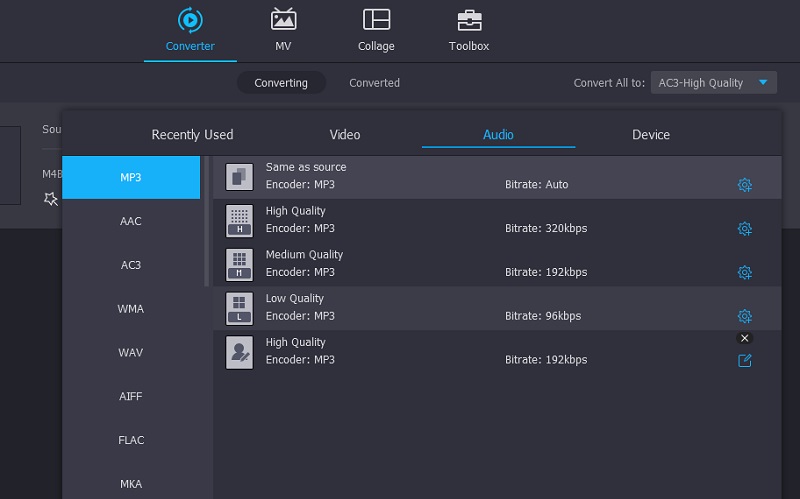 2. VLC
VLC Media Player is known for audio and video streaming, it can also be helpful for boosting and enhancing the audio quality. Aside from increasing the volume of the audio permanently, it can also work the other way around allowing you to access the volume normalizer. This helps users bring down high volume audios. Talking about audio effects, the tool comes with various presets and a comprehensive equalizer that you can apply to your audio files. Above all, VLC is a free volume booster that is highly compatible with almost all platforms.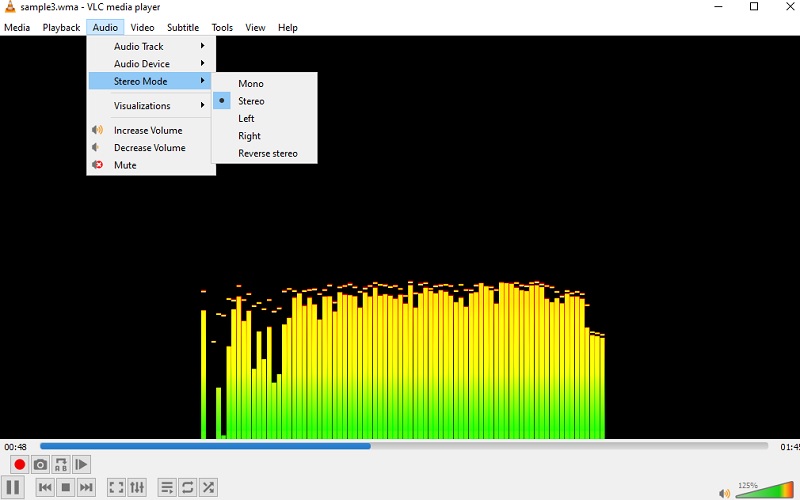 3. Volume Booster
If you desire to boost the volume of the audio you are listening from the comfort of your browser, then go ahead and install Volume Booster. This is a Chrome extension to amplify the volume of any sound from the website directly. It works on audio sharing sites like Soundcloud yet there is a noticeable crackling sound upon increasing the volume. So, you should use it responsibly to prevent damages to your speakers or headsets. Nevertheless, it is an effective tool to increase and decrease the volume level of an audio stream. Therefore, if you need to raise the volume of the sound that is otherwise inaudible or volume down to too loud content, this Volume booster for Chrome is of great help.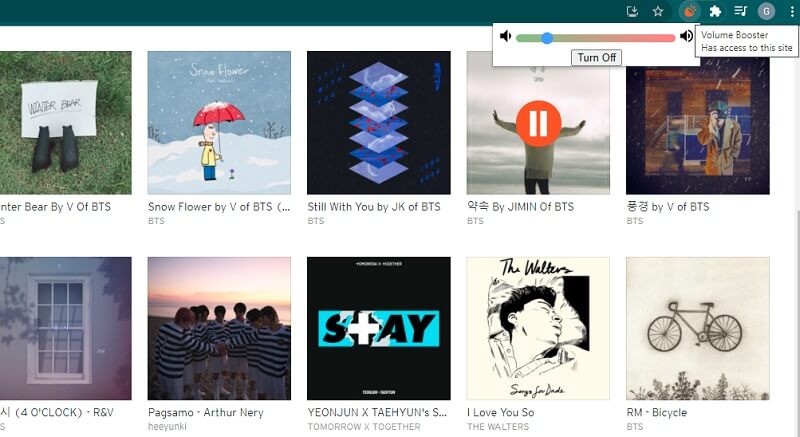 Part 2. Top 3 Volume Booster Apps
There are also times when the speaker of your smartphone does not suffice to audibly hear the sound. As such, you may need aid or support from a booster app. So to squeeze more power except for the native volume controllers, refer to the volume booster apps below.
1. Volume Booster – Equalizer FX
Volume Booster - Equalizer FX is an iOS mobile app that helps you amplify your phone's volume beyond the system default. It comes with a nice feature where you can boost the bass of audio along with the ability to access the virtualizer and equalizer allowing you to adjust sound frequencies in accordance with your desired output. Technically, it will give you about a 20-30 percent boost not to mention you could employ a virtualizer as if you have a stereo at home. In other words, this iPhone volume booster lets you boost the device speakers of your device integrated with highly customizable presets.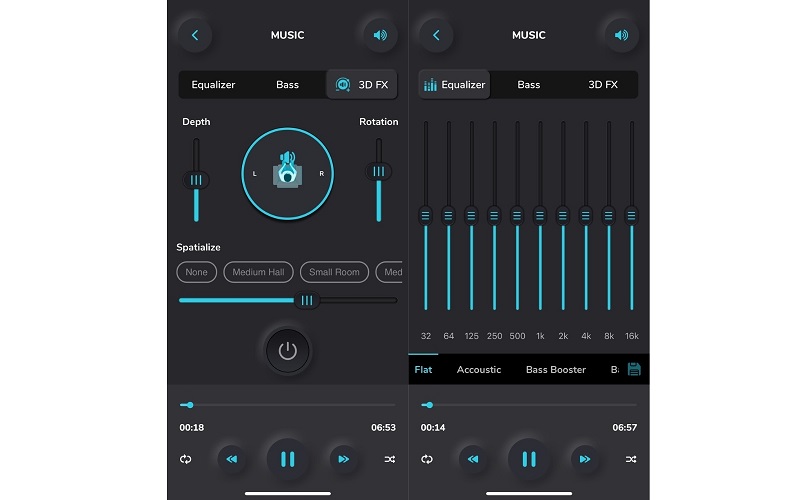 2. AmpMe – Speaker & Music Sync
Another portable volume booster you should consider using is AmpMe - Speaker & Music Sync. The tool can pull music from audio sharing sites like SoundCloud and Spotify. Therefore, you can use it to amplify the volume of music or a video. In addition, this app works as a volume booster for Android and iOS devices. On top of that, its hallmark lies in its syncing capabilities. With it, you can sync and play music across various devices at the same time.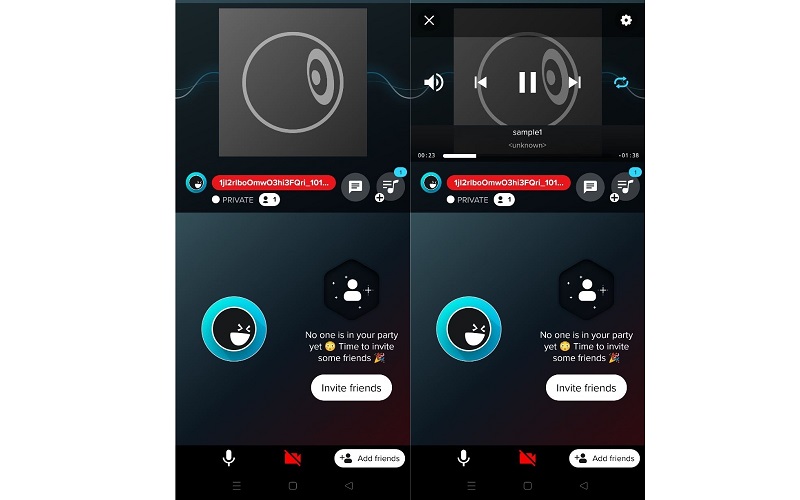 3. Volume Booster GOODEV
Volume Booster GOODEV can dramatically volume up the speaker higher than the default settings on your Android phone. It gives you full control over the volume along with the extra control over the boost leverage the loudness over average most notably. Moreover, this works with all the apps that have audio. Be it a movie from a website or a music player app. This lets you quickly adjust the volume and boost it to 60 percent. It's simple to install and tweaking the volume is a piece of cake as it employs a slider for your convenience.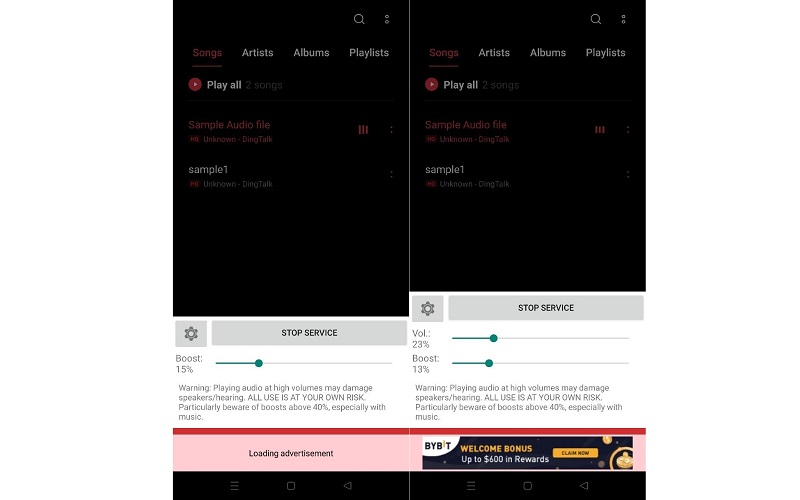 Part 3. FAQs of Volume Booster Apps
Does volume booster have a bad effect on speakers or headphones?
Apparently, yes. Playing audio at a high volume could damage or break your speakers and even your hearing. As such, it is recommended to increase the volume gradually until you get the appropriate volume.
What is the best volume booster for Windows 10?
There are various volume boosters that you can find online which are available for your Windows 10 PC. One example of this is Vidmore that is compatible with Mac and Windows users. Currently, it supports a volume booster and control over the speed or audio delay.
How do I increase the speaker volume on my phone?
You can also boost the volume of your speaker on your phone with the help of mobile apps. You can pick an app on the latter part of the recommendations and see if they meet your standards or expectations.
Conclusion
By using the appropriate volume booster app, you can fix those audios that are inaudible to hear. Each tool comes with unique features which you may desire to have for achieving other purposes like decreasing the volume of too loud audios. Just be mindful that amplifying audios too high may induce the risk of damaging headphones, speakers, or your hearing. Especially when listening to too loud music for a long period of time. As a rule of thumb, gradually adjust the volume to get the appropriate volume and limit the listening time from listening to music with high volume.