Outstanding 123rf Watermark Removers You Can't Miss
If you are one of those who spend most of their time delivering presentations, getting a video or an image will aid you in this situation. Aside from text, your presentation will be more engaging and interactive when presented with multimedia files like videos and images. One of the best sites to visit and get multimedia files is 123rf.
This website provides quality images and videos that you can use to aid in your business presentation or delivering an entertainment slideshow. The downside is that it leaves a watermark on all its content. If you want your images from 123rf with no watermark, consider reading the following sections to learn how to delete watermarks.

Part 1. Top 4 123rf Watermark Removers For Photos
1. Free Watermark Remover Online
Free Watermark Remover Online is first on the list of top 123rf watermark removers. This program works well with all major browsers, provided your computer is connected to the internet. The program has various tools for selecting watermarks. There are polygonal, lasso, and brush selection tools. With these, you can trace simple and complex watermarks. Not to mention, you can process unlimited photos without a restriction on the number and size of the photo.
Additionally, it is infused with a cropping tool, making it easy to remove the watermark in the corner of the photo. If the watermark is all over the image, you must use the selection tools.
Pros:
It is compatible with any browser.
It has different selection tools for convenient watermark tracing.
Crop the photo to remove watermarks in the corner.
Cons:
It only works well with watermarks with a solid background.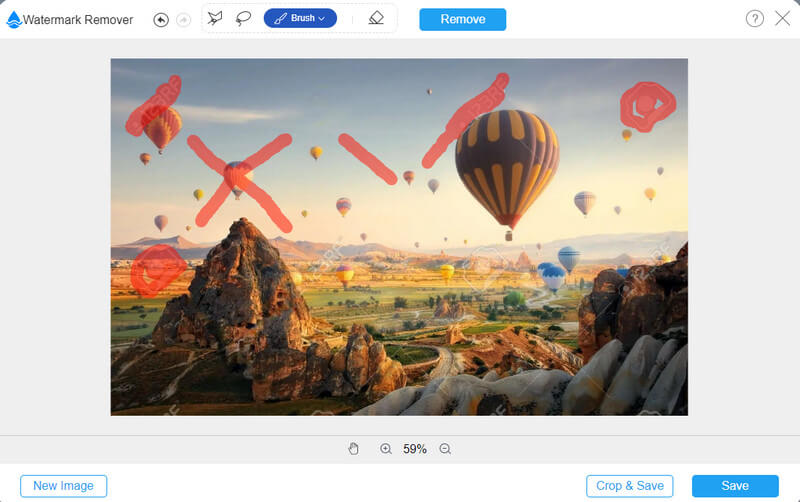 2. InPaint
InPaint is another online tool that can help you get 123rf images without a watermark. It supports various image formats, including JPG, PNG, and WebP. Therefore, a 123rf watermark PNG file can be processed using this tool. Removing watermarks is not that complicated and can be done in just a few clicks. That is because the entire interface of the program is intuitive and very responsive. What is more, when you zoom in using the scroll wheel of your computer mouse and point over your target spot, you will be able to navigate your target area. Indeed, an excellent 123rf watermark remover online.
Pros:
Support mouse controls.
It provides brush, lasso, and polygonal selection tools.
Great navigation functions.
Cons:
The maximum image file size upload is only 10MB.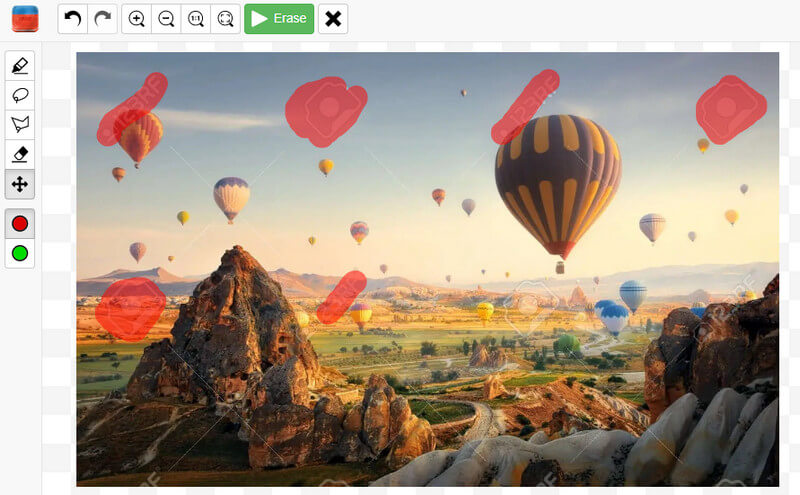 3. Photoshop
If you are looking for an advanced tool for editing photos and fixing imperfections, look no further than Photoshop. Likewise, it provides various selection tools and includes different methods for removing elements from a photo and fine-tuning the restoration process. The easiest and most efficient tool for watermark removal that this offers is the content-aware feature. Not to mention, this feature offers a preview for you to see the results before pushing through the process.
Pros:
Excellent methods for removing watermarks.
Content-aware feature for watermark removal with no trace.
Edit photos with high quality.
Cons:
Quite expensive compared to its similar tools.
Beginners may find it challenging to use.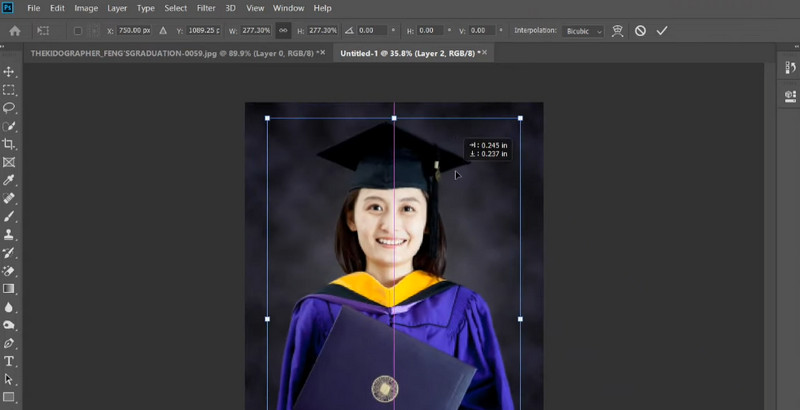 4. Bitwar Watermark Expert
Bitwar Watermark Expert is also a good choice when choosing a watermark remover that delivers efficient results. It provides users with rectangular and custom erasing tools for selecting watermarks. In addition, you can use its batch processing feature to help you with multiple photos. Besides this, you can also add watermarks to your photos to protect your files from copyright.
Pros:
Process multiple image files in batches.
It offers different selection tools.
Add a watermark to a photo to protect copyright.
Support drag-and-drop feature.
Cons:
The free version only allows you to process five photos.
It leaves some residue on the affected area.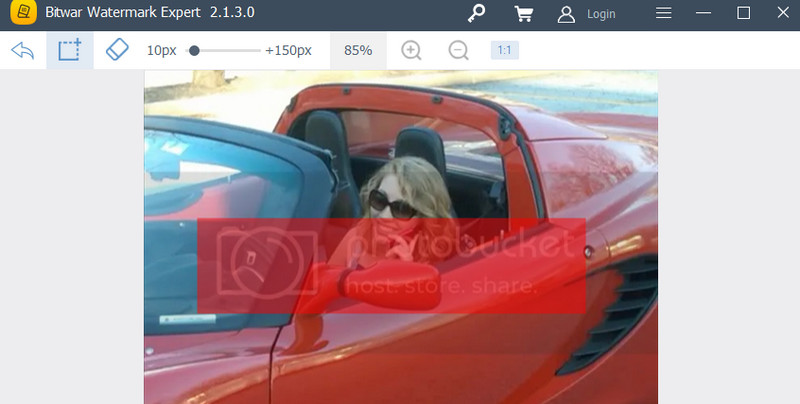 Part 2. How to Remove 123rf Watermark (Tutorial)
If you are unsure where and how to remove the 123rf watermark, you could begin with the Free Watermark Remover Online. It does not need any installation, so that you can do it anytime, anywhere. As long as you have access to the internet, you are good to go. Without further ado, here is how to get rid of 123 images for free without a watermark.
Step 1. Launch the program
First and foremost, get access to the program by reaching its page. To do this, type in the page's link to the address bar of your browser.
Step 2. Add a photo to remove the watermark from
This time, smash the Upload Image button from the main page. The file explorer will be opened. From here, browse and select the image file that has the 123rf watermark.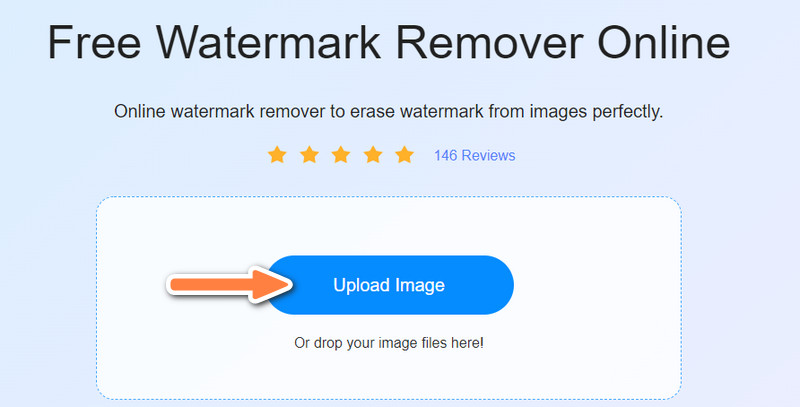 Step 3. Highlight and remove the watermark
Now, choose a selection tool appropriate for the watermark and highlight it. After that, hit the Remove button to erase the watermark. If unsatisfied with the results, highlight the residue and do the same procedure.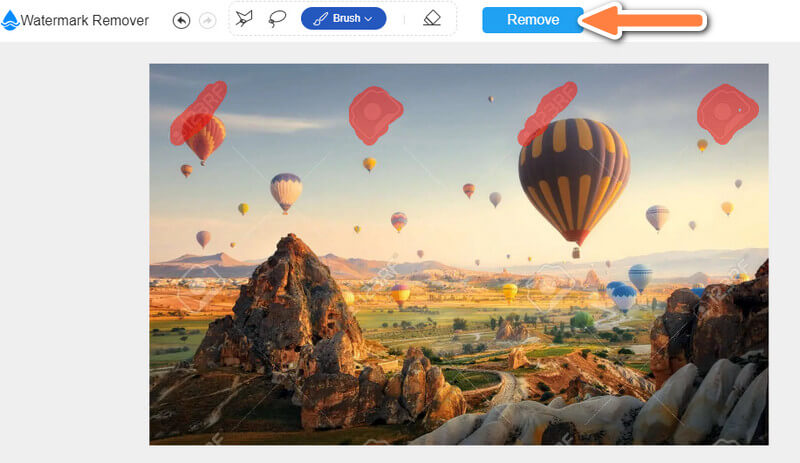 Step 4. Save the photo's final version
Finally, save the edited photo on your local drive. You can do this by clicking the Save button at the bottom right corner of the interface. It will automatically download the file, and you can check it in your download folder.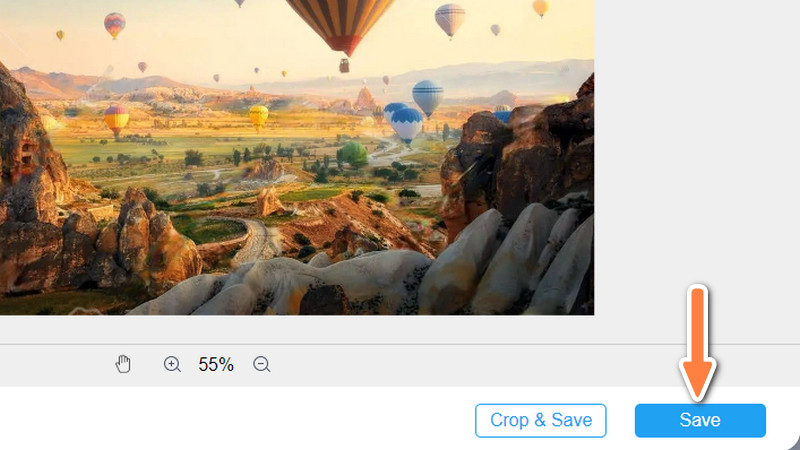 Part 3. FAQs About 123rf Watermark
How to download 123rf images without a watermark?
Unfortunately, you cannot download 123rf images without a watermark. You need to be a subscriber to remove this limitation. You may use the watermark removers discussed above if you want to learn how to get 123rf images for free without a watermark.
Are online watermark removers safe?
Yes. There is no need to be doubtful about the online tools. Just be mindful of the programs that ask for your credentials or confidential information. These websites are suspicious when you are asked about your credentials.
Can I remove the watermark without any residue?
It depends on how complex or simple the picture is. If the photo has a variety of complex colors, residues may be left after removing watermarks from it. But advanced tools like Photoshop could eliminate the residue after the process.
Conclusion
Websites like 123rf are sought-after for quality content, such as photos and videos. Meanwhile, if you want to get content from this website and aid in presentations, you can utilize the 123rf watermark removers. There are online and offline tools that you may consider. That said, you can take advantage of the website's content with the help of these programs. On the other hand, it is best to try each tool to see which tool works best for you.