How to Remove Fiverr's Watermark: 3 Guaranteed Solutions
Fiverr is a marketplace for freelancing services available online. The organization provides comprehensive services for buyers and sellers, bringing together companies and qualified individuals on a single platform. Businesses are engaging with ambitious workers to boost the development of their entrepreneurial endeavors, which has led to the globalization of work. The disadvantage of this online market is that it leaves a watermark if you do not get a paid license. Consequently, this essay will present many strategies to make Fiverr's watermark removed.

Part 1. How to Remove Fiverr Watermark
Fiverr contains a watermark when you get the image. The only way to eradicate the watermark is to pay the seller, and it will automatically remove the logo image.
You can get it done by approving the delivery on your dashboard. And to make it easier for you to get the image without a watermark, you may see the solutions we introduce below.
1. Free Watermark Remover Online
Suppose you want to get off the watermark Fiverr places on your work without paying anything. In that case, the program that you need to use is called Free Watermark Remover Online. It is a watermark remover for photographs that do not need you to sign up for a subscription to use it. Free Watermark Remover is an alternative to various watermark removers, such as those that need a membership or licensing fee before usage. This option is free and does not need a membership.
The online edition of Free Watermark Remover requires little user input because it is integrated with artificial intelligence that can automatically remove watermarks from images and files. In addition, Free Watermark Remover Online is dependent on a wide variety of file types, making it a very versatile tool. Hence, there is no point in worrying about whether or not the watermark remover will be able to handle your file since it can. And last, it is compatible with machines that use the Macintosh and the Windows operating system.
Step 1: To commence, go to the Vidmore website and look for the official page for the Free Watermark Remover Online tool. After that, you may browse for the picture containing the watermark, click the Upload Image button, and then upload it to the website.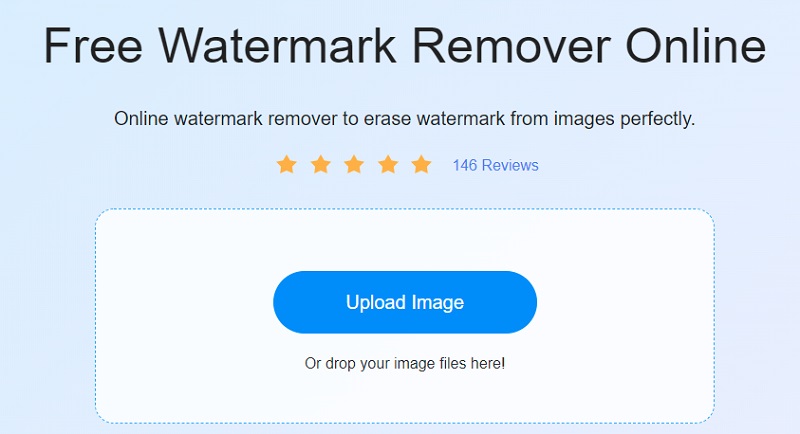 Step 2: Once the picture appears on your computer, you may begin modifying it. Click the Lasso icon at the top of the picture to trace the stamps. Then, begin to place a red mark on the watermark. The red mark will indicate that it will eliminate it. Click the Remove button up top.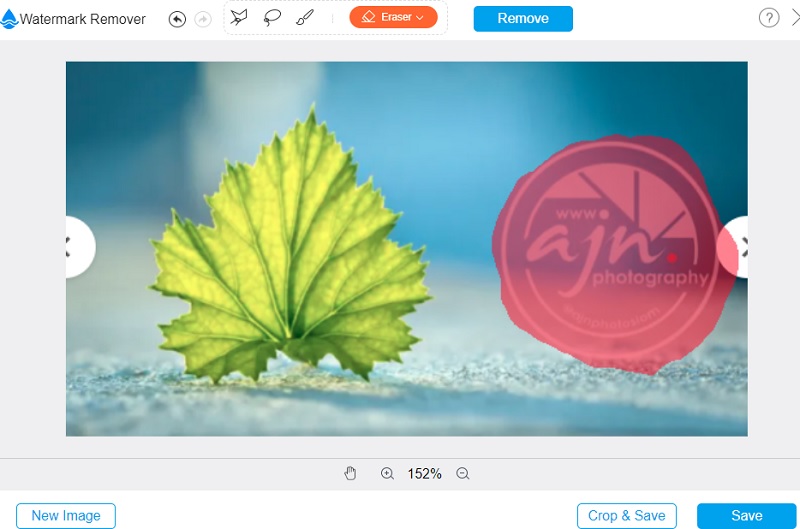 Step 3: Additionally, you may alter the video's dimensions. You may now modify the image's size after clicking the Crop and Save option and highlighting the four corners.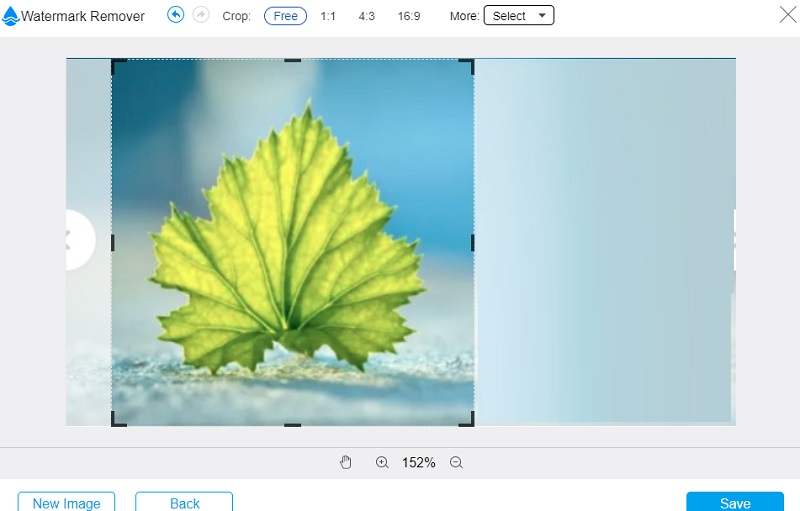 Step 4: Please click the Save option below if you do not want any changes made to the file you are now viewing.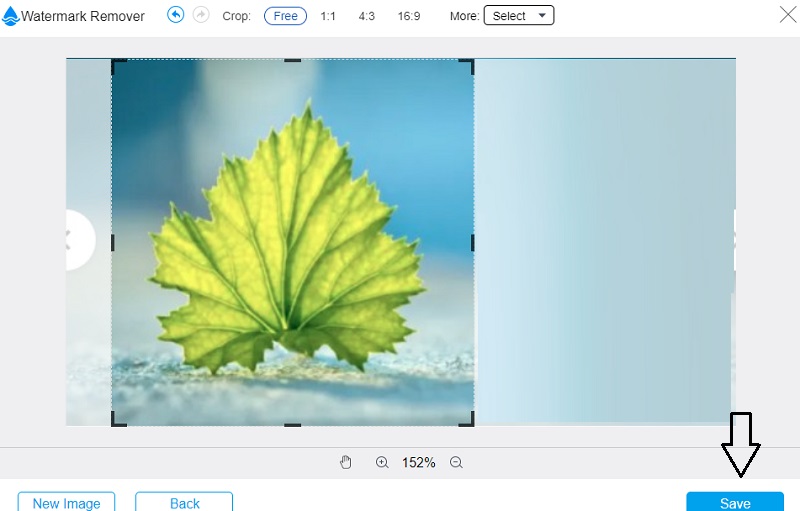 2. Media.io
One of the tools that you can depend on to remove the watermark from your photographs is Media.io, which is also one of those tools. Images taken on Fiverr may have their watermarks removed if the user so chooses. After you have carefully chosen a watermark, the application will allow you to quickly and easily remove it by deleting it at the press of a button after you select it. This tool can edit, in turn reducing watermarks, delete audio from videos and images, and remove watermarks from photos. In conclusion, it can also do more jobs, such as cutting GIFs, photos, and movies.
Step 1: You may access Media.io using the online browser of your choice. Once you are there, choose the short video you wish to submit from selecting files located inside the option labeled Choose Files.
Step 2: The next step is to return to the page you were on before, click the Add Region button, and then use the loops tool to remove the portion of the video with the watermark. Don't forget that you are free to cover any number of watermarks you like; there are no restrictions.
Step 3: If you are pleased with the findings of your inquiry, you can get rid of the watermark placed on the video. Click the Remove watermark option in the upper-right corner of the screen.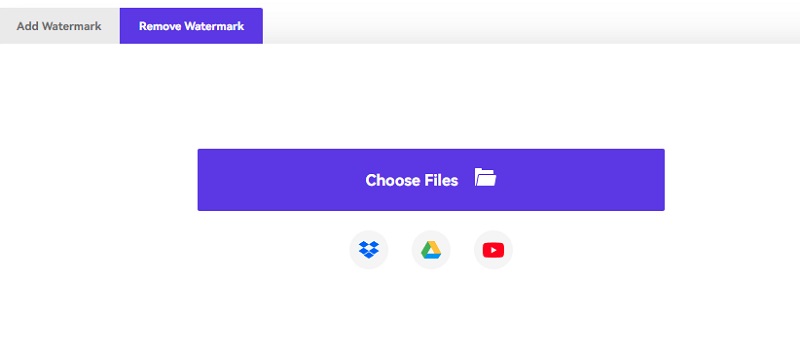 3. InPaint Online
InPaint is one more online tool that you may use to remove any watermarks from your photographs. You can swiftly modify the appearance of your skin in images and cover anything that you do not want to be seen with Inpaint. You will immediately notice a change after using the Marker tool or the Magic Wand tool to any issue area, which is all that is required of you. You are welcome to follow this straightforward advice.
Step 1: To remove a watermark from an image, pick it from the drop-down menu that appears when you click the Upload button.
Step 2: Make a note of the part of the watermark that you do not wish to keep by circling it with the marker. It is crucial to keep in mind that you may make a more precise selection of the regions if you use a marker with a smaller size.
Step 3: In the end, choose the option labeled Run to have Inpaint process the picture and erase the watermark that you had previously established.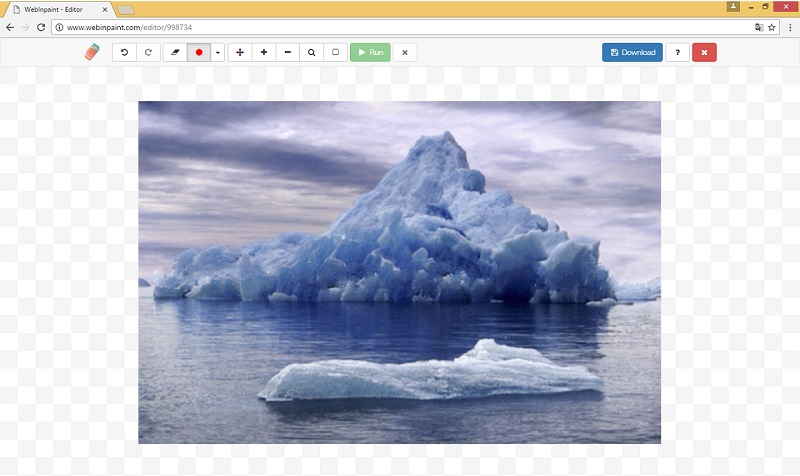 Part 2. Comparison Chart About Removing Fiverr's Watermark
A comparison chart between these two tools is provided for your perusal below to help you better understand each one and choose the one that best suits your needs.
Features

It preserves the quality

It automatically removes the watermark

It supports different file types
| | | | |
| --- | --- | --- | --- |
| Free Watermark Remover Online | Media.io | InPaint Online | Fiverr |
| | | | |
| | | | |
| | | | |
Part 3. FAQs About Removing Fiverr's Watermark
How does Fiverr operate?
Fiverr operates by allowing purchasers to pay in advance for any freelancing service, including site design, social media marketing, and copywriting. Initially, the price of jobs on Fiverr was $5. However, independent vendors may now choose to charge more or provide service bundles. Typically, orders are fulfilled within two days. However, the delivery time is determined by the seller. It may take longer if the seller has a backlog of orders. The seller will get 80% of the entire order value upon completing your transaction. A $5 assignment, for instance, indicates that the freelancer will get $4 for a fulfilled order.
Is Fiverr a viable means of making money?
Fiverr has become one of the most significant websites offering an online service marketplace by linking retailers and freelancers directly. It is the desired option to earn raise money as a side job or even professionally due to its prominence in the sector.
Can an amateur earn money on Fiverr?
On Fiverr, clients may engage freelancers to do various tasks, including business work, technology, programming, audio, music, animation, films, interpretation, copywriting, online marketing, design, and graphics. You may also post lifestyle and leisure-related jobs.
Conclusions
There you have the Fiverr's watermark remover you can count on! You don't need to pay for a license anymore. Even though the tools are free, they will help you remove the watermark of any images. They preserve the quality of your image with any format. So, hurry up and choose the proper watermark remover for you!