Review of Top Watermark Removers for TikTok (Desktop & Mobile)
TikTok is a world-famous social media application that allows people to upload videos. There are various kinds of videos for entertainment and educational purposes. In fact, it has billions of users actively uploading and watching this program. Due to its unique features, you can produce creative and eye-catching videos.
Meanwhile, some users want to share their TikTok videos on social media platforms like Instagram and Facebook. Yet they want the TikTok watermark to be removed to hide their username along with the watermark per se. If you wish to share your TikTok videos without leaving any watermark, we listed here TikTok watermark removers for iPhone, Android, Windows, and Mac devices. Learn more after the jump.

Part 1. Best TikTok Watermark Remover Software
One of the reliable ols you can find online is Vidmore Video Converter. This TikTok watermark remove app leaves no trace of the watermark on the video you processed. Using this app, removing logos, texts, or any undesired objects in the video is possible. You can add multiple watermarks removing the area. Therefore, if you wish to remove a watermark or remove some unwanted objects, you can do so using this program.
Furthermore, you can edit the output settings before exporting the file. There are video and audio settings allowing you to tweak the format, resolution, frame rate, audio bitrate, sample rate, etc. Here are the steps to operate this TikTok no watermark app.
Step 1. Get the TikTok watermark remover
To remove the watermark in TikTok, first download the watermark remover by clicking the Free Download button beneath. Install and launch the program afterward. Then, circumnavigate the tool to familiarize yourself with the interface and functionalities.
Step 2. Access the Video Watermark Remover
Now, navigate to the Toolbox tab. From here, you will see various functions and features offered by the program. Then, open the Video Watermark Remover option and immediately add a video by clicking the Plus sign button.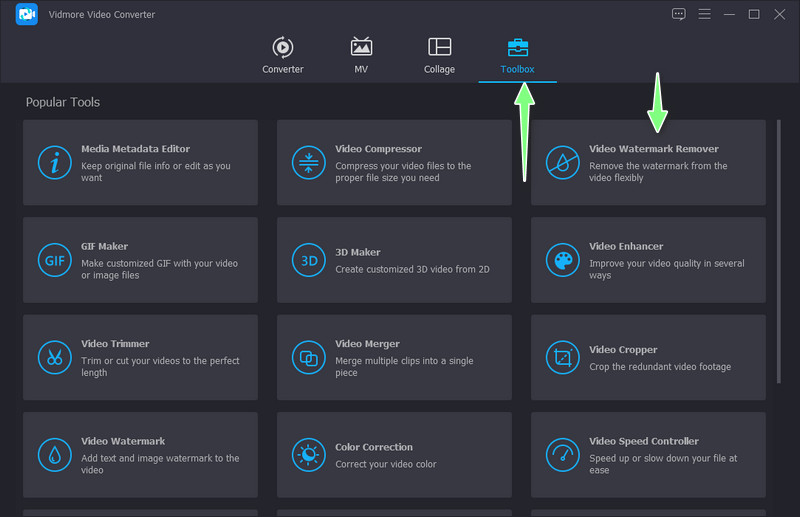 Step 3. Add a watermark removing area
Preview the video after uploading it and locate the watermark. Now, click on the Add watermark removing area button at the lower left side interface. Next, please place it in the area of the watermark. You can adjust the size and position to cover the unwanted watermark. Then, it should disappear automatically like magic.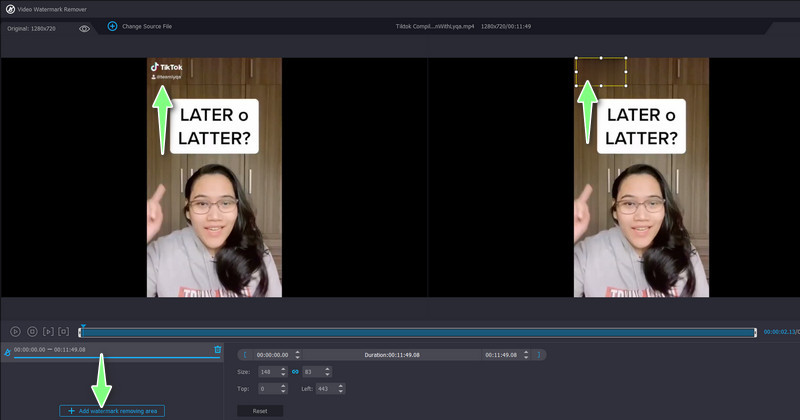 Step 4. Export the processed video
By the way, you can add more watermarks removing areas, and adjust the duration they will take effect. After editing the video, go to the Output option and configure the necessary options. Finally, hit the Export button to process your video, and it will automatically save your video without a watermark on your device.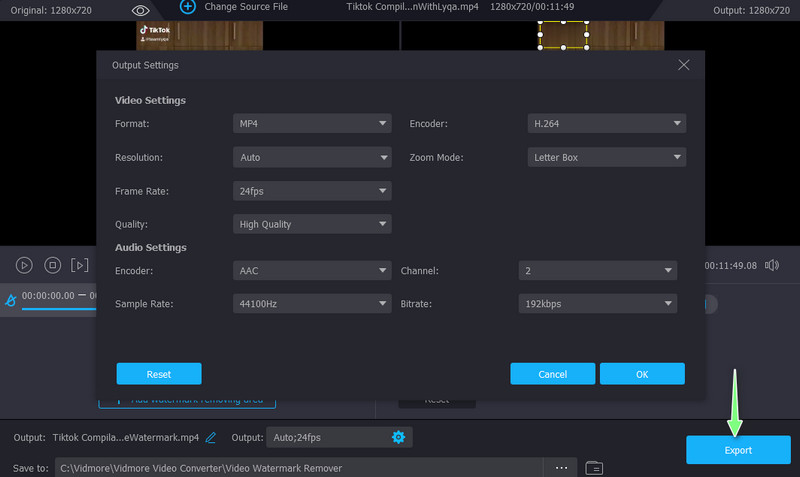 Part 2. TikTok Watermark Remover Apps
Here, you will know how to remove TikTok watermarks on your mobile device. We will discuss some great TikTok watermark removers free to download apps on your mobile devices. Check them out.
1. Remove & Add Watermark
Remove & Add Watermark is an application for Android phones that helps users to remove watermarks. This app enables you to select the watermark area using its lasso and rectangle selection tool to help you accurately trace the watermark. It will automatically replace the selected area with pixels covering the unwanted area of the video. On the other hand, you may also use the tool to add watermarks to your videos and make them personalized.
Pros:
It offers lasso and rectangle tools to remove watermarks.
It allows you to crop out the logo or watermark.
Cons:
Exclusive for Android users.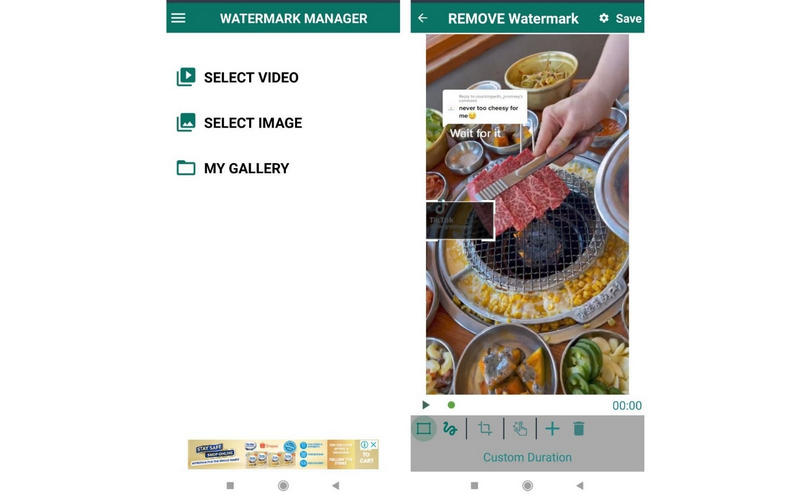 2. Remove Logo From Video
Another Android TikTok video watermark remover you can rely on is Remove Logo From Video. As the title suggests, it is designed to help users delete logos from a video which also works for removing watermarks from TikTok videos. This enables you to move and scale to the logo or watermark from the video.
Pros:
Import video from the gallery.
Change the duration of the watermark.
Cons:
The occasional crashing of the application.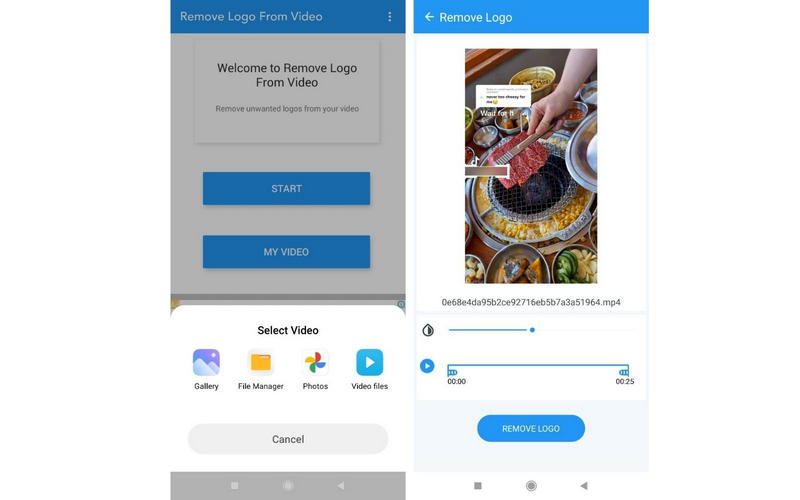 3. Video Eraser – Remover Logo
Video Eraser is a free TikTok watermark for iOS users. It can help you effectively delete watermarks from TikTok videos without noticing it. The tool comes with an intuitive interface. Even non-tech-savvy people can remove watermarks from a video in no time.
Pros:
Very straightforward and easy to use.
Clean removal of watermarks in a video.
Cons:
The interface is loaded with pesky ads.
At times it can be unresponsive.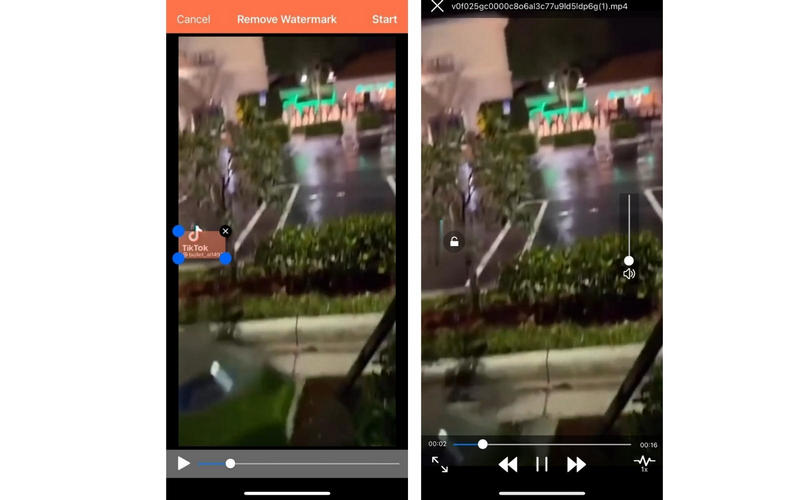 Part 3. Bonus: TikTok Screenshot Watermark Remover Online
In case you want to use a TikTok screenshot as a thumbnail but have a watermark on it, you may consider using the Watermark Remover Online by Vidmore. It works online and allows you to remove unwanted objects, texts, or logos from a screenshot. The best part is the tool is infused with AI technology for accurate and automatic deletion of a watermark. To use this screenshot TikTok watermark remover website, follow the steps below.
Step 1. First off, visit the official page of Watermark Remover Online using any browser on your computer.
Step 2. Click the Upload Image button and browse the TikTok screenshot you want to edit. Double-click on it to upload.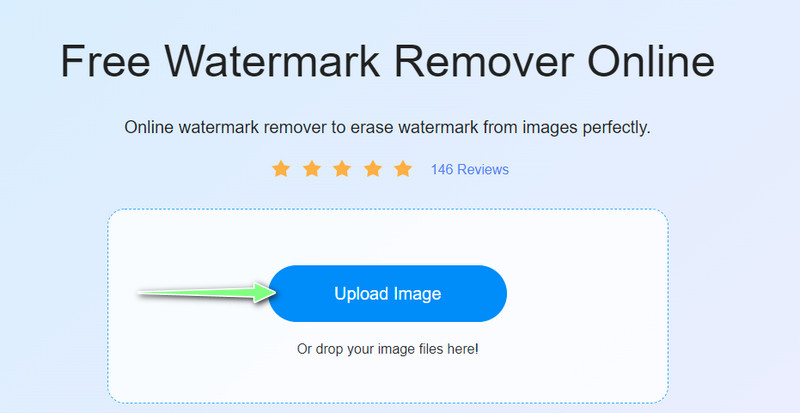 Step 3. The tool should remove the logo automatically. If you wish to remove other objects, you may use the lasso or polygonal tool of the program. Select the areas where the watermark is placed and hit the Remove button.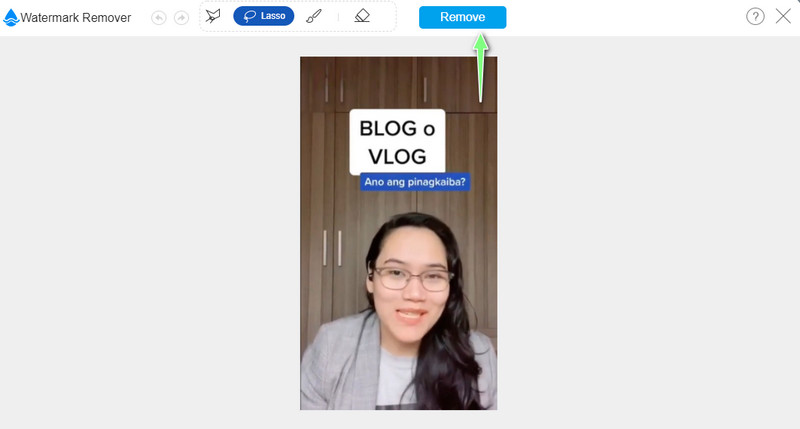 Step 4. You may also crop the screenshot as you like. Once you are done editing, hit the Save button to finish the process. You can use this tool as a TikTok watermark remover online for your future thumbnails.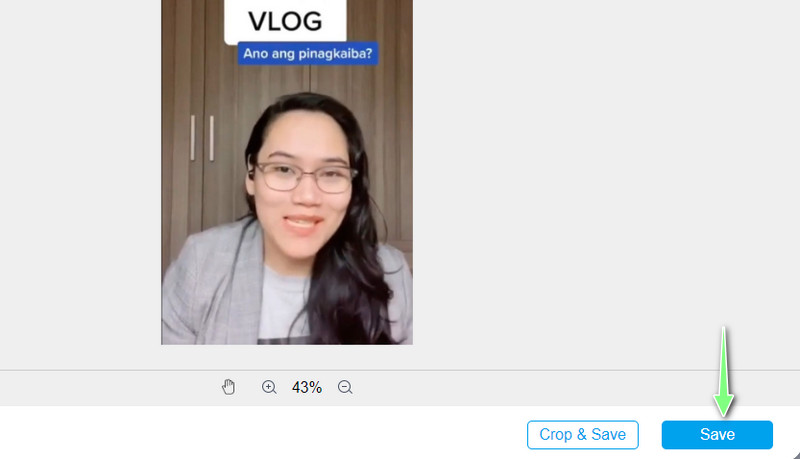 Part 4. FAQs on TikTok Watermark Remover
Is it illegal to remove a watermark from a video?
You cannot remove a watermark from a video unless it is for personal use. Say, for example, you are removing an unwanted watermark that covers more portions of the video.
Can I remove the watermark on a video using iMovie?
Yes. However, you will need to use the cropping workaround. That means if the watermark is just around the corner of the video, you can remove it using the crop option of iMovie.
Is it possible to remove a logo from a video without blurring it?
Generally speaking, removing watermarks involves blurring the area selected. It is noticeable, especially when the video has dynamic colors. On the other hand, it is possible not to blur the part by replacing it with another object.
Conclusion
These are the proven TikTok watermark remover apps you can use to delete a watermark from your TikTok videos. This post shares apps for all devices. Whatever you are using, whether a desktop or mobile device, you will be able to remove the watermark from a TikTok video. Aside from this, a screenshot watermark remover is provided to help you delete unwanted logos from your images that you like to use as your thumbnail. Try them out and see for yourself!