How to Remove Arnold Watermark in Maya: Top 3 Tools
For VFX and animation, Arnold employs physically-based, objective Monte Carlo route tracing algorithms to produce 3-D computer-generated scenes. In the industry, it's one of the most extensively utilized render engines. On the other hand, renders have watermarks if Arnold doesn't have an Arnold Rendering License or can't get to it. These licenses don't come with Maya, so you'll need to buy them separately. And that's why this article is excellent. We will show you how to remove Arnold watermarks in Maya.

Part 1. Best Ways to Remove Arnold Maya Watermark
1. Free Watermark Remover Online
Free Watermark Remover Online is a free online tool that removes watermarks from photographs and videos without downloading and installing software. To use this watermark remover, you only need a computer with an Internet connection. Additionally, it can remove watermarks from JPG, PNG, BMP files, and Arnold watermarks.
In addition, when you use this program to remove a watermark from a picture, it will save it in the same format. Using this online watermark remover, you have the choice of using a polygonal lasso or a brush to erase the watermark. Additionally, you can return and fix any mistakes you made while erasing the watermark.
Step 1: Free Watermark Remover Online can be found by web search. Then, on the search results page, choose the first link that shows. On the app's main screen, click the Upload Image button to submit your images. To open a picture, choose it from your computer's directories, then click Open.

Step 2: Choose the removal tool you want from the list of alternatives. Polygonal, lasso and brush options are available. Make a polygonal selection and click Remove once you've drawn the area you wish to remove.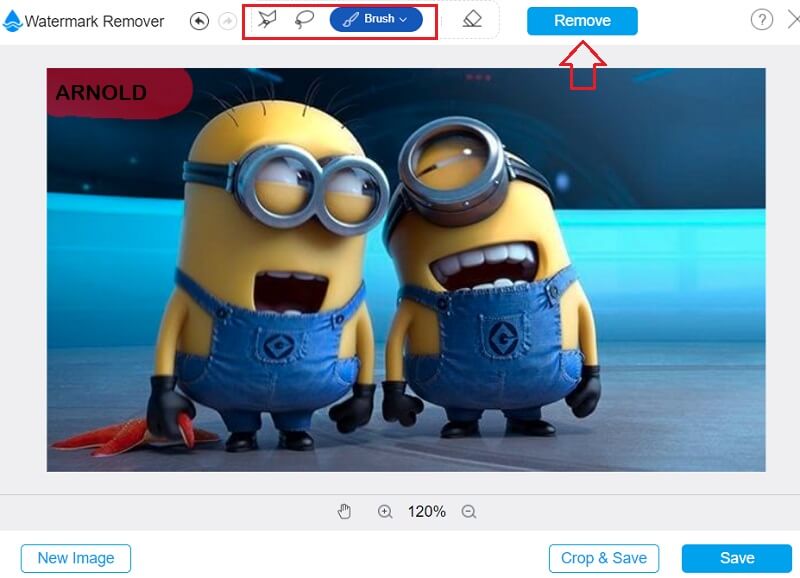 Step 3: When you press the Save button, it will save your document to your device's storage.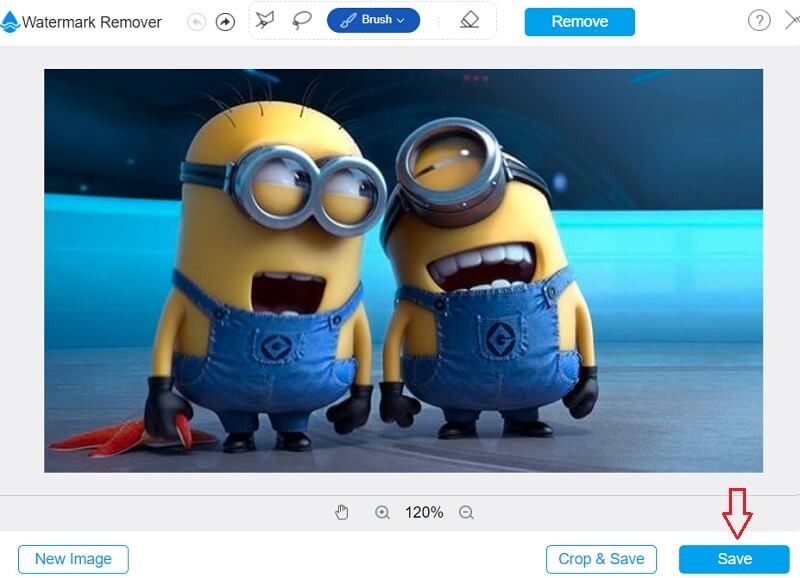 2. Watermark Remover.io
Watermark Remover.io can aid you in achieving your aim of creating a Maya Arnold render that is devoid of any watermarks and can do so with your assistance. Because it has a user interface that is not too complicated, this program is popular among inexperienced users because you can use it relatively quickly. In addition, Watermark Remover.io is a web-based tool that functions independently of the web browser the user uses on their computer. In addition to this, it is suitable for use with any apparatus.
In addition, this watermark remover allows you to erase any unwanted components from your photos, including text, images, and trademarks, among other things. Considering that this online program is web-based software, the process of uploading data to it may move at a snail's pace for you when you utilize it. It is the sole issue that you may raise about the software.
Step 1: You may import your photo from Weibo by going online and doing so. You may do this by hitting the Upload Image button on the screen's side.
Step 2: It will show the result of the picture both before and after being processed by the AI technology.
Step 3: After ensuring that the answer has been correctly removed, choose the option to Download Image from the menu that appears below.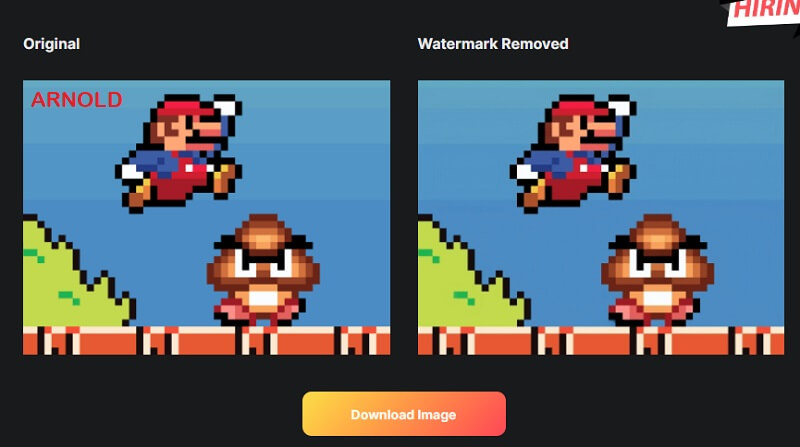 3. HitPaw Watermark Remover
HitPaw is another watermark remover that makes it simple to eliminate the Arnold watermark from the photograph you're working with. It gives you the ability to remove any watermarks from your photograph in a professional manner using editing software. Additionally, it features a straightforward and uncomplicated user interface, which means that this web application will not present you with any difficulties. This utility will successfully remove the Arnold watermark from any video that you own from Arnold.
Remarkably, there is a version that you can access online and offline. On the other hand, the software interface of its offline version is difficult to use, which makes it challenging for inexperienced users to work with. Despite this, many users continue to use this program to remove watermarks.
Step 1: Acquire the HitPaw Watermark Remover and install it. After that, launch HitPaw Watermark Remover and choose the Remove Image Watermark option from the menu. Click the Choose File button after making your selection, and then select the clip whose watermark you want to delete.
Step 2: At this stage, you will need to add a watermark to your created video. After that, move the cursor over the clip's portion with a watermark. It is possible to prolong or shorten watermarks by adjusting the position of the timeline bar to the appropriate position.
Step 3: Proceed by removing and exporting from the options to complete the process. It will save the modifications. As a consequence of this, it will transmit the watermarks in addition to both videos. Then, after making your selection, go to the Open Folder menu option to see if you can locate a video that does not have a watermark.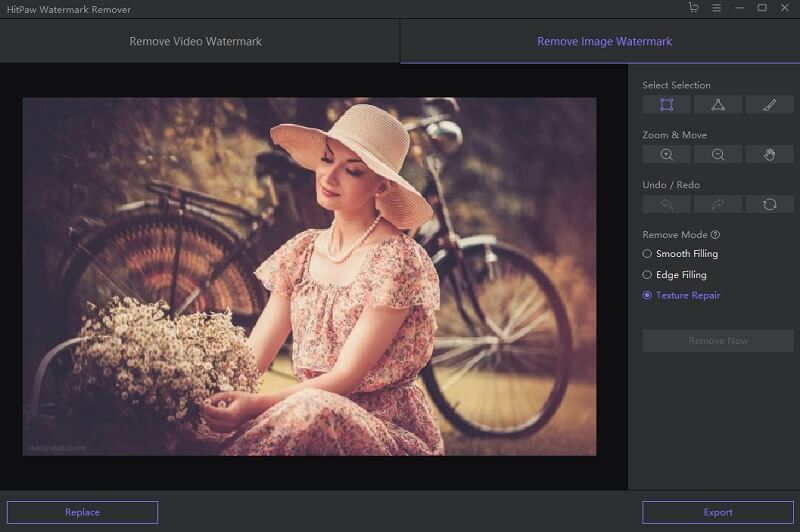 Part 2. How to Remove Arnold Watermark (Render Sequence Tool)
When using Maya, Arnold watermarks display solely on the produced result without a license. Because of this, you must go through the render procedure to remove the watermark. Adjusting the render parameters after creating an animation is necessary. Presets and other options are contained in the picture format and frame or animation settings. After making the necessary adjustments to the render parameters, click Render and choose Batch Render. Watermarking will appear on all of the photographs after this.
You must render your animation to remove the Arnold watermark. Make sure the camera you wish to render is selected in Render Settings. Then, choose Render Sequence. When you open the photographs, you won't notice any watermarks. You may now use these photos to create an animation.
Part 3. Comparison Chart
Qualities

Easy to use

Run on Mac and Windows

Makes good image quality
| | | | |
| --- | --- | --- | --- |
| Arnold | Free Watermark Remover Online | HitPaw | Watermark Remover.io |
| | | | |
| | | | |
| | | | |
Part 4. FAQs About Removing Arnold Watermark
Is the Arnold Renderer open source?
A year-long membership to Arnold may be purchased for $380, while you can purchase a monthly subscription for $50. You may get a subscription to Arnold for three years for $1,085.
Does Arnold support batch render?
Yes. Rendering a sequence frame in Maya may be accomplished with the help of the batch renderer. You can do this by opening Maya and selecting Render, followed by Batch Render from the command line.
How long does rendering in Arnold take?
The rendering process in Arnold may often take up to 12 hours or more.
Conclusions
The Arnold Maya watermark removers described above provide a satisfaction guarantee that they will assist customers in removing the watermarks from their projects. In such a situation, you won't spend much time or effort cleaning up the job! But if you want to ensure the outcome is satisfactory, you may use the Free Watermark Remover Online.