Top 3 Best Photo Clarity Apps to Improve Image Quality
Due to specific situations, it is not always possible to avoid having blurry photos. Additionally, it may be a source of annoyance, mainly if you cannot retake the photograph. Even if you are starting in photography, there are a variety of techniques you may use to enhance or retouch your photographs. You may improve the quality of a picture through various techniques. Others rely on third-party picture enhancers, while others pay for the assistance of photography experts to improve the overall appearance of their photographs. Learn how to edit photos for clarity with the help of some of the best photo enhancers online and offline.

Part 1. How to Improve and Enhance Photo Clarity on Computer
1. Vidmore Free Image Upscaler Online
Vidmore Free Image Upscaler Online is the most accessible method for improving the photo quality of an image. It is one of the apps you can find on the internet if you want to change your photographs. Even if your photograph is ancient, there is no need for alarm. It will assist you in restoring and enhancing its original quality.
The Vidmore Free Image Upscaler Online is driven by artificial intelligence, making the process simpler and superior results. Unlike other picture enhancers needing extensive navigation to restore image quality, this web-based application is simple and uncomplicated. Adding your picture to the program's interface is required, and everything will be resolved. Additionally, you may magnify your picture up to eight times using this online tool. Lastly, Vidmore Free Image Upscaler Online allows users to submit images in various formats. And they will not be restricted in terms of picture uploads.
Step 1: The first thing you should do is open the browser on your Mac or Windows device and then search online for a program called Vidmore Free Image Upscaler. To upload a photo, click the Upload Photo button. After that, you will need to obtain the previous image you wish to restore.

Step 2: When the artificial intelligence has finished processing the image, it will display both the original and the improved version for you to compare. If you are unhappy with the scale, you can select a different Magnification from the list that is located above.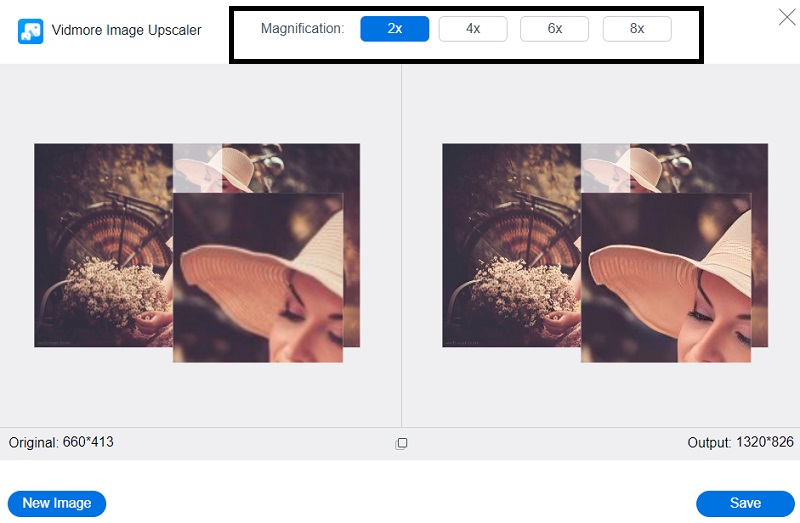 Step 3: After selecting the amount of magnification you want, you can then save the image by tapping the Save button below the picture.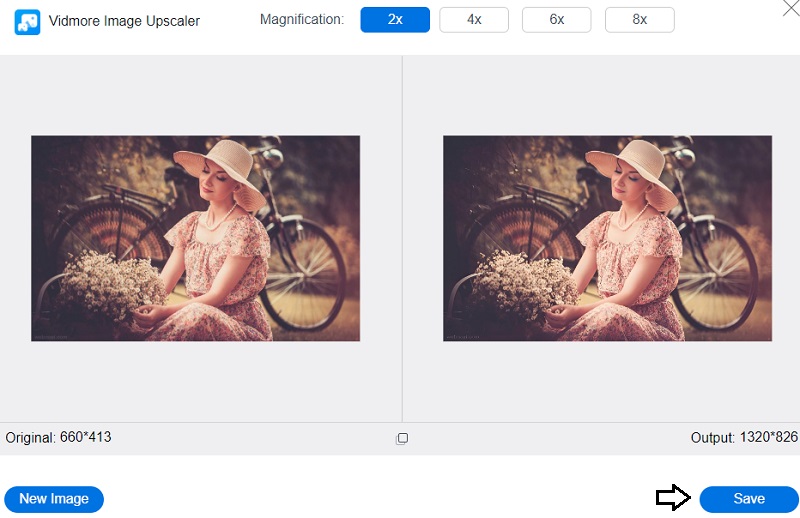 2. Let's Enhance
Let's Enhance is one of the most efficient alternatives to Photoshop for boosting the resolution of a picture. This image magnifier employs AI trained to correctly fill in the info in your images. Let's Enhance gracefully enhances an image's quality and allows you to scale it up effortlessly. Additionally, there is a little learning curve, so even non-tech-savvy persons will be able to utilize this tool. You may use the following steps as a guide.
Step 1: Visit the Let's Enhance website and choose the Try for free option once you're there. Afterward, either sign up for a new account or use your existing Facebook or Google account to sign in.
Step 2: You can upload a picture from your device directly into the editor or drag and drop the image into place.
Step 3: Lastly, make any necessary adjustments to your picture by using the tools on the right. Then, click the button labeled Start Processing in the bottom-right corner of the screen.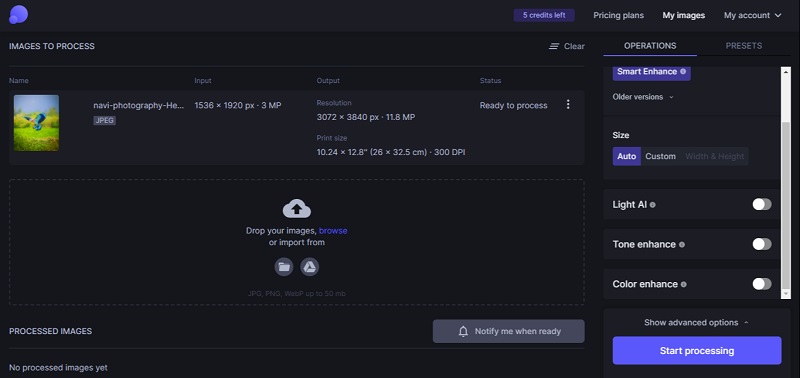 3. Pixlr
Pixlr is an internet platform that provides you with all of the AI-powered tools necessary to quickly and professionally edit your photographs in a short amount of time. Most of the available capabilities in Photoshop are also available in Pixlr's free web editor. However, its use couldn't be more straightforward in comparison. You can make quick modifications to the colors of your images and the sharpness, blurring, and vignetting when you use this application. You have access to many editing choices when you use this automated photo editor, such as the ability to make personalized edits and presets for brightness, lighting, and shadows.
The following is a straightforward explanation of using this online picture clarity tool.
Step 1: Visit the website of Pixlr using your preferred search engine, then choose Pixlr X from the available options.
Step 2: After that, choose Open Image from the menu and upload the picture you want to use. After that, another screen will appear, asking you to adjust the picture size that is just uploaded.
Step 3: You may improve or retouch your picture and add effects under the portion of the program called the editor. Click the Save button when you are making changes.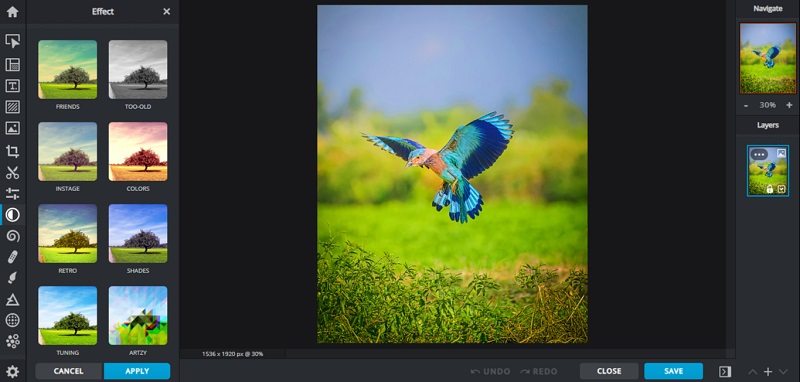 Part 2. How to Improve Photo Clarity on Mobile Devices
PicsArt is one of the most fantastic pictures clarity applications you can use if you have a smartphone and want to increase your image quality. It is a cross-platform image editor for iOS and Android. PicsArt enables comprehensive enhancement to give your photographs a professional appearance. You can generate miniature planet photographs, add overlays, alter backdrops, add text, create memes, and slice your photos. No surprise, it may also increase the quality of photographs.
And if you would want to know how to edit photographs for clarity, please refer to the list of steps provided below.
Step 1: To modify and improve the quality of your photograph, touch the image on the camera roll. When the editing window appears, the toolbar at the bottom of the screen will provide a variety of choices. Then, choose Tools to access capabilities that allow you to crop, stretch, enhance, modify, resize, rotate, and alter the photo's viewpoint.
Step 2: To change the aspect ratio, choose one of the options at the bottom of the screen. When you choose the ideal frame, press Apply in the upper-right corner.
Step 3: When making changes, hit the Apply button to save them.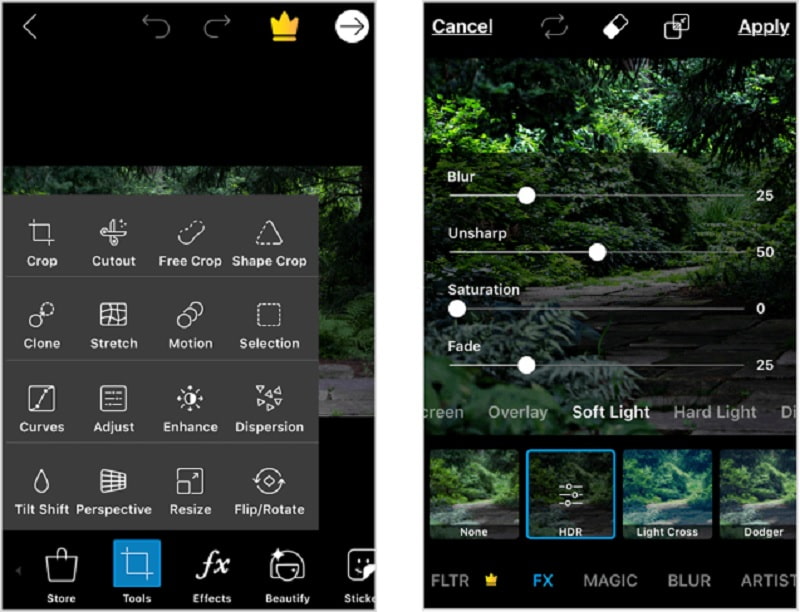 Part 3. FAQs About Improving Photo Clarity.
What makes a picture clearer?
You may improve the appearance and quality of your photograph by adjusting the exposure and contrast settings. The most helpful way you can do this is to play with the photo's clarity and brightness settings. By adding grain or fade to a photograph, you can give it a styled appearance or a filtered appearance that helps the out photograph seem less visible.
Why are my photos poor in quality?
Your photographs might be too tiny if you obtained them from the internet, took them with an older phone or camera, or if the settings on your phone or camera are configured to store images at a reduced resolution. If your photographs are too tiny, you may expand them using the Vidmore Free Online Image Upscaler.
Why do my images appear grainy?
The graininess you are referring to is known as noise, created by a high ISO.
Conclusions
Taking a nice picture is more complicated than it seems. Obtaining the right image is the first step in crafting a social media-worthy post. Due to the inevitability of inferior picture quality in some circumstances, you may rely on some photo clarity makers above. And they will make your picture worthy of social feeds.