How to Fix Bad Quality Pictures in Photoshop and Without Photoshop
One of the most typical causes of blurry pictures is motion blur. It frequently happens when the subject moves while taking a shot. It seems like there is nothing more you can do, especially when you are stuck with just one photo. With that in mind, you will not have the confidence to share it with your friends or upload it online. Fortunately, we discovered programs to help you repair photo quality, delivering efficient and excellent results.
There is no need for you to take that particular shot again because you can change your blurry or grainy photo into a clear one. Without further discussion, here are efficient solutions to fix the quality of a picture. Read on to get the necessary information.

Part 1. How to Fix Bad Quality Pictures in Photoshop
Photoshop is a professional program that consists of advanced editing tools and features. It can help you unblur your photos by employing different methods. That includes sharpening, adjusting the resolution, adding the mask, and much more. Simply put, it has all the photo editing features you need for quality photo restoration. You can access basic features like resize, rotate, crop, etc. Hence, when you find out that the photo you took is blurred, Photoshop is your go-to app. However, this program is primarily beneficial if you are already a professional. For amateurs, it might take you a while to get used to it.
Nevertheless, here is how you can quickly fix low-quality pictures in Photoshop using Unsharp Mask:
Step 1. First, download the photo editor from its official website and install it on your computer. After that, run it to see the working interface of the program.
Step 2. From the home page, hit the Open button on the left side portion. Then, browse your files and double-click on your selected photo to edit.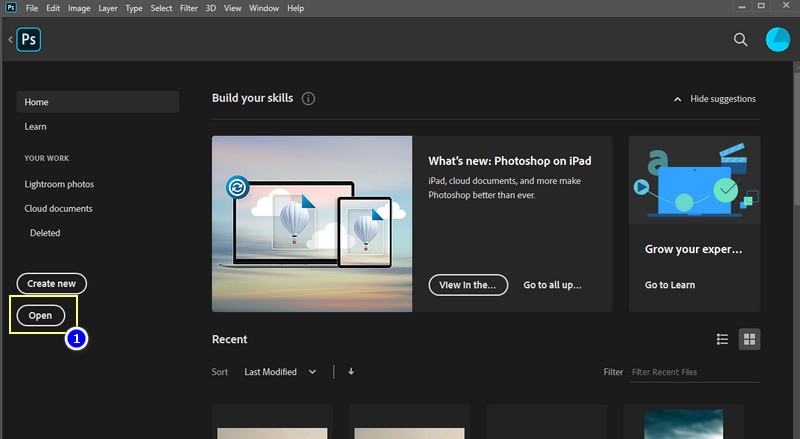 Step 3. Head out to the Layers panel on the right side editing panel. You can access the Layers selection by going to Windows > Layers. After that, you should see the Layers section.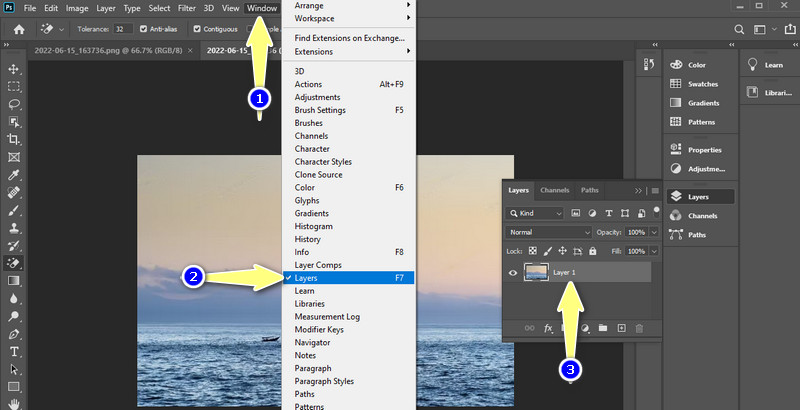 Step 4. Now, right-click on the layer that contains your uploaded photo. Next, select Convert to Smart Object.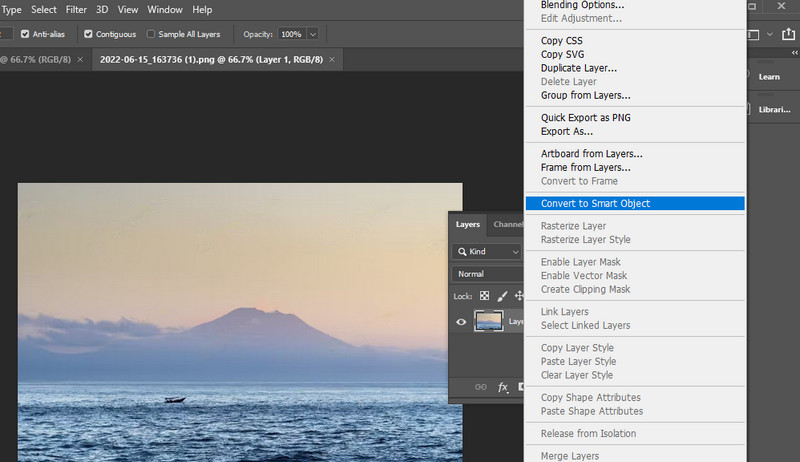 Step 5. This time, navigate to Filter > Sharpen > Unsharp Mask. Then, a dialog box will show that allows you to set the strength of the sharpening effect, the width, and the general sharpness.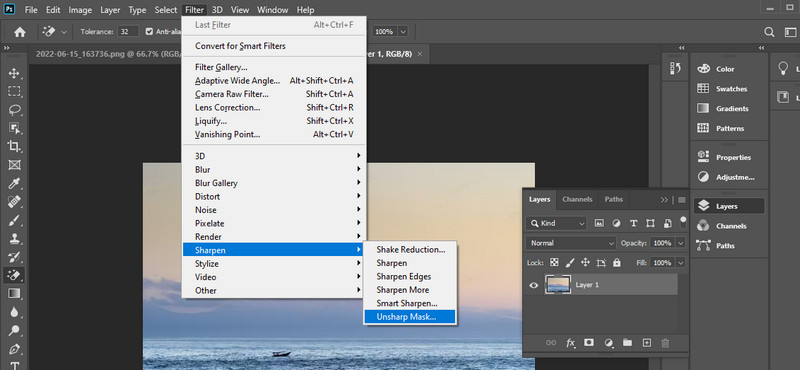 Step 6. The Amount slider enables you to determine the sharpening effect's strength. For the width of the sharpening effect, set the Radius slider. Finally, adjust the Threshold slider to set the general sharpness.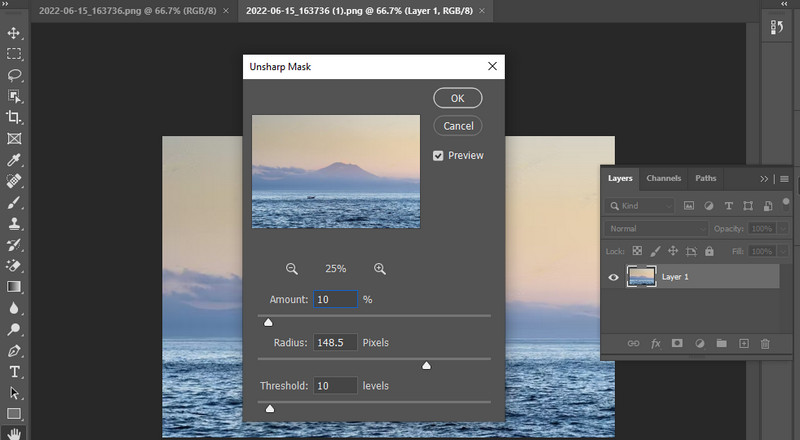 Step 7. Once the results are desirable, go to File and save the photo to your desired location. Using this procedure, you can learn how to fix a bad picture quality.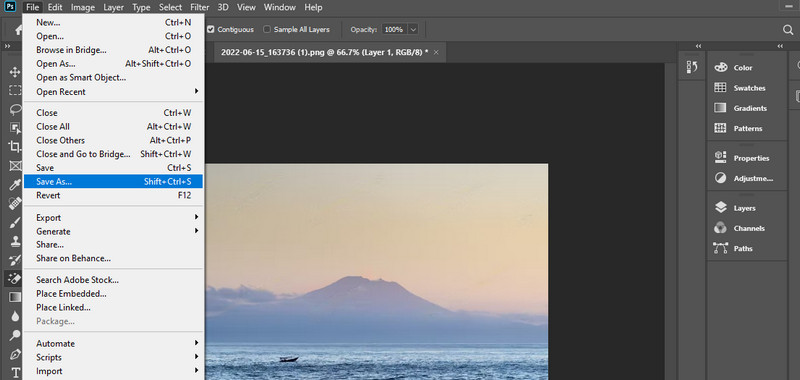 Part 2. How to Fix Bad Quality Pictures Without Photoshop
Either you will get a bad result when using Photoshop, or it will take a long time to get done. That is because Photoshop takes time to learn, especially if you are a beginner. But, in the meantime, you can opt for easy programs. That is what we are going to discuss below.
1. Vidmore Free Image Upscaler Online
First, let us look at a web-based program that effectively unblurs a photo without any noticeable distortion in the photo. Vidmore Free Image Upscaler Online is an AI-enabled tool that enhances your photos in no time. That means you do not have to tweak many settings only to boost the quality of your photos. In other words, it will make your photo editing process effortless.
Aside from that, it offers several magnification factors, including 2X, 4X, 6X, and 8X. These upscale factors could help you enlarge photos without affecting the original quality. More than that, the user interface is easy-to-navigate; even users with no prior experience can get the hang of it instantly. If you wish to fix photo quality online, follow the steps below.
Step 1. Before anything else, open a browser on your computer and visit the program's official website. From the home page, click the Upload Photo and select the photo you wish to unblur.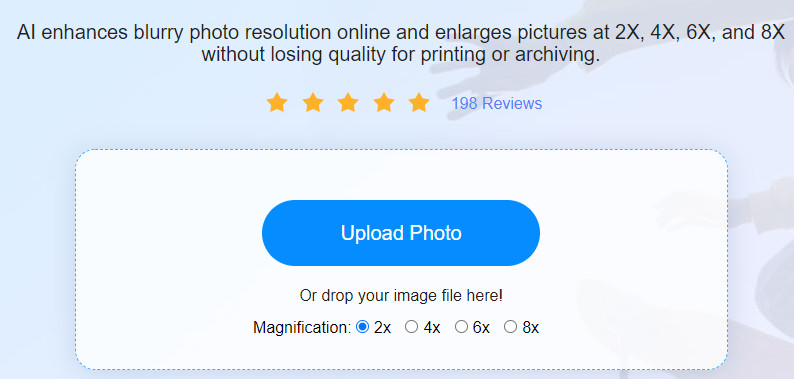 Step 2. Once your photo is uploaded, the program will upscale the file by a 2x magnification factor. But, you can adjust according to your requirements.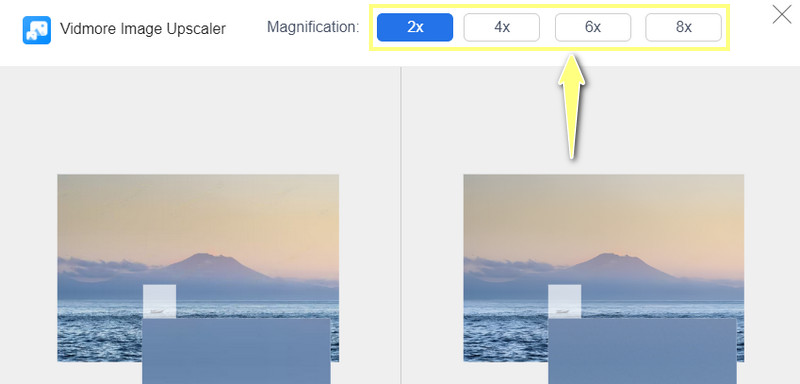 Step 3. After upscaling the photo, hit the Save button and preview the output from your Download folder. You can also process another photo by clicking the New Image. With this method, you should have learned how to fix a low-quality picture.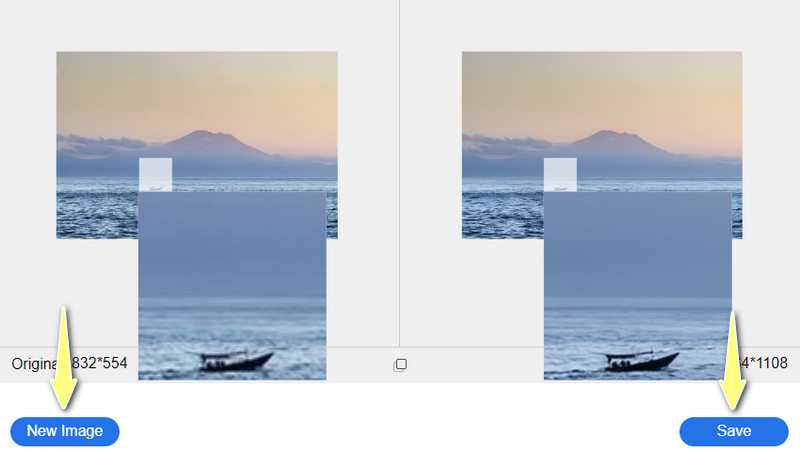 2. Fotor
Fotor is another browser-based program that enables you to access basic and advanced editing tools. That includes crop, cut, resize, rotate, and many more. Furthermore, you can apply filters and effects, like AI photo effects, lomo effects, blur effects, and blur effects. Over and above, it offers an HDR effect to help you get a high-resolution photo. In other words, it has all that you need to restore photo quality.
Step 1. For the same drill, go to the tool's main page and hit the Edit a Photo option.

Step 2. Next, drag your photo directly to the program's page to upload an image.
Step 3. After that, you can start editing your photo. Click the Adjust section on the left side menu. From this menu, select Super-Resolution Enlarger to boost the quality of the photo. It should fix the image quality.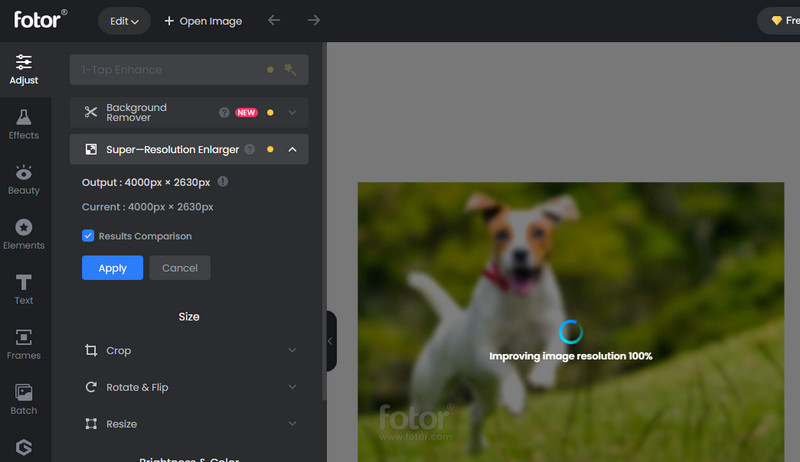 Step 4. Lastly, click the Download button on the top right corner of the interface. Hence, if you are looking for an app to restore photo quality, Fotor is an excellent tool.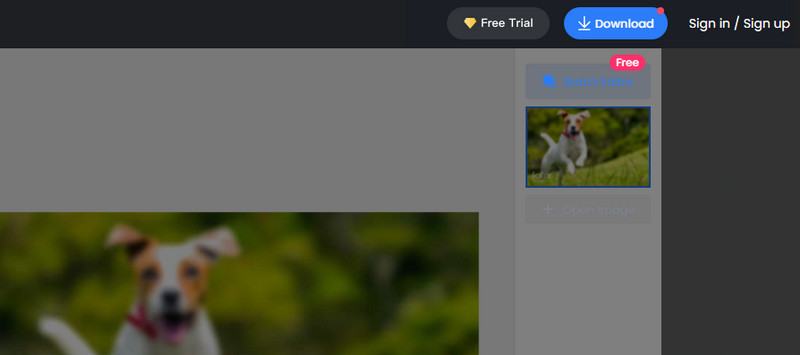 Part 3. Tips for Avoiding Low-Quality Pictures
There are many reasons why pictures look blurry. But you can prevent this from happening.
Here are some essential tips you should learn.
◆ Reduce the shaking by stabilizing your device using a tripod or monopod.
◆ Take better quality pictures by keeping your ISO setting to a minimum.
◆ Perfect lighting has a high contribution to a better quality photo.
◆ Make sure to take shots in RAW formats.
◆ It would also help to use photo editors to fix aspects that need enhancement.
Part 4. FAQs about Fixing Bad Quality Pictures
How can I do museum-quality photo restoration?
You can restore old, otherwise museum-quality pictures using an advanced program like Photoshop.
How to fix TV picture quality?
If the quality of the picture on your TV looks pixelated or blurry, you may reset the TV box or unplug and plug in the coaxial connections.
How to fix picture quality on Instagram?
If you want the quality of your pictures and videos to be in good condition, you should enable high-quality video uploads on your Instagram setting.
Conclusion
You may not be able to take perfect shots all the time due to some unusual scenarios. Still, you can learn to fix picture quality effectively by having excellent photo editing tools. Although Photoshop has the best editing features and tools, it is best to start with a free online service app, like Vidmore Image Upscaler Online or Fotor. Yet, it still boils down to your preferences.