How to Increase the Resolution of an Image in Photoshop
There are different reasons you might need to raise the resolution of an image. One of these reasons is so that you can concentrate on the finer aspects of your image. When you intend to print the image at a larger size, for example, you will need a higher resolution to see the details well. Photoshop is there for you to rely on if you need to enhance the size of your image while maintaining its quality. At this point, you will learn how to increase the resolution of an image in Photoshop.

Part 1. Can Photoshop Increase the Resolution of an Image?
Adobe is the company that invented the image creation, graphic design, and photo editing program known as Photoshop. Pixel-based images, raster graphics, and vector graphics can be edited using the software's comprehensive image-editing tools. It should come as no surprise that many professionals are turning to Photoshop, an excellent photo editor, to improve the overall standard of their photographs. You can adjust the resolution of an image using editing software such as Photoshop, which also provides you with information on the image's resolution.
Part 2. How to Increase the Resolution of an Image in Photoshop
The following is a straightforward walkthrough that will instruct you on boosting the resolution of an image in Photoshop.
Step 1: To begin, open the image size dialogue box so that you may determine the dimensions of your image. To accomplish this, navigate to the Image tab and look for the Image Size there. When it comes to changing the image resolution, you have a few different choices. When you print, you can select one of the presets based on the typical dimensions of paper and prints.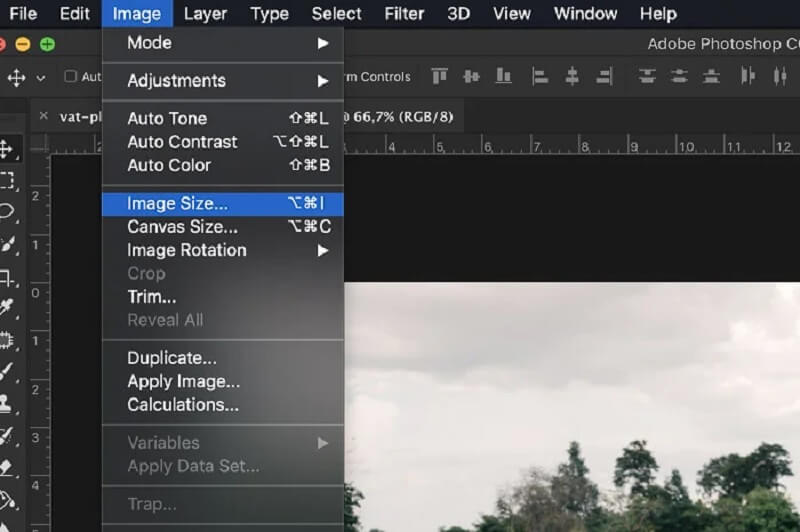 To choose a different size for your document, use the drop-down menu that says Fit To. in either the Height or Width box, enter the number of pixels you want.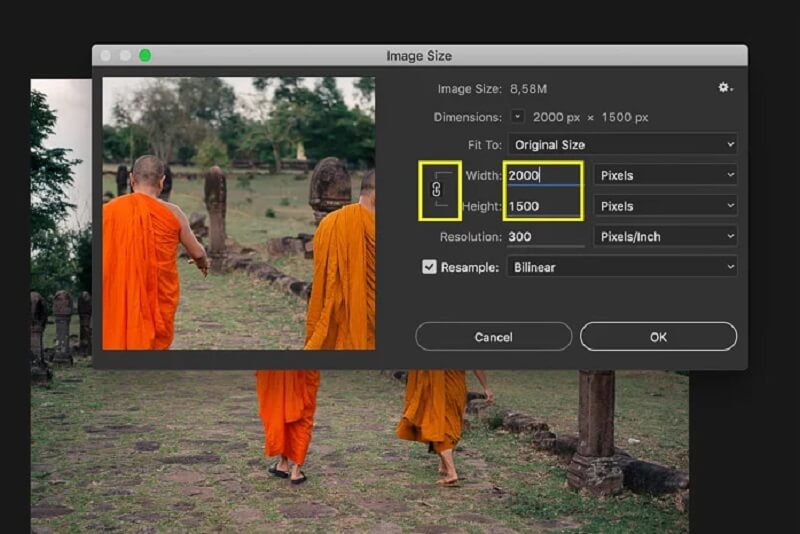 Step 2: There are two excellent options for resolving higher: the Bicubic Smoother and the Preserve Details option. However, you can use the Bicubic Smoother for a more expedient method. After that, make sure the Resample Box is checked, and then choose the resample mode that best suits your needs.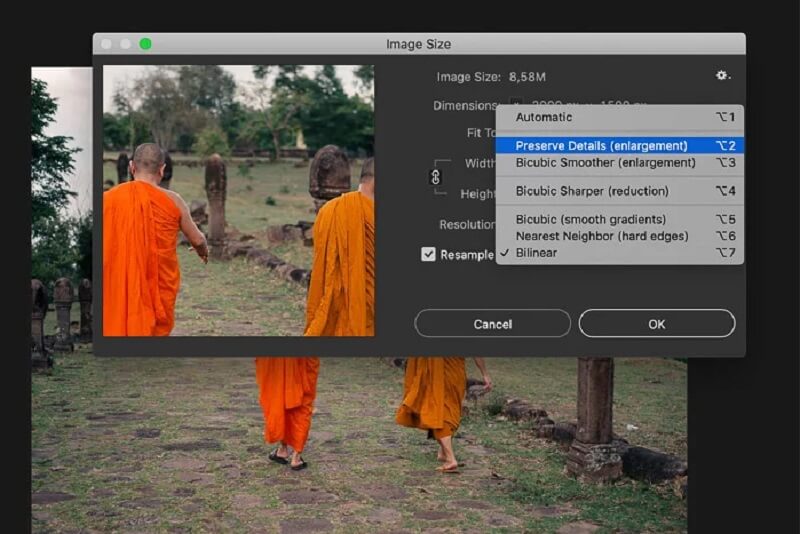 Step 3: Finally, to examine a sharper version of your image, navigate the Filter menu and select the Sharpen option. After that, select the Unsharp Mask option.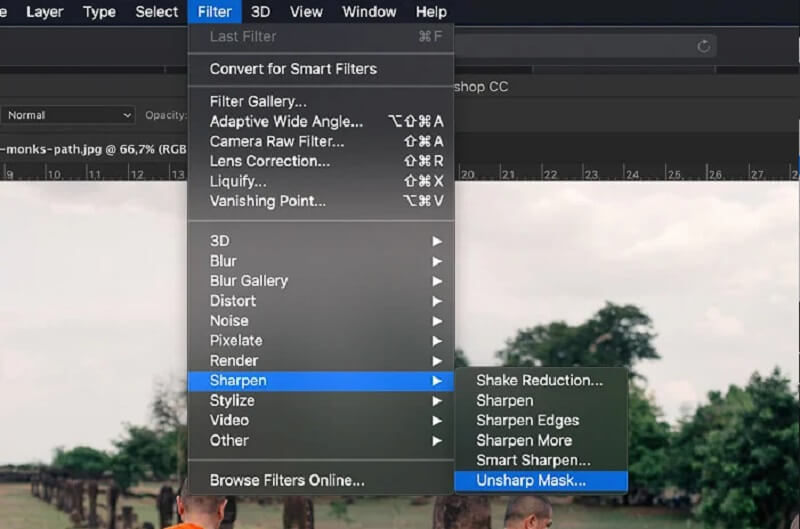 Part 3. More straightforward Way to Increase the Resolution of an Image
We cannot ignore the fact that Photoshop has a somewhat complicated interface to navigate. However, you can rely on an online tool if you want an easier way to boost the image resolution. This option is available to you. The Vidmore Free Online Image Upscaler is another one of the image upscaling tools that are available to you. This image editing tool is available online and comes equipped with artificial intelligence to enhance the picture's resolution automatically. It raises the image's quality and helps to eliminate the blurriness present in a photo, which is a significant benefit.
The online version of Vidmore Free Image Upscaler is available without charge, and users are not required to sign up for a membership to use it. This free application can aid you if you are having issues with the display size of your image and it does not fit the ratio that is displayed on your account for the social network. It can resize and zoom in on an image! This photo enlarge can magnify an image without suffering any loss in quality. Vidmore Free Image Upscaler Online will also protect the original quality while converting it to a 1440p photograph. Aside from that, a photo enhancer can assist you in producing high-resolution images for printing or preserving your memories, depending on your needs.
Additionally, the Vidmore Free Online Image Upscaler can enhance a wide variety of image formats, making it a very versatile tool. This picture upscale system can assist you in doing a range of activities, such as boosting a low-resolution anime image, beautifying a pixelated cardboard cutout, or even altering a wallpaper without causing the quality of the image to deteriorate.
To assist you in increasing the resolution of your image using this online image upscaler, we provided simple steps below.
Step 1: Go to the page of the Vidmore Free Image Upscaler and click the Upload Photo button in the middle of the display window. Once the folders of your documents appear, choose the image you want to improve.

Step 2: If the image is already reflected on your end, it will show the before and after results. You can also choose from the Magnification which preference you will choose.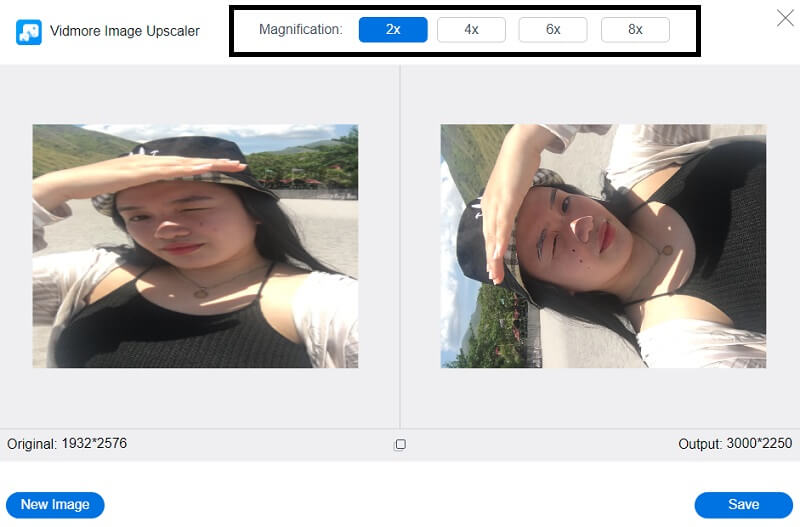 Step 3: After choosing the Magnification you want, click the Save button below and wait for your image to be downloaded.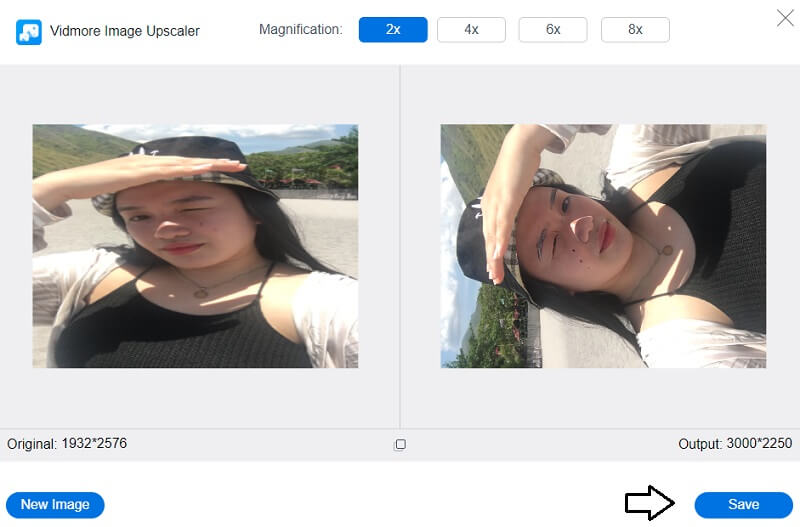 Part 4. FAQs About Increasing Resolution of an Image in Photoshop
Which DPI resolution is optimal?
Typically, a resolution of 300 DPI is considered the benchmark for great pictures and images. Producing an outer material for a company, such as a brochure, pamphlet, or flier, requires a resolution of 300 dots per inch. If you are less worried about the quality and resolution of the printing, you might be able to get away with using only 250 DPI.
What is the optimal Photoshop resolution setting?
Quality of 1440 DPI or higher is considered acceptable. You can select the appropriate DPI setting for your needs on some printers, such as 300 DPI for a preview picture and 1200 dpi for a final print. Some computers enable the DPI level to be adjusted.
Which is of higher caliber? 600 DPI or 1200 DPI?
The higher the dots per inch or DPI, the higher resolution, and the better the quality of the copies and prints. For instance, resolution 1200 by 1200 dots per inch (dpi) would provide you with higher copy and print quality than 600 by 600 dots per inch (dpi). It will also provide you with better halftones.
Conclusions
You only need a few steps to complete the process now that you know how to make an image high resolution in Photoshop. And we all know that Photoshop is a flexible piece of software, which is how it ended up with all its technical editing features. Because of this, people are having trouble increasing the resolution of their photographs because they wish to do so. A free online tool known as Vidmore Free Image Upscaler is a convenient alternative to the complicated methods previously described for enhancing an image's resolution.