How to Get Photos from Getty Images Without Watermark
There are many websites dedicated to photography that you can find on the internet nowadays. These websites provide pictures of very high quality. The Getty Center is one of these locations. On the other hand, you may get in trouble if you use any images from Getty and publish them on your social network account. Because of this, it is strongly recommended that you use a watermark removal, whether software or online service. This post will introduce you to a few of the many valuable tools available. With that, learn how to remove the Getty images watermark.

Part 1. How to Remove Getty Images Watermark
1. Vidmore
A photo editing program will benefit you in removing the Getty Images watermark on the photographs. Vidmore Free Watermark Remover Online is a useful free online program that you can consider straightforwardly removing watermarks. Its user interface is both straightforward and well-organized, making it possible for all users to remove the Getty Images watermark successfully. Vidmore Free Watermark Remover Online offers an edge over competing services in terms of quality and price. Although the image is uploaded on the internet, it is still possible to erase the area of a photo with a watermark while leaving all traces of the watermark intact. When applied to remove a watermark from an image, it yields results much better than any other watermark remover. It is the case even though the service is provided at no cost. Take a look at the methods listed below if you want to learn how to get rid of the Getty watermark on your photographs.
Step 1: Vidmore Free Watermark Remover Online is where you should start the program. If you click it, you will be sent to the website of the watermark remover. Choose to upload the image. To submit a picture with a watermark, click the Open button.

Step 2: When the upload is finished, you can choose a technique for removing the watermark. There are a plethora of choices that are not only free but also compatible with several platforms. Your watermark ought to be the focal point of the presentation. After you have chosen to remove the watermark from the photo, you may do so by clicking the Remove option after you have highlighted the watermark.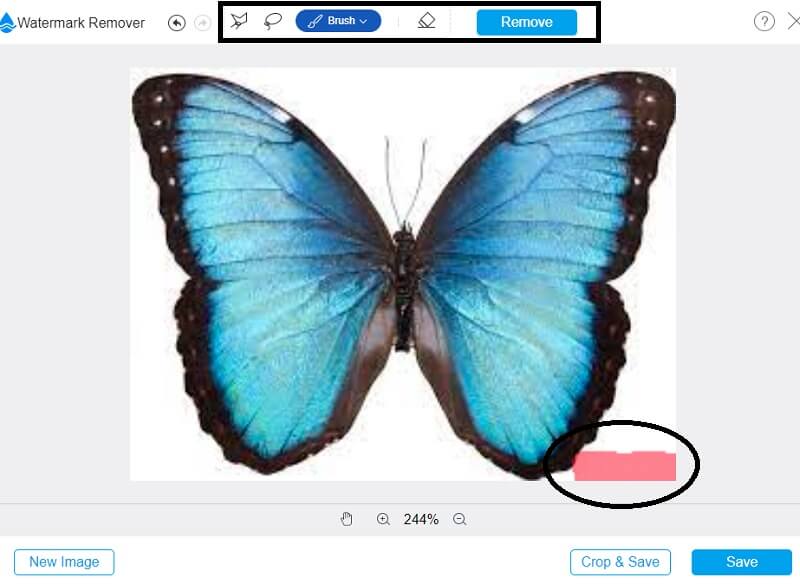 Step 3: If you want the result to be saved on your computer, choose Save from the drop-down menu located in the box labeled File. You will store this file on your hard disk in the place set before you make this picture.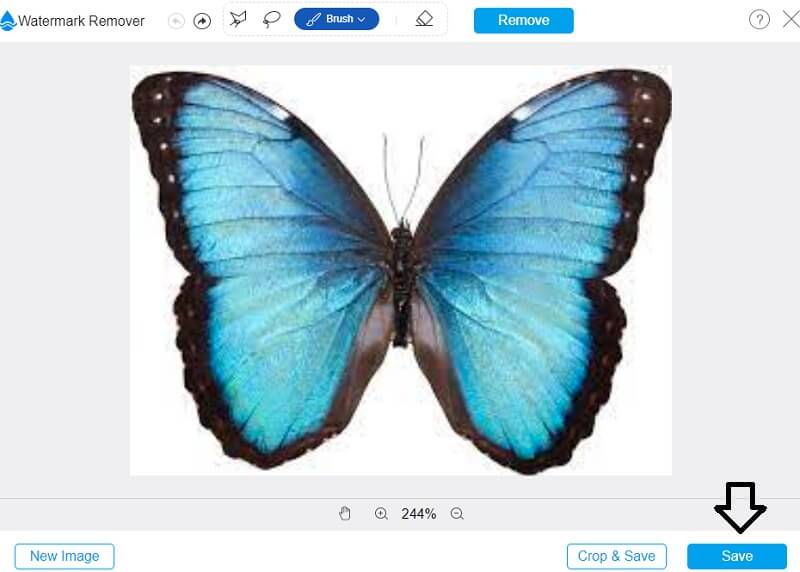 2. Apowersoft Online Watermark Remover
This desktop application, Apowersoft Watermark Remover, is practical and easy to use. The application uses artificial intelligence to erase watermarks from photographs and videos and add them. It comes with selector tools that are simple to use, such as a marker, paintbrush, and loop. This program has an intuitive user interface. Follow the simple instructions below to eliminate the saved watermark and the Getty image.
Step 1: Make sure you download Apowersoft from their website and then open it on your computer to begin editing. To begin your work, it will present you with a list of tasks. Select the option to remove the watermark from the picture in the drop-down menu that appears.
Step 2: You may now import your picture by tapping the plus symbol in the upper right-hand corner. Then choose one of the following: Using one of the selection tools, choose the regions of the picture where you wish to remove the watermarks.
Step 3: Finally, click the Convert button to finish processing your picture and save it to the selected spot on your computer. Using your photo for personal reasons is now possible without the watermark.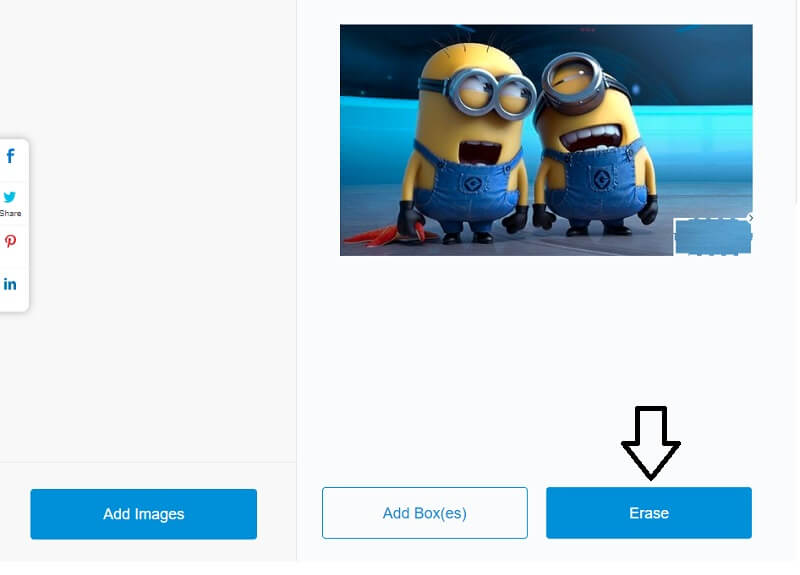 3. Photo Stamp Remover
People use the Picture Stamp Remover to remove photo stamps from their photos. It's also one of the great ways to eliminate watermarks. You, too, can remove watermarks from your photographs by downloading Photo Remover Stamp. The next portion of this article outlines the processes necessary to get a perfect photograph. There's no need for you to be an expert in picture editing to follow the instructions.
Step 1: Get started with Photo Stamp Remover by downloading and uploading your picture. That shouldn't be a problem; you only need to click the Upload option and choose the picture from which you want the watermark removed.
Step 2: After the picture has been uploaded, you may use the marker to bring attention to the watermarked area. The marker, as well as the other tools, are included in the toolbox.
Step 3: Simply removing the necessary picture area is as simple as clicking the Remove button. Removing unwanted elements from images is straightforward and may be executed by people with little technical expertise.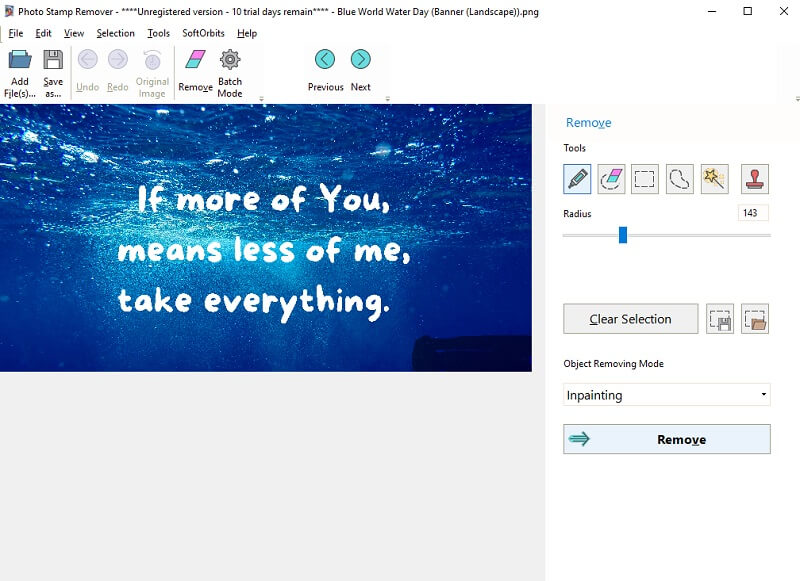 4. InPaint
Inpaint is a watermark remover that operates over the web and may assist you in removing any watermarks. It could be represented in the photo that you upload to your website. There is an option of using the application that can be downloaded from the website and is accessible with both Windows and Mac systems. In addition to that, it helps clean up photographs. Worse still, you may use its photo-repair software to alter your images. Kindly take them back to where they were first found. Additionally, it enables you to choose the region of the watermark that should be removed. The proper use of this tool is detailed further down.
Step 1: Visit InPaint to get a photo painted. Please add a photo using the Upload Image drop-down menu and the accompanying menu.
Step 2: Using the highlighter on the marker's side, choose the watermark you do not like to preserve.
Step 3: Effectively erasing the watermark from your image requires selecting the Erase option.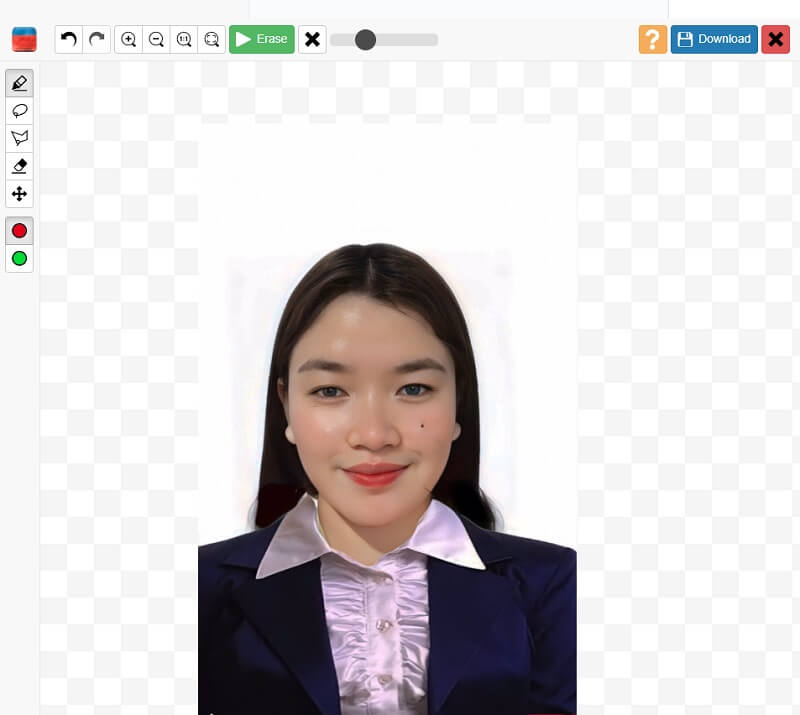 Part 2. Comparison Chart
Qualities

Removes watermark flawlessly

It has other editing tools

It removes watermark without a limit
| | | | |
| --- | --- | --- | --- |
| Vidmore | Apowersoft | Photo Stamp Remover | InPaint |
| | | | |
| | | | |
| | | | |
Part 3. FAQs About Removing Getty Images Watermark
What is the price of Getty images?
Downloads from Getty Images range in price from $50 to $499. Getty Images is the gold standard in the world of stock picture sites. You'll pay more for each photograph, but you'll get more excellent quality than you'll ever find anywhere.
Is the Getty Images website secure?
When protecting their intellectual property, Getty Images and every other digital media provider go above and beyond. And appropriately so, as they earn their money off the sale and licensing of material. They take any potential danger to it into careful consideration.
Do Getty Images pay for picture uploads?
Companies like Getty Images claim to pay people to upload photos.
Conclusions
Do you now have an idea of how to get rid of Getty image watermarks on your desired photographs? Great! You won't have any problem uploading them to your various social media profiles if you make use of the tools that have been described above. When attempting to erase the mark from your images, be sure you apply the appropriate watermark remover.