GIF Collage Makers: Combine Your GIFs to Tell a Story
Graphics Interchange Format (GIF) is an internet product that entertains users and viewers. Thousands of these files are uploaded and shared across and over the internet. It can be seen on social media sites, instant messaging applications, website pages, and more. It conveys an idea or feeling and promotes pages and businesses. Considering that, it would be better to put together several GIF files on one screen to capture the viewer's attention quickly.
This post will review different GIF collage makers you can access on different devices. At the same time, it will present a step-by-step process of combing GIF files using a collage. With that, you will learn how to play GIFs side-by-side, on top of each other, and more, using a collage maker. To learn more about these, proceed by reading the following information.

Part 1. What is GIF Collage
A GIF Collage is a form of visual art combining various GIF files. It is commonly used to produce a new project that conveys an idea or message and entertains viewers. In creating a GIF collage, a collage maker must have numerous frames and templates to select from. In addition, the users can unleash their creativity by applying effects and filters and adding background music.
Part 2. Best GIF Collage Maker
Vidmore Video Converter is a program that can work without an internet connection. It does not require you to use an internet connection to accomplish the task you want to do. This program is recommendable if you want to edit using a larger screen to control the editing options and see the changes quickly.
This program has a built-in collage maker that enables users to add pictures, videos, or even GIFs to create a collage. It has a template section consisting of forty-four available templates they can choose from. The templates have different designs, shapes, and screen positions. Besides, it has other editing options to crop and rotate, apply effects and filters, and add watermarks and audio to their project. It is for sure that this program can provide your needs and meet your expectations in creating a collage. Unleash your creativity by creating a collage of GIFs using Vidmore Video Converter.
Supported OS: Mac and Windows PC
Pros
It is accessible offline and does not require an internet connection to do your task.
It has a converter, ready-made themes, and sections consisting of various tools.
It has numerous editing options that are beneficial in editing processes.
It has a built-in collage maker with options to add filters, watermarks, audio, and other editing options.
Cons
Subscribe to the paid version of the program to have complete access to the other built-in features.
Below is the step-by-step process on how to collage GIFs using Vidmore Video Converter:
Step 1. Download and Install Vidmore Video Converter
The first you need to do is to download and install the program to your desktop computer to have complete access. After the installation process, continue to launch the program to get started.
Step 2. Select Collage Maker
Once the program is opened, navigate to the Collage tab on the left side of the Toolbox tab. Head to the Template section and select a Template you want to use based on the number of GIF files you will add. For instance, you will collage two GIF files, so select a Template with two separate screens. After selecting a Template, add your GIF files by clicking the (+) icons on the preview screen, and it will open your desktop folder.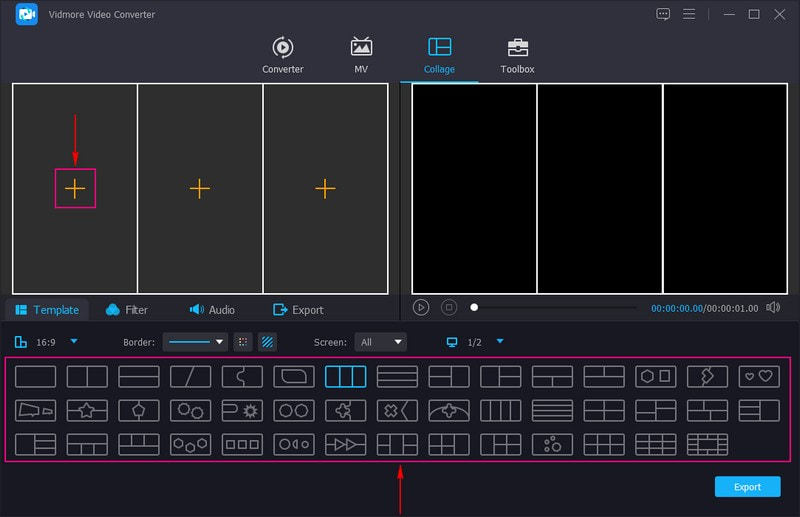 Step 3. Edit GIF Files
Bring your mouse to the left preview screens where the original files are located. You will see editing options, such as Edit and Cut icons and a Bar line where you can modify the GIF size.
Hit the Wand icon on any screen, directing you to the main editing section. In this section, you can rotate, crop, modify the basic effects, and apply a filter to your project. Also, you can embed a watermark, whether a text or image and add audio to make your collage livelier. Remember to hit the OK button on each option if you apply some changes. In addition, you can change the size and position of your files by dragging the pointer on the line bar.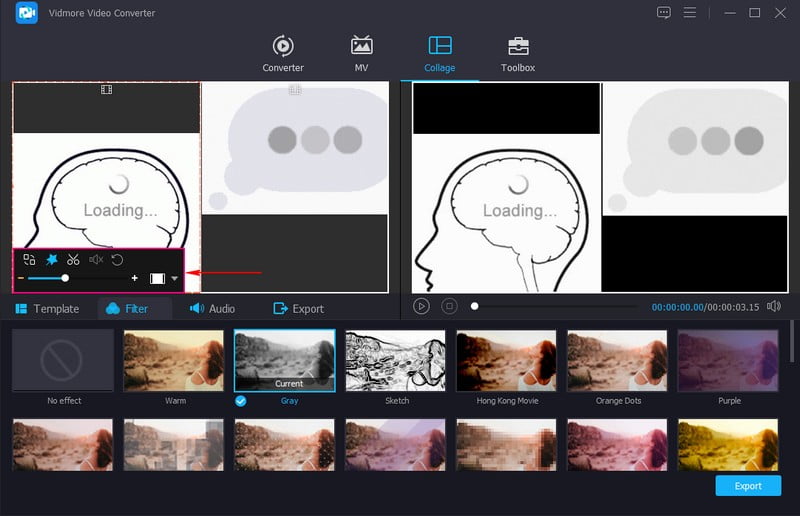 Step 4. Export Created GIF Collage
Hit the Export button: here, you can change the project name, format, frame rate, resolution, quality, and destination folder. Afterward, hit the Start Export button to save the created GIF collage in your desktop folder.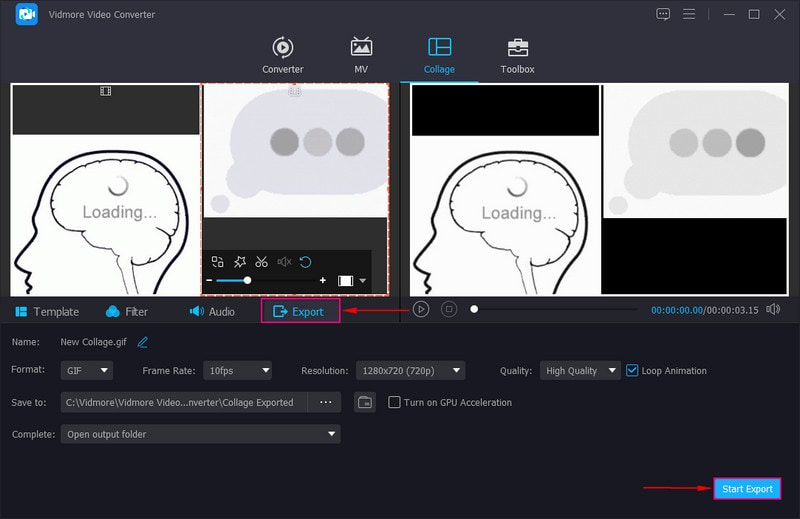 Part 3. GIF Collage Maker Online
Kapwing is a web-based editing platform that works entirely online and does not require you to install anything on your computer. This platform has a built-in GIF collage maker online, enabling users to edit and create GIF collages straight on the website. It has essential editing options and tools to help you create a GIF collage for fan edits, reactions, and art pieces. It will let you add GIF files, and then you have complete control over placing and resizing them based on your preference.
Pros:
It supports different media formats, including GIF files.
It offers several editing options and tools you can use in the editing process.
Cons:
The interface needs to be narrower for a first-time user.
It requires a fast and stable internet connection to proceed with your task.
It cannot be used for making long collages and heavy editing.
Below are the instructional steps on how to collage GIF online using Kapwing:
Step 1. Visit Kapwing Make GIF Collage's official website. Click the Make a collage button from the interface, then you will be directed to the canvas. Next, click the Click to Upload button to open your desktop folder, and upload the GIF files to start creating a collage.
Step 2. Once your GIF files are placed, start arranging and resizing them based on your preference. To do that, click the GIFs individually, drag them to their position, and resize them using the adjustable frame.
Step 3. Once satisfied, click the Export Project button to save your created GIF collage project to your desktop folder.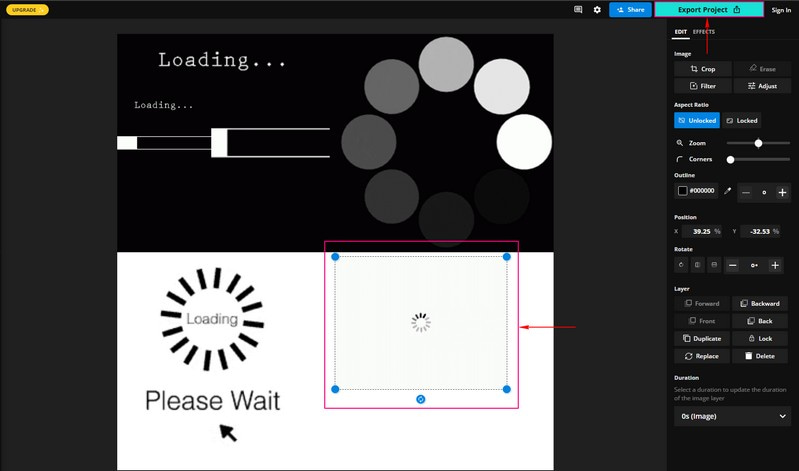 Part 4. GIF Collage Maker App
PicPlayPost is a video editing platform that works as a photo video editor, slideshow maker, and photo and video collage maker. The built-in collage maker supports all media formats, such as photos, videos, live photos, and GIF files. It has a frame divided into rectangles and squares, offering various sixty-six skeleton collages you can choose from. It enables you to add up to six images or videos from the frames. PicPlayPost is the best GIF collage maker app if you prefer to create a collage using your mobile device.
Supported OS: Android and iOS
Pros:
It supports several various media formats.
It enables users to apply transitions and add a watermark and background music to their collage.
It provides a variety of frame ratios for creating a photo or video collage.
Cons:
It is only available for mobile devices.
Some of the features are not available on the lower version of iOS.
It is lacking in terms of editing options and tools.
To learn how to make a collage of GIFs using PicPlayPost, refer to the steps below:
Step 1. First and foremost, download the application on your mobile device. After that, open the mobile application to begin the process.
Step 2. Once you open the application, on your screen, it will ask you to choose a frame layout. Click the space inside the frame to see a camera, music, and other icons at the top of your screen. Next, click the Camera icon to add your GIF files; you can add up to six files on a single collage. You can add GIF files from your phone gallery, Giphy or Youtube. Once settled, click the Preview button to see your collage project.
Step 3. Once done, hit the Share button to save your GIF collage or share it to the supported social media sites.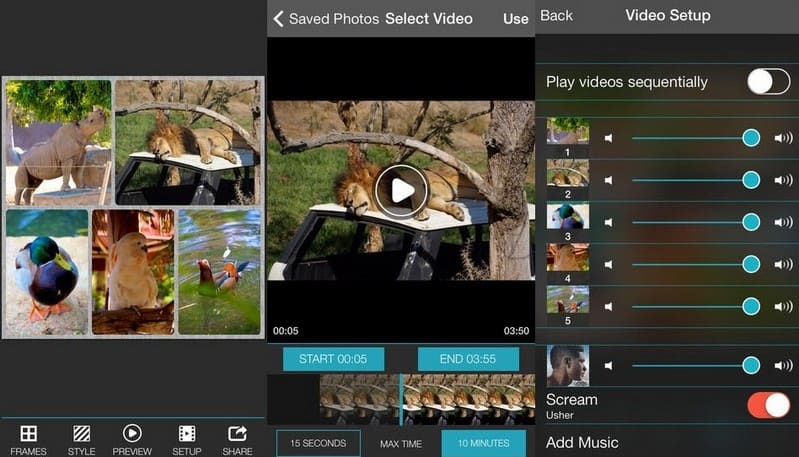 Part 5. FAQs about GIF Collage Maker
How do I make a GIF collage in Photoshop?
First and foremost, click the File tab, Import, and then Video Frames to Layers to import your GIF files. Next, head to the Window, Timeline, or Window, and then click Animation to copy the GIF files into the video frame. Then, click your desired frame to paste the frames, to insert them there. Once done, proceed to export your GIF collage project.
What is the function of collage?
A collage is a form of visual art that combines different media pieces into a new captivating image that delivers a message.
Why do people make GIFs?
GIFs are used to deliver an emotion or reaction based on something. GIFs can be seen on social media sites, messaging applications, email campaigns, and more.
Conclusion
There are a lot of college makers accessible on the market. You can create a GIF collage on the website and install a program on your desktop and mobile devices. But despite working as a collage maker, there are still differences in usability, editing options, and more. It would be best to use Vidmore Video Converter because it has a built-in collage maker with numerous editing options. Therewithal, it offers you a great experience, unleashing your creativity when creating your collage.