Create 3D Animation GIF with Ease Using the 3D GIF Maker Program
If you're wondering why people utilize GIF images, it's because, like its counterpart emojis, GIFs can express everything from emotion to broad-ranging funny and marketing ideas. GIFs are eye-catching and attract visitors or potential clients when exploring a website, making them useful to include in your web pages, especially when there is a lot of content. Using GIF, you may add a sequence loop to the 3D GIF to make it loop indefinitely without damaging the entire 3D image.
Meanwhile, you may be encouraged to make your product or service engaging through the strategy of using 3D GIFs. Here, we will introduce a comprehensive review of 3D GIF Maker and how to use it. Also, learn about its great alternatives.

Part 1. A Detailed Review of 3D GIF Maker
3D GIF Maker is a simple 3D photo GIF maker available for free on the internet. The web program allows you to convert an image into an animated 3D model, which moves and positions on a shape. Because the app uses a pre-made template, you won't have to do any complicated tweaking because the program will do it for you. Additionally, you can change the size, frame rate, frames, and loops of the 3D you are working with.
Unfortunately, because the template is less comprehensive than Photoshop or the other 3D creators, you can't customize it to your liking. Despite this issue, the program is still a simple 3D builder that you may use, provided you have an online connection. Through the pros and cons below, you will learn how to make 3D animation GIFs effectively.
Pros
It allows you to change the background to the desired color.
Settings for the size, speed, loops, and frames of GIF are available.
The program is populated with pre-made templates.
It is totally free to use.
Cons
Manipulating the template to your preference is prohibited.
A constant internet connection is required.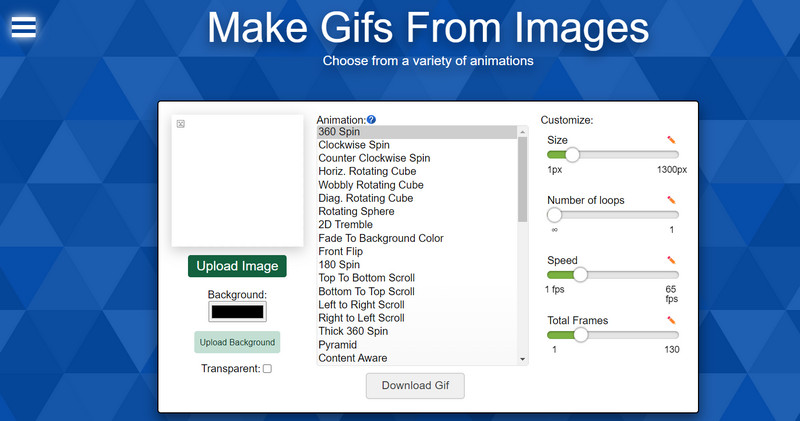 Part 2. Best Alternatives to 3D GIF Maker
There are also some alternatives to 3D GIF maker that you may also try using. In this part, we've included the best yet most effective ways to make 3D GIFs. If you wish to learn more, then check out our handpicked 3D GIF maker alternatives.
1. Vidmore Video Converter
Vidmore Video Converter has the reputation of creating a 3D project in fewer than a few clicks. Also, it is the most effective 3D animated GIF creator that can be downloaded on both Windows and Mac computers. The capability of the program to convert videos into other formats is one of its strongest selling points. This capability enables users to produce 3D videos and then convert those videos into a GIF format.
It offers a 3D modeling tool, and with that feature, you get access to a wide variety of customization options typically only seen in apps designed for professionals. It doesn't matter if you've never edited a movie before—the program is so straightforward to use that you'll be an expert after just one go. If you have an app similar to this 3D GIF maker on your device, you don't need to hire a professional.
Pros
The program is available for no cost on both Mac and Windows
It's simple to use and can convert 3D videos to GIFs.
It provides a simple way to transform regular videos into 3D ones.
Users may use the app's built-in GIF Creator to make changes to the GIF.
Apply several different effects and filters.
Cons
The free version is attached with some restrictions.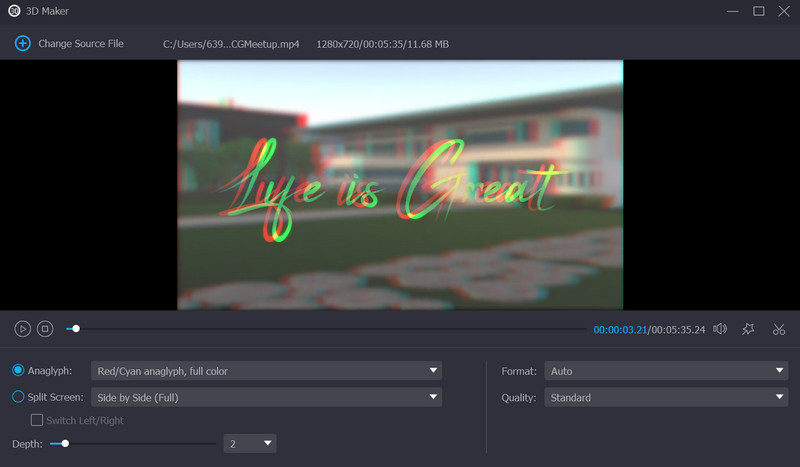 2. Photoshop
Photoshop is far superior to other apps in terms of GIF editing and creation, and it is available for download on almost every device. You may use the program to create a 3D GIF, among other things. The program may be best known for its image editing capabilities, but it can also be used to make 3D animation GIFs.
You'll need to have some serious editing chops to make the most of this program, though. Avoid coming here if you need a quick turnaround on your 3D GIF, as it is not easy to make. The program, however, is more akin to professional GIF creation than the free, low-quality editors that are more common.
Pros
It's simple to make a stereogram GIF with this tool.
It has several sophisticated editing options that are absent from free alternatives.
Cons
Those who are not accustomed to complex software may find it frustrating.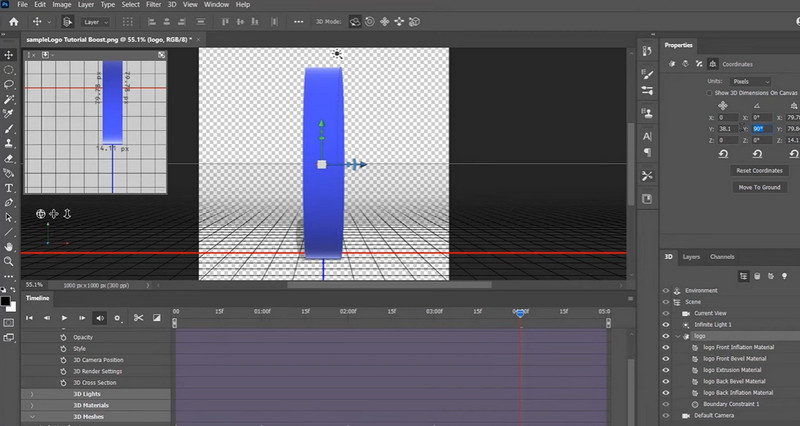 3. Visme
This online 3D GIF maker doesn't require you to download any software in order to generate looping 3D images. Visme is a browser-independent web app for making 3D animations or 3D GIF wallpaper. You can get more creative with your project by uploading readymade shapes already in 3D form and making your own unique 3D here. The app's premium templates and features are great for creators, but you'll need an account and to pay for the app to access them.
Pros
It provides users with presentation formats that can be customized or used as-is.
There is no prerequisite to setting up the program before using it.
Cons
The app's premium features and access to the full suite of tools are locked behind a paywall.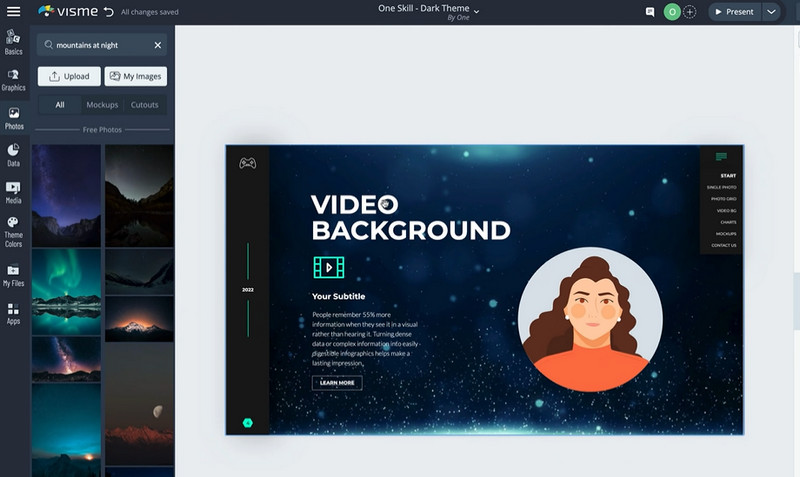 Part 3. FAQs about 3D GIF Maker
Does Windows have a portable GIF maker?
For sure, Windows has the tools you need to make a 3D video or image: 3D Paint and 3D viewer. If that isn't enough, though, you can always utilize the program to make your own.
Is it possible to apply 3D effects on TikTok?
TikTok now has support for 3D effects, which can be found by searching the app's filters. Watching these videos will give you some ideas for how to make the most of Tiktok's 3D effects.
How can I edit 3D videos?
The 3D film you've made can be edited using any number of programs, including Vidmore Video Converter, Corel VideoStudio Ultimate, and many more.
Conclusion
After reading the post, you should have learned about making 3D GIFs with 3D Gif Maker. True enough, the tool is effective. On the other hand, you can still use some applications we introduced in the latter part of the article. Therefore, choose the program which fits your needs best.