Discover How to Reduce SVF File Size [100% Working]
Scalable Vector Graphics (SVG) is a vector graphics file format widely used in the web design industry. Web designers commonly use this image format to design logos, enrich web content, and create animations. However, the SVG file is too large, which affects the webpage loading speed and discourages viewers. So how to reduce SVG file size? This post gives you a free and reliable SVG compressor that can help you get your desired image file size. What are you waiting for? Continue reading and learn how to compress SVG files.

Part 1. Best Way to Compress SVG
Are you looking for an SVG compressor for free to help you compress your image files? With that, consider choosing Vidmore Free Image Compressor Online, which can compress your image files for free without limitation. It works online, so you do not need to install software on your desktop to compress images. This web-based image compressor has a beginner-friendly interface, making it easier for beginners or professionals to access.
Vidmore Free Image Compressor Online supports PNG, JPEG, GIF, and SVG formats. As mentioned, it can compress and optimize SVG files by up to 80% and maintain high-quality images. Aside from that, it can compress SVG files up to 60% of their original size without sacrificing the features and quality. Also, it allows you to upload multiple SVG files at once and compress them together. After compression, your uploaded SVG files will be deleted from the server to protect your privacy.
Below is the guide on how to compress SVG files using Vidmore Free Image Compressor Online:
Step 1. Visit Vidmore Free Image Compressor Online
To begin with, go to Vidmore Free Image Compressor Online's official website using your browser. When directed to the main interface of the web-based image compressor, begin with compressing your SVG files.
Step 2. Upload SVG Files to Vidmore Free Image Compressor Online
Here, in the center part of your screen, as you notice, you can upload 40 images, and each should have 5 megabytes. Therefore, you can upload and compress many SVG files simultaneously to save time.
Hit the (+) sign in the center of your screen to open your computer folder. Then, select the SVG files you want to undergo the compression process.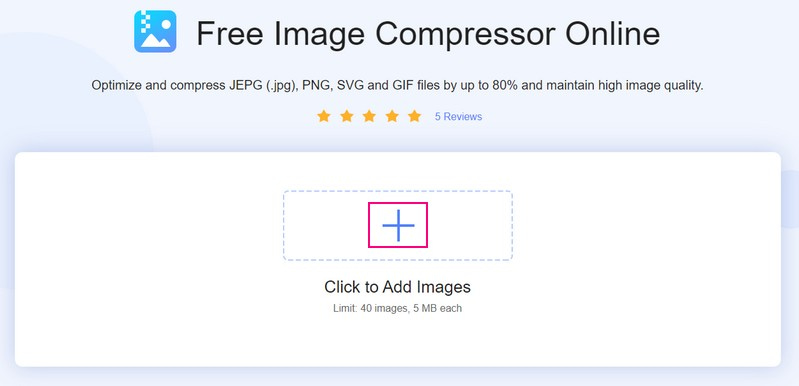 Step 3. Download Compressed SVG Files
When you add the SVG files, it will automatically be placed in the compressor section. As you can see, when the SVG files are uploaded, the image compressor immediately compresses the images. You will see the word Finished covered with green in your SVG files on your screen, meaning the compression is completed. It is a hint that the web-based image compressor successfully compressed your SVG files.
Press the Download All button to save your reduced SVG files to your desktop. After that, a folder will appear where your compressed SVG files are located.
Part 2. Other Popular Ways to Compress SVG
1. Compress-Or-Die - SVG Image Compressor
Compress-or-Die is a famous online image compressor with JPEG, JPEG XL, GIF, PNG, WebP, and SVG. It offers additional features to analyze and repair your images. Moreover, it can compress SVG to accomplish smaller files while maintaining the quality to the maximum extent. This web-based image compressor can help you shrinks your SVG illustrations, logos, or icons to the smallest file size and best quality possible.
Below is the way how to compress SVG online using Compress-or-Die:
Step 1. Go to Compress-Or-Die's official website using your browser. Head to the top menu bar, bring your mouse to the Compress your Image button and select the SVG Compressor option.
Step 2. Click the Select file button to open your desktop folder, and select the SVG file you want to undergo the compression method. Afterward, your selected SVG file will be uploaded and processed on your screen.
Step 3. After the compression process, as you can see from 2.84 KB, it became 2.28 KB after the compression. It has other compression settings, where you can enter a Decimal precision, Remove width and height, and more. Besides that, you can change your compressed file's background if you want. Once satisfied, click the Download button to save the compressed SVG file on your desktop folder.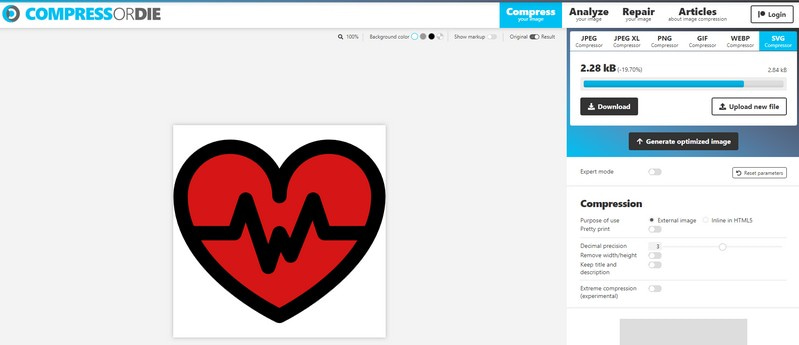 Pros
◆ It automatically compresses uploaded image files.
◆ It gives users an option to change the image background.
◆ It has an option where users can see the original and compressed image files.
◆ It has additional compression settings.
Cons
◆ It does not support batch image compression.
◆ A fast internet connection is needed.
2. OCompress
OCompress lets you compress images, audio, videos, and documents format, quickly and for free. The supported image formats are PNG, JPG, TIFF, GIF, WebP, and SVG, in line with the image compressor. You are allowed to add multiple SVG files, and each file should have 40 megabytes. As mentioned, it can reduce the size of the SVG file without sacrificing the image's original quality by detaching metadata and more.
Below are the steps on how to shrink SVG file size using OCompress:
Step 1. Visit the OCompress official website using your browsers. On the main interface, you will see various compressors; click the Compress Image, and select the Compress SVG from the list.
Step 2. Choose an application from three available options and proceed to upload the SVG files. The image compressor will automatically compress your SVG files once uploaded. After that, you will see the result, from the original size to the output size.
Step 3. Hit the Save button under the Action option to direct you to another page. The file name, size, URL, online storage, and QR code are here.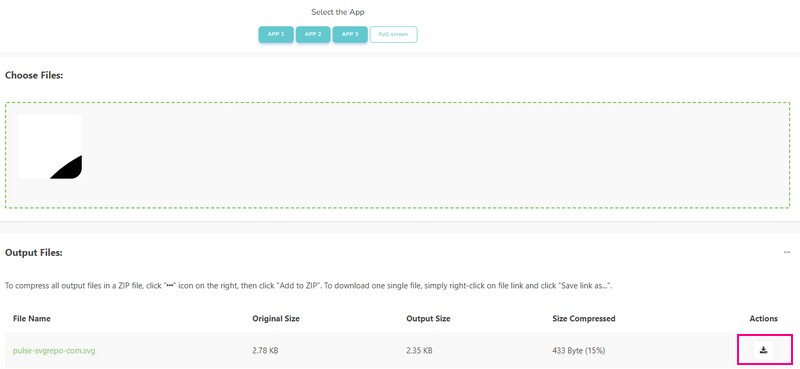 Pros
◆ It is free to use an image compressor online.
◆ It supports batch image compression, a maximum of 100 images and 40 megabytes each.
◆ It deletes your uploaded SVG files after two hours.
Cons
◆ The selection of the application for uploading image files needs to be clarified.
◆ The options do not work right away when you press them.
◆ Ads are popping up on the screen.
Part 3. FAQs about SVG Compression
Why is my SVG file is so big?
The SVG file is big because it contains more data, in the form of nodes and paths, compared to PNG.
Does SVG size matter?
An SVG file can be reduced to any size you prefer without losing the image's quality. Therefore, SVG size does not matter because they look the same no matter how small or big they appear on your website.
Do SVG files get blurry?
SVG files are vector files, meaning they should not appear blurry on websites. This file has an unlimited scale and resolution to look good on any size desktop.
Conclusion
Scalable Vector Graphics (SVG) is often used for website icons. This image file format can deliver lossless compression for vector graphics. When you need to compress SVG, you can count on the abovementioned image compressors. But if you want an image compressor that can compress your SVG quickly, count on Vidmore Free Image Compressor Online. It is easy to use and can compress your SVG files without losing your image's features and quality.