Photo Compressor for Discord: Fit Your Image to Standard Size
Discord is a video, voice, and text platform that seamlessly communicates with chat communities and friends. You can send images to your friends using this platform on your mobile or desktop devices. But first, you will need an image compressor for Discord. Why? Because the maximum file size that the application support is 8 MB. So, you cannot upload or send the image if you have a larger image file size. If you want an excellent Discord image compressor, choose or rely on the list presented. Please continue reading to get to know them.

Part 1. Image Compressor Online for Discord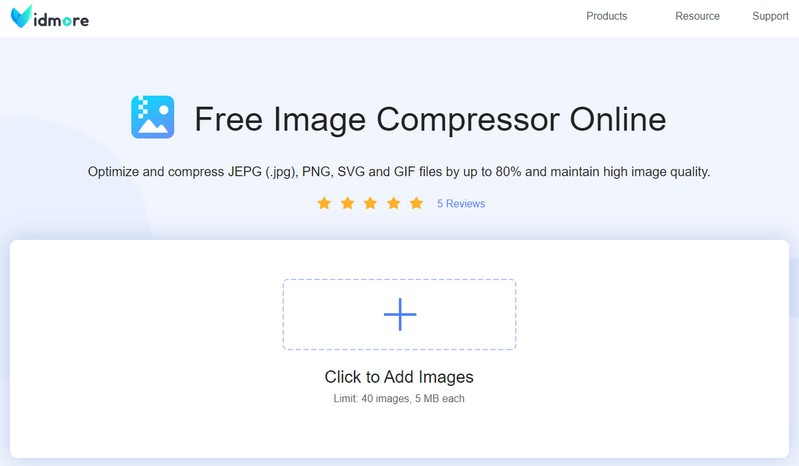 Vidmore Free Image Compressor Online is a web-based image compressor that is free to use. It is accessible online and does not require installing a program on your computer. With that, you can do your task and get the result straight on the website without using a program to compress images. This web-based image compressor has a beginner-friendly interface and easy-to-use. It provides information on reasons to compress images, like it increases website speed, gets enough space, and shares images quickly. It can help you lessen the size of your images, whether for your Discord account's avatar or banner or will send it.
Discord supports image file formats like JEPG, JPG, PNG, and GIF, which the image compressor supports. It can optimize and compress these image files by up to 80% while maintaining high-image quality. The good thing about this web-based image compressor is that it supports batch image compression. It enables you to add 40 images and 5 megabytes each simultaneously, and the results can be obtained simultaneously. It will only require completing the three steps to get your compressed image file output. You only need to import your image files, which will be automatically compressed afterward. After that, you will see that your image file size is being reduced. More impressive here is that it can compress your image file up to 60% of its original size without losing the features and quality. It is the best image compressor for Discord; you can access it for free.
Pros:
It supports batch compression.
It can reduce image size in seconds without limitation.
It supports Discord's image file formats.
It deletes your images from the server automatically after compressing them.
It does not require you to sign in to your account.
It compresses and optimizes supported image files by up to 80% and maintains a high-quality image.
Cons:
A fast internet connection is needed.
Part 2. Image Compressor Offline for Discord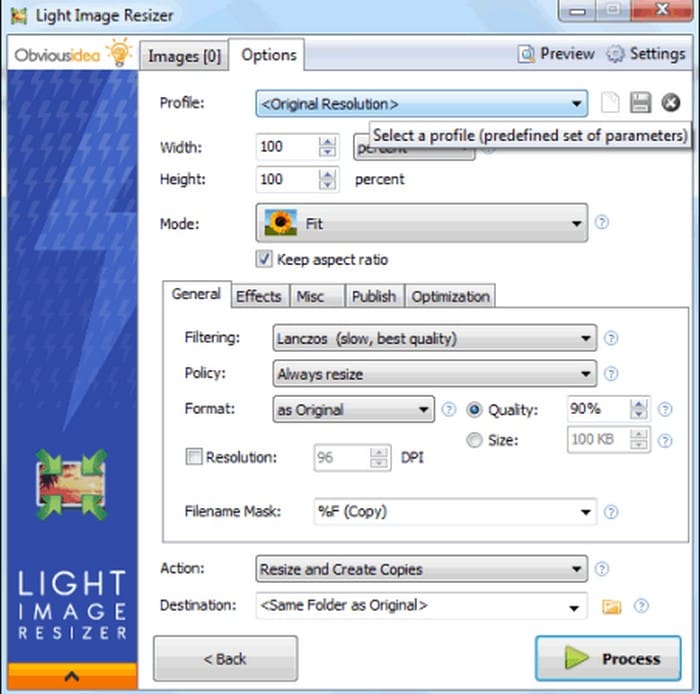 Light Image Resizer is a free and open-source image compressor you can access offline using your desktop. It can compress images in several formats, including JPG, GIF, BMP, TIF, WMF, EMF, PPM, JP2, and many more. The interface of this program is clear and straightforward, making it easier for first-time users or professionals to navigate. All you need to do is to import your image or image directories and set your desired preset. Besides that, you can also set custom to resize options, various actions, and custom destinations for compressed images. If you want to main the quality of your image, you can modify the image quality.
This image compressor allows you to change the image format or apply a filter or effects. After you set the desired parameters, you can preview the images to see how the compression will affect them. The good thing is that you can see the estimated file size of the image before you compress it. You can count on this excellent Discord image compressor to reduce your image file size. It makes it easy to resize large digital images, which are typically too large to be uploaded to the Discord application.
Pros:
It enables users to compress bulk images at once.
It has a preview showcasing uncompressed and compressed images.
It can compress images that Discord supports.
It lets you save disk space by compressing high-definition images without sacrificing quality.
Cons:
The free version only allows users to compress up to 100 images.
The advanced options should be hidden within the interface to avoid confusing beginner users.
Part 3. Image Compressor on Mobile for Discord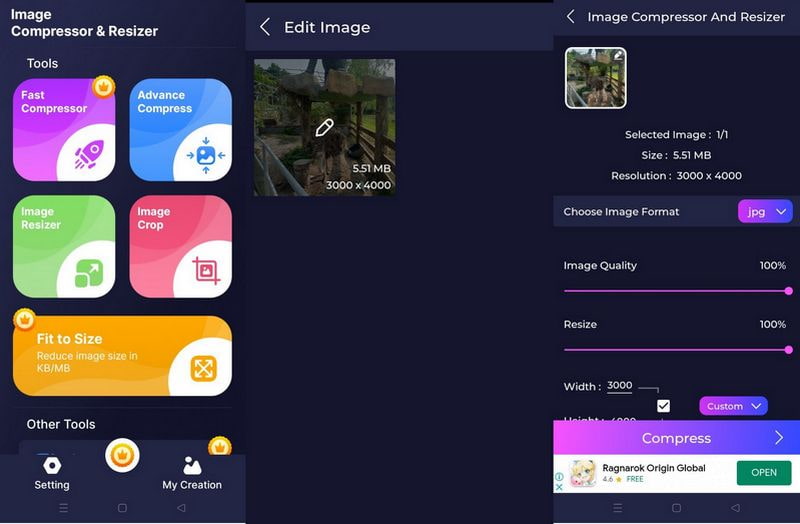 Image Compressor: Resize Image is a mobile application accessible only on Android phones. It is an easy-to-use and powerful application that can be used as a picture compressor for Discord. It can compress images that the Discord application supports, such as JPG, JPEG, PNG, and GIF formats, for the minimum possible size. This application offers two modes to compress images: auto and compress the image to a specified image file size. The auto option is the easiest method to compress images. In contrast, the other option lets users specify the image file size in KB or MB. This option is recommended if you need images with the exact file size.
This application uses lossy image compression technology to reduce the file size of image files. The effect is almost visible, but the file size is small, as it compresses and optimizes your images by 70-90%. Besides that, you can select multiple images simultaneously, compress them together, and get results faster. Aside from Discord, you can also share your compressed image via E-mail, Facebook, Instagram, Youtube, WeChat, and more.
Pros:
It supports batch image compression.
It offers two options to compress images, whether auto or selecting users' preferred size.
Allows users to change the image format to another.
It can compress Discord-supported image formats.
Cons:
It is only available on Android devices.
A lot of ads pop up on the screen.
The advanced compression feature needs to be avail.
Part 4. FAQs about Image Compressor for Discord
What is the best image size for Discord?
Discord's suggested profile picture size is 128 x 128 pixels, and the maximum file size is 8 megabytes. In addition, it allows you to submit images up to 128 x 128 pixels, which is like the size of the emoji. However, you can upload a more extensive photo if it is a 1:1 ratio. When uploading, the application will automatically shrink it for you.
What is the ideal Discord banner size?
Discord's ideal size for a profile banner is 1920 x 480 pixels and a1920 x 480 inches.
Can you upload large files to Discord?
The recommended Discord image file size is 8 megabytes. However, you can upload large image file sizes up to 100 megabytes if you compress them into a ZIP or RAR achieve.
Can Discord send high-quality images?
Discord enables you to upload an image up to 128 x 128 pixels. So if you upload a larger image file size higher than the standard size, the application resizes it.
Conclusion
This post presented a photo compressor for Discord you can access online, offline, and on mobile. With that, you have choices where to reduce your image file to fit-in into the standard size of the application. If you are a user who wants to do your task online, you can rely on Vidmore Free Image Compressor Online. It can help you quickly and hassle-free reduce the size of your image file.