GIF Compressor Online & Offline [Reviews + Method]
Graphics Interchange Format (GIF) is a widely used option for conveying a message, jokes, or entertainment online. It is a raster file format that can be moving images or still images that appear mainly on the internet. It can be created using combined images or frames to create basic animations. It is essential to consider that this format should be smaller in size. In that case, uploading it on different social media sites and sharing it through messaging is more accessible. In contrast, if you have a larger file size and upload it online, viewers will spend time loading and watching it.
To avoid having a large file size, you need to consider compressing it. If it undergoes a compressing process, your file size will be reduced, and you can change the output resolution. This post will present the best GIF compressors that can help you reduce your larger-file size. These tools enable you to select framerate, resolution, and output file sizes for the best compression and quality. To learn more about these tools and processes, proceed with the following parts.

Part 1. GIF Compressor Offline
This part will present various compressors you can access offline. It enables you to do your task without needing or using an internet connection. To get to know these compressors, read the following information.
1. Vidmore Video Converter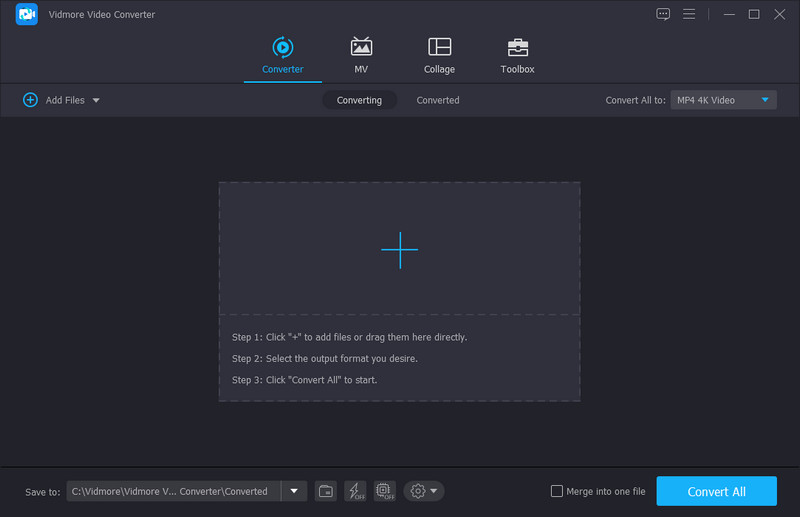 When looking for an application to use, you must consider that it provides all your necessary needs in editing. It should have numerous built-in features that can help you produce your project. It should have an easy-to-understand interface that can easily use and control, whether a beginner or a professional. It must meet your expectations and, most importantly, satisfy a first-time user like you, and Vidmore Video Converter checks all the boxes.
This program has numerous built-in features like a converter, ready-made themes, collage makers, and a section packed with various tools. One of the tools presented in that section is a Video Compressor. The function of this tool is to compress video files regarding on your need or preference. Add your video to undergo the compression process, and you are ready to create changes to your output. It gives you complete control over selecting your desired file size, resolution, bitrate, etc. This program is the best GIF compressor you can count on to reduce large-file sizes.
Supported OS: Mac and Windows PC
Pros
It supports numerous popular media file formats.
It is packed with various editing options, features, and tools.
It has a built-in compressor that can reduce various video file formats.
It is available even without the use of an internet connection.
Cons
Subscribe to the paid version of the program to have complete access.
2. PhotoScape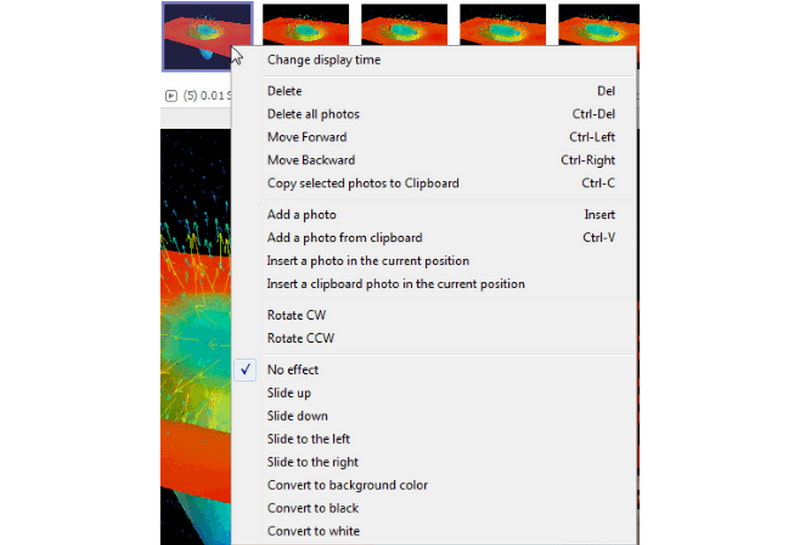 PhotoScape is a photo-editing program that offers editing options and tools to create and edit images according to your needs. It has an Animated GIF section that enables you to compress GIF files, which can help you reduce larger-file sizes. Once your file is uploaded, the different frames, ratio, and time duration is specified. You can change the file size based on photo sizes, such as small, big, or canvas sizes. On top of that, PhotoScape is an animated GIF compressor that you can reliably compress your GIF larger-file size.
Pros
It enables users to change the time duration between two frames.
It can resize GIFs by selecting from the available photo-sample sizes.
It has the option to resize using the percentage.
It has a built-in feature enables users to create GIF output straight on the program.
Cons
It needs to be updated based on the interface and website.
The menu bar is confusing for first-time users.
3. Riot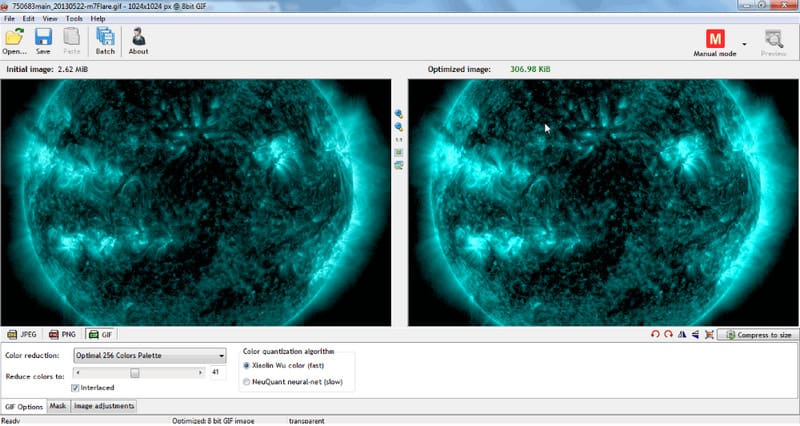 Riot is a lightweight, swift, and perfect program for beginners in editing. Open the file section, select the GIF option, and you are good to use the different editing options it offers. This program provides options for color reduction, choosing a color number, and resizing the image based on their preference. It has various options to select the compress-to-size options that are presented. Also, it has a dual interface that can help the users to preview the reduced GIF file after the compression procedure. It can also be used to resize other image formats and convert one image to another format it supports. On top of that, Riot is a free GIF compressor you can count on to reduce GIF's large file size.
Pros
It enables users to choose from the compress-to-size option.
It has a feature that can present the original and compressed files side-by-side.
It provides the option to make enhancements and change the basic effects of your output.
Cons
It installs third-party software without the users' knowledge.
The setting process is not smooth and hard to control.
4. Light Image Resizer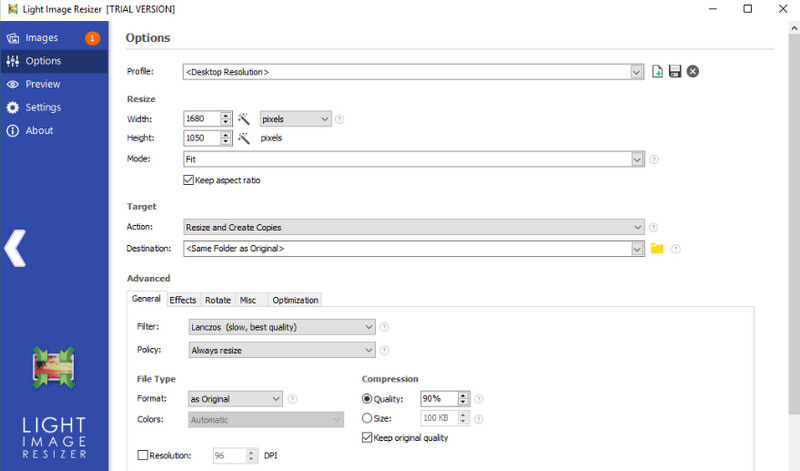 Light Image Resizer has an intuitive interface that lets users quickly resize a photo or group of photos. The last thing you need to do is to drag the photos you desire to resize into the window. After that, you can choose your preferred property setting for your output file. Therewithal, you can apply effects, such as sepia, or embed a watermark to your output. Light Image Resizer is a GIF size changer that you can access offline for free.
Pros
It enables users to select the resolution from several predefined layout options.
It has a filter section that users can apply to their projects.
It allows users to add a watermark or not to their output.
Cons
It only has limited basic editing functions.
It only supports limited file media formats.
Part 2. GIF Size Reducer Online
This part will present various compressors you can access online. Rely on the following online tools if you prefer to do your task straight on the website.
1. YouCompress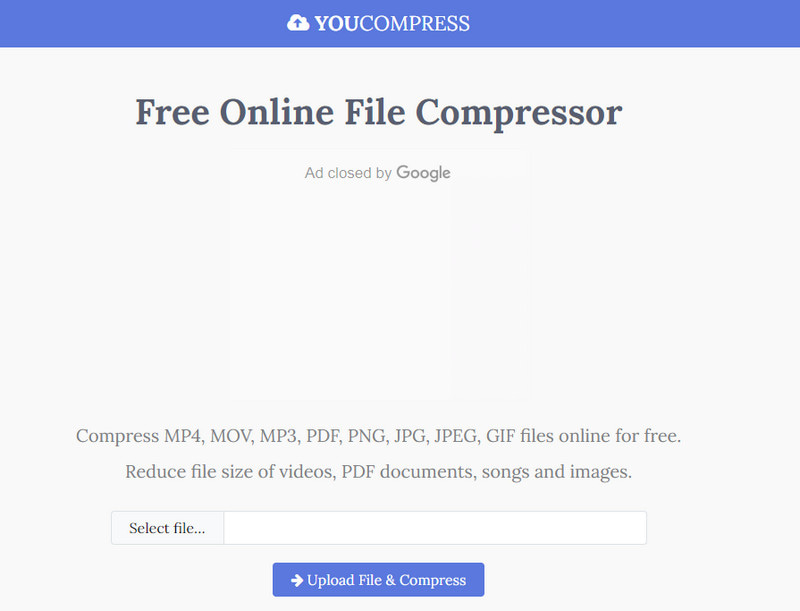 YouCompress is a web-based platform that is capable of compressing files straight online. It supports different file formats, including GIFs. There is no registration needed to proceed with compressing your files. You must upload your GIF files; the platform will compress them automatically. The good thing is that you can compress unlimited numbers of files and have no watermark embedded in your output. Also, it ensures that it will not decrease the quality of your file, even if it undergoes a compressing procedure. After that, all your uploaded and compressed files are automatically deleted from the servers.
Pros
It has a beginner-friendly interface that is easy to understand and master.
It is capable of compressing the unlimited files that it supports.
It does not embed a watermark on the compressed-file format output.
Depending on your internet connection, it can compress media formats quickly.
Cons
It is only accessible online, requiring a stable internet connection to undergo the compressing-file procedure.
It only supports limited file-media formats.
2. Ezgif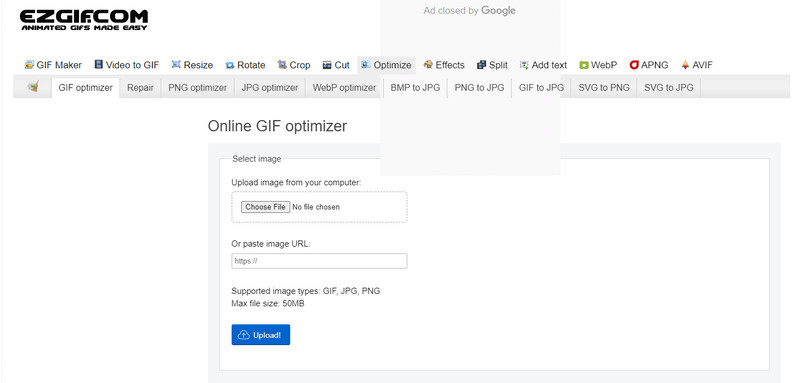 Ezgif is a popular GIF-size shrinker with an easy-to-use interface that is perfect for first-timers. All you need to do is upload your GIF file and start resizing, cutting, cropping, and adding text. Also, you can set the compression level for your file using the slider based on your preference to get the best result.
Pros
It has a straightforward user interface that is beneficial for beginners or first-timers.
It has fast compression and conversion speeds.
It is packed with powerful editing options and features.
Coons
Ads popping-up all the time on the screen while using the platform.
It takes time to save or download compressed-file output.
3. Picasion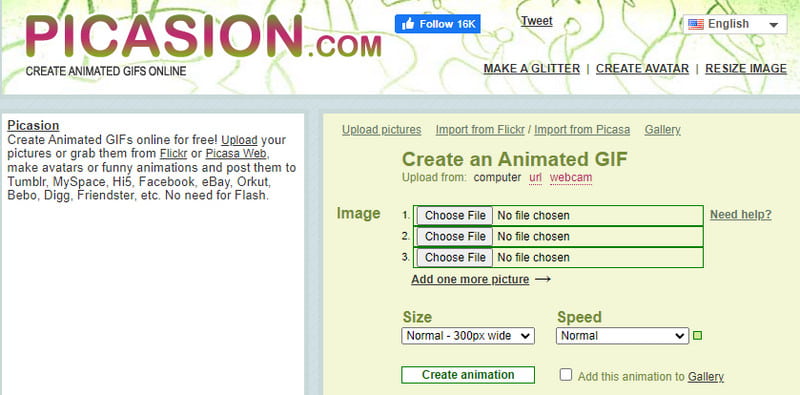 Picasion is a reliable GIF compressor online that offers free and quick compression features to optimize your GIF file. It has a straightforward interface that presents the options straight on the website. You can upload various file formats simultaneously on the screen and select your preferred size and speed. In addition, it allows users to upload files and videos from Flickr, Picasa, and other platforms it supports.
Pros
It has an intuitive interface that makes it easy to use.
It is available in numerous languages.
It supports numerous popular file formats.
Cons
Ads frequently show up on the screen while using the platform.
It only has limited editing tools.
4. GIF Compressor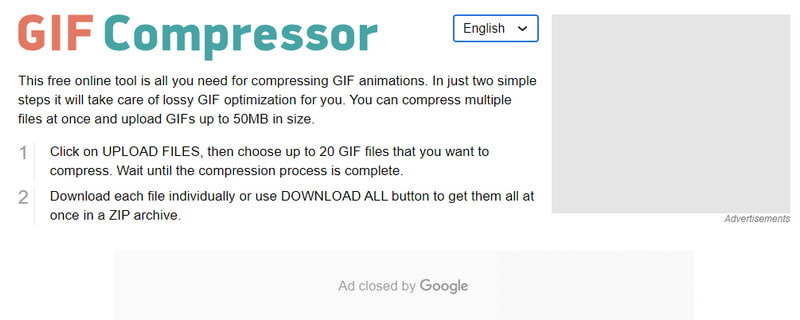 As the name suggests, the GIF compressor works for GIF file formats. In just two steps, you can have your compressed GIF in seconds. Just upload your files, and the platform will start resizing them. This file compressor allows you to upload multiple files simultaneously but only limits you to a memory limit of 50MB.
Pros
It has a user-friendly and convenient interface.
It does not require users to use an account.
It supports the batch conversion feature.
Cons
It has a limited upload limitation.
A fast internet connection is needed.
Part 3. How to Compress GIF Easily
Below are the steps on how to compress GIFs using Vidmore Video Converter:
Step 1. Download and Install Vidmore Video Converter
To have complete access, download and install the program to your desktop. After the installation process, proceed to open the program.
Step 2. Select Video Compressor
Once you open the program, head to the Toolbox tab, and locate Video Compressor from the list. It is the tool to compress your video files to the proper size.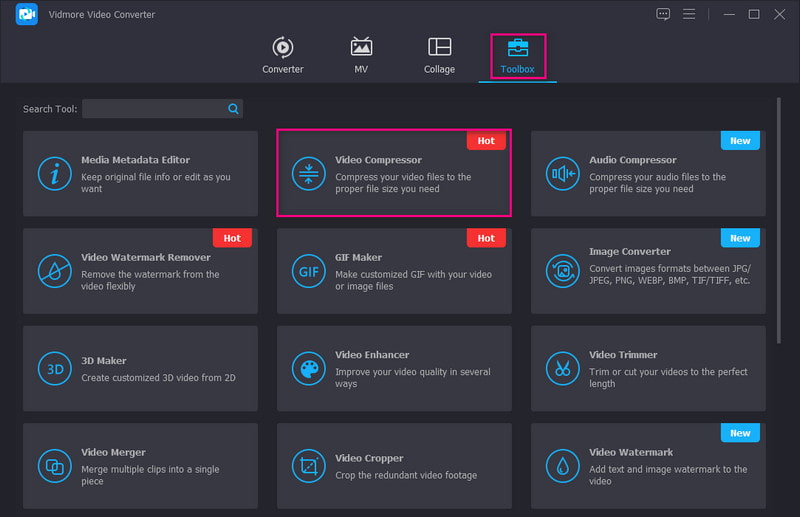 Step 3. Add GIF File to Compress
Click the (+) icon, and it will automatically open your desktop folder and select the GIF file you want to compress.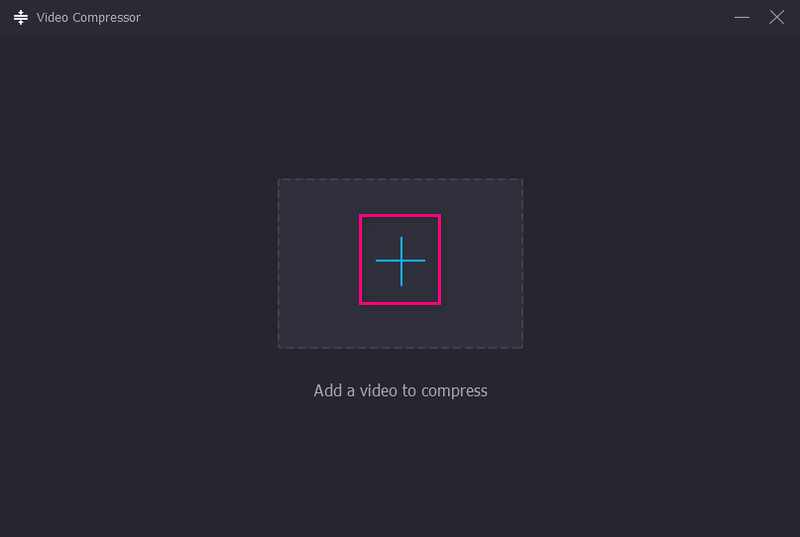 Step 4. Adjust File Size
A new window consisting of different options will appear on your screen. Use the slider to adjust the file size: once you drag it, the GIF file size will be smaller than before. Also, you can adjust the other options, such as resolution and bitrate, to make your file size even smaller.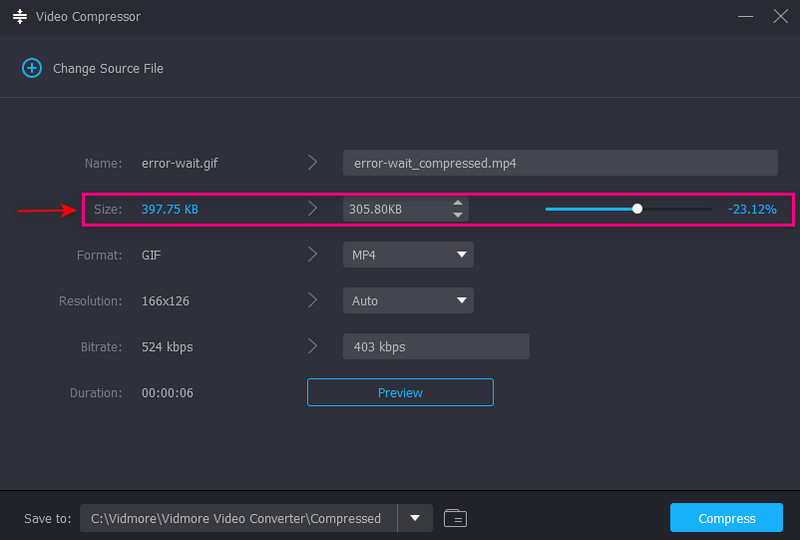 Step 5. Save Compressed GIF File
Once satisfied, click the Compress button to start the process. After that, your compressed file will be saved in your desktop folder.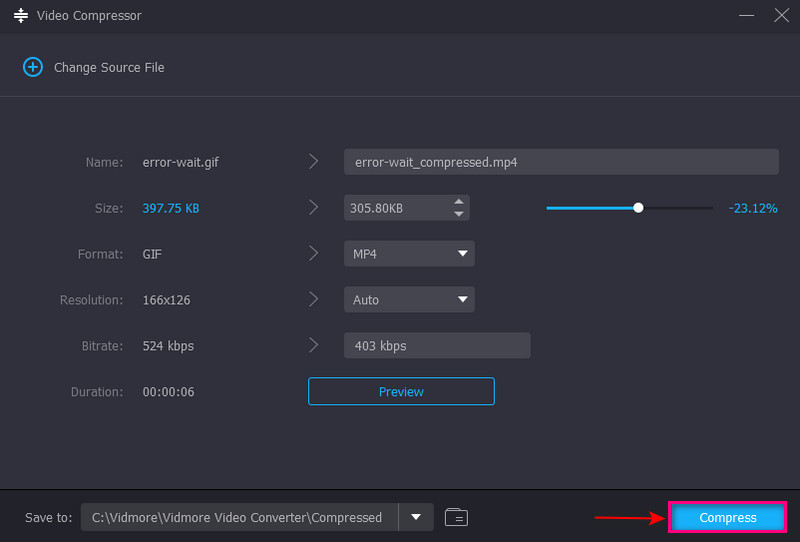 Part 4. FAQs about GIF File Sizes
What is a good size for GIF?
The recommended size for GIFs is 480x480. Same with the pictures, it should be close to being square. If it is too wide or tall, viewers must click it to expand to get the whole experience.
What is the limit MB for GIF?
The file should be at most 5MB when uploading a compressed GIF.
Why is GIF size too big?
GIF file contains multiple frames, so the longer the duration, the more frames it has. A 2-second video might have up to 20 or more images combined into a single GIF file.
Conclusion
There you have it! You have learned the various offline and online GIF compressors you can rely on. Using these top-rated GIF compressor tools, you will have a much easier time reducing your GIF file size. But if you are looking for the best GIF file size reducer, rely on Vidmore Video Converter. It can meet your needs and reduce your GIF file size to your preferred size.