InPaint Watermark Remover Review, Guide, and Alternatives
There are many watermark removers out there nowadays. Some of them are perfect. And some of them degrade the quality of the photographs. However, a watermark remover is simple and has a highly user-friendly interface. That brings us to InPaint. At this point, we shall discuss the InPaint watermark remover and share our thoughts. Examine the descriptions and the pros and cons associated with using the product.

Part 1: InPaint Watermark Remover Review
Inpaint is an internet watermark remover that will also assist you in removing any watermarks that may be present on the image that you have uploaded. You may also use the downloaded software via the website, which is compatible with Windows and Mac. In addition, it enables you to get rid of icky stuff in your pictures, such as logos, phrases, and objects. Even more shocking is that it features a tool that allows you to repair older images. And restore them to the quality they had when you first took them. In addition, it provides removal tools that let you choose the portion of the watermark you want to delete.
Unlike previous applications of this kind, Inpaint employs content-aware technology. It signifies that neighboring pixels are used to reconstruct the modified region. Consequently, the restored images seem natural, with no indication that they erased anything. Additionally, the program is user-friendly. There are no complicated tools; a handy brush is used to pick items. It is entirely adjustable, allowing you to handle various sizes and forms. If you want to use Inpaint, ensure that you have the most recent version.
Features of InPaint:
It enables you to resurrect old images.
It removes postage stamps.
It completes the missing pieces of panoramas.
It removes watermarks and logos from the item.
Pros of InPaint:
It is effortless and straightforward to use.
It is capable of dealing with many various types of items.
It does not incur any costs.
Cons of InPaint:
Apart from removing things, there are no other options.
You won't be likely to construct multiple edits to several photographs simultaneously.
There is a maximum allowed size for the file.
Part 2: How to Use InPaint Watermark Remover
Step 1: Search Inpaint in your browser, then go to their webpage. And then, on the software's main interface, click the Upload Image button to upload your picture.

Step 2: Next, select the remover tool you want to use to select the watermark area. Choose between a marker tool, lasso tool, and polygonal lasso tool.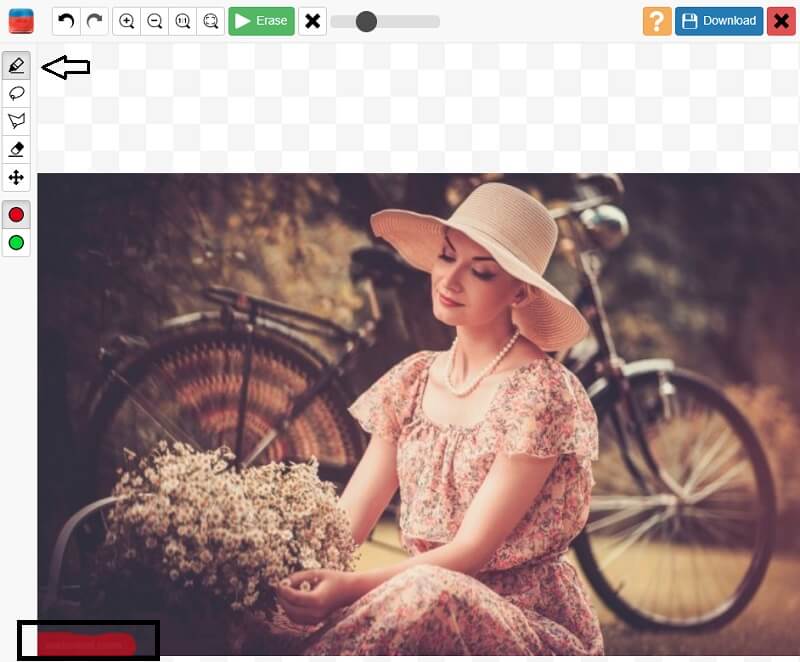 Step 3: After tracing the watermark, tap the Erase button above.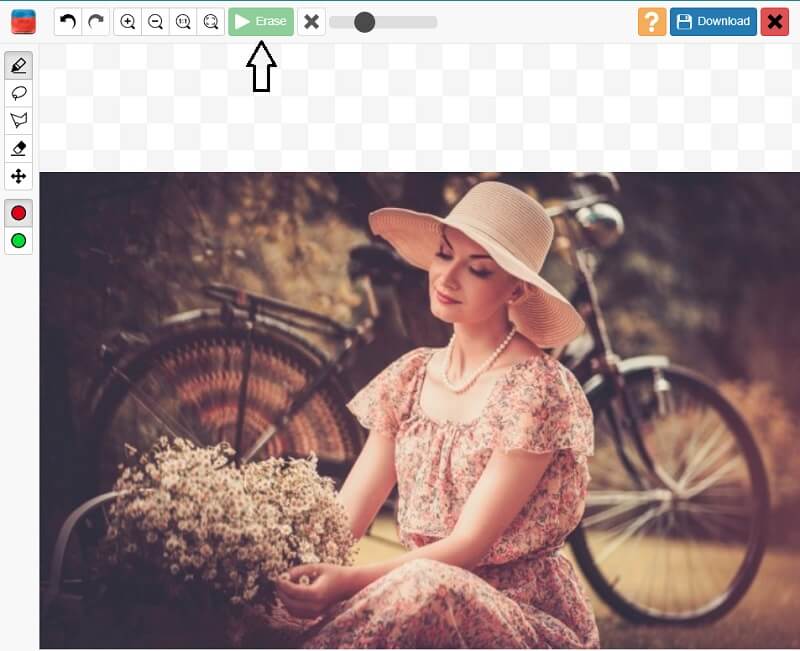 Part 3: Best Alternatives to InPaint Watermark Remover
Since the Inpaint can only cater to images. Plus, they have a file size limit. There are some alternative tools here that you can count on.
1. Free Watermark Remover Online
You can quickly erase watermarks from your photos using the Free Watermark Remover Online. There's a reason this web tool is popular: nothing has to be downloaded before you can use it. The most famous picture formats are also supported. If you remove the watermark from your photo, it will still download the picture in the same format.
While using this watermark remover, you can pick the watermark region using a remover preset of your choosing. You have the option of selecting the brush that you will use. Additionally, if required, you may use this tool to remove any unwanted elements from your picture.
Step 1: Search for a free watermark remover for your browser. Tap the Upload Image button to add a new image using the software's main screen. You will be prompted to pick a picture from one of your computer's directories to upload it.

Step 2: Next, choose the watermark eradication tool you wish to utilize. Select from the three available options: Polygonal, Lasso, and Brush. To remove a specific part of the watermark, you must first choose where you want to apply the watermark. To remove the watermark, choose the desired region and click the Remove option.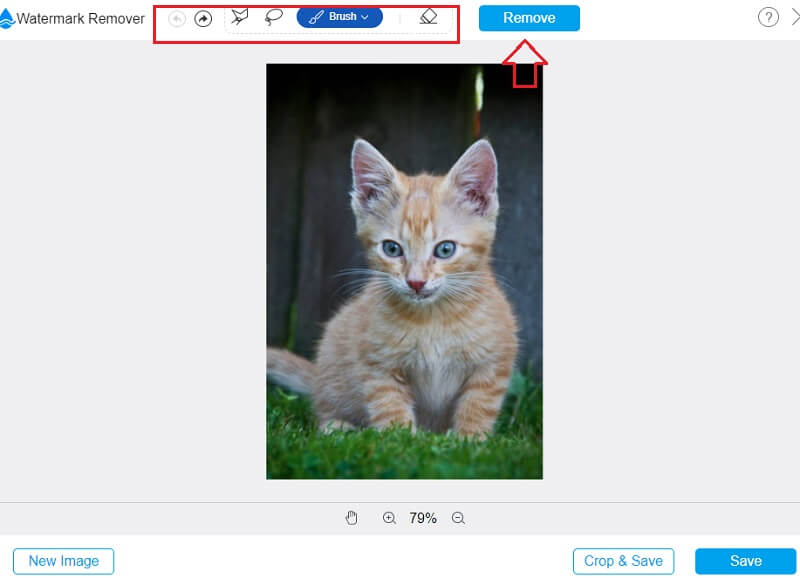 Step 3: The watermark has been removed. To save the picture to your device, click the Save option.
2. Vidmore Video Converter
Video watermarks can't be removed using InPaint, but Vidmore Video Converter can! It's a video converter capable of a wide range of functions. Vidmore Video Converter is a multi-functional toolkit. Windows and Mac users can use this software. Even though it has many features, you'll be surprised to find the interface incredibly user-friendly. It's easy to see why customers like this program's adaptability. Customers don't have to be concerned about the program's ease of use. The platform's numerous intuitive editing tools will make it simple for them to start.
Additionally, there will be no restrictions on the video's file size. The files created by Vidmore Video Converter are not limited in size. To summarize, video conversion occurs at a fast pace.
Step 1: Visiting the official Vidmore website and clicking the Free Download button will allow you to have Vidmore Video Converter installed on your PC. Before the program can function properly, you must first download and install the launcher.
Step 2: Look at the Toolbox once you've started the program. Tap on the Video Watermark Remover in your Toolbox to remove the watermark.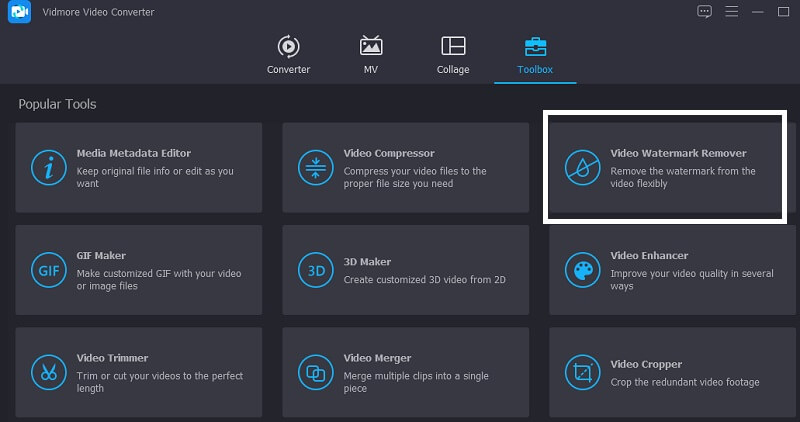 A new window will open by hitting the Plus symbol, enabling you to add or remove a video from your computer.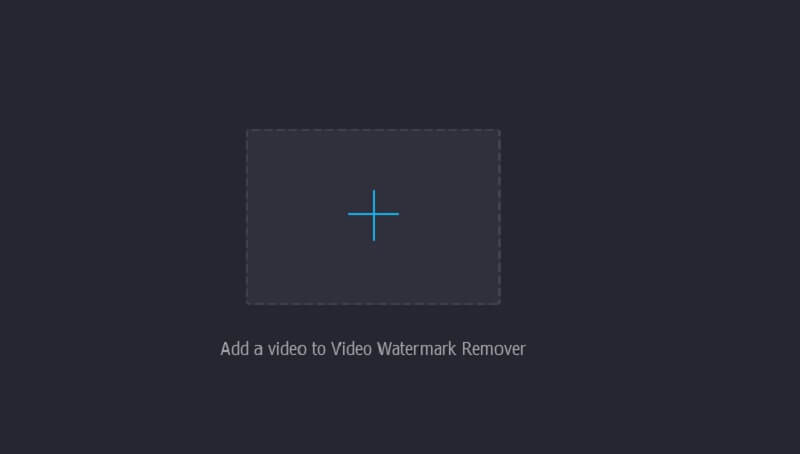 Step 3: Then press the corresponding button. Adding a watermark removal segment to the timeline should only be done after the video has been uploaded and adequately shown. A box will appear in the video's upper right corner as soon as that happens. Place the box where the watermark tells you to.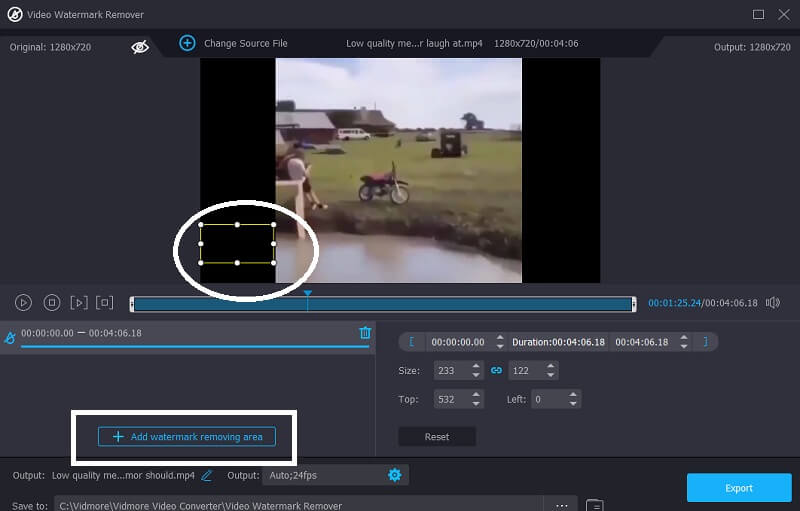 Step 4: Once you've applied the watermark, you may save the movie to your device by selecting the Export option.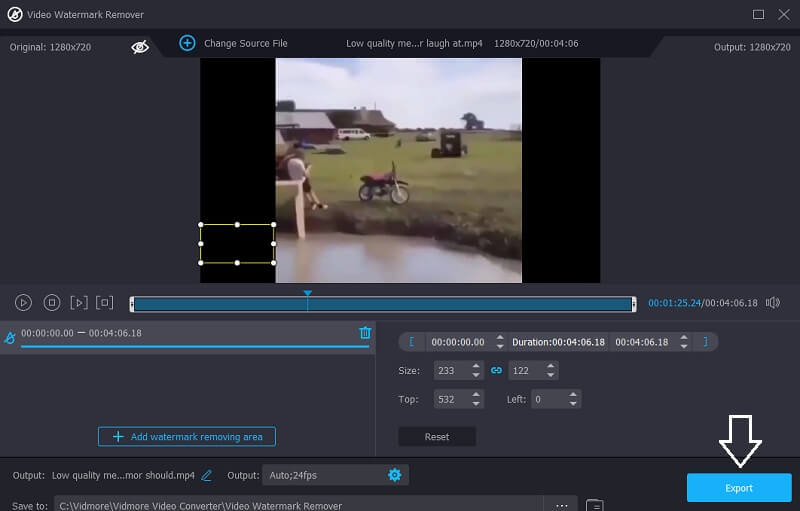 Part 4: FAQs of InPaint Watermark Remover
InPaint costs how much?
You may purchase the InPaint watermark remover for a price of twenty dollars.
What is the maximum size of image InPaint accepts?
The maximum file size that InPaint Watermark Remover accepts is 10MB.
Is it possible to use InPaint on an iPhone or iPad?
InPaint is compatible with all major operating systems, including Windows, macOS, and iOS.
Conclusions
Knowing how to use InPaint to remove watermarks is very easy. To get the most out of the item, you don't need a lot of previous knowledge or expertise. You may use the Vidmore Video Converter, but if you want to remove the watermark placed on your video clip, you will need to use another program. You may also visit Free Watermark Remover Online if you want to get rid of the watermark placed on your photograph without worrying about the file size.