Master How to Add Album Art to MP3 Under 1 Minute [Tried-and-True]
When downloading audio files online, such as MP3 files, you will experience a barren music download. That means the audio file has not nothing except the file per se. The thing is, it is difficult to recognize when the audio file has no metadata at all. You cannot ramp up your music experience because there is no way you can customize your collection of music. On the other hand, cover art serves as one of the ways for you to recognize an unfamiliar song.
With that said, many users wish to add album art to their MP3 files. In this post, we prepared three effective and efficient methods to help you learn how to add album art to MP3. Check them out below.

Part 1. Guide How to Add Album Art to MP3 on Windows 10 or 11
If you own a Windows 10 or 11 computer system, you can do some workarounds to help you add album art to MP3 files. The method we will share is not complicated and guarantees to be valuable when it comes to helping users add album art to MP3 on Windows 8, 10, and 11.
The first method is by using Vidmore Video Converter. This application comes with many useful features and functions, including the media metadata editor. You can add a title, album, comment, year, genre, and album artwork to the MP3 or MP4 files. In other words, the program works with both video and audio files. It accepts all the video and audio file formats you can think of.
Additionally, it enables users to do other essential functions with respect to their video and audio needs. You can cut, trim, edit, merge, rotate, and so much more. Moreover, converting your image files to other formats is possible. That tells us that this tool is a one-stop shop for your media editing and altering needs. Check out the steps on how to add album art to MP3 on Windows 10 or 11.
Step 1. Get the program and install it
Obtain the program first and foremost. You can do that by hitting the Free Download button corresponding to your computer's OS. After that, install and launch the tool on your computer to see if it works.
Step 2. Open Media Metadata Editor
Under the Toolbox tab, you will see all the additional helpful functions of Vidmore Video Converter. Next, select this tab, followed by the Media Metadata Editor option. After that, a dialog box will appear. This dialog box will allow you to add media files and it also indicates the video file formats you may upload to it.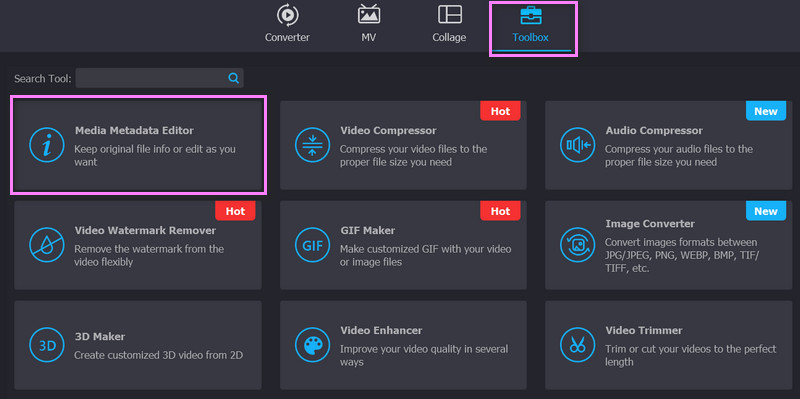 Step 3. Add an MP3 file
Once the metadata editor is opened, hit the add sign button to insert your target audio file. Then, you will be allowed to add metadata information, such as title, genre, track, and album artwork.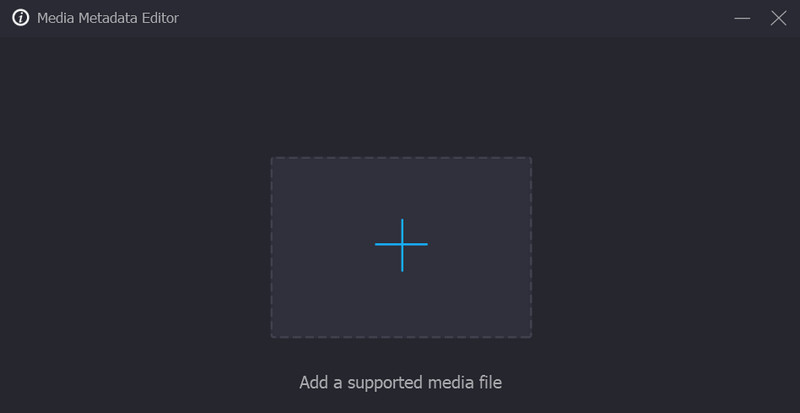 Step 4. Insert album artwork into the MP3 file
After uploading a file, you will notice that there is detailed metadata information you can fill out. On the left portion is where you can modify the album artwork. If the MP3 file does not have a cover, tick the plus sign button and select a photo from your folder. Once done, tick the Save button to confirm the changes. That is how to add album art to MP3 files with ease.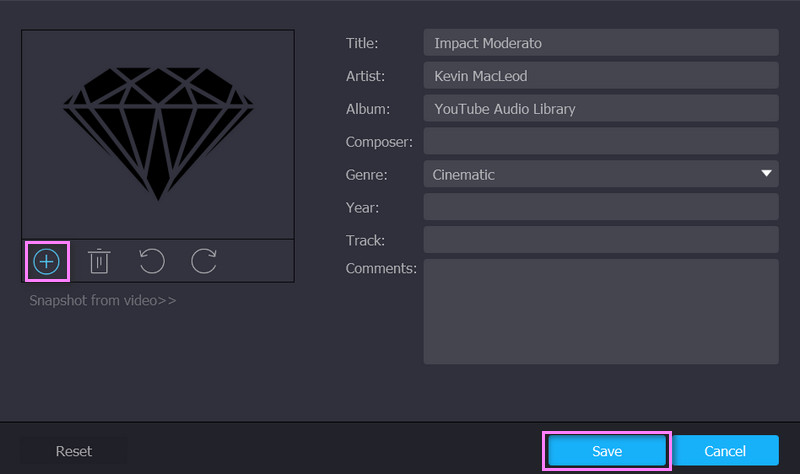 Part 2. Add Album Art to MP3 Using iTunes
Meanwhile, you wish to maximize the function of your iTunes, which is why you want to know how to add album art to MP3 on iTunes. You have come to the right page to read because we will discuss how this is done. You can see the step-by-step process below:
Step 1. Before anything else, you need to ensure that iTunes is downloaded on your device. If the application is downloaded already, launch it on your computer.
Step 2. Look for the MP3 file that you wish to modify and right-click on it. Then, you will see the Item Info option. Tick on it to see the metadata of your file.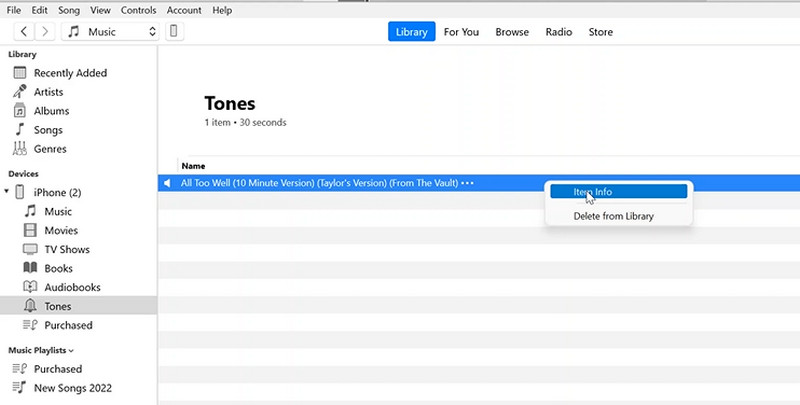 Step 3. Afterward, go to the Artwork section and hit the Add Artwork button at the bottom right corner. Choose the image that you wish to add and
Step 4. Finally, hit OK to save the changes. By then, you should be able to add album art to MP3 in iTunes.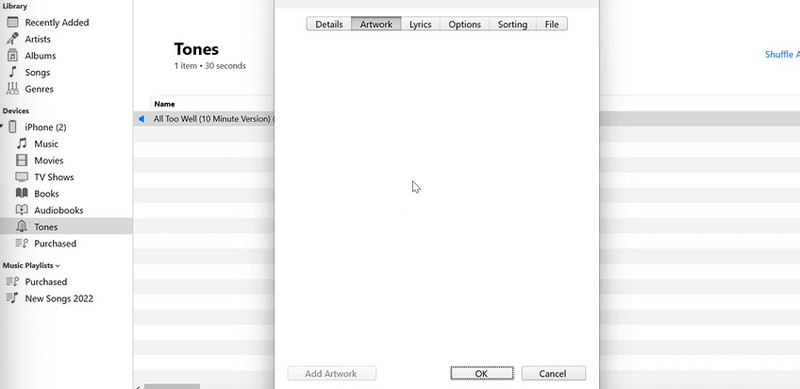 Part 3. Add Album Art to MP3 Online
In case you want to add album art to MP3 online, you can also use web-based programs to help you with it. TagMP3.net is a helpful program that allows online users to adjust the metadata of their MP3 files directly from the webpage. Not only can it change artwork but also other metadata information, such as the title, track, album, etc. Additionally, you can rely on it when modifying other audio file formats. Just bear in mind that it only accepts some file formats. On the other hand, look into the procedure on how to add an album art to MP3 online.
Step 1. Visit the program's official website with any browser you prefer to use.
Step 2. Next, open your computer folder and drag your chosen MP3 file to the upload area of the program.

Step 3. After uploading an MP3 file, edit the tags you wish to edit. Now to add album artwork, tick the Browse button for the Choose new album art/picture category. Then, select your desired photo.

Step 4. Hit the Done! Generate New Files button at the bottom portion of the page to finish the process.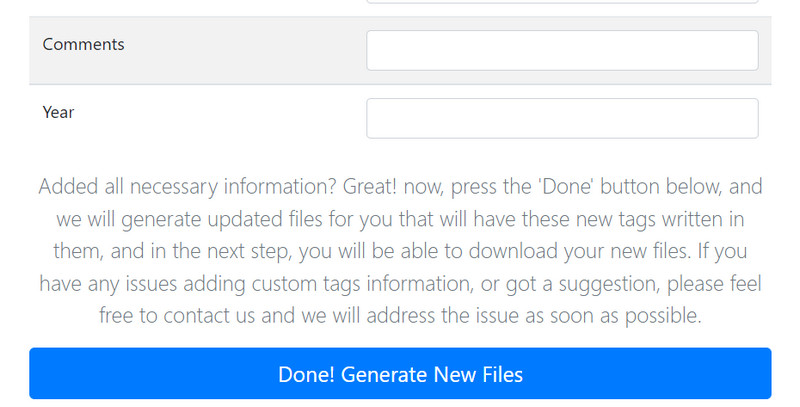 Part 4. FAQs about Adding Album Art to MP3
Why does an MP3 file not have album art or metadata?
Sometimes, MP3 files have no metadata to protect copyright violations from artists that do not give credit to the real owner. It means original creations are protected from unauthorized users.
How to add album art to MP3 files on Android?
There are applications that will help you to insert an album art to your MP3 files on your Android device. Take the Album Art Grabber as an example. It enables the user to select from several import sources like MusicBrainz, SDCard, and LastFM.
Can I add album covers to MP3 in Audacity?
Unfortunately, Audacity does not support inserting album artwork into MP3 files. However, you can edit the metadata of your audio files.
Conclusion
That is it! You have just learned how to add album art to MP3. With a lot of app options to choose from, it can take time to get the right program. Hence, we listed above the effective and most efficient tools. For offline users, the Vidmore Video Converter is a great deal. It works on both Mac and Windows systems which can help offline users not rely on an internet connection.
On the other hand, you got iTunes which is ideal for Mac users. However, it does not accept all audio file formats. The same can be said with TagMP3.net, although you can have the convenience of not downloading any program. This process helps you save memory space on your computer drive. Now, all you have to do is to explore them to find the right fit tool for your needs.