Animoto Review 2023: Everything You Need to Know
Animoto is a free and paid web-based video editor commonly used to create professional-looking videos. This platform provides numerous video templates for celebrations, business, education, and personal use. It is a platform wherein users can share their video outputs with the supported social media channels. Do you wish to learn more details about it? If so, please continue reading, as this post will provide a comprehensive review of Animoto and present an alternative program.

Part 1. What is Animoto
Before we begin, what is Animoto first? Animoto is a photo-video editor platform that can create professional-looking videos, such as marketing videos and slideshows from images and video files. This program provides a web-based and mobile-based platform for seamless operation. With this platform, you will see numerous pre-customized templates, which can be used to use and display images and more. In addition, the platform enables you to display your photography skills or showcase product photos.
Animoto is an easy-to-use and straightforward for short clips and slideshow, where you can incorporate music from the built-in library. You can embed text, apply effects, and combine photos and video clips. Besides that, you can import your multimedia files and position them in their place with a drag-and-drop feature.
Part 2. Key Functions of Animoto
It has a user-friendly interface and is seamless in operation.
Users can select between multiple aspect ratios, which adds clarity and perfection to videos.
It can customize and edit each image and video clip imported.
It has an option where you can apply special effects to your text.
Part 3. Animoto Pricing
Animoto's goal is to let users create professional-looking video outputs and ensure that every video produced is a work of perfection. The impressive part about this tool is its straightforward interface, making it easier for users to navigate the features.
This video editor enables users to use the platform for free and use its standard features. In contrast to the paid version, it offers professional and team plans; users can bag an enticing 50% discount on their purchase for the annual subscription.
| | |
| --- | --- |
| Basic | $8 per month |
| Professional | $15 per month |
| Business | $39 per month |
Part 4. How to Use Animoto
This section will assist you through the different steps of creating a video using Animoto Video Editor. With that, you will know how to create and use the features, especially if you are a first-time user. Without further discussion, proceed to the following details.
Step 1. To begin with, go to Animoto: Free Video Maker | Create & Edit Your Videos Easily official website.
Step 2. Select the Create button from the main interface of the web-based platform. You are directed to a new screen, where built-in ready mades templates are positioned and located. Select a specific ready-made template you want to use on your video project that matches the video you will create. For example, a promo video, a tutorial, a personal message or information, and more. If you want to start a clean slate, you can make a video from scratch.
Step 3. Begin to upload your image and video clips. Once imported, if the image or video clips are not in the proper place, use the drag-and-drop method to correct them.
Step 4. Let us dive into customizing your project; first, remove the text on the template, and enter the necessary information you prefer. Besides that, you can incorporate dynamic media layouts to mix images, video footage, and text to engage your viewers. After that, set the appearance of your video in the Designs option.
You can apply text animations, video styles, fonts, colors, and filters here. Last but not least, choose your desired music from the built-in music library with thousands of licensed audio tracks.
Step 5. Once done editing your video, press the Play button on the lower-left-hand corner of your screen to preview the video. When satisfied with the output, hit the Share button to create your video. You can export your video output to different social media platforms. In addition, since the embedding of videos is done through the platform, be aware that your video will be hosted on their website.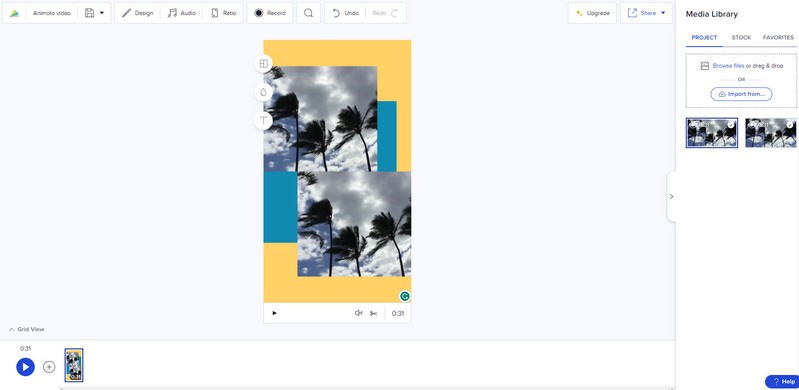 Part 5. Pros and Cons of Animoto
This part will present the advantage and disadvantages of the web-based platform. With that, you will know what to look forward to, what to expect, and more.
Pros:
It can make a video without much hassle.
It provides more feasible functions to edit the video effects.
It has a built-in photo and music library.
It has numerous kinds of templates.
Cons:
It has a watermark embedded in your video output when using a free version.
There are restrictions on the creative font, which make the feature limited.
Part 6. Animoto Alternative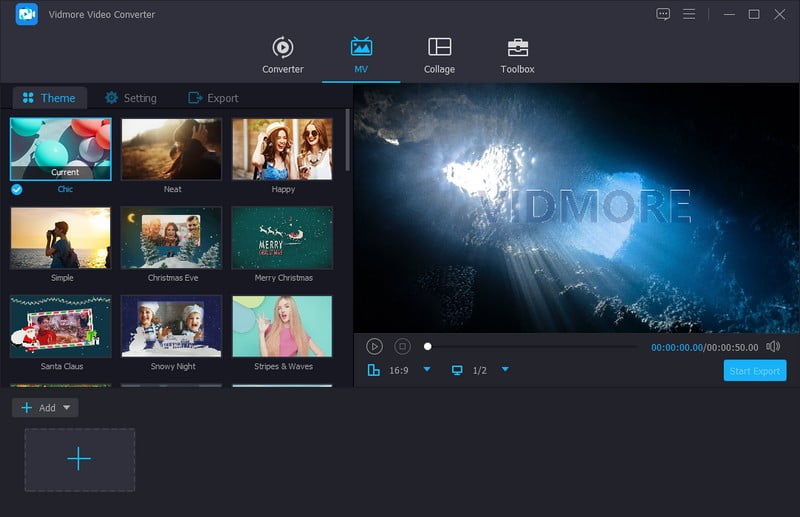 If you prefer to edit your video using an offline desktop video editor, you can count on Vidmore Video Converter. This program does not ask for or require an internet connection to access the built-in features and editing options it offers. Imagine you can further edit your video without using an internet connection. Sounds impressive, right?
Vidmore Video Converter has a feature that enables you to upload images and video clips without number limitations. With that, you can import necessary multimedia files without thinking if the program can hold them. Besides that, it can correct your video presentation by rotating your video files to the left, right, horizontally, and vertically. You can crop the video file from the preview screen or set a specific crop area. In addition, you can select your preferred aspect ratio, 16:9, 4:3, 21:9, 16:10, 5:4, and more. Also, you can choose your desired zoom mode from letter box, pan & scan, and full.
You can pick a specific filter from the list if you wish to apply a filter to your project. You can also adjust the video's brightness, contrast, saturation, and hue. In addition, you can embed a watermark of your choice, whether an image or text. You can also style your text watermark by selecting your preferred font, size, color, and more. If you wish to incorporate a design into your video, you can apply a ready-made. Also, you can add text and music based on your preference and need.
Besides that, you can use collage makers and other toolkits to enhance your videos further. This program is the best Animoto alternative tool to level up your project by using various editing options and producing high-quality videos.
Part 7. FAQs about Animoto
How long does Animoto hold a video?
Animoto allows users to import videos up to 20 minutes in length and create videos 50 minutes long. There is no limit to how many image or video files you can upload, as long as it will not exceed 50 minutes.
Can you add 2 songs to Animoto?
Animoto only allows users to add one audio track per video and upload music files, such as MP3, AAC, and M4A.
Why use Vidmore Video Converter?
Vidmore Video Converter has a built-in feature, like a converter, MV, and collage makers, and a section consists of toolkits. It enables users to edit audio, image, and video files using different editing options hassle-free.
Conclusion
Animoto Video Maker is an excellent choice for those who need to make videos on the fly. This platform is recommended for someone who is a first-timer in editing videos. But if you want an offline video editor that can be used, whether a beginner or professional, use Vidmore Video Converter. Also, it has an intuitive interface packed with basic and advanced features you can try on.