7 Best Video Croppers: Securely Crop Your Video on Various Platforms
Do you need to crop your videos but need more certainty about the security of your video files? In other words, you are half-hearted in trusting a tool that will handle your video because it might ruin it. Well, you are not the only person with the same worries, for we have encountered numerous video editors with the same concern. Therefore, we have already decided to provide you with another content about the best tools to use. This time, instead of five, we are giving you seven of the best video croppers online, on PC, and on mobile. Primarily, we will not just introduce the name of the tools themselves but also their advantages and disadvantages along with their features. This way, you will have a deeper acquaintance with them to choose which suits your requirement. Therefore, what are you waiting for? Prepare yourself as you indulge in the content below.

Part 1. 3 Best Video Croppers for Windows and Mac
Among all the platforms we have, offline programs are the safest. However, we cannot disregard the safety of other tools from the other platforms. But if you want the safest ground cropping of your special videos, then the tools below are highly recommended.
1. Vidmore Video Converter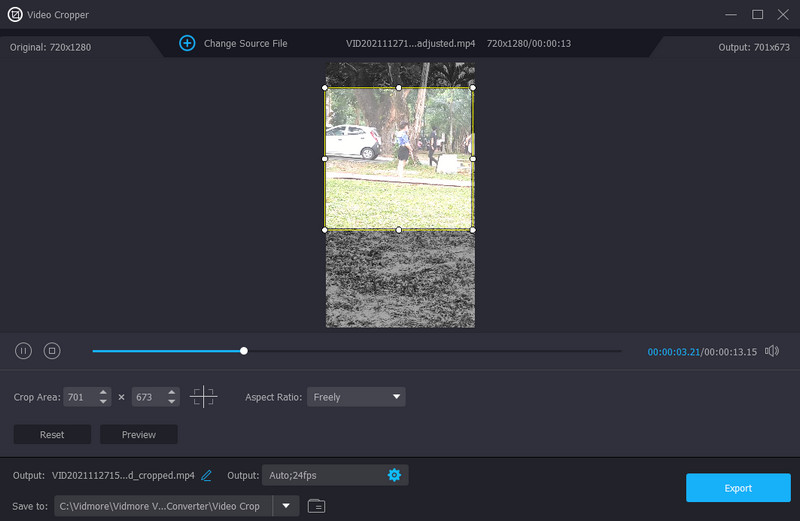 One of the most popular video editing and video size cropper on Mac and Windows is Vidmore Video Converter. It is a software with hundreds of tools within its powerful toolbox, including its video cropper. This cropping tool will leave you in awe as you unleash the powerful and great capabilities that it possesses. Thanks to the advanced technologies that empower the entire Vidmore Video Converter, they also provide users with high confidence when it comes to securing their video files. Some of these technologies are the hardware accelerator powered by NVIDIA CUDA, Intel QSV, AMD APP, and NVENC. Also, we must recognize the Artificial Intelligence that works with excellence with its video enhancements.
Meanwhile, with regard to its cropping abilities, this video-size cropper enables you to work like a pro in the easiest method you wouldn't expect. Imagine you can crop your videos freely by navigating its sliding bars. In addition, it allows you to crop up to 4K videos and transform them into any format you wish. What is more interesting is that even the single video cropping tool provides optimization options for the quality, resolution, frame rate, zoom mode, encoder, and even ones for the video's audio.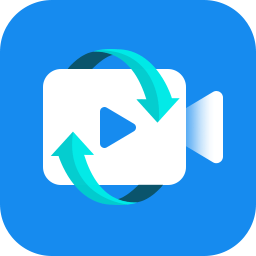 Vidmore Video Converter
Crop your video professionally yet simply.
It supports more than 200 different formats, including MP4, AVI, WMV, MOV, etc.
With advanced technologies that empower the entire software.
It is the most versatile video converter that offers all video editing tools.
A cross-platform tool best for Mac and Windows.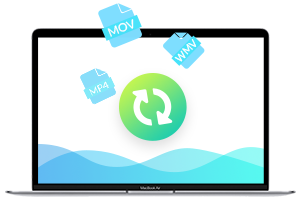 Pros
It supports as high as 4K quality videos.
A video cropper without a watermark.
Many video editing tools are available.
Edit and convert your videos with over 100 presets.
It comes with a free trial version that offers its full functions.
It comes with multiple cropping presets.
Cons
Its free trial version is limited to five video files for each tool.
2. VideoProc Converter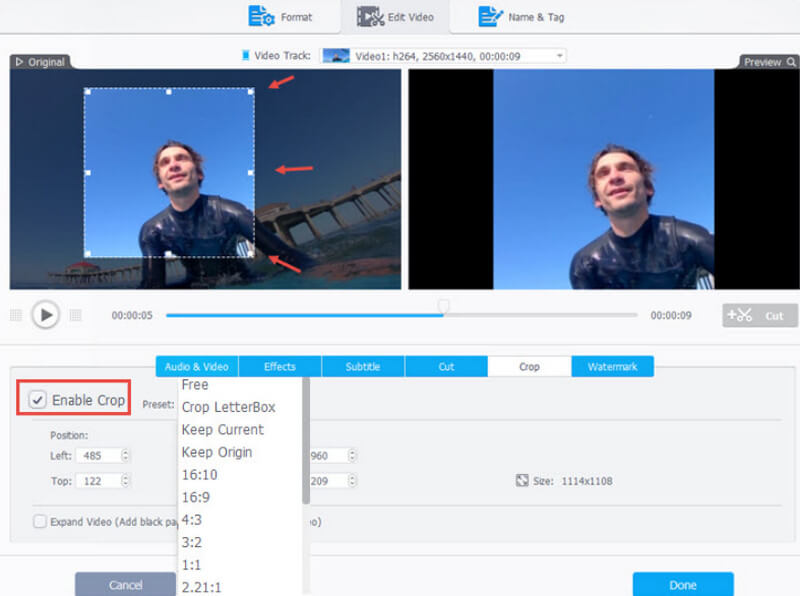 VideoProc Converter is a software developed by Digiarty with a paid video transfer. Similar to the previous one, this VideoProc Converter also comes with a free version that will be your deciding point on whether to acquire its premium plan or not. Furthermore, this tool has a simple and neat interface, which enables you to work while keeping you relaxed. Also, this video crop editor comes with cropping presets, allowing you to get your desired cropping dimensions to your video display. On top of that, as it is imperative nowadays, it is also empowered by hardware and full GPU acceleration technologies that help with the rapid and lossless quality transformation. However, unlike the previous tool, VideoProc Converter produces watermarked outputs with its free trial.
Pros
Full acceleration technologies empower it.
It offers multiple presets for video cropping.
It is paid but comes with a free trial version.
Cons
The free trial version is very limited.
The outputs are watermarked.
3. iMovie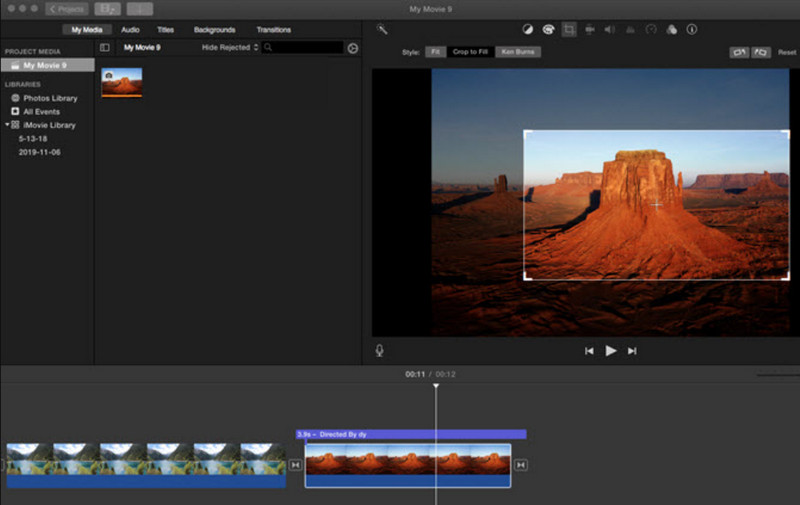 Now, if you are looking for an entirely free video resizer, then you need to use iMovie. It is pre-installed software on Mac, so you don't need to be bothered with installing any software. However, as it is also available on iOS, the pre-installation is different if you use an iPhone. One of iMovie's great capabilities is to crop a video. As a matter of fact, it offers two options for you to crop your videos, the Ken Burns and the Crop to Fill options. If you want to zoom in and out on cropping style, you must go to its Ken Burn selection. However, this crop video editor is not easy to navigate for this function. Nevertheless, there are other functions that you will find it so easy to utilize.
Pros
It comes with basic editing tools.
There is no need to download it.
It is free to use.
It allows you to share your cropped videos online.
Cons
It doesn't offer many cropping presets.
There are moments when it crashes when in use.
It is a tool best for Mac.
Part 2. 2 Incredible Online Video Croppers Safe to Use
Although it is hard to believe that online tools are safe, we recommend the two safest video resizers online for free.
1. Kapwing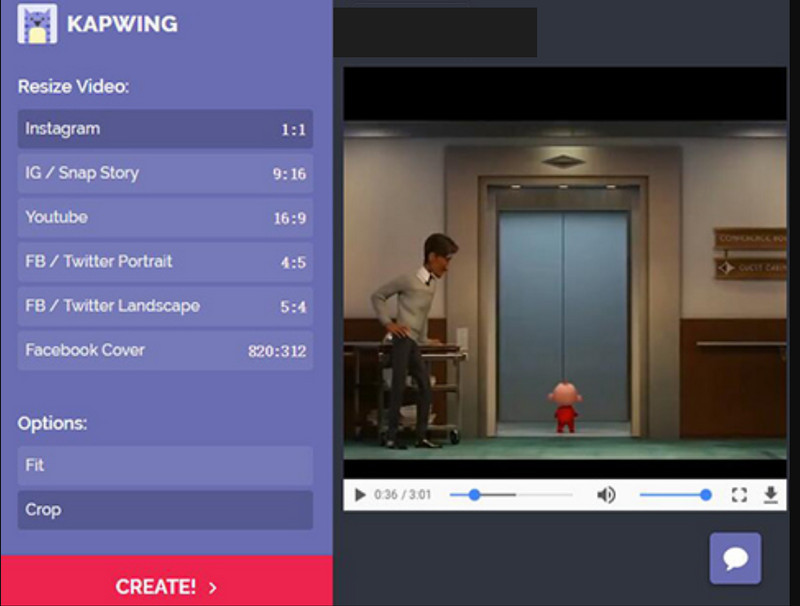 If you are looking for an online tool that is an expert in cropping videos, Kapwing is the one you should find. Among the thousands of online resizers, Kapwing is the safest tool that you can trust. It crops your uploaded video and easily shares it to your separate social media account. Quality-wise, Kapwing can give you high-quality videos while enjoying the smooth and easy procedure with this endeavor. Furthermore, to avoid awkward cropping, this online tool won't give you an open entrance; instead, it provides you with the right dimensions presets to apply appropriately. On top of that, this video cropper online offers other basic tools for your other video editing tasks. However, as everyone expects from a free online tool, all your outputs from Kapwing will be watermarked unless you use its paid version.
Pros
It automatically crops your videos.
It is free to use.
It comes with social media integrations to fit their dimension.
No need to download any software.
Cons
The free version produces watermarked outputs.
You can only upload video files not larger than 80MB.
2. Ezgif Video Crop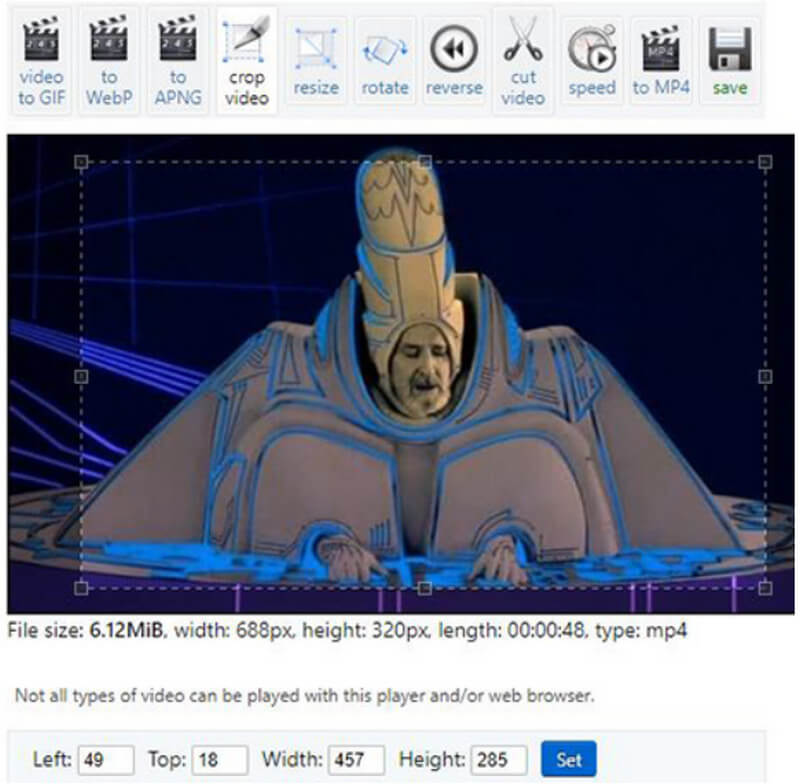 Then, here is this Ezgif Video Crop, another online tool that you can use to safeguard your video files while resizing them. Furthermore, this online video cropper has a strikingly compacted procedure with vicarious types of videos such as MOV, MP4, WEBM, AVI, FLV, 3GP, MPEG, and many more. On this note, you can guarantee that it can work to crop any kind of video you have in your folder right now. Concurrently, Ezgif Video Crop allows you to eliminate the annoying areas of your video in two ways. You can crop the video manually by setting the aspect ratio and desired value for the height, width, left, and top. Also, this automatic way allows you to adjust the adjusting bar freely using your cursor. However, just like the previous online tool, Ezgif Video Crop also has disadvantages, as explained below.
Pros
It allows you to upload videos online or via URL.
You can still reset the aspect ratio of the video after cropping.
You can use it for free.
Cons
It limits the video upload to up to 120MB.
It occasionally hangs when working with large files.
Part 3. 2 Great Apps to Crop Videos on Mobile
This time, let us peek at the croppers or resizer apps you can use with your phone.
1. Power Director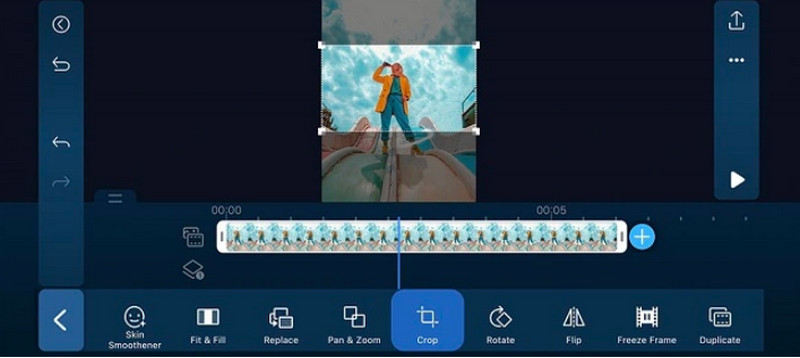 The first app that you need to check out is the Power Director. It is one of the popular apps that comes with easy and countless features to use most safely. Therefore, it is one of the best choices that you should utilize if you seek the safest app. Furthermore, it lets you crop the unnecessary part of your video by tweaking the cropping window using your finger on your screen. Besides that, you will also be amazed that this simple yet powerful app allows you to import your video with popular mobile video formats, most especially MP4. On top of that, this MP4 resizer allows you to share your outputs with your favorite social media platforms directly.
Pros
It is an easy-to-use app.
It comes with helpful editing tools besides cropper.
You can use it for free.
Cons
The free version is limited.
It comes with many ads.
2. AndroVid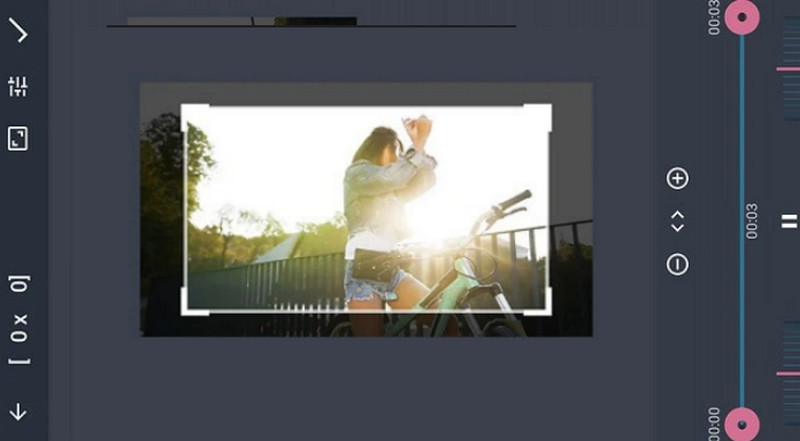 The next mobile app you will enjoy is AndroVid. It is another mobile app we ensure is safe for your video files. Furthermore, it lets you indulge in its other features and tools, such as trimming, splitting, merging, and many more professional editing tools. Likewise, AndroVid comes with some integration with sharing functions and local storage, making it an intuitive interface. However, as its name suggests, this free video cropper only works with Android phones.
Pros
It is a user-friendly app.
Induced with integrations.
With professional video filters and effects.
Cons
Available for Android only.
With many ads, it is a free tool.
Part 4. Comparison Chart of the Best Video Croppers
Cropping Tool
Platform
Level of Complexity
Watermarks
Vidmore Video Converter
Windows and Mac
Easy
Without
VideoProc Converter
Windows and Mac
Easy
With
iMovie
Mac
Moderate
Without
Kapwing
Online
Easy
With
Ezgif Video Crop
Online
Moderate
Without
Power Director
Android and iOS
Moderate
Without
AndroVid
Android
Moderate
Without
Part 5. FAQs about the Video Corppers and Cropping Procedures
What do video croppers precisely do?
Croppers are the tools that help you eliminate some areas of your video and retain what is only viable.
What is the maximum area that I can crop in a video?
Cropping doesn't have a limit. However, you can choose to crop up to 50% of your video, but that still depends on your need.
Is cropping a legal action?
Yes, if you are the rightful owner of a video.
Conclusion
Now that you know the best video resizer tools in this post, you can pick one for your device. Remember that cropping is not a hard task, but it is only guaranteed to be safe if you use a safe tool. Thus, we ensure that the tools we presented here are 100% safe, especially Vidmore Video Converter.