Discover the Great CapCut Alternatives to Make Awesome Videos Easily
Ready to transform your videos into something extraordinary? CapCut is a great start, but did you know there are other fantastic tools out there too? While CapCut offers a fantastic video editing experience, the world of video editing is vast and diverse. This post will introduce some of the best Capcut alternatives on mobile and desktop devices. These alternatives cater to various needs, from beginners seeking simplicity to professionals craving advanced features. Let's dive into some reliable options that can help you create and share extraordinary videos in different ways!

Part 1. What is CapCut
CapCut is a mobile application that allows you to edit videos easily. It is a free all-in-one video editor application with everything you need to make stunning, high-quality videos. It is an excellent, user-friendly video editing application that turns your ordinary videos into captivating visual stories. Users can trim, combine, and incorporate music, text, effects, and more to make your videos look cool and creative. It is like a simple tool to make your videos on your phone better and more enjoyable before sharing them with others.
Pros
It is easy to use, making it accessible for beginners who wish to edit videos without a steep learning curve.
The application provides editing tools like trimming, splitting, adding text, effects, music, and transitions, allowing users to enhance their videos creatively.
It is free, giving users access to a good range of features without requiring payment.
It allows users to edit videos directly on their phone, which can be convenient when you cannot access a desktop.
The application offers easy sharing options on platforms like social media, making sharing your edited videos with friends and followers simple.
Cons
The free version embeds a watermark on your edited videos, which can be removed only by upgrading to the paid version.
It lacks some of the more advanced features of professional desktop video editing programs.
Depending on your device's specifications, you might encounter performance problems or slowdowns when working with larger or more complex video projects.
It offers in-application purchases for additional effects, music, or features, which can add up if you decide to improve your videos further.
It has limitations compared to desktop programs, particularly regarding processing power and screen size.
Part 2. CapCut Alternatives for Computer
1. Vidmore Video Converter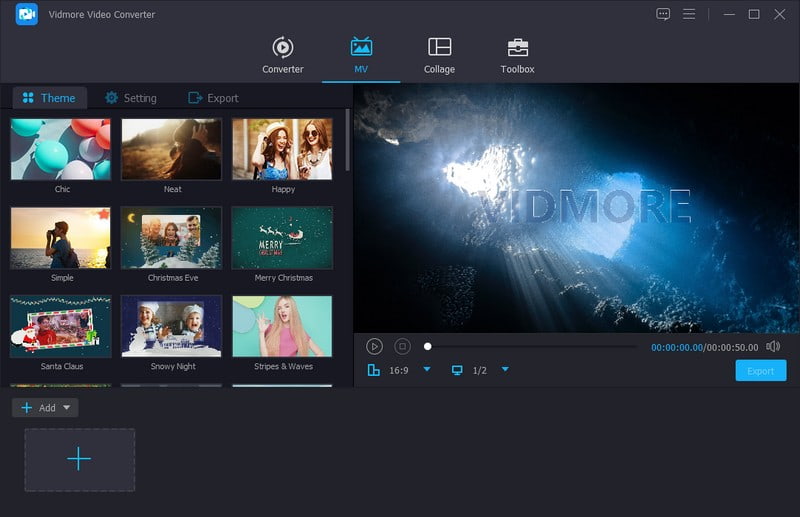 Vidmore Video Converter is a robust solution for individuals seeking comprehensive video conversion and editing capabilities on their desktop computers. This program is available for Windows and Mac operating systems, enabling users to use it on their preferred platforms. It is designed with a user-friendly interface, making it accessible to beginners and more experienced users. The intuitive layout and easy-to-use tools help streamline video conversion and editing.
Vidmore Video Converter provides a versatile and efficient toolset to transform your video content into the desired format while maintaining high quality. It allows you to rotate, crop, trim, add effects and filters, watermark, audio, and enhance video quality. It is worth noting that it might be more suitable for users who are looking for advanced editing features. Without a doubt, Vidmore Video Converter is one of the best CapCut alternatives for Mac and Windows you can access and use.
2. Shotcut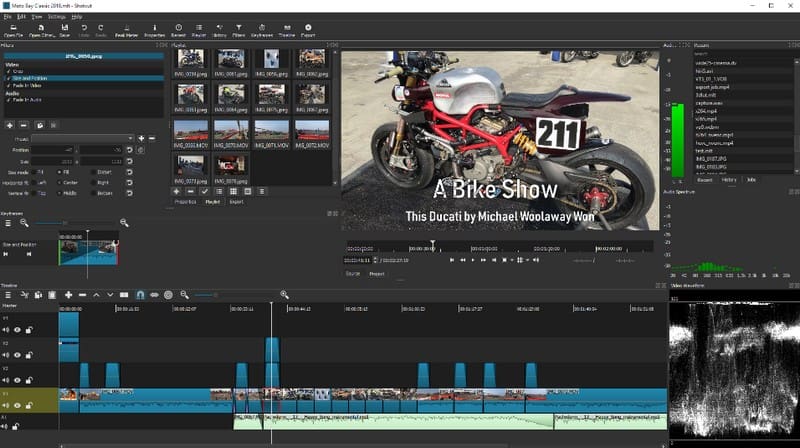 If you prefer a robust and free video editing program that offers comprehensive video editing capabilities on your computer is Shotcut. It is an open-source editing program offering several advanced features similar to professional video editing tools. With a user-friendly interface and rich features, Shotcut empowers users to create and edit videos creatively and precisely.
This program offers editing features, such as cut, merge, trim, and enhanced videos, advanced options for color correction, audio editing, and more. It is a popular CapCut alternative for Windows, Linux, and Mac, making it a versatile option for video editing on a computer.
Part 3. CapCut Alternative for Android and iOS
1. Vid.Fun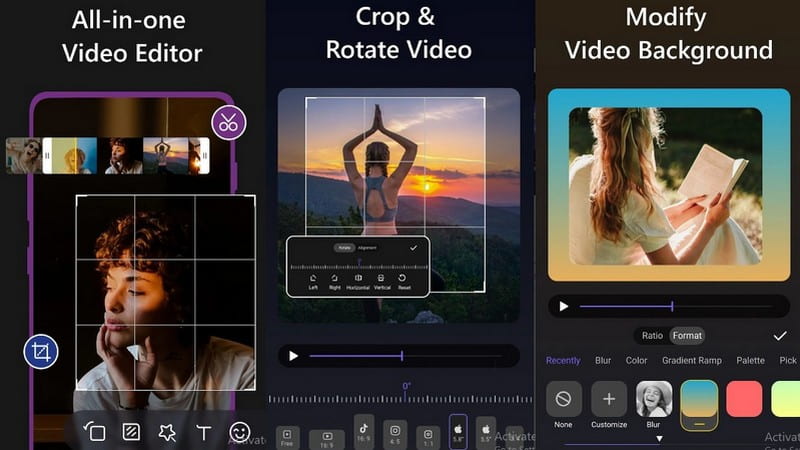 If you want a versatile application designed to edit and enhance videos directly on your phone, consider using Vid.Fun. This application provides a convenient platform for editing and adding creative touches to your footage. It offers numerous editing features that allow you to incorporate a professional touch to your videos without extensive editing skills.
With Vid.Fun, you can effortlessly cut, trim, merge, and edit your videos directly from your smartphone. Much like CapCut offerings, Vid.Fun allows you to apply various effects, filters, and text overlays to enhance your videos and add flair. This application is specifically suited for those who wish to enhance their videos on the go. Indeed, Vid.Fun stands as a compelling CapCut alternative for Android phones.
2. iMovie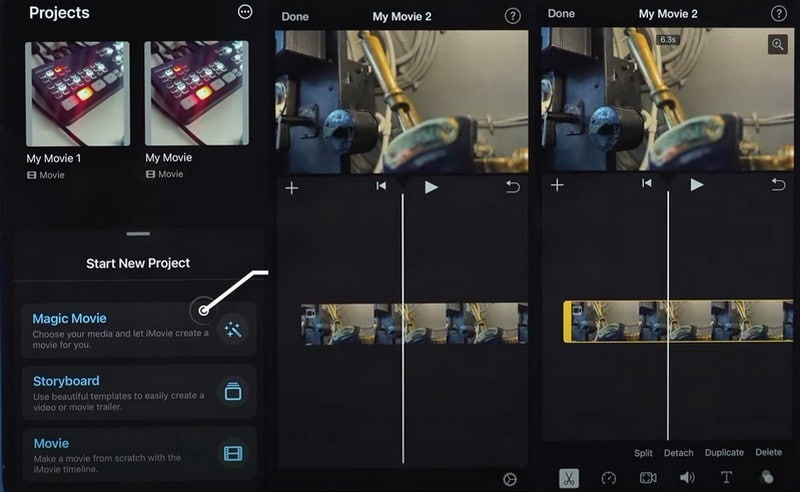 If you are looking for a standout alternative to CapCut for iOS users, iMovie is recommended. It grants you access to robust tools to transform your videos into captivating stories with professional flair. This application offers clip editing features, themes and templates, text and titles, filters and effects, transitions, speed control, and more.
What sets iMovie apart is its seamless integration with the iOS ecosystems. That said, it allows you to create and edit videos using the familiar Apple interface effortlessly. This video editor empowers you to create polished videos that resonate with your audience. Its ease of use and comprehensive features set make it a top-notch CapCut alternative for iOS.
Part 4. FAQs about Capcut Alternative
Can I install CapCut on my PC?
Yes, it offers a downloadable offline version, which you can install on the official website of CapCut.
Is CapCut free to use?
Yes, CapCut is a free video editing application. You can download and use it on your mobile device without any initial cost. However, some free applications, including CapCut, might offer additional in-application purchases for premium features.
Is CapCut a safe app?
Bytedance has assured users that CapCut is entirely safe to use. Based on their privacy policy, the application collects only basic information, such as the device's model, operating system, and language settings.
Can I edit videos on CapCut without an internet connection?
Fortunately, when you have downloaded CapCut and your video files, you can edit videos offline without needing an internet connection.
Can I remove the watermark from the CapCut videos?
The free version of CapCut may embed a watermark on your edited videos. You should purchase a premium version or explore options within the application to remove the watermark.
Conclusion
CapCut video editor is a handy tool for creating cool and fun videos. But if you are looking for other choices, you can rely on the abovementioned tools to help you make awesome videos. These alternatives offer a range of tools and creative possibilities to help you craft stunning videos that stand out.
Whether you seek advanced editing capabilities or a different user experience, these alternatives provide diverse solutions to your video editing needs. If you are using a computer to edit your videos, you can count on Vidmore Video Converter. It is an all-in-one video editing program that takes your creative journey to new heights.