Discover the Meme Makers: Your Guide to Hilarious Online Expression
In the digital realm, where laughter knows no bounds, the meme generator emerges as a powerful tool of amusement and expression. A meme generator serves as the ultimate creative portal. It allows you to breathe life into images and text, crafting moments of humor and insight that resonate across the internet. Do you want to create your own meme?
This post will review some meme generators you can use online and on mobile devices. In addition, it will teach you how to create a meme video using a dependable program. Are you excited to know all these? Unleash your inner meme maestro, and let the laughter begin!

Part 1. Review 5 Meme Generators Online
This section will present some meme generators you can find and use online. Speaking of online, you do not need to install them on your computer to use and have access to their features. Without further ado, check out the following information to get to know them.
1. Imgur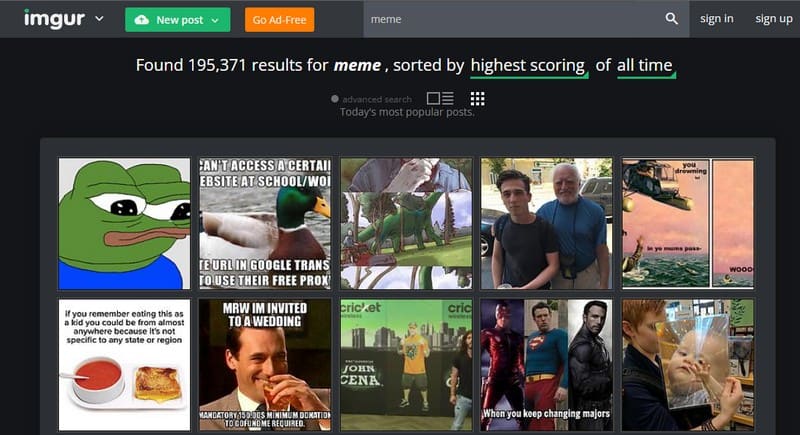 Imgur is mainly known as a picture hosting platform. Users will host images on Imgur to share with family and friends or on social media. But there is also a meme creator feature that you can use on the site. You only need to pick one of the default pictures on the site or use your own. In addition, you can incorporate text on the images to appear like a meme, which you commonly see on the internet. The good thing is that Imgur makes it easy to put text at the top and bottom of the image you selected.
2. Make a Meme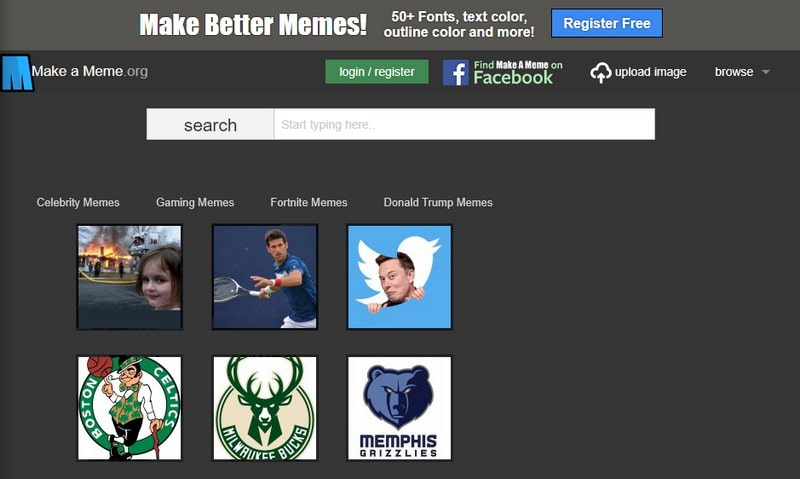 When you go on Make a Meme, you will automatically see pictures of all the most popular memes around the internet. Then you can click Make a Meme, and your picture is ready. In addition, you can upload your picture and then incorporate text into it similarly. The impressive part is that you can preview your memes before creating them. Indeed, this meme generator free will help you create a meme hassle-free.
3. Meme Creator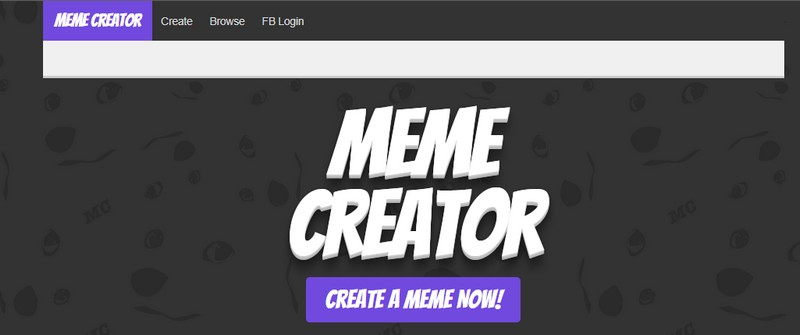 Using Meme Creator, you can recreate existing memes with the text you selected or import pictures to make custom memes. This web-based meme maker is easy to use, does not require creating an account, and is entirely free. Within a minute, you will have a custom meme to share online.
4. iLoveIMG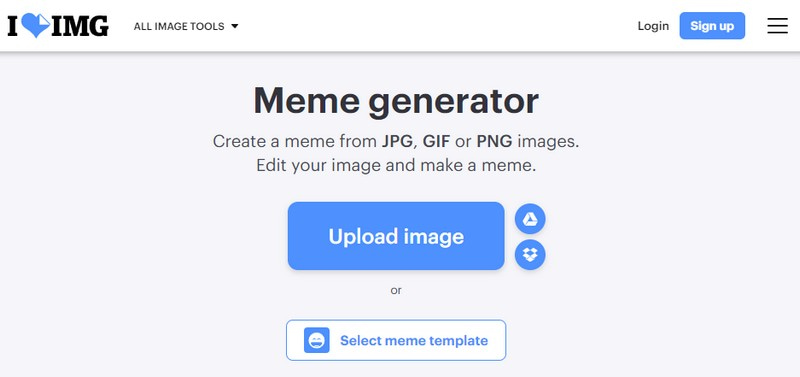 iLoveIMG is one of the most straightforward online meme-creator sites to create a meme. The homepage will let you import a picture or pick a meme template to start the process. Text boxes are already there, but you can edit them with your text and see exactly how they would appear. You can also do that if you wish to incorporate more lines of text. Besides that, it is possible to add a picture on top of one picture to take your meme game to a whole new level.
5. Quickmeme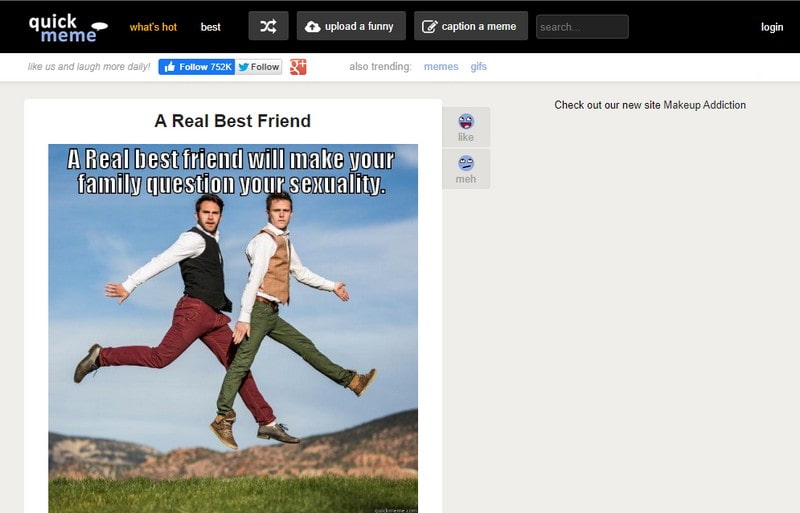 The best meme-maker option for anyone wanting a simple experience without too many frills is using Quickmeme. You can view highlighted memes, which display the most renowned ones. All you need to do to create a meme is go on and upload a funny one to begin from scratch. If you wish to pick a popular image and incorporate your text, use the caption a meme option.
Part 2. Review 5 Meme Generators App on iOS and Android
This part will introduce some popular meme generators you can access on your mobile device. For instance, you can use these applications to create a meme on your smartphone. Without further ado, please read the following parts to get to know them.
1. Mematic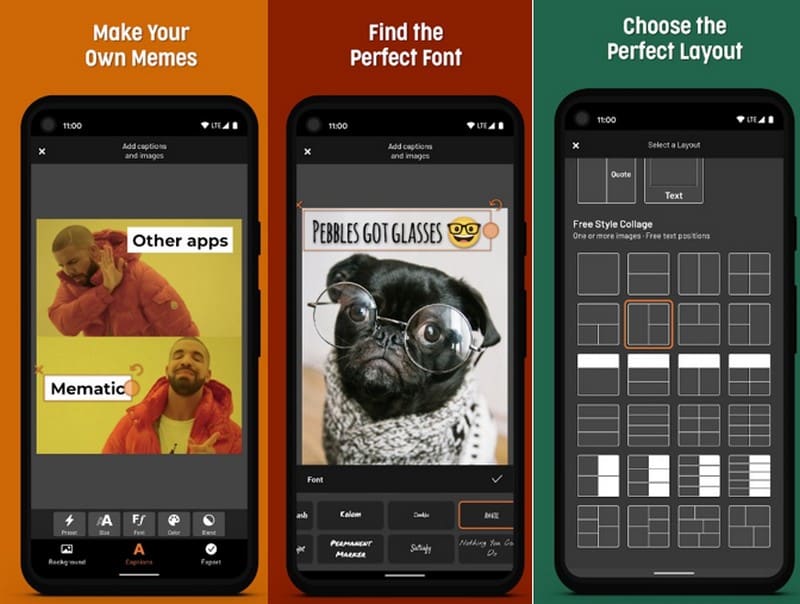 Mematic is designed to create memes quickly and effortlessly, so you can incorporate captions and share the meme online. This meme generator app only provides basic text formatting functionalities and no photo editing options. However, installing Mematic for free will allow you to access hundreds of classic meme images, which you can incorporate into your captions. This application's interface is straightforward, so you would not have issues creating memes, even if you never used the Mematic before.
2. Memedroid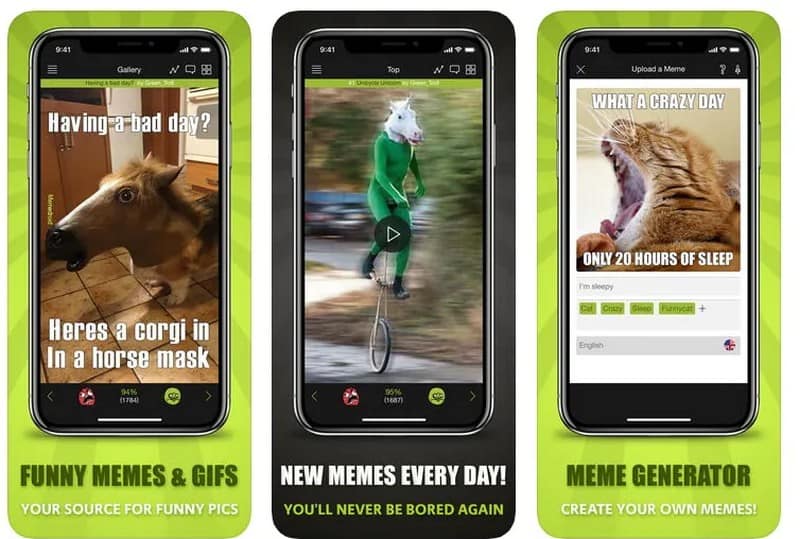 If you want to use an application with a rich meme template library and basic text tools, you can count on Memedroid. It is a meme generator and a community of users who enjoy a good laugh. This application is an excellent source of new meme templates because the gallery constantly updates. However, when installed, you need to deal with annoying ads regularly. Do not be surprised if the application crashes when browsing the latest memes.
3. GATM Meme Generator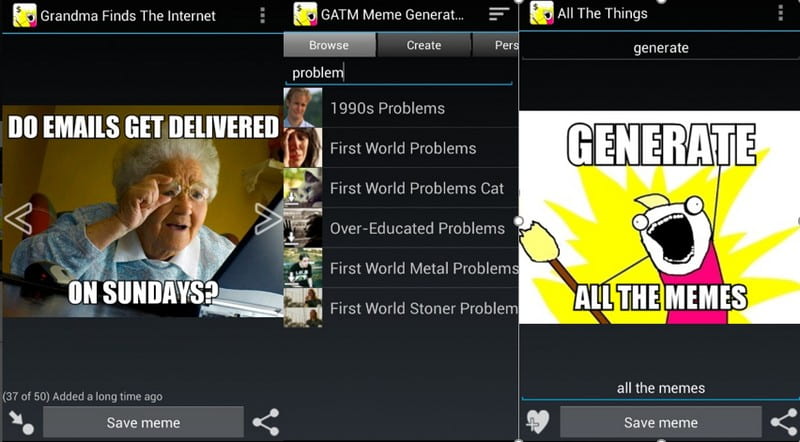 GATM Meme Generator is a powerful meme-generator app that provides an easy way to discover new memes. The browsable content is updated daily, so you will always be in touch with the latest meme trends. All generated memes are watermark-free and can be shared on other social media platforms. This application features a huge template library, and you can import pictures. However, the text formatting functionalities offer only basic options.
4. Byte Vine Creative Meme Maker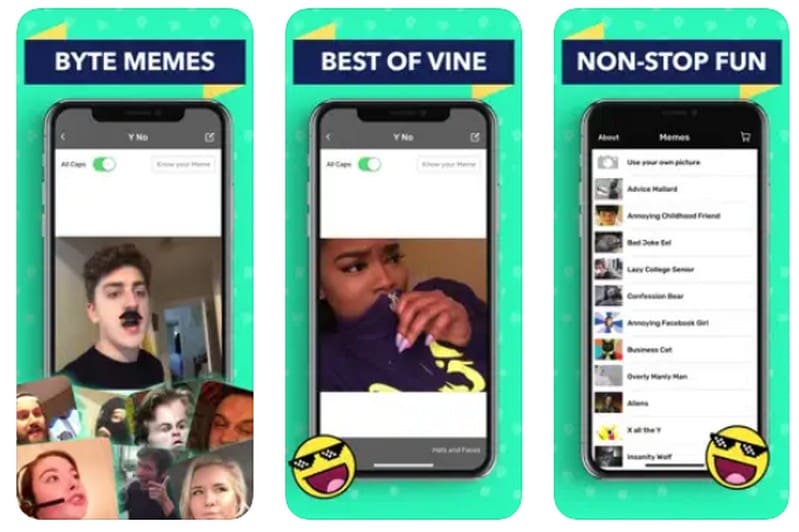 With more than 4 million users and an extensively long list of memes, this application is among the best meme generators for iPhone. It only requires you to click on a meme you like to add text. In addition, you can also incorporate hats of faces into images you are editing. However, the text formatting functionalities are not as powerful as expected from an application with many cool features. Pictures can be saved to the gallery or shared on social media platforms.
5. Meme Generator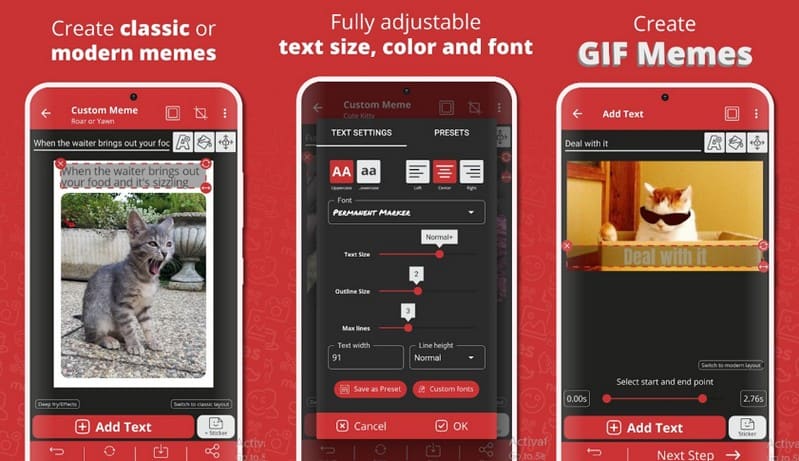 It has organized and separate meme categories, stickers, impressive file-sharing features, and memes without watermarks. These are a few reasons why the Meme Generator is so popular on Android. It is a free meme generator, so you do not need to pay anything to use its library, which has over 700 memes. Besides that, you can select the header and footer size, use the font you desire, or crop pictures. The only annoying thing about this application is the ads because every other option makes the meme-generating process fun.
Part 3. Bonus: How to Make a Video Meme
Are you ready to transform your ordinary moments into hilarious and shareable masterpieces? Look no further than Vidmore Video Converter, your go-tool for creating video memes that will have your friends rolling on the floor laughing.
Vidmore Video Converter is a video meme creator that allows you to import and transform any video clip into a meme. In addition, you can overlay captions on your videos with style. Graft the punchline, modify fonts, colors, and timing, and watch your meme come to life. This program allows you to seamlessly sync catchy tunes with your video, making your memes even more entertaining and engaging. Besides that, you can crop, trim, and edit your videos precisely. Adjust audio levels, improve visuals, and make memes that stand out in the feed.
Below are the steps on how to make a video meme using Vidmore Video Converter:
Step 1. To begin with, download and install Vidmore Video Converter on your desktop. Once done, proceed to run the program.
Step 2. Navigate to the MV tab from the top menu bar. Click the Add File button on the lower-left of the interface to import your files. Here, you can add images or video files, which will be transformed into a meme video afterward.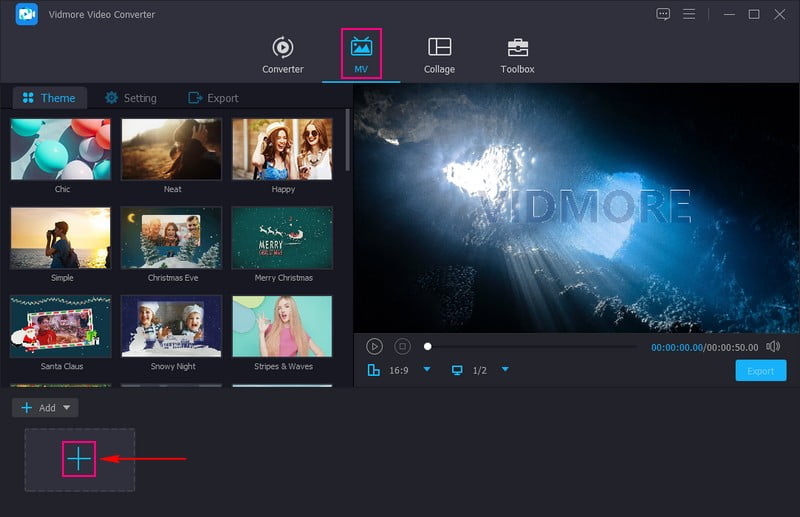 Step 3. Once the files are imported, click the Edit button to open various editing tools. Here, you can Rotate & Crop, apply Effects and Filters, and embed a Watermark. Once done, press the OK button to apply the changes.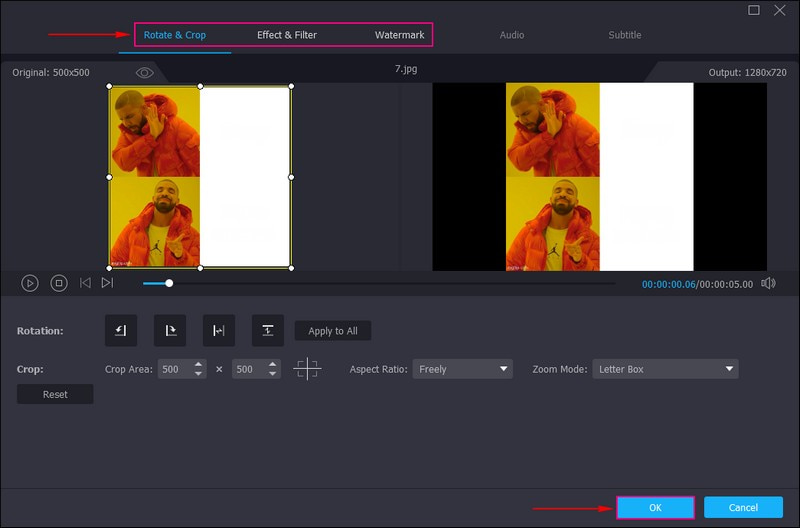 Step 4. Select one to apply to your meme video on the Theme option. Move to Settings; here, you can add Text to make your meme more relatable and entertaining. To add a sound to your video meme, put a checkmark beside the Background Music and add a music file of your choice.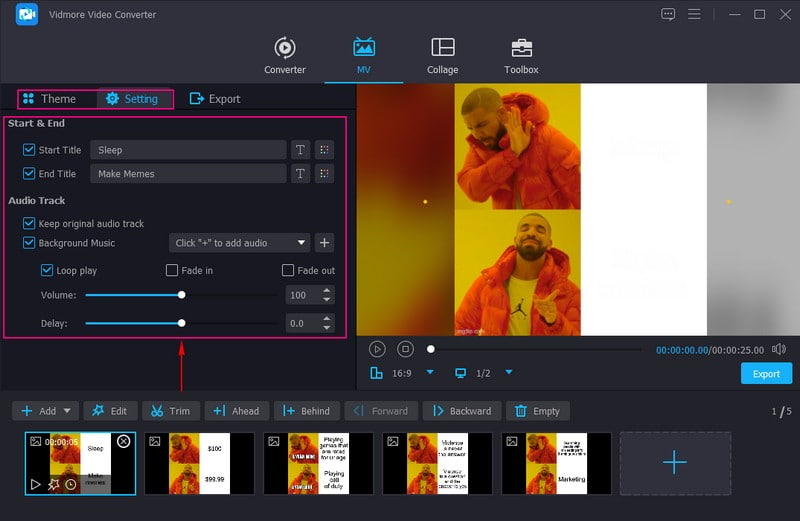 Step 5. Go to the Export option and modify the Format, Frame Rate, Resolution, and Quality according to your requirement. Once satisfied, click the Start Export button to process your meme video, which will be saved on your local file.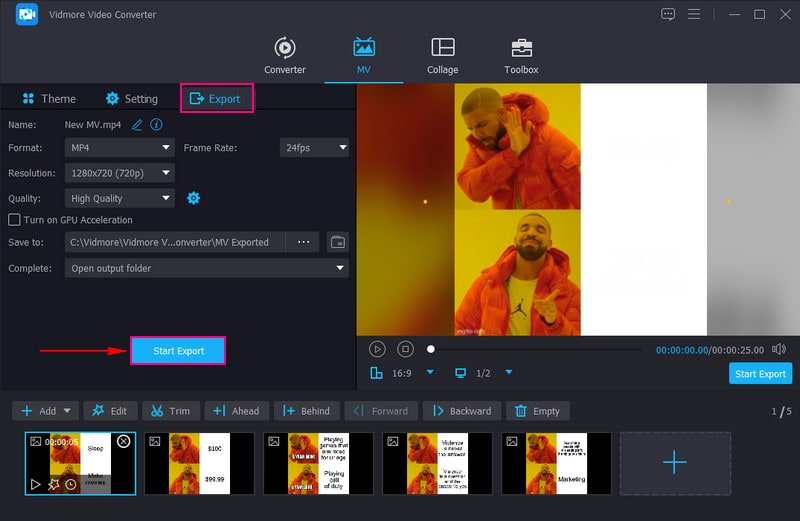 Part 4. FAQs about Meme Maker
How can I create my own meme?
You can start creating your meme using the mentioned web-based tools and mobile applications above. On top of that, you can count on Vidmore Video Converter, which can assist you in making memes from your image or video files.
How do you make a meme image?
You can use Canva to make a meme image. All you need to do is to launch Canva, search for Meme, and look for a template. Once select one, you can personalize your image meme. After that, you can save and publish your meme image.
How do I make a meme on my iPhone?
You can use Mematic to create a meme using your iPhone. First, download Mematic, open it, and select Free Style or one of the other styles or templates from the top. Then, select a meme or stock image or choose your image by clicking Photo. Double-tap to edit the text and incorporate something your creative mind wants. Optionally, you can use the other tools to apply bubbles, stickers, etc.
What are meme templates?
Meme templates are pre-designed pictures that serve as the foundation for making memes. They often feature celebrities, characters, movie scenes, and more.
Can I create GIF memes using a meme maker?
Some meme makers do provide the ability to create GIF memes by enabling you to combine multiple pictures into an animated sequence. However, not all meme makers support GIF creation, so it is essential to check the features of your specific tool.
Conclusion
A meme maker is your gateway to unleashing endless laughter and thought-provoking messages in a world fueled by humor and creativity. With a few clicks, you can transform ordinary images and videos into iconic cultural gems that spread like wildfire across the internet. If you want to create a video meme, you can rely on Vidmore Video Converter. It has editing tools that can help you create an entertaining output that will gain much attention on the internet.