Comprehensive Review of Best File Date Changer Tools [100% Working]
Many of the same scenarios happen to you when you want to change the date your media file was created. You can specify when it was created or when it was the last time you modified it. Either way, there are programs that will come in handy for you. Here, you will discover online and offline programs to help you easily and quickly change file creation dates. Without so much ado, check out the featured tools of the tools we will mention.

Part 1. Best File Date Changer
Vidmore Video Converter is an efficient yet simple method you can use as a file date changer. Using this tool, you may easily and quickly change the information of your media file, whether it has been deleted or is wrong. In this situation, you can modify the title, album, year/date, artist, composer, and so much more. That holds true for both music videos and song lyrics. It does, on the other hand, support a variety of formats.
The tool also works with Mac and Windows systems. Therefore, the program will assist you in completing your task of altering metadata, such as date, regardless of the operating system that you are using. Additionally, its associated tools will assist you in carrying out operations that are related to audio and video. If you want to know how to change the date created on a file, the tool is easy to navigate. Apart from that, you may also further scrutinize the tool by looking at its pros and cons.
Pros:
Access to all media file's information, including date/year.
Add and insert cover artwork to the file.
It offers additional features for editing video and audio files.
It accepts all video and audio file formats.
Cons:
It does not allow editing or adding metadata categories.
There is no feature for batch editing of file's information.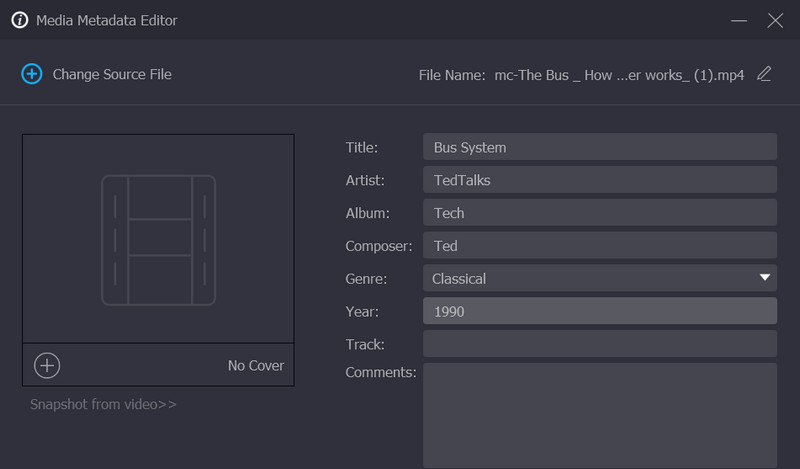 Part 2. Recommended Online File Date Changer
Another yet efficient and effective program to change file modified date is TagMP3.net. This is a game changer for online users as it allows you to edit metadata or information of media files and save the changes permanently. It does not only let you change the year or date but also the track number, artist, title, genre, album, and so much more. What is more, it works with almost all major browsers. Depending on your liking, you may choose Safari, Chrome, or Edge.
In addition, it comes with a drag-and-drop interface, which makes the uploading of files much more convenient. On the other hand, you could go with the traditional upload process by browsing and selecting from your computer folder. On top of that, this online file date changer detects ID3v1 and ID3v2 and even automatically updates an outdated file version. This process gives you less work to do while achieving the best outputs or results.
Pros:
It recognizes all metadata details.
It works on different computer browsers.
It automatically updates an outdated version of the tags of a file.
It comes with a drag-and-drop interface.
Cons:
Best for MP3 audio files.
Too many ads on the page.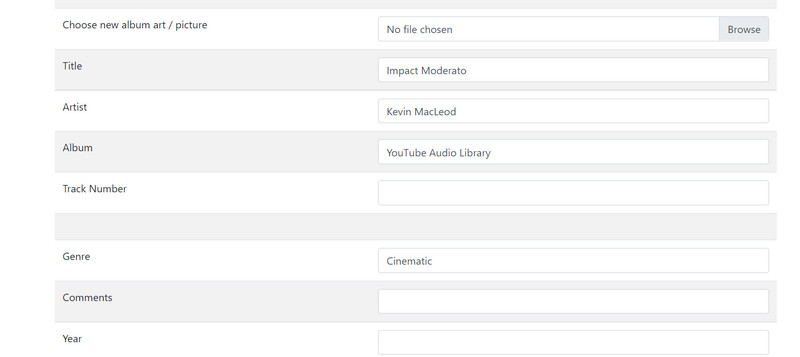 Part 3. How to Change Dates on a File
If you wish to learn how to get started, we will show you the process of how to change the date created on a file on Mac or Windows using Vidmore Video Converter. Below is a detailed procedure on how this process is precisely done.
Step 1: Acquire the tool and start using it
It is necessary to download the program before you can edit the date of your file, and you can do so by selecting any of the Free Download icons that are listed below. There is a button to download it for both the Mac OS and the Windows OS. After that, you should install and launch it on your computer.
Step 2: Discover where the Media Metadata Editor is located
The next thing that should appear on the program's main interface is a selection of tabs. One of which is the Toolbox tab. To find the option you are looking for, select this tab. To begin editing your media's metadata, pick Media Metadata Editor, which is the first option on the menu.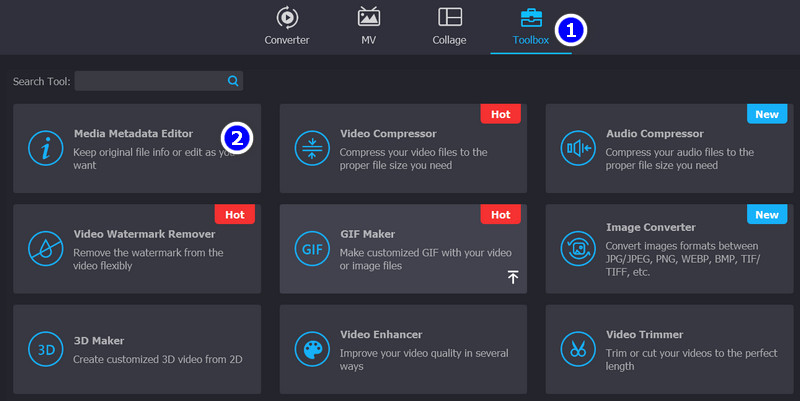 Step 3: Open the media file to change the date
When you select the option, a dialog box will display. Now, click the Plus symbol and navigate to the media file you want to upload. When you upload a file, the editor will display the information you can alter.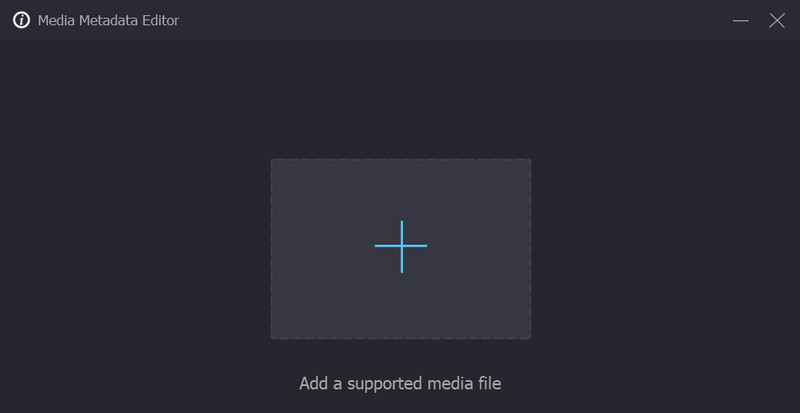 Step 4. Change the date and save all changes
This time, select a specific field of metadata. In this tutorial, select the Year field. You can then change the metadata by typing in the information you want. When you are through editing, click the Save button in the bottom right corner to save your changes.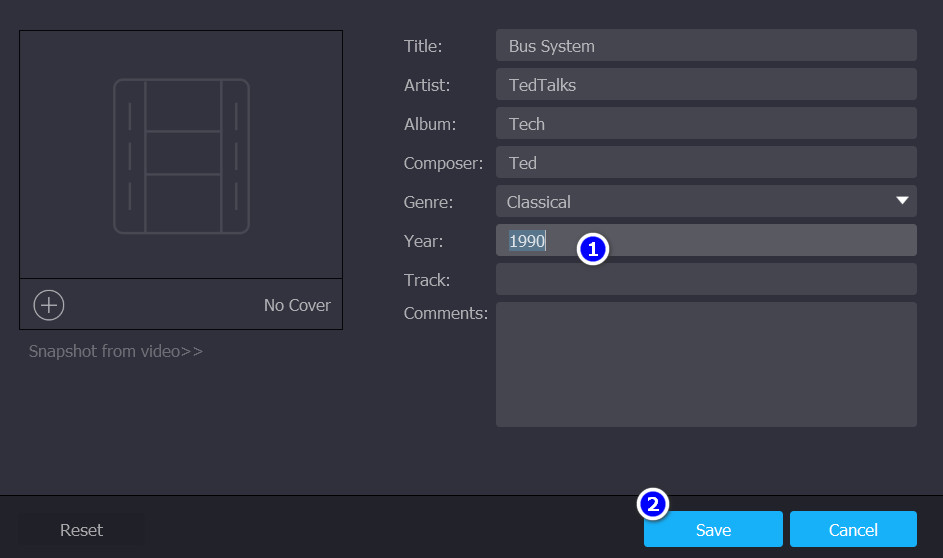 Part 4. FAQs about File Date Changers
How can I view the date information of a file?
If you wish to view the metadata about your file, such as the date, you can do it on your device using the Properties option. Just locate the file and right-click on it. Then, select Properties from the menu and check the file's details to see more about the file.
Is it possible to change the date on a PDF?
Yes. But in order to achieve it, you will need to convert the PDF into a text-readable format. By then, you will be able to change the attributes associated with the PDF, including the date information.
What is the reason why dates and times disappear from the file?
There are potential reasons why dates and timestamps disappear. Other attributes or information are lost when downloading, and the internet connection is interrupted. Sometimes, it is the website where you downloaded the file.
Conclusion
There are many programs over the internet that you can search for file date changers. What we considered in choosing the above tools is convenience, especially for the newbie or non-tech savvy people. In addition, we look into their effectiveness and efficiency in performing the task. These programs have stood out among others. Now, all you got to do is to choose between an online and offline tool.