How to Remove Metadata for Windows, Mac, Android, and iPhone
Metadata was introduced in the mid-20th century. While it has been around for quite some time, its importance has increased more recently. From selfie photos to audio or video streams, you can see metadata. They are generated by your app's collaboration to create the file and your device. But the significant and primary concern of the users is the threat of privacy invasion as it reveals a lot about the creator. It is suitable for recognition but not for privacy. Hence, many want their video metadata to be deleted. If you wish to learn how to do that exactly, here is a list of practical video metadata removal tools you may utilize. Check them out below.

Part 1. Remove Metadata Effortlessly on Windows and Mac
If you need a dedicated program to help you remove metadata from your video files, Vidmore Video Converter is your best option. This program is an all-in-one solution for your video, audio, and metadata needs. That means the tool can be utilized for editing metadata, including the title, artist, album, composer, genre, year, and many more. Using its metadata editor, you can insert, edit, and delete metadata with simple and easy steps. There is no complication, meaning every user can navigate the program well. Users without prior experience may feel they have used the program before.
Another good attribute to look forward to in this program is that it accepts and supports many formats, such as MP4, M4A, MP3, MOV, WMA, ASF, WAV, etc. With this program, you can also learn how to remove ID3 tags from MP3 files. So, when you wish to alter your video or audio metadata, the tool can help you with it. Should you consider this program? Definitely! Here are the steps below to remove metadata offline on Mac or Windows.
Step 1. Acquire and circumnavigate the tool
First of all, get the program. You may download its official website using any browser or acquire it immediately by hitting the Free Download buttons below. Make sure to click on the appropriate button as per your computer's operating system. Launch the tool and circumnavigate to familiarize yourself.
Step 2. Add your target video
Upon launching the tool, you will see the tool's four major tabs, including Converter, MV, Collage, and Toolbox. Click the Toolbox tab, and you will see a collection of tools that include the Metadata Editor. Select the Metadata Editor option, and a dialog box will appear. Now, tick the Plus sign button, then add your target video. Step 3. Clear the video metadata
Once the video file is uploaded, you can hit select which specific metadata you wish to clear out. You may choose from the title, artist, genre, album, composer, track, etc. On the other hand, you may clear everything out. Simply click on the text field and press the Backspace key on your computer keyboard.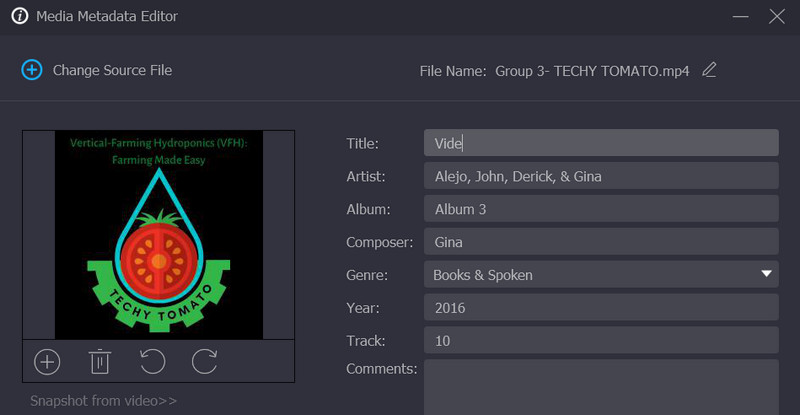 Step 4. Save the edited video
When you are through editing the video metadata of the video, tick the Save button at the bottom right corner to save the changes. In this case, the metadata is cleared. Then, the folder where it was saved will pop up for you to check the video's properties, specifically the metadata. That is how to remove metadata files on Mac or Windows offline.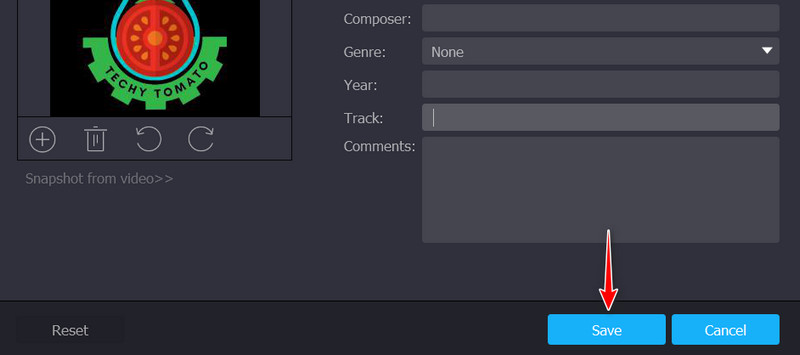 Part 2. Remove Metadata from Videos Online
There are those people who like to accomplish their tasks online. The benefit? You will not have to download a program on your device that may consume space on your computer memory. Also, if you are considering editing or clearing videos' metadata directly from the webpage, online solutions are more suitable for you. Therefore, consider these web-based programs we will introduce to help you remove metadata online.
1. MetaClean
MetaClean is an internet-based tool designed to make clearing metadata easier for everybody, especially online users. Thus, you can prevent any data breaches and invasion of privacy by removing the personal information attached to your videos or any media files. This program is available on different platforms and browsers, like Chrome and Microsoft Edge. For your information on how to clear metadata online, check out the procedure below.
Step 1. Open your favorite browser and visit the program's official site. From the main page, you will immediately see the upload interface.
Step 2. Hit the upload area or drag the video file that you wish to edit the metadata of. Then, wait for the video to be completely uploaded.
Step 3. Next, a list of information about the video will be displayed. Now, hit the Get my file clean below the information result.
Step 4. Once the metadata is cleared, the clean video will automatically be downloaded to your computer.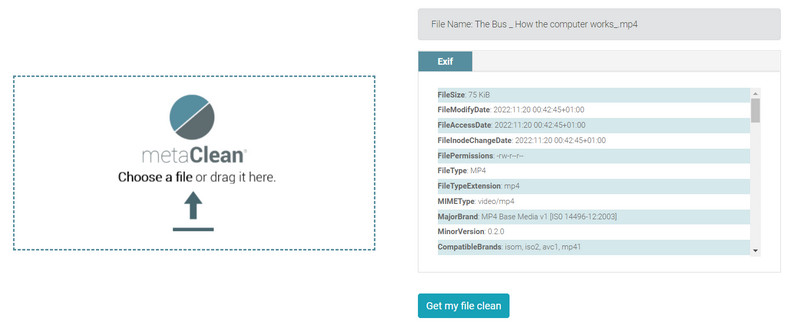 2. MetaCleaner
Do not get confused with the first and second online solutions. This next tool is named MetaCleaner. With this tool, you can work with a bunch of multimedia and document formats. Besides deleting metadata of video files, it can help users remove personal information from their documents, such as MS Office, PDF, and LibreOffice. Rest assured that all information, unless metadata, will not be affected. The only issue you may encounter with this tool is the upload file size. Files with 6 MB size and higher are not accepted to be edited with the tool. Nevertheless, here are the steps on how to utilize the tool.
Step 1. Visit the program's main website and hit the DROP YOUR FILES button to upload your desired video.
Step 2. Then, allow the program to analyze the video. It will clear all the metadata associated with your video right away. While waiting, you can grab a cup of coffee.
Step 3. When the process is done, the program will download the video output. You can preview the video from the Download folder on your computer.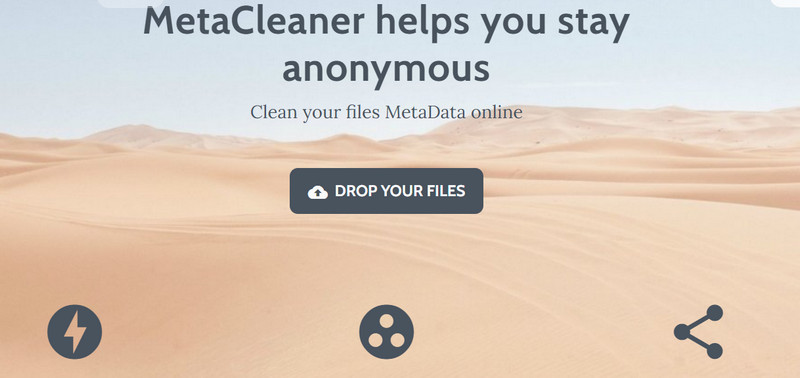 Part 3. Remove Video Metadata on Android and iPhone
In case you want to delete metadata on your iPhone or Android device, we have sorted the best smartphone programs. At your fingertips, you can edit the metadata of your videos. Learn more by reading the reviews of these programs.
1. Metapho
You find pleasure in using the Metapho program when editing or deleting your video's metadata on your iPhone. The tool comes with a simple interface, allowing you to enjoy using it. Moreover, the program's viewer for video metadata is very intuitive. You will see the video's data, when it was taken, and the location. All in all, you can erase the metadata, and edit the date stamp and location of the video. Still, it is best to have hands-on experience with the tool, so you will know whether or not you will use it. Anyways, it is just a tap away.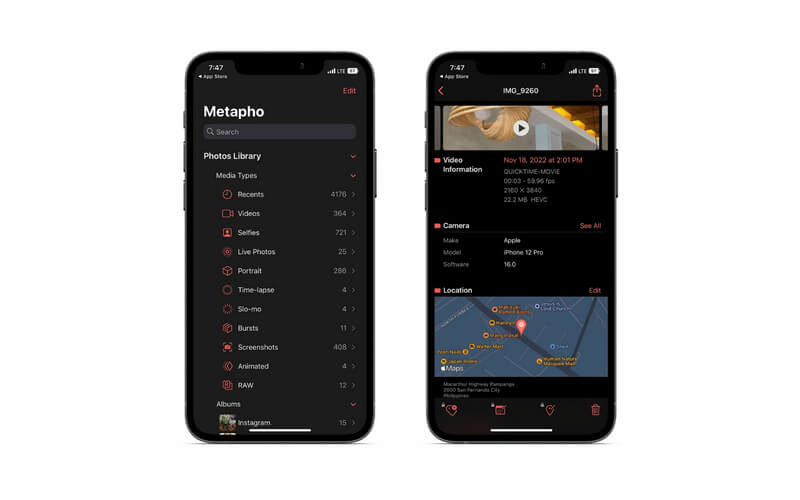 2. Scrambled EXIF
You may also opt for Scrambled EXIF if you are using an Android device to edit the metadata of your mobile videos. As the name suggests, you can erase EXIF and remove video metadata on Android. What is great about the tool is you can do bulk metadata removal. What this means is that you can upload multiple videos and delete their metadata at the same time. Instead of deleting your videos' metadata one by one, you can do them in batches to save more time and do more tasks.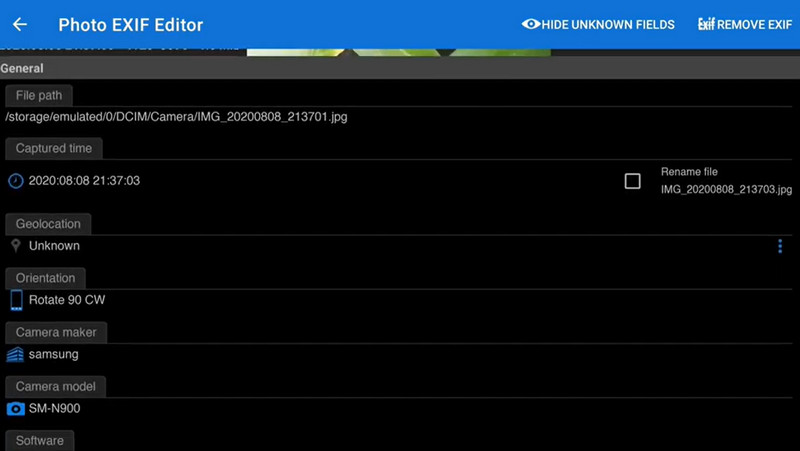 Part 4. FAQs about Removing Video Metadata
Is Exif metadata?
Exif stands for Exchangeable Image File Format that provides information. It is valuable for knowing whether an image was altered with a graphics application. Therefore, EXIF is the metadata we see in image files. You can remove metadata as this using the above programs.
How can I view the EXIF file?
There are countless EXIF file viewers available online. Some popular ones are Exif Pilot, Exif-Viewer, GeoSetter, and many more. All with unique features under their hoods.
What are the types of metadata?
The three main types of metadata are administrative, descriptive, and structural. Elements like title, author, subjects, etc., can be found in descriptive metadata. The administrative metadata is generally used in managing resources and may include technical, preservation, and rights elements. The structure metadata facilitates describing relationships among various resources, like book chapters.
Conclusion
The removal action is sometimes good, especially if it enables you to keep your information safe. You do not want your metadata to be scattered online as it will lead you to an invasion of privacy. Thanks to these programs, you can remove metadata from videos for the safer sharing of multimedia files.