Best File Metadata Editors - Video, PDF, and Photo Metadata Editors
.
Are you looking for a file metadata editor that is built for editing information on your video or audio files, photos, and PDFs? Well, it would be great if there is an application that has all these functions. Good for you if you find one, but it is nearly impossible. Therefore, we looked for programs that can do video and audio metadata editing, PDF metadata editing, and photo information editing.
After a series of tries and tests of the applications online, we have come up with a unique tool for each use. Additionally, some instructional guides and their pros and cons are provided. These are to help you navigate the software and scrutinize well the tool you are going to use. Read along to learn more.

Part 1. Best Video and Audio File Metadata Editor
Vidmore Video Converter is your best choice if you want a specialized tool to assist you in removing metadata from your video files. You may use this application to meet all of your video, audio, and metadata requirements. This implies that the tool may be used to edit metadata, such as the title, artist, album, composer, genre, year, and a wide range of other information. Also, you may add, update, and delete metadata using its metadata editor by following a few simple steps. There are no complications at all. Therefore, every user may efficiently utilize the application.
The fact that this application accepts and supports a wide range of formats, including MP4, M4A, MP3, MOV, WMA, ASF, and WAV, is another positive feature to look forward to. Therefore, the tool can assist you when you want to change the metadata for your video or audio. Should you give this program a shot? Indeed! The procedures to edit information on your video files using this metadata editor for Mac and Windows are given below.
Pros:
Very friendly with all video and audio formats.
Edit metadata and add album artwork or cover.
Intuitive and clean user interface.
Innovative editing tools.
It may work as a movie metadata editor.
Cons:
Metadata modification is done one at a time.
Step 1. Get the best video metadata editor and find a way around it
Obtain the software first. You may get it pretty quickly by clicking the Free Download links below, or you can download it from its official website using any browser. Make careful action to select the button that corresponds to the operating system of your computer system. Launch the tool and explore it to get a feel for it.
Step 2. Add the desired video
You will notice the tool's four main tabs when it first launches: Converter, MV, Collage, and Toolbox. The Metadata Editor is among the tools you can access when clicking the Toolbox tab. Choosing the Metadata Editor option will bring up a dialog box. After that, upload your desired video by using the add sign button.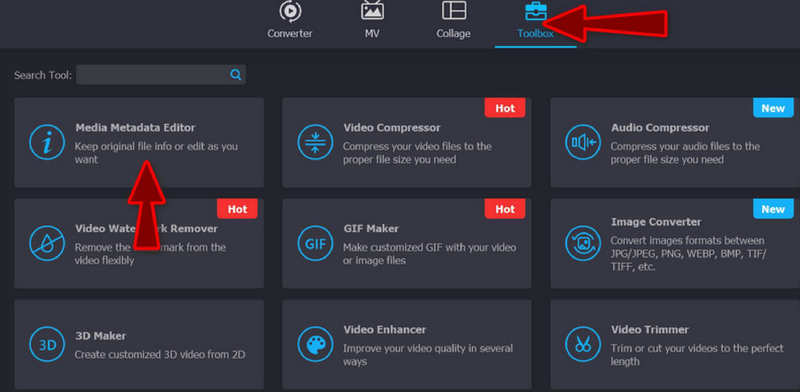 Step 3. Adjust the video's metadata
From another panel, you will see the metadata you may edit, including the genre, album, composer, track number, artist, and a lot more. Tick on your desired category to edit and type in the right information.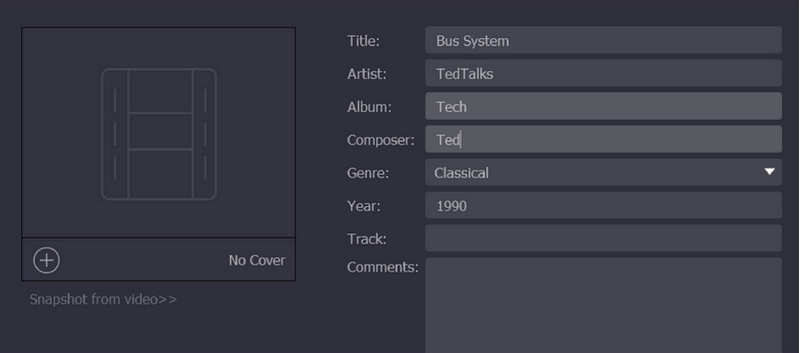 Step 4. Conserve the edited video
Select the Save option in the bottom right corner to save the changes after modifying the video's metadata. The metadata has been edited in this instance. The folder will then appear so you may view the video's attributes, notably its metadata. It is easy to use this metadata editor for Windows 10/11 and Mac.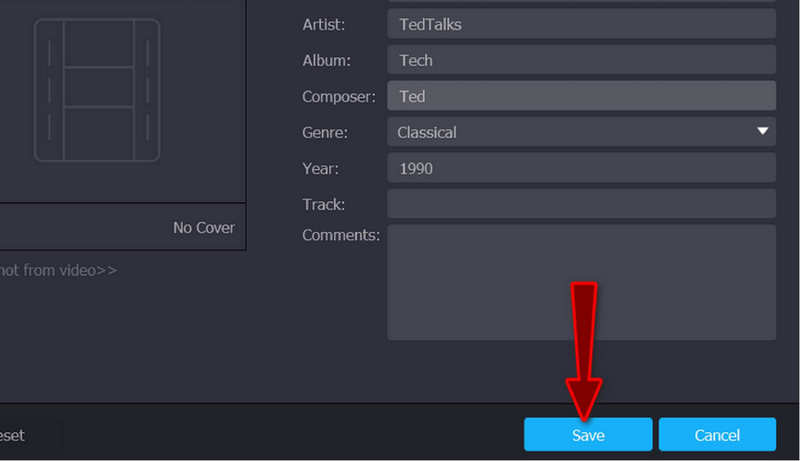 Part 2. Recommended Photo Metadata Editor
cdWorks Photo Helper is an easy-to-use, freeware metadata editor that lets you add watermarks to photos, text, or graphics. It also lets you rotate photos, manage EXIF data, and make changes to it. In addition, users of this metadata editor can get samples of your data. That includes GPS coordinates, personal information, camera settings, and more.
Furthermore, matching up orientation fields or EXIF sizes with the program is possible. You can also change an image's title and description if you want to. The tool comes with an excellent user interface and a lot of high-quality tools. Look into the advantages and disadvantages of this photo metadata editor below to learn more.
Pros:
Create and edit titles of images.
It allows for viewing and editing of EXIF files.
Match-up orientation fields of images.
Edit EXIF sizes.
Cons:
Not best for first-timers.
Inconvenient interface.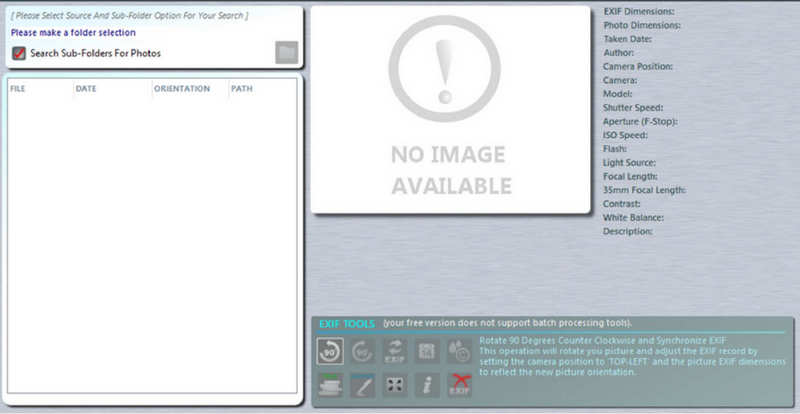 Part 3. Great PDF Metadata Editor
With this software, you can change the basic information about a PDF file. After downloading and installing their site, you can start it up and choose the PDF you want to edit. It will show the file's metadata, which can be changed to match the new values. In that sense, the program is straightforward.
All the metadata fields are editable on this software. Of course, you may input new values as needed. Apart from that, the tool also provides other useful options. Users could extract images from PDF, text from PDF, merge PDFs, convert to PDF or vice versa, and many more. In other words, it works like a one-stop shop. Find out more about this PDF metadata editor by looking at the list of pros and cons below.
Pros:
Clean and intuitive user interface.
Tools are clearly defined and can be quickly located.
It allows for converting, merging, and extracting PDFs.
Cons:
It does not have a Macintosh counterpart.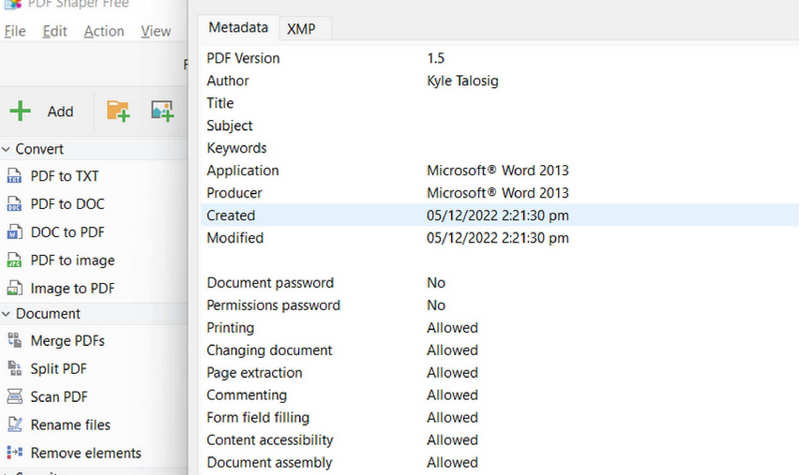 Part 4. FAQs about File Metadata Editors
How can I get the metadata from a video?
There are a few simple steps you need to learn to get or view the metadata of your files. First, locate your target video. Then, right-click on the selected video and choose Properties from the selection or menu. Under the tab labeled General, you will see some basic metadata. You can see some other metadata by going to the Details tab.
Is it possible to edit metadata in VLC?
Yes. The VLC media player also has a metadata editor for your video files. The program enables you to edit the title, artist, album, copyright, etc. Users may also add comments to the file.
Does FFmpeg work as a metadata editor?
Absolutely! FFmpeg comes with a metadata editor. The only command line you should remember is -metadata. You can either show, display, or edit metadata on FFmpeg
Can I add or delete a metadata category?
Yup. An audacity is a tool that is best known for doing this capability. You can add more metadata categories or even delete some
Conclusion
The list of file metadata editors above is best for video and audio metadata editing, photo information editing, EXIF editing, and PDF metadata editing. Additionally, they possess some valuable functions that will help you perform other tasks. They are all guaranteed to be effective and efficient. These programs should help you update the meta information of all your media and document files.
On the other hand, you may have hands-on experience with the program because they are all free to download. Then, you can evaluate and assess if they fit your needs. In fact, you already have a list of their pros and cons to help you in your decision-making. Now, if you have some recommendations and comments, feel free to reach out on our social accounts at the end of the page.