TikTok Mirror & Rotate: How to Correct Video Orientation
TikTok is widely used globally, enabling users to create and post videos, watch various video content, and earn money. If you are one of the creators, you must ensure that your videos are in the proper orientation. Improper or wrong-oriented videos might cause a hard time for your viewers to watch your videos. You do not want users to scroll down your video without watching it, right?
This post will teach you how to flip videos on TikTok and rotate them. In addition, it presents a third-party application that can help you achieve your task. What are you waiting for? Proceed to the following details.

Part 1. How to Flip and Rotate Video Using TikTok
TikTok has a built-in editing option where users can directly flip and rotate their videos on the platform. Moreover, users can trim, apply effects and filters, and more to the videos you will post. To learn more about how to flip videos on TikTok, proceed to the guide below.
Step 1. Run the TikTok application on your smartphone. Once opened, press the (+) sign at the bottom of your screen, leading you to the recording section.
Step 2. Tap the Record button if you want to shoot a video or the Upload button if you want to upload a video. Once done, click the Check icon at the bottom right corner, bringing you to the screen with the editing options.
Step 3. Hit the Adjust Clips option, directing you to the main editing section. Click the video from the timeline, and new editing options will appear at the bottom of your screen, and then select Rotate. Here, you can rotate or flip your video from 0°, 90°, 180° or 270° and select the video orientation you desire. When done, press the Save button, returning you to the previous page.
Step 4. Aside from the previous editing option you used, you can also use Text, Stickers, Effects, Filters, Captions, and more to edit your video. Once satisfied, click the Next button, fill in the information needed, and post the video.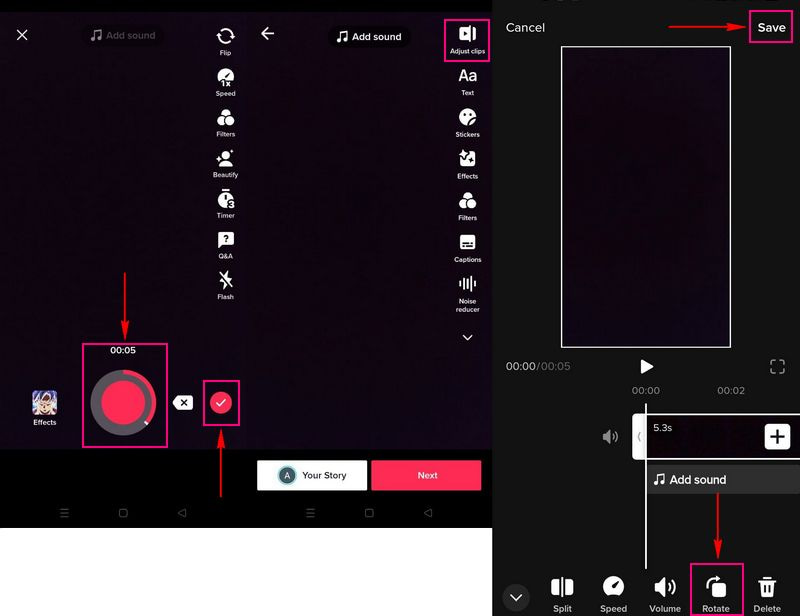 Part 2. How to Flip and Rotate Video on Phone for TikTok
Vid.Fun is an excellent application packed with numerous editing options for video editing. It is free to use, support high-definition video quality, and does not embed a watermark on your video output. This application does its job of editing, modifying, and creating stunning videos. The main features of this application include video trimming, picture cropping, background changing, video filters, content rotating, and more.
This application enables you to rotate your video and flip it. It allowed you to rotate your video from left and right positions and flip it horizontally and vertically. Undoubtedly, this application can help you achieve your task of flipping and rotating your video for TikTok.
Below are the steps to discover how to rotate TikTok videos and flip using Vid.Fun:
Step 1. First and foremost, open your Google Play Store, and enter Vid.Fun on the search bar. Once found, proceed to download and install the application. Once done, open the application to get started.
Step 2. Select Rotate option from the editing features presented on the interface. Next, select a video you want to flip and rotate. Once you are done selecting a video, click the Yes button to bring you to the main editing section.
Step 3. To the newly opened screen, you will see your video being played in the preview screen. Below the preview screen, you will see the options to flip and rotate your video. You can rotate your video from Left to Right. Also, you can flip your video to a Horizontal or Vertical orientation.
Step 4. When satisfied with the changes, hit the Export button at the upper right corner of your screen. Please wait for a few seconds to save your video. In addition, you can share the video output to the social media platform it supports, such as TikTok, Youtube, Facebook, and more.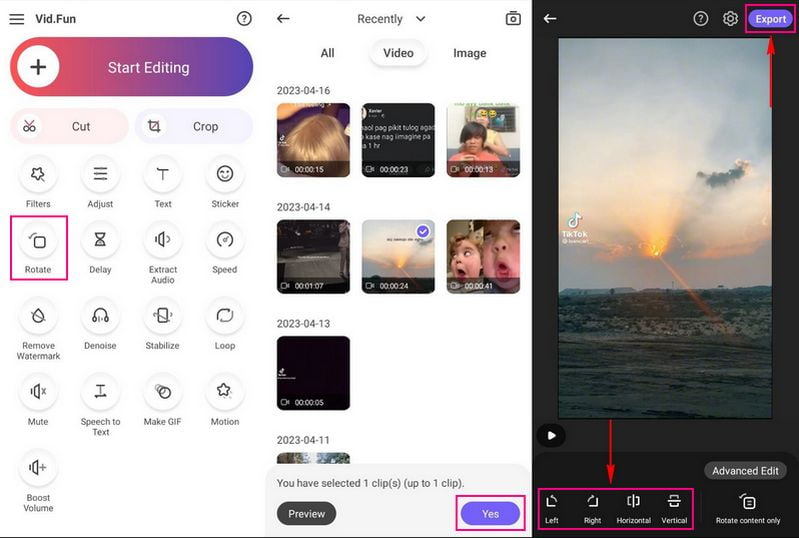 Part 3. How to Flip and Rotate Video on Desktop for TikTok
Choosing a video editor that provides several editing options that can help users produce stunning videos is necessary. The video editor must have numerous built-in features and tools that are beneficial for editing. Besides that, it must have a user-friendly interface that makes it easy for first-time users to use. With the mentioned list, Vidmore Video Converter checks all the boxes.
This program has a feature that can crop, flip and rotate your videos quickly and hassle-free. It can be found in the editing options under rotate and crop section. It lets users rotate their videos to the left or right and flip them vertically or horizontally. Therewithal, from the same section, it permits users to crop the video and select a particular aspect ratio.
Without further ado, rely on the steps below to find out how to flip TikTok video and rotate using Vidmore Video Converter:
Step 1. Download and Install Vidmore Video Converter
Download and Install the program to have complete access. After the installation process, launch the program on your desktop device.
Step 2. Add Video File
You are directed to the converter section, where you can see a button that permits you to add your video file. Tap the (+) icon to open your computer folder, and select the video you want to undergo the flipping and rotating process.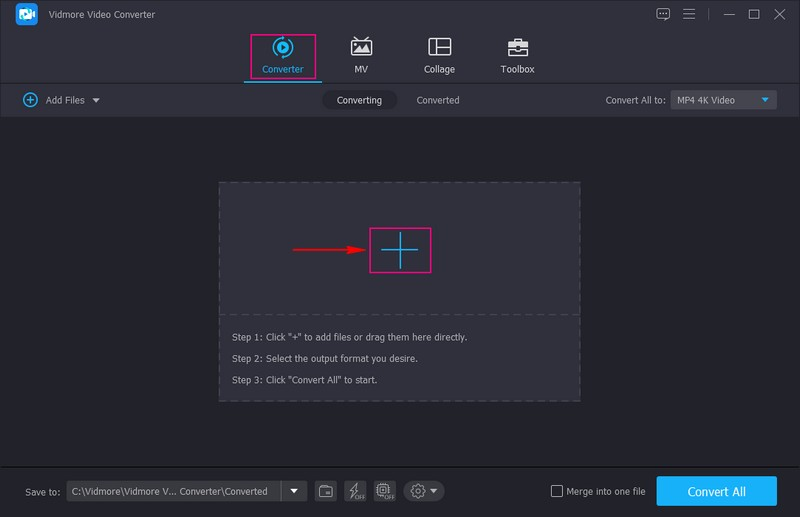 Step 3. Select Edit Option
As you can see, your video file is now added to the converter section. Click the Wand icon representing the Edit option, leading you to the main editing section. The first editing option is the Rotate & Crop, which you need to accomplish your goal. Head to the Rotation, and select whether to apply Left Rotate, Right Rotate, Vertical Flip, or Horizontal Flip on your video. You will see the changes from the output preview screen whenever you click any from the rotation options.
You can also crop the frame of your video from the preview screen using the adjustable frame or set a crop area. In addition, you can add effects and filters and embed a watermark, audio, and subtitle to level up your video even more. Once satisfied, click the OK button to save the changes.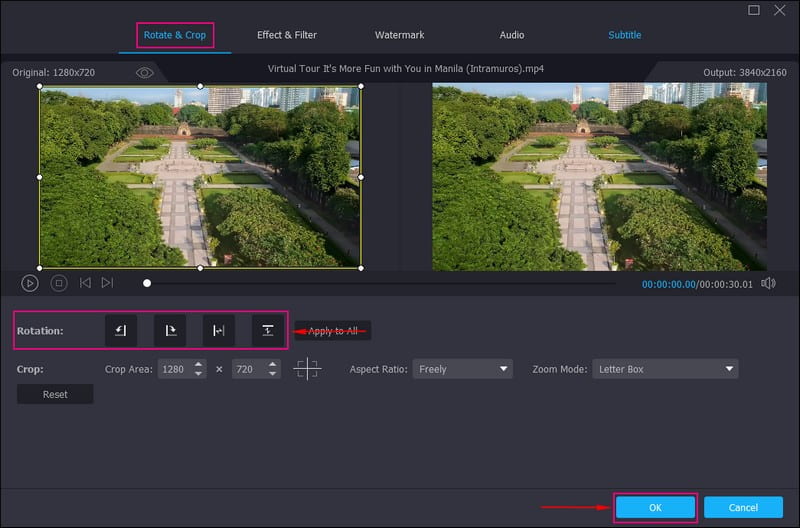 Step 4. Export Video File
You are back to the converter section. Here, you can also use trim your video and enhance video quality. Also, you can change the output format supported by TikTok, like MP4 and MOV. When done, hit the Convert All button; please wait a few seconds to save your flipped and rotated video. After that, it is ready to post on TikTok and receive hearts, comments, and more views.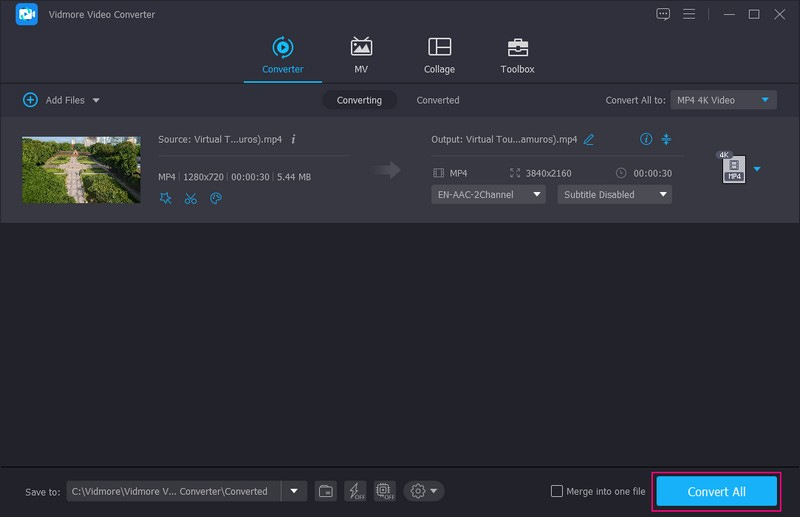 Part 4. FAQs about Flipping and Rotating Video on TikTok
Should I flip a video?
Flipping a video to a mirror is helpful for different reasons. It can help you correct videos recorded as mirrored or upside down. Also, it can help you to enhance the video composition and correct issues when combining video clips.
Do vertical videos do better on TikTok?
TikTok allows users to upload videos, whether in portrait or landscape. But commonly, users produce and upload videos in portrait orientation. Using vertical videos on Tiktok is recommendable; it improves consumption and ensures the platform's algorithm works in its favor.
Should TikTok videos be vertical or horizontal?
Social media platforms, like TikTok, prefer vertical videos, and the optimal format for videos is a 9:16 vertical aspect ratio.
Conclusion
This post taught you how to flip TikTok videos and rotate them. Besides that, you have gone through the steps of flipping and rotating video via other applications. With the Vidmore Video Converter, you can flip and rotate your videos better because it offers more video rotation and editing. Without wasting time, download Vidmore Video Converter, create trending videos, and boost your TikTok followers.