How to Draw on Videos & Add Your Creative Touch
Drawing on videos can add a new layer of creativity and communication to your content. Have you ever thought about wanting to put your drawings right onto videos? It is possible! Whether you are using apps on your phone or computer software, drawing on videos is like giving them a personal touch that is all yours. This article will instruct you how to draw on videos hassle-free. Are you excited to learn? Let's explore how you can do it!

Part 1. Best Way to Draw on Videos
Imagine you are good at drawing on your computer screen and want to show others how you do it. That is where Vidmore Screen Recorder comes in handy! It is like a unique tool that captures everything you do on your screen, just like taking a video of your drawing process. With Vidmore Video Converter, you can record all your moves on the computer screen, like a movie of your drawing adventure. It is super easy to use. You click a button, and it starts recording everything you do on your screen. In a nutshell, Vidmore Screen Recorder is like a camera for your computer screen.
To learn how to draw on videos using Vidmore Screen Recorder, count on the steps provided:
Step 1. Start by downloading and installing Vidmore Screen Recorder from the official website. Once installed, proceed to run the program to get started.
Step 2. Once the program is opened, you will see various options to record. Please select the Video Recorder from the recording options presented per your need.

Step 3. Before you start recording, you need to configure some settings. It includes choosing the recording area, enabling the camera, selecting audio sources, such as system sound and microphone, and setting other preferences.
Toggle Display1 to grant you access to the recording area you want. You can select full screen or custom mode. Turn on the Webcam if you want to overlay your face while recording. Lastly, select whether to record the System Sound or Microphone. When settled, hit the REC button to start the recording.

Step 4. Once the recording is ongoing, you can pause the recording by clicking the Pause button. Once you wish to continue again, click the Play button.
To draw on your video while recording, click the Drawing button, and you will see the various drawing tools. It contains options to draw shapes, lines, arrows, add text, highlight areas, and more. Please select the drawing tools you want to use and apply them to the recording area.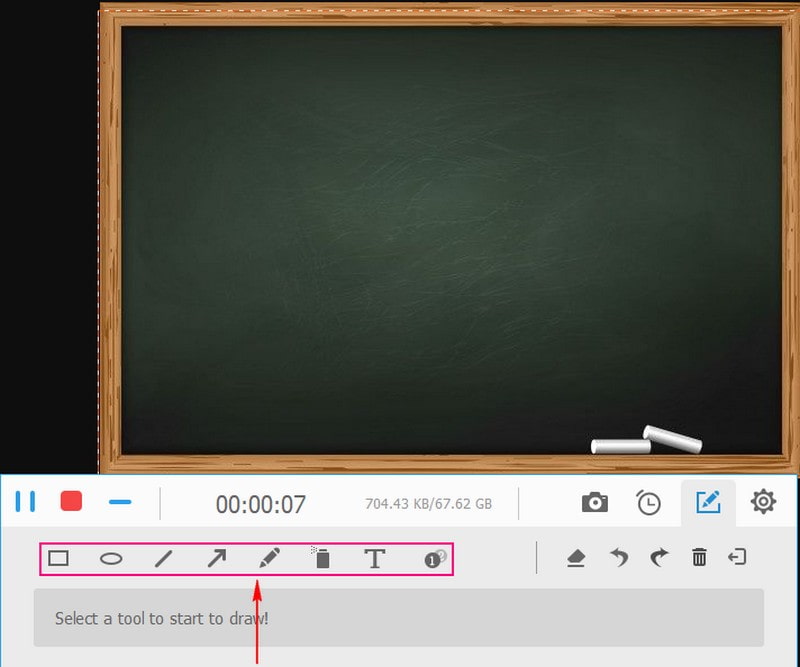 Step 5. Once you are done putting drawings on your video, click the Stop button in red. Then, you can watch your recording on the preview screen. If you are satisfied with your recording, hit the Save button, and your video with drawings will be saved on your local drive.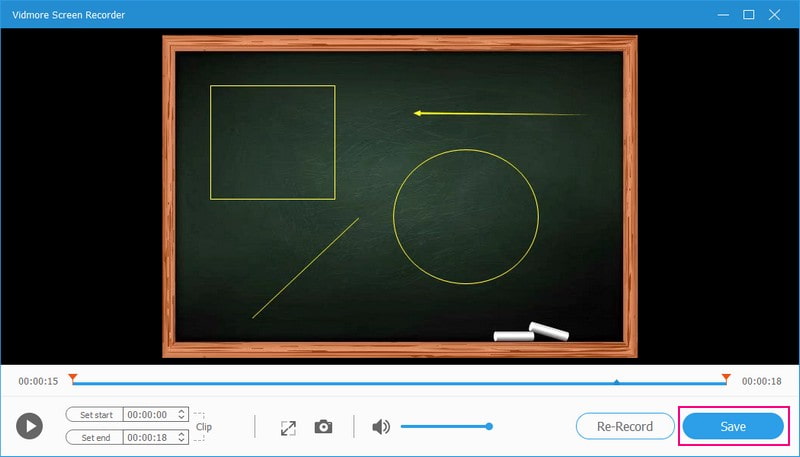 Part 2. How to Draw on a Video on iPhone and Android
Videoshop is a fantastic iPhone and Android application that lets you bring out your inner artist and add your drawings to videos. It allows you to draw and doodle directly on your videos. You can choose from various colors and brush sizes, enabling you to create drawings that match your style and imagination. In addition, it permits you to draw at different points in your video's timeline. It means you can create evolving drawings that change as the video plays.
To learn how to draw on videos on iPhone and Android using Videoshop, count on the steps provided:
Step 1. Install the Videshop app using your mobile device.
Step 2. Launch the video you want to draw and select Edit from the menu at the lower part of your screen.
Step 3. Choose Draw from the options, select a color for your drawing tool, and click More Colors to choose a specific shade if desired.
Step 4. Start drawing directly onto your video by dragging your finger along the timeline as it plays through automatically. Besides that, you can manually move frame-by-frame using arrow buttons while you draw with precision if needed.
Step 5. Once done, click the Done button to save any changes made to your video.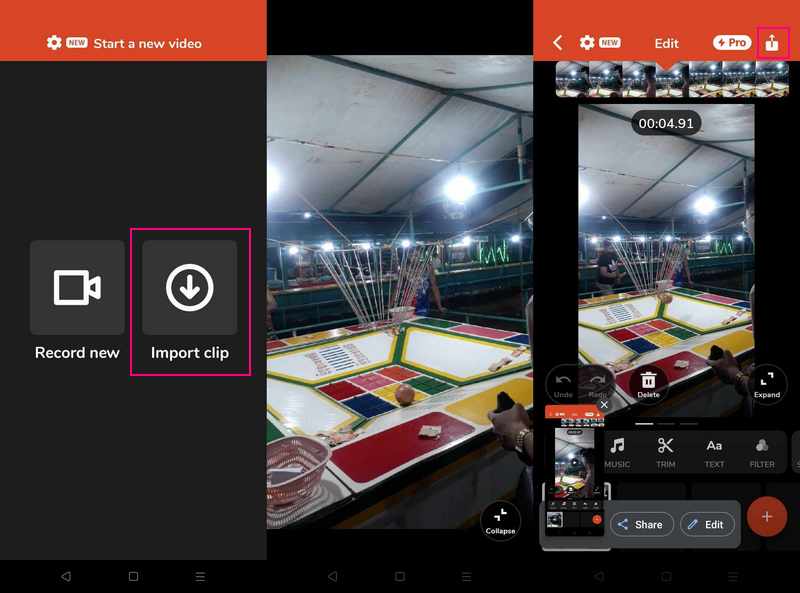 Part 3. Adobe Premiere Draw on Video
If you are looking for a powerful video editing tool beyond simple cuts and trims, use Adobe Premiere. It is like a digital canvas, where you can edit your videos and bring your artistic touch by adding drawings. With Adobe Premiere, you can create new layers, draw and doodle, animate your drawings, and enhance your video. When you are happy with your drawings, you can save your video with the cool added drawings.
To learn how Adobe Draw on Video, rely on the steps provided:
Step 1. Run Adobe Premiere and click the File, Import button to upload the video you want to draw on.
Step 2. Right-click in the Project panel, select New Item and then choose Transparent Video. It will create a new layer where you will draw. Then, drag the transparent video layer you created onto the timeline above your original video.
Step 3. In the Effects option, find the Rectangle tool, which you can use for drawing. Double-click it to apply it to your transparent layer. Head to the Effects Control option, and you will find options to modify the shape's size, color, and position.
Step 4. If you want the drawing to be semi-transparent, modify the Opacity property in the Effect Controls option.
Step 5. When your drawing is complete, go to File, Export, and then Media to save your edited video.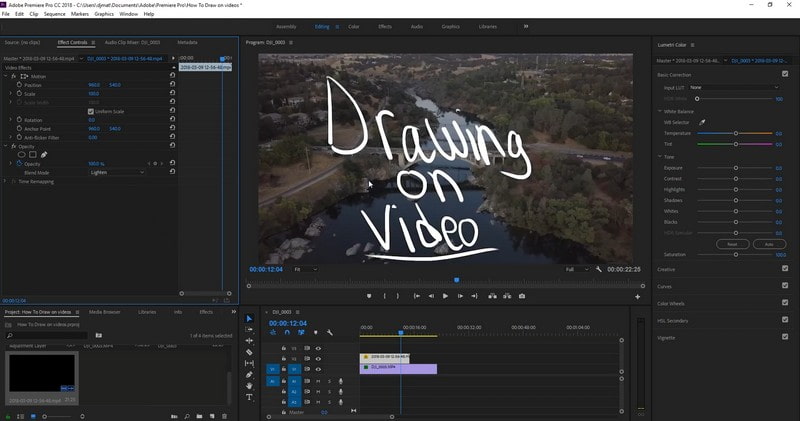 Part 4. FAQs about Drawing on Videos
Can you draw on a video in iMovie?
Yes, you can draw on a video in iMovie. It provides tools to add your videos' drawings, annotations, and other creative elements.
Can you draw on videos in Procreate?
Unfortunately, Procreate is not specifically designed for drawing on existing videos. Yet it offers a broad range of brushes, tools, and features for creating artwork from scratch.
Can you draw on video in After Effects?
Indeed, you can draw on a video in Adobe After Effects. It allows you to add drawings, animations, and various effects to videos.
Can you draw on a video app on an iPad?
You can use CapCut to draw on your video using your iPad. It provides drawing tools, allowing you to add doodles, text, and more to your videos.
Can I draw on videos using an online tool?
Yes! You can use VEED.IO to draw videos online, as it lets you draw circles and arrows, create animations, and more.
Conclusion
There you have it! You have learned to draw on videos using your computer and mobile device. You can explain things, show your creativity, or have fun making your videos come to life with your drawings. So, pick your tool, let your imagination run wild, and start drawing on your videos today! But if you are using a computer, it would be best to use Vidmore Screen Recorder. It allows you to record everything presented on your screen while incorporating drawings into your video.