How to Make a Vlog & Edit: Simple Steps to Create & Enhance Videos
Making a vlog is like making your mini-movie using videos. It is a way to share your thoughts, experiences, and cool things you do with people on the internet. Imagine it as a fun way to tell stories about your life and show things you love. All you need to do is to think about your content, grab your camera, be yourself, and let your vlogging journey begin. Let us learn how to make a vlog with the details below!

Part 1. What is Vlog
A vlog is like a diary people make and share online. Instead of writing about their day, they use a camera to record themselves talking, doing activities, or showing things. It is a way for them to share their thoughts, experiences, and adventures with others through videos.
Part 2. How to Prepare for a Vlog
Starting a vlog is like beginning a fun adventure on the internet. You can make videos about things you like, your day, or places you visit. It is like talking to friends but with a camera. Let us learn how to start a vlog:
Step 1. Decide on the topic of your vlog. It could be about your day, a hobby, a trip, or something you are excited about.
Step 2. Think about what you want to share in your vlog. Make a simple outline of the key points you want to cover.
Step 3. Get your recording equipment ready. It could be your smartphone, camera, or any other device with video recording capabilities.
Step 4. Ensure your recording device is fully charged and has enough storage space for vlogging.
Step 5. Select a well-lit area for recording. Natural light is best, but if indoors, position yourself so the light falls on your face. Find a quiet place or spot to minimize background noise. It will help your viewers hear you.
Step 6. Set up your camera or smartphone at a good angle. Ensure your face and the things you are showing are visible. Most importantly, check your device's microphone to ensure your voice comes through clearly.
Part 3. How to Make a Vlog
Making a vlog is like telling a story using videos. You can show what you do, discuss interesting things, and share your feelings. Imagine it as a movie you create with your phone or camera. Let us discover how to make a vlog:
Step 1. Decide what you want to talk about or show in your vlog. Think about what you will say and do in your vlog.
Step 2. Use your smartphone or another camera to record yourself. Stand where there is light on your face. Avoid bright light behind you.
Step 3. Go somewhere quiet so your voice is clear. Speak slowly and nicely, like you are talking to a friend. Be excited and show how you feel. Move around and show different things.
Step 4. Use an easy application to remove mistakes and add music if you want. Think of a title that tells what your vlog is about.
Step 5. Upload your vlog to a site like Youtube. Besides that, you can share it on Facebook or Instagram.
Part 4. Best Vlog Video Editor
Meet Vidmore Video Converter, your best friend for editing vlog videos! Imagine having a magic tool that can transform your vlog clips into something truly amazing. With Vidmore Video Converter, you can remove unnecessary parts, modify basic effects and apply filters, incorporate texts and music, and more. This vlog editor can make your vlogs even better and share them with all your friends. Let us explore how Vidmore Video Converter can turn your vlogs into extraordinary masterpieces!
Step 1. Visit Vidmore Video Converter's official website to download the program on your computer. Afterward, install the program to have complete access. Once installed, run the program to get started.
Step 2. Head to the MV tab from the top menu bar. Hit the Add Files button on the lower-left corner of the interface, where you will import your vlog clips.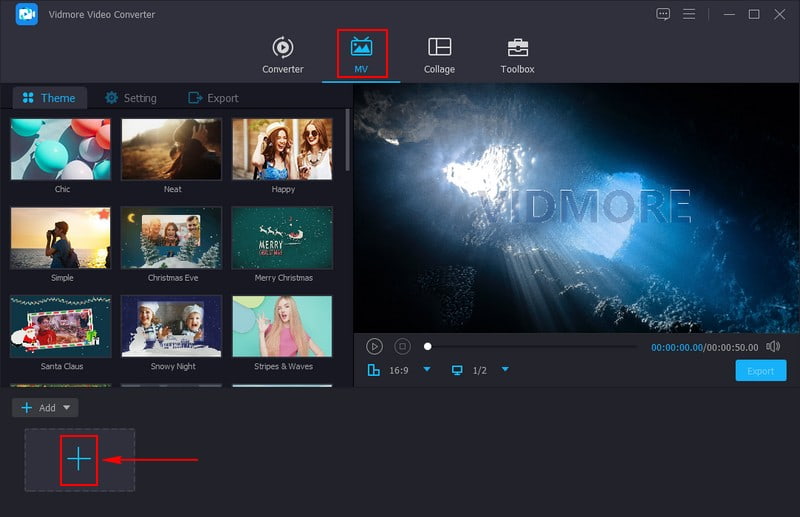 Step 3. Hit the Edit button to open the editing features that the program offers. You can access Rotate & Crop, Effects & Filters, Watermark, and Audio.
On Rotate & Crop, you can crop unnecessary video frames from the right preview screen or the crop area. In addition, you can rotate your video clockwise, counterclockwise, horizontally flip, etc. On Effects & Filters, you can modify the basic effects and apply your desired filter, perfect for your vlog. On Watermark, you can embed text and image watermark to present ownership. On Audio, you can adjust the volume and delay according to your preference.
Note: Ensure to hit the OK button in each editing tool to apply the changes.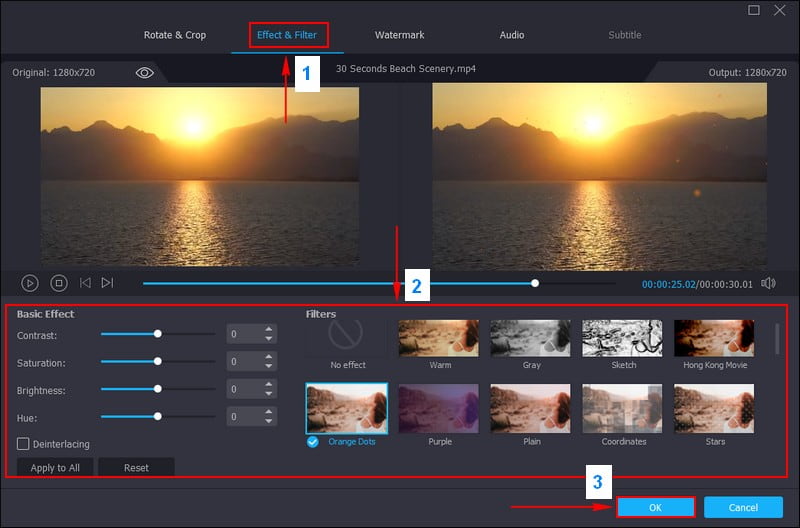 Step 4. If you wish to remove unwanted video portions, go to the Trim button and do your thing. In addition, you can enable the Fade in and Fade out effects if you want to. Once done, hit the Save button to trim your video successfully.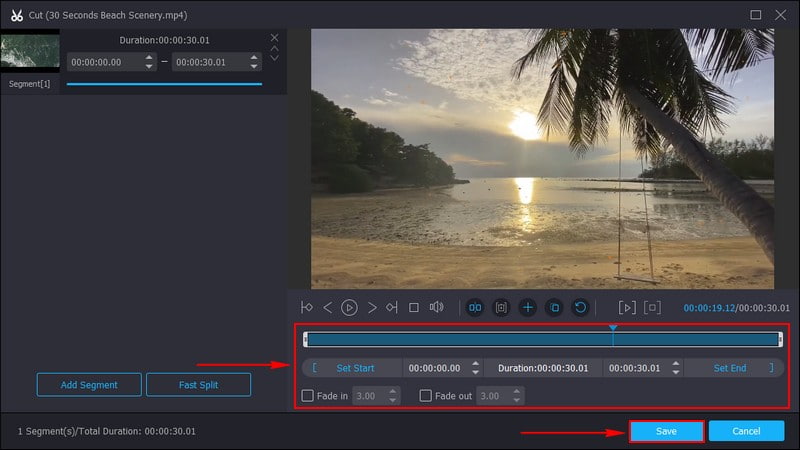 Step 5. You are back to the MV interface, where you can locate the Theme, Settings, and Export buttons.
On Theme, you can choose one you want to apply on your vlog. Once chosen, you will see that the theme is applied on the preview screen. You can incorporate Start & End Titles on Settings, which will appear on your vlog's beginning and ending parts. In addition, you can add Background Music by putting a checkmark beside it.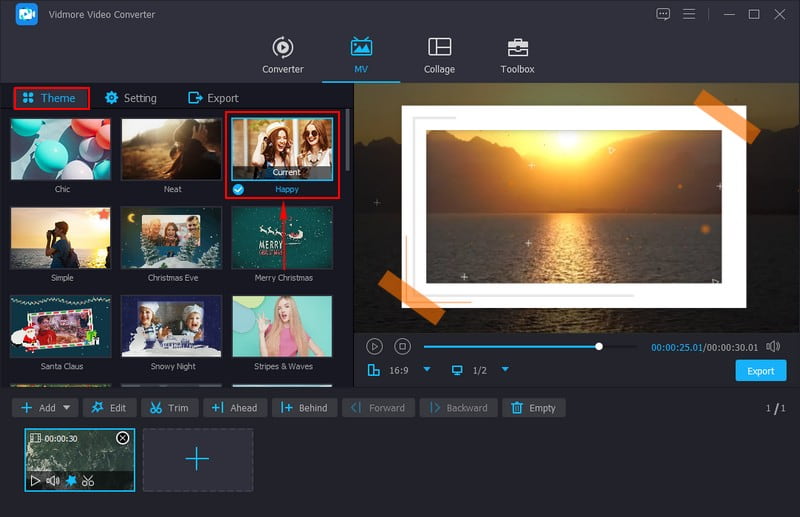 Step 6. Go to the Export button, and here, you can select your preferred format, frame rate, resolution, and more. When done, hit the Start Export button, and your edited vlog will be saved in your desktop folder. Check it out and upload your vlog on Facebook, Youtube, and more.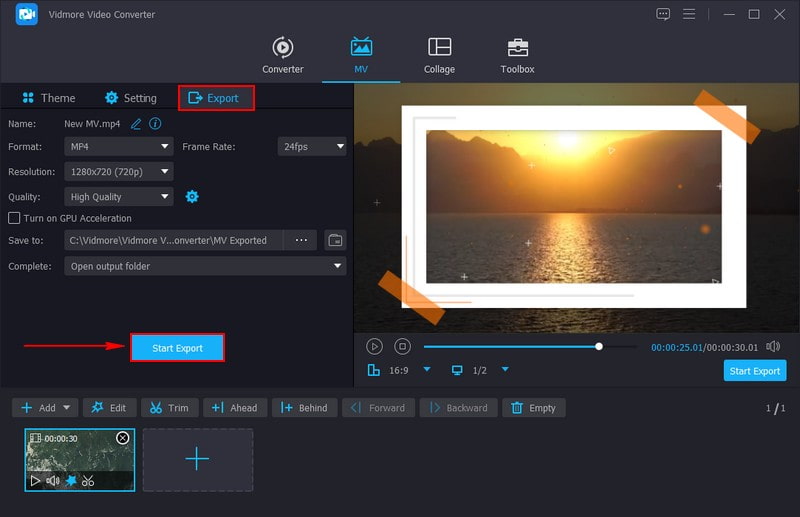 Part 5. FAQs about Making a Vlog
What should I tell in my first vlog?
Self-introduction is an excellent way to start a vlog. You can begin by introducing yourself and sharing a bit about who you are. Talk about what made you want to start vlogging and what you hope to share with your viewers.
How long should my first vlog be?
Vlogs commonly have an average length of around five minutes. It gives you enough time to introduce yourself, share a bit of your topic, and keep your viewers engaged without overwhelming them.
What is a silent vlog?
A silent vlog, a mute or no-talking vlog, is a video with no spoken dialogue or narration. Instead of using their voice to explain things, they use visuals, text, music, and ambient sounds to tell the story.
How to vlog with iPhone?
First, ensure your iPhone is charged and has space for recording. Decide what you will vlog about. Find a quiet place, a well-lit place to record. Open the camera application in the video make and hold your device steady or use a tripod. Press record, introduce your vlog briefly, talk clearly, and move from different angles.
How often should I upload vlogs?
It depends on your availability and the time you can dedicate to making quality content. Consistent is necessary, but it is better to upload good content less frequently than rush with low-quality videos.
Conclusion
Starting your vlogging journey is like beginning a new adventure full of creativity and fun. You can share your world with others through videos, just like telling stories. With some planning and extra practice, you can make awesome vlogs that viewers will enjoy watching. This post taught you how to start vlogging with the abovementioned information. You can use Vidmore Video Converter to edit your vlog, knowing that it offers many editing features to enhance your vlog output.