Best Apps to Make Reaction Videos You Can Depend On
In our time today we cannot avoid every person's opinion to interfere in every situation. Mostly it can be seen on social media sites that we are using every day. That is why other social media users are wise enough that they tend to make those opinions a source of living. They are making reaction videos with every popular video and vlogs that is being trending and talked about by people.
And if you are one of those individuals who wants to try making a reaction video, this post will surely help you as we will discuss the best apps to make reaction videos.

Part 1. What is Considered a Reaction Video?
You may be wondering what is a reaction video and how it became famous especially to the vloggers nowadays. Generally speaking, it is a video of yourself making a reaction or an opinion. So for it to be called a reaction video, you need something to react to. You can make a video reacting to someone's blog or to a group of people.
Of course you will just make a video to something that bothers your interest or to a person that you hate or love. So, what is considered a reaction video? It is the moment you made an opinion on someone's video or product and posted it in your social media account.
Part 2. Best Software to Make Reaction Videos
Admit it or not, we all want everything to be done on our mobile device. But sometimes, navigating something like an app on a cellphone is a bit hard due to its small screen, especially if we are using an editing app for making a reaction video. That is why it is really necessary to do it on PC or laptop. And you may be wondering what software that we can rely on if we are making a reaction video about some things that are trending today.
Here we list down the top four best apps to make reaction videos.
1. Vidmore Video Converter
If you are an aspiring vlogger and you want to make a reaction video as your content, you can surely rely on Vidmore Video Converter. This is a professional tool yet it has easy navigation editing features. Therefore you will not have a hard time in navigating its technicalities. No wonder it is one of the most recommended software of some of the vloggers who made a reaction video as their content.
This tool offers rich templates and filters that will make your videos more attractive. So as a result, there's a huge possibility that you will get the people's buy-in. And because Vidmore values your time, you will not have to spend a lifetime before you can convert your reaction video because it has 50x fast speed on audio and video.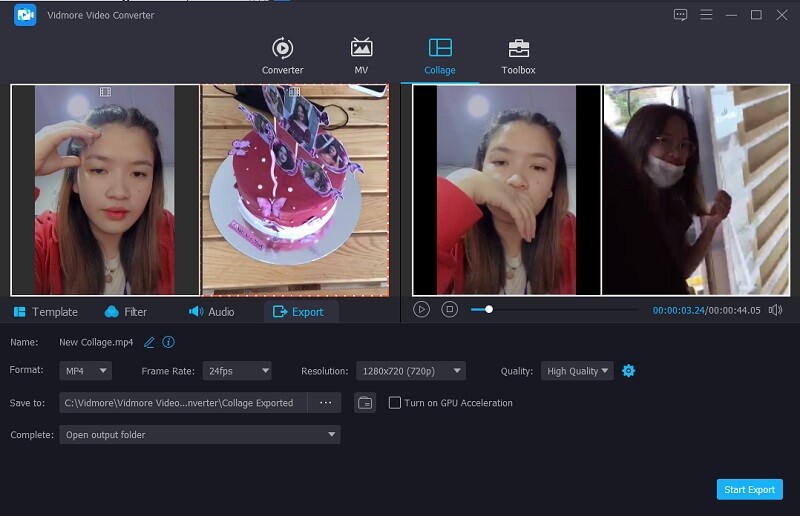 2. iMovie
Next on the list of the most convenient video editing apps that can help you in making a reaction video is the iMovie app. Unlike other software, this tool is only compatible for a Mac device. It is also good for every beginner who aspires to be an instant vlogger as it has basic editing tools and it contains built-in visual effects.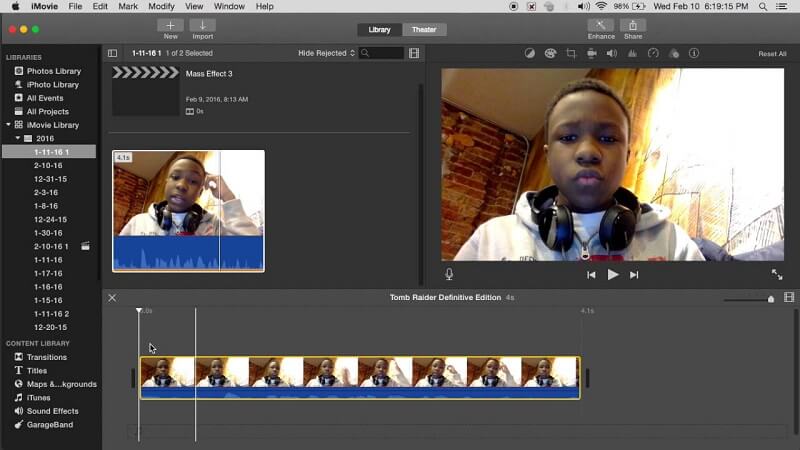 3. Sony Vegas Pro
If you are looking for an app that is compatible on your Windows device, you can consider using the Sony Vegas Pro. It is one of the fastest software that you can count on in making a reaction video. This tool awakens your creativity and imagination due to its advanced editing features. That is why it is more suitable for elite video editors. If you consider your skills are able to navigate a professional video editor for editing vlogs and making reaction videos, this tool is suitable for you.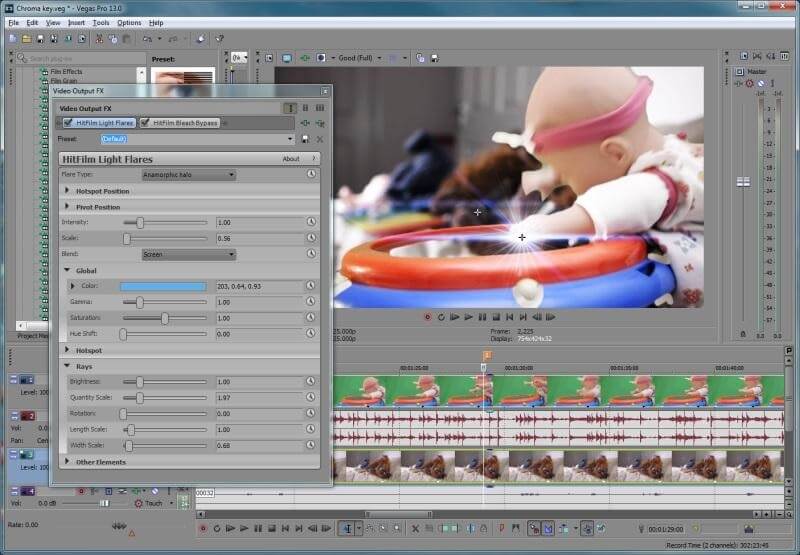 4. Open Broadcaster Software (OBS)
Speaking of a free editing software that is available for Windows, Mac and Linux, Open Broadcaster Software is the one. It was a program for video recording and live streaming. Therefore it is really perfect for gamers and vloggers who want to make a reaction video about a certain issue that is trending. And even though it offers free service to users, it doesn't limit them in using its amazing features. However, if you are not into using editing tools, you may find it complicated due to its technicalities and interface that is built for elite editors.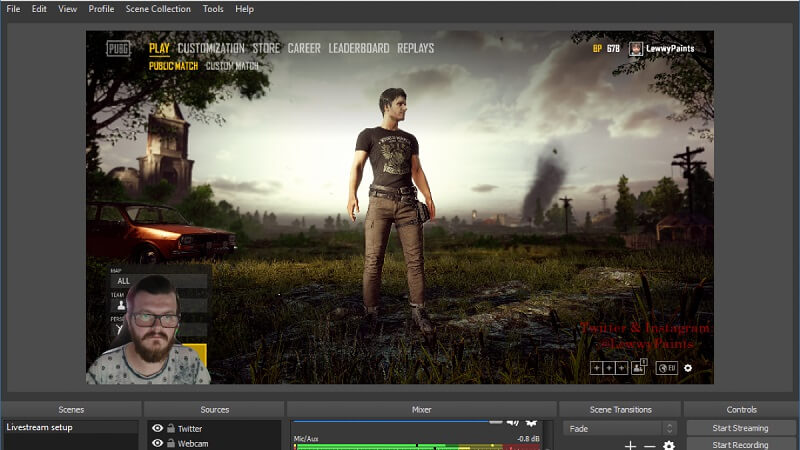 Part 3. How to Make Reaction Videos on Desktop
If you are a beginner and planning to make a reaction video as your content, you can follow the step by step process below as we will give you a guide on how to make a reaction video with ease.
Step 1: Download the Reaction Video Software
Go to the official page of Vidmore Video Editor and click one of the Download buttons. After that, install the software and launch it on your device.
Step 2: Add Your Recorded Reaction Video
Open the Vidmore Video Converter and click the Collage tab on the upper part of the screen. After you were led to the Collage section, choose the Template that you want to apply on your reaction video. Then after that, click the Plus icon at the center of each layout and select your reaction video.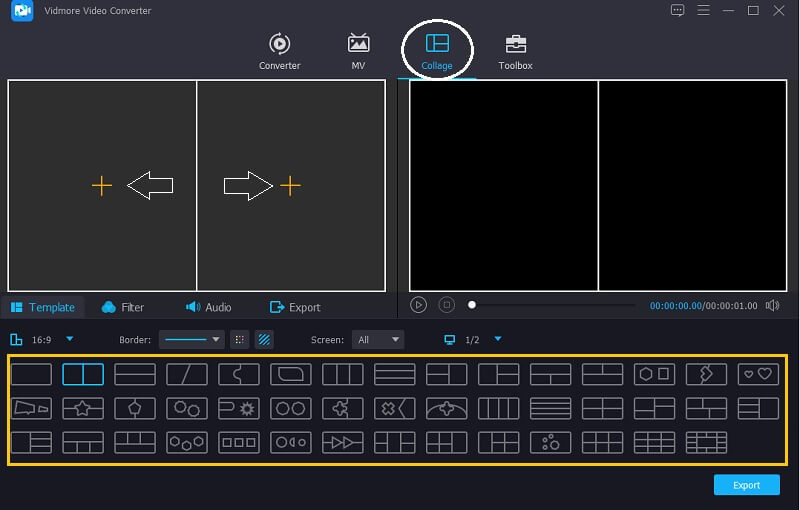 Step 3: Edit Your Reaction Video
After adding your reaction video, you can modify the effects to add a life to your plain video by clicking the Filter tab along with the Template section. Or if you want to emphasize the volume of your video, you can click the Audio near the Filters tab. Or if you want to trim or rotate the clip, just click each clip and the other editing tools which appear.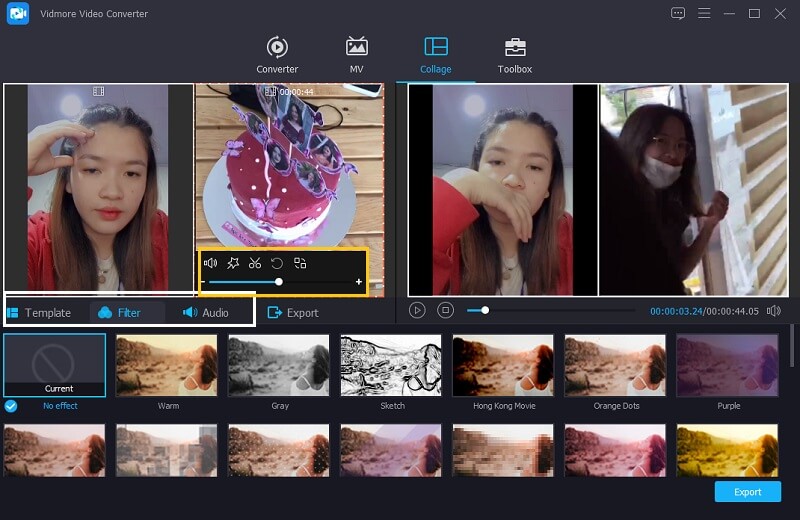 Step 4: Export Your Reaction Video
Once you are satisfied with the result, you can now click the Export button then you will be directed to the next page then click the Start Export to successfully get your reaction video in your Library.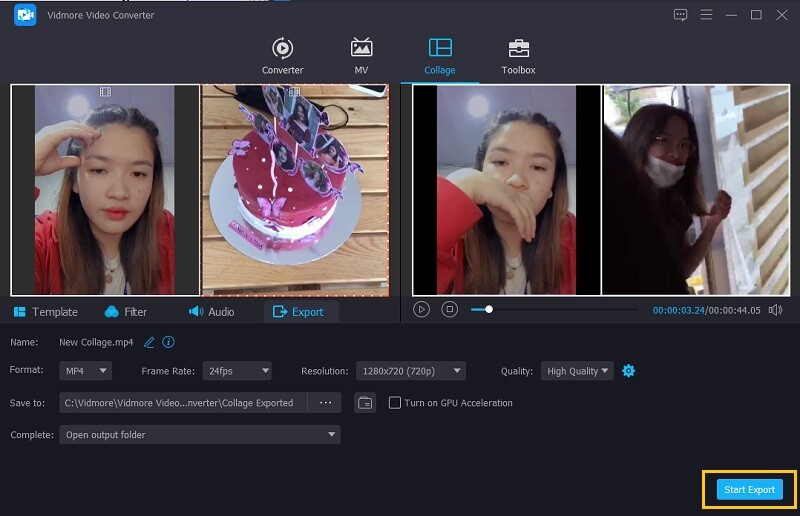 Part 4. FAQs in Making a Reaction Video
1. How to make a catchy reaction video?
The reaction must be very visual if you want to make a visually pleasing reaction video. In a perfect world, this would be extreme. People's facial emotions and voices when they encounter something they absolutely love or hate are the foundation of a great reaction video.
2. Does making a reaction video legal?
As a result, reaction videos may infringe on authorship rights protected by the Copyright Act. However, because reply videos commonly critique, modify, or parody the featured video, a fair use defense may apply.
3. Will a reaction video boost my number of followers?
Because reaction videos are so popular on YouTube right now, coming up with a solid concept is even more important, as one fantastic idea can rapidly raise your number of subscribers.
Conclusion
As a wrap up, through these posts you will learn how to make reaction videos through the software given above. Start making your content to boost the number of your followers!