5 Best Video Meme Makers to Create Relatable Video Memes
When you scroll over your social media accounts, memes are practically everywhere; it is widely used and shared by anyone. It has been considered content designed to spread fun and entertainment online. If you wish to join the fun, learn how to create meme videos using various video meme generators. This post will guide you in creating the most effective memes to gain popularity online. Without further ado, proceed with the following information.

Part 1. What is Video Meme
Video Memes are a piece of content that is being copied and spread all over the internet or social media channels. This content commonly has an eye-catching subject with a funny, entertaining, or realistic message to which the viewers can relate. The message might be about everyday life, school, work, politics, etc. Indeed, it is widely used to convey a message in a humorous approach.
Part 2. How to Make Video Memes
1. Vidmore Video Converter
The best way to create a video meme is to use a program that meets your needs and standards. Considering that, count on Vidmore Video Converter, as it can help you produce the eye-catching video meme you want to have. This program has a built-in feature that allows you to create your desired meme. Besides that, it offers several editing options to make your video meme more attractive on screen. You can apply effects, filters, texts, background music, and more. With these editing functions, you can produce a striking video meme that will gain popularity on social media. Impressive, right?
Below are the steps to create video memes using Vidmore Video Converter.
Step 1. To begin with, download the program from the official website. Once downloaded, install the program to have complete access.
Step 2. Open the program and head to the MV tab from the main interface, which you will use to create video memes. Press the (+) icon to open your desktop folder, and select the multimedia files you want to import. Here, you can import images or video files to produce a video meme, depending on your choice.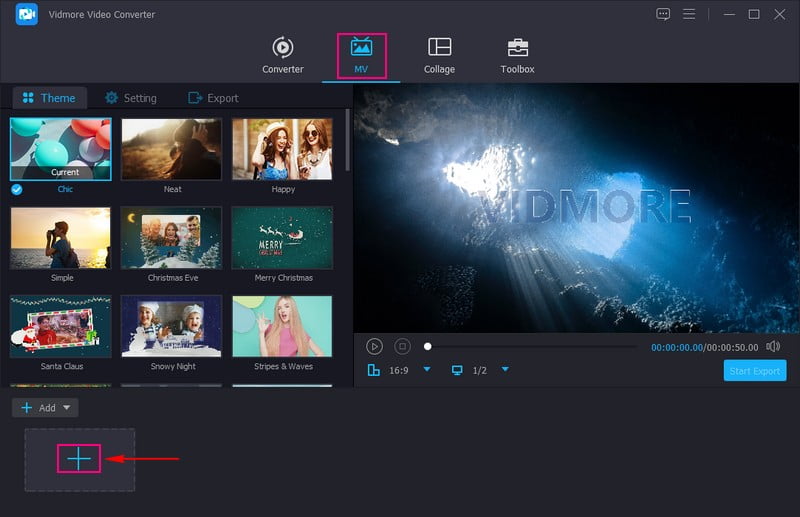 Step 3. Press the Edit sign on the upper part of the multimedia files section, where your imported files are located. It will open a new window for various editing options to edit your output further.
Go to Rotate & Crop to correct the presentation of your video. Here, you can rotate your project clockwise, counterclockwise, and more. In addition, you can crop from the preview screen or set a specific crop area to remove unnecessary portions. Besides that, you can select your desired aspect ratio and zoom mode according to your preference. Go to Effect & Filter to change the basic effects, and apply a specific filter to your project. Go to Watermark to incorporate the information you want to present, as video memes commonly have text to convey a message. Besides that, you can change the text's font, size, color, and more based on your liking. If you want to emphasize and make your text visible, ensure to increase the number from the option it provides.
Note: Press the OK button to save the changes you made.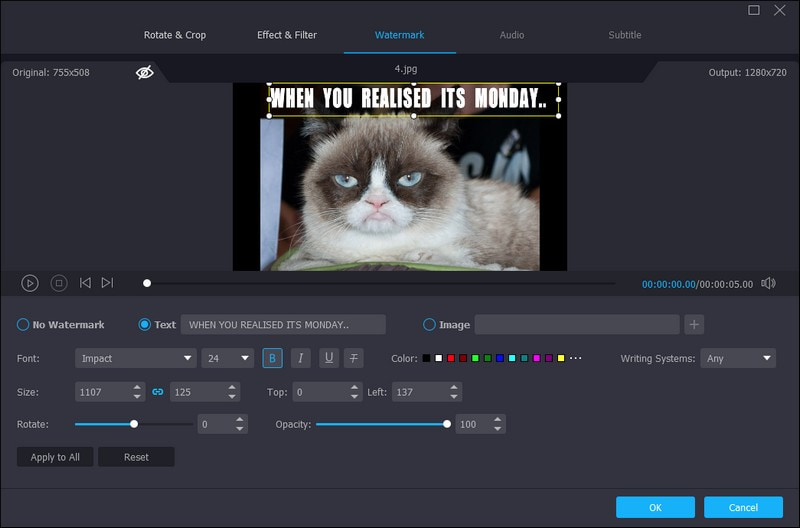 Step 4. You are returned to the main interface, where you can see Theme, Settings, and Export options. Go to Theme to apply a specific design to your video meme. Move to Settings to add a Start and End Title to your project. For instance, if you want to incorporate background music into your video meme, you can also do that. To do that, put a checkmark beside Background Music to enable and continue adding a song suitable to your video meme. Also, you can change the project's volume and delay according to your preference.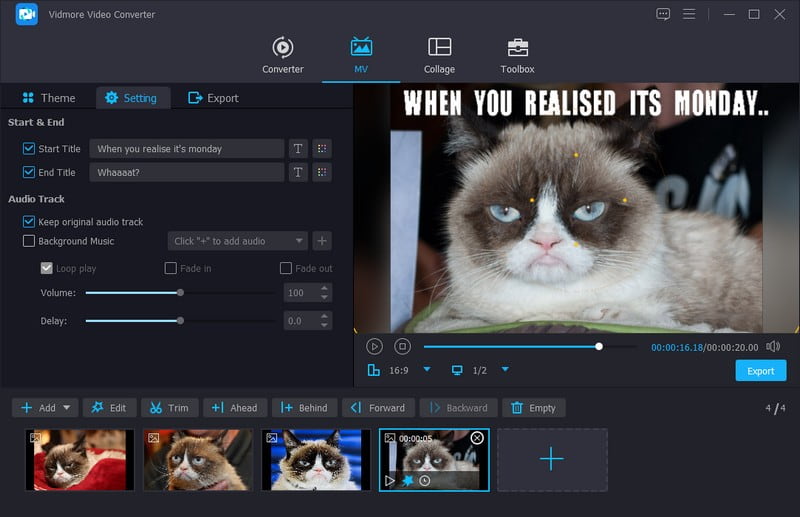 Step 5. Head to the Export option and change your meme video's format, frame rate, resolution, and quality. Once done, press the Start Export to save your created video meme.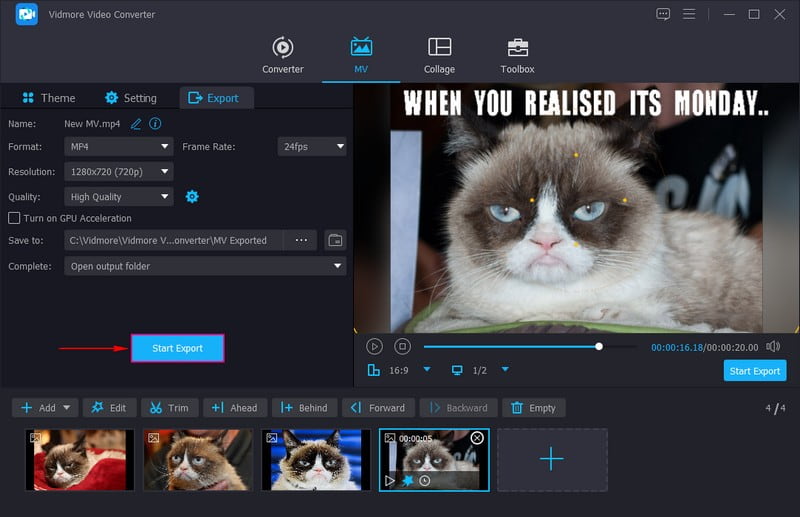 2. Clideo
If you prefer to create a video meme straight on the website, we got your back; consider using Clideo's - Meme Maker Online. It is a video meme generator that enables you to create a meme using images, videos, and more. It enables you to select a template with various color borders, incorporate text, and change the parameters. Besides that, it provides more than ten fonts, crops the file, and mutes the video if needed.
Do you want to learn to create one using this web-based video meme maker? If yes, rely on the steps provided.
Step 1. Visit Clideo Meme Maker Online's official website using your browser.
Step 2. Click the Chosen File button to upload the video clip you will use to create a meme video.
Step 3. Once the video clip is uploaded on the web-based meme maker, add your preferred text by clicking the fields. It is placed on the right corner of your screen or display. Also, you can modify the font style and alignment according to your liking. In addition, you can modify the video meme's aspect ratio to 16:9, 1:1, 9:15, or 5:4, according to your needs.
Step 4. After incorporating and editing the text for your video meme, hit the Export button on the lower right-hand side of the display. After that, your created video meme will be saved in your desktop folder.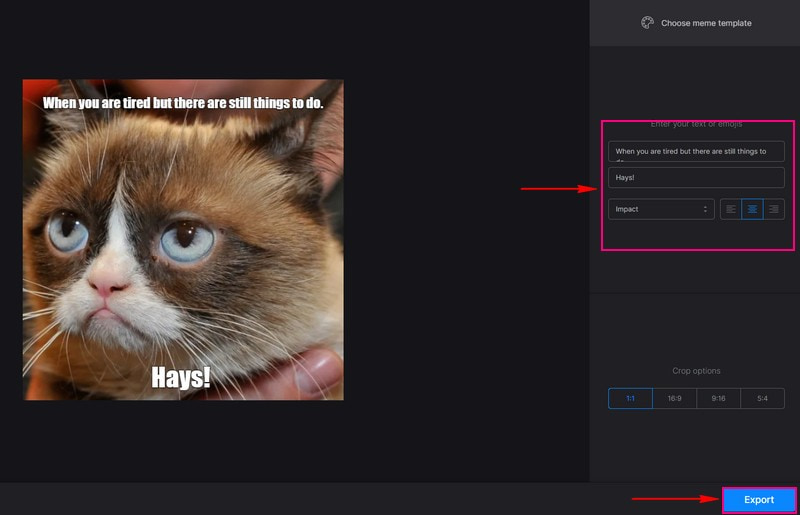 3. ClipChamp
One of the best web-based video meme creators is ClipChamp, commonly used to create funny video memes. This platform allows you to use your video clips or built-in stock media and add text to create impressive video memes. You can explore the library and use your desired videos if you do not have any video clips.
Without further discussion, count on the steps to learn how to make video memes using ClipChamp.
Step 1. Launch ClipChamp and log in to your account. After signing in to your account, hit the Create a video meme button.
Step 2. Click the Create a new video option from the newly opened window to start creating your video meme from scratch.
Step 3. Press the Import Media button to import the video clip to the platform. After that, drag the video clip into the timeline section. Then, select the Text tab, choose Plain Text from the presets, and then drag it to the video on your timeline. Once done, start adding the meme text suitable for your subject video.
Step 4. After inserting the text, you can save your video meme by clicking the Export button.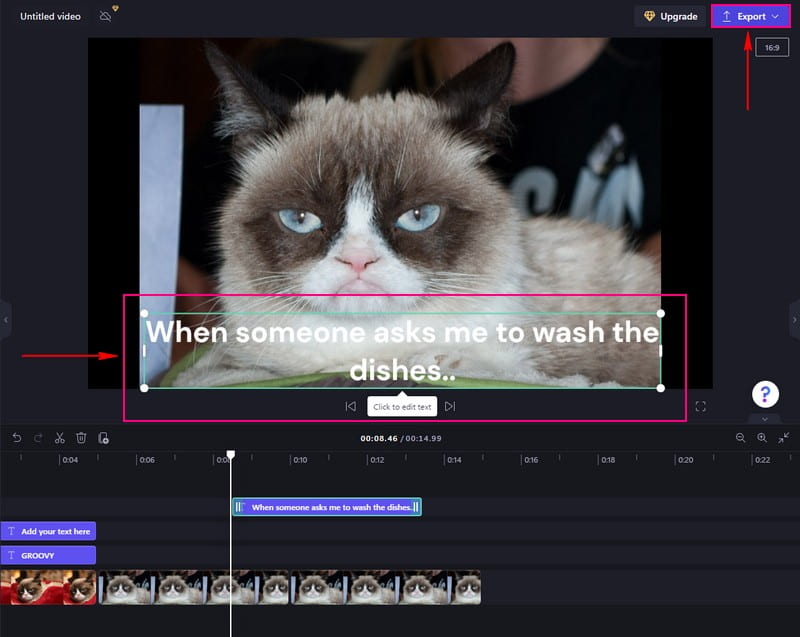 4. Video & GIF Memes
Video & GIF Memes is a mobile application that allows you to create good-looking videos and memes. It provides hundreds of pre-made stickers and enables you to customize a sticker using the editing option. In addition, it enables you to access millions of stick photos on various platforms it supports. However, it may cost you $2.49 to $6.49 per selected element. If you still wish to master how to make a meme video using this application, rely on the presented guide.
Step 1. Install the Video & GIF Memes using your mobile device. Once installed, run it and select the Video option from the main display. Then, choose Gallery & other sources to import the video file.
Step 2. Choose the video meme's start and end points by dragging the parameter's pointers. Then, click the Next Step button, and select the Output format and Quality/size to proceed.
Step 3. The application allows you to add photos, stickers, and text to your video meme. After adding the necessary options, click the Next Step button, and change the Video Settings based on your need. When satisfied, click the Next button to continue.
Step 4. The application will enable you to Save your created video meme on your device or Share it on various social media channels.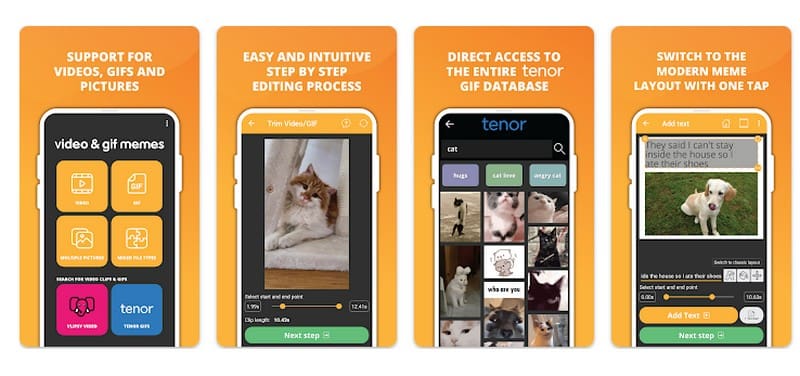 Part 3. FAQs about Video Memes
What aspect ratio is a meme video?
The recommended aspect ratio for a meme video for landscape is 16:9, and for the portrait is 9:16.
What is the ideal length of a meme video?
Video memes, when uploaded on social media platforms, the ideal length is up to 15 seconds long. However, the suggested video meme length is at most 5 seconds.
Can you add background music to video memes?
Yes, you can add background music to accompany your video meme. But use background music that evokes fun and entertainment, as video memes are like that. With that, consider using Vidmore Video Converter, which allows you to incorporate music into your video memes.
Conclusion
Video memes are popular, enabling users to unleash their creativity and pour their ideas into a fun and entertaining approach. With that, consider using Vidmore Video Converter, as it is the best video meme maker you can use that enables you to edit your project.