Crop Video For Instagram in Three Ways: iPhone, Android & Software
Social media platforms are indeed impactful all over the world. They give pleasure to every person who posts their images and videos. If you use Instagram, you must be familiar with the sizes, especially on videos, because Instagram is strict about it. In this How-To article, we will teach you to resize videos for Instagram to meet its requirements without paying anything. Read now!

Part 1: Instagram Video Size Standards
Instagram is one of the social media sites in the social media industry. It is a well-known social media site, and its popularity is compared with Facebook and Twitter. Moreover, Instagram is a unique social media platform because it allows you to express your feelings by posting an image or video.
Furthermore, when talking about Instagram video size standards, it is about the aspect ratio, which is a metric. What does it mean? It is the size of a video or an image on the screen. The aspect ratio consists of Width and Height numbers. Like 1:1 used to mean Square. You also need to understand that the first figure of aspect ratio is the Width, and the second number is the height.
Here are the samples of the Instagram Video Size Standard:
◆ Landscape - 16:9
◆ Square - 1:1 and 4:5
◆ Vertical - 2:3
◆ Full Vertical - 9:16
Part 2: Resize Video for Instagram on iPhone and Android
Resize Video for Instagram using iPhone Device
If you are not yet aware, if you want to post a video on Instagram, it will not be uploaded on your uploads anymore; it will be moved to the Reels. Yes, that is the new update of the Instagram app. If that is the case, the size of the Reels Video required is 1080x1920 or 9:16 as the aspect ratio. In this part, using an iPhone device, we will show you how to resize for Instagram's Reel Video. Please see the steps below:
Step 1: Launch the Photos app on the iPhone device. After that, scroll down until you see the Videos. Click the Videos and select a video you want to resize for Instagram.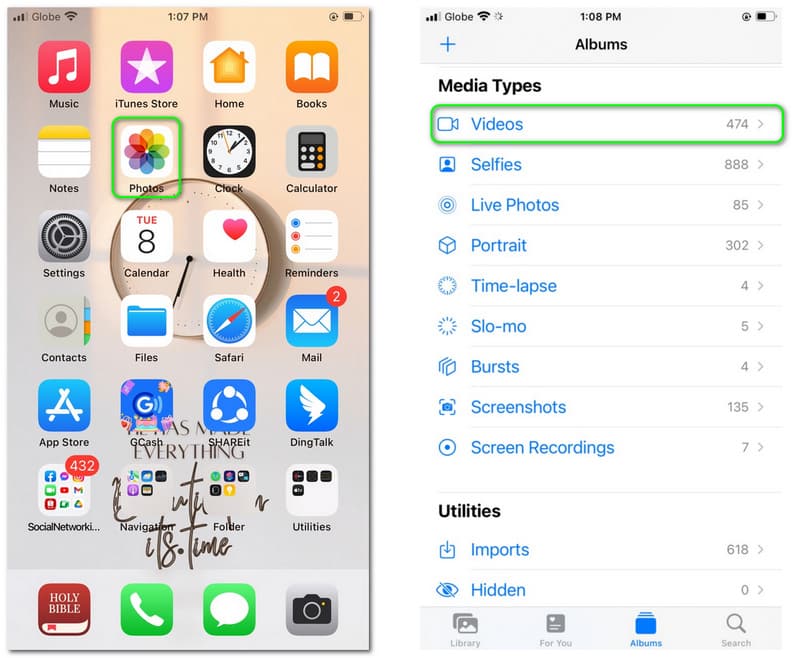 Step 2: Open the Video you selected and click the Edit button on the top right side of the screen. After that, you will proceed to another panel of the iPhone device.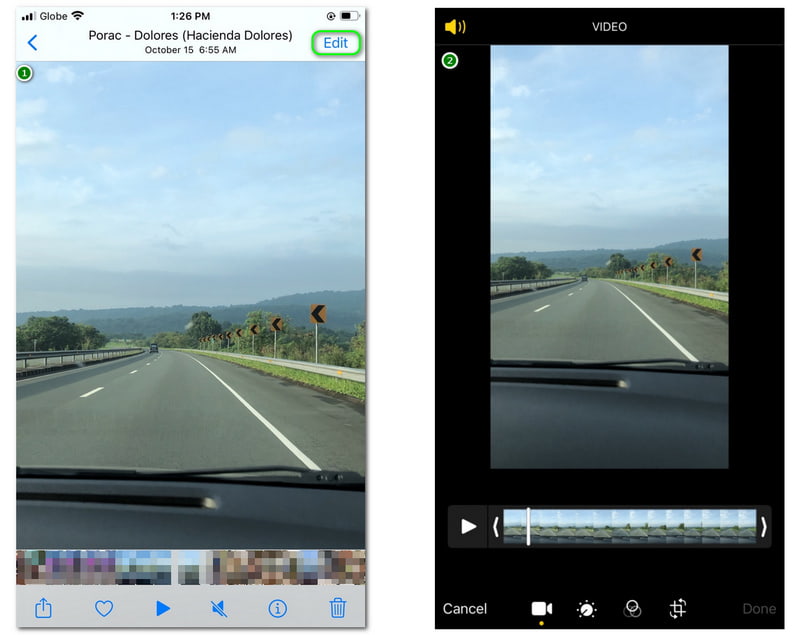 Step 3: On the new panel, you will notice the Options at the bottom of the screen, such as Video, Customize, Filters, and Resize. Choose the Resize option. Afterward, tap the additional Option on the upper right corner of the screen. Then, the available sizes will appear at the bottom part of the screen.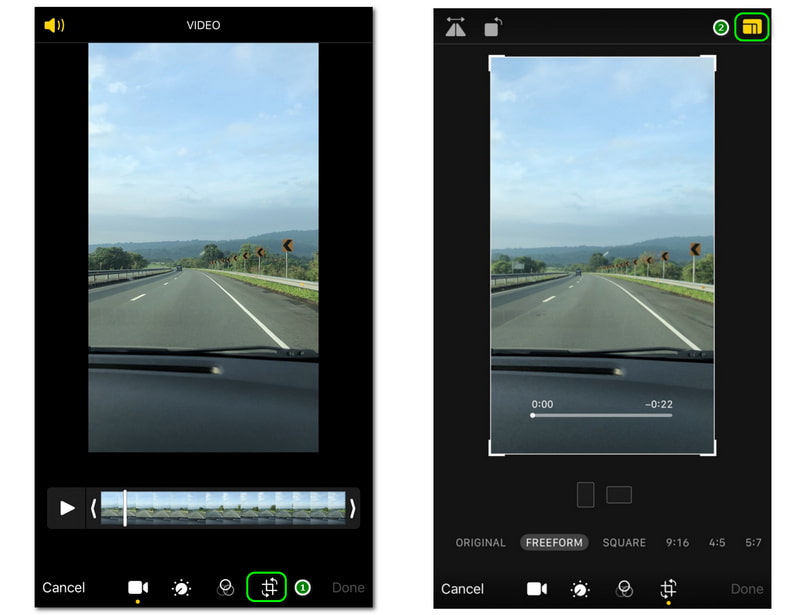 Step 4: Since we want to resize the video to 9:16, choose the 9:16 size on the lower corner of the screen. Then, click the Done button at the lower right corner of the screen. Then, you will see the Preparing Video on the lower left side of the screen; wait until it is finished, and that is it.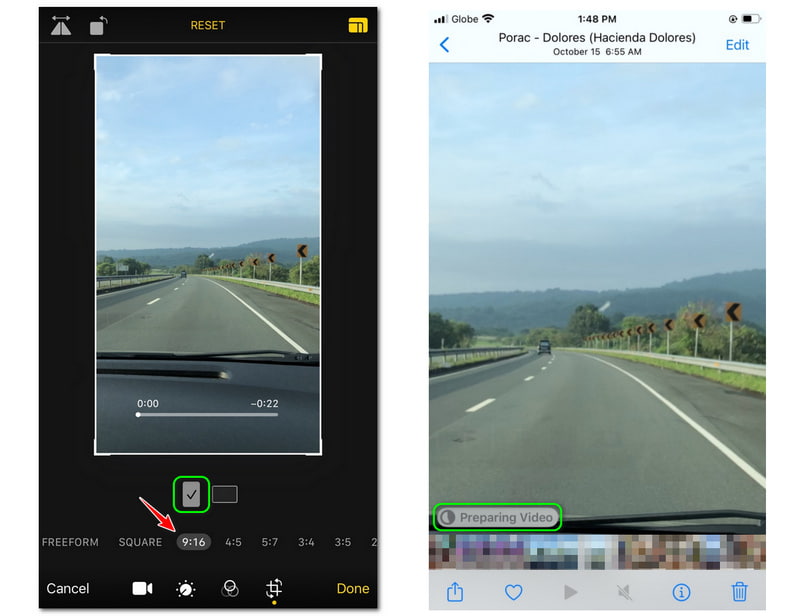 Using an iPhone to crop videos for Instagram for free is a big help for every user. Therefore, we do not need to download, install, or buy an app just to crop a video. Moreover, you need to ensure that you select the Portrait Mode to see the 9:16 size. Overall, we know you agree that it is one of the easiest ways to resize videos for Instagram.
Resize for Instagram Video using Android Device
One of the standard video sizes for Instagram is 9:16. It is a portrait size, especially if you are uploading a video called Reels now as Instagram is updated. Moreover, here is another way to crop a video for Instagram.
This part will guide you to resize videos using the Crop and Trim Video App on your Android device. You can download it from your Play Store and start using it after installing it. To become more familiar, please see the steps after this description:
Step 1: Once the Crop and Trim Video is installed on your Android device, launch it and click the Crop icon. Then, a small box panel will appear, and select the Videos button. After that, start choosing the video you want to resize.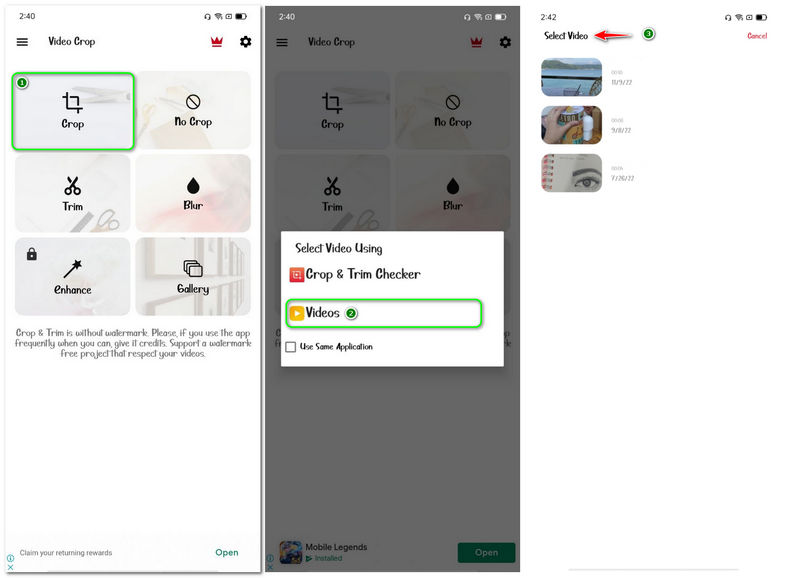 Step 2: Following that, you will go to another device panel. You have the option to resize using the rectangular white border, which is Custom, or choose the exact size on the bottom part of the screen device.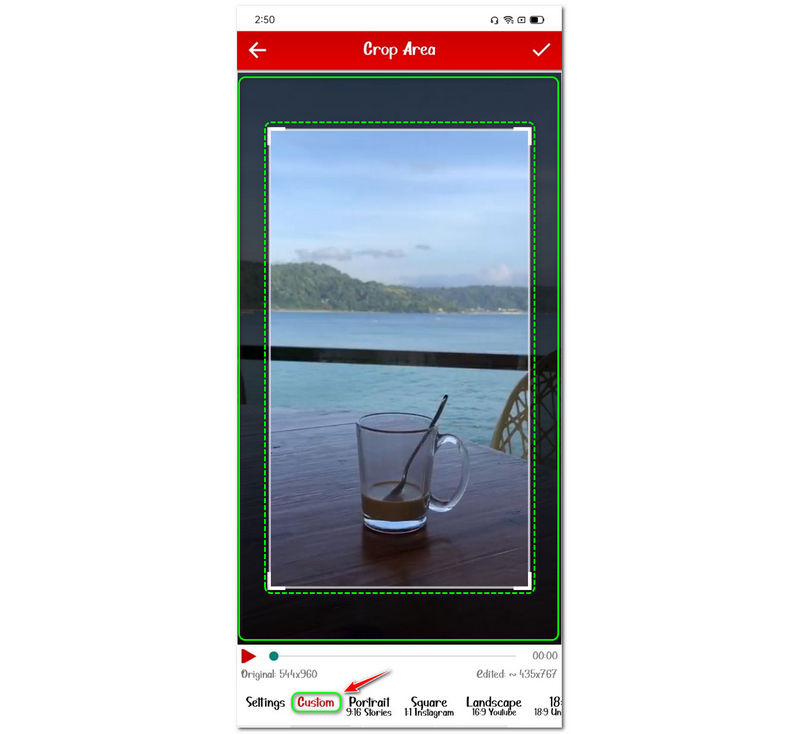 Step 3: Since we want to resize our video to 9:16 in Portrait Mode, click the Portrait 9:16 Stories button on the lower part of the screen. After that, tap the Check icon in the screen device's top right corner. Wait for the process until it is done. Then, you can check the result on your Gallery.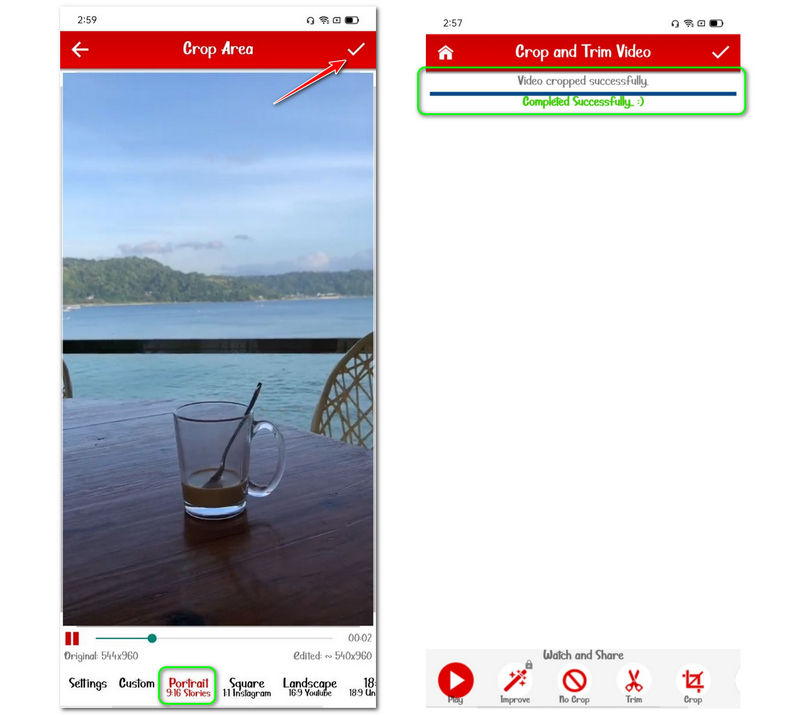 After using the Crop and Trim Video app, we can conclude that it is manageable to use. However, it has many Ads popping up while using it. Ads are popping up before and after using it. For that reason, there is a little bit of a hassle. But overall, it has additional features you can use, and you can use it now for your videos. Surely, you can also use the video crop editor on Android to resize the aspect ratio for Instagram.
Part 3: Resize Video for Instagram on Computer
We are aware that cropping video on devices has limitations because the screen is too small. Therefore, why can't we try to crop videos using our computers? Is it possible? Of course! With the Vidmore Video Converter, you can crop or resize your video to the size you want on a bigger screen.
Once you launch the software, you will immediately see the main feature, Converter. It lets you convert video file format into numerous formats and do it all at once. In addition, it is not all about video; it lets you create a collage of your memorable photos and add effects or filters to it. There are numerous features we are not yet discussing; you can visit now and check them out! The hardware acceleration will speed up your video resizing process at 60X faster compared with the above method.
In this part, we will try it by providing you with the easy steps below with this video resizer:
Steps 1: After downloading and installing Vidmore Video Converter, launch it, and you will see its excellent user interface.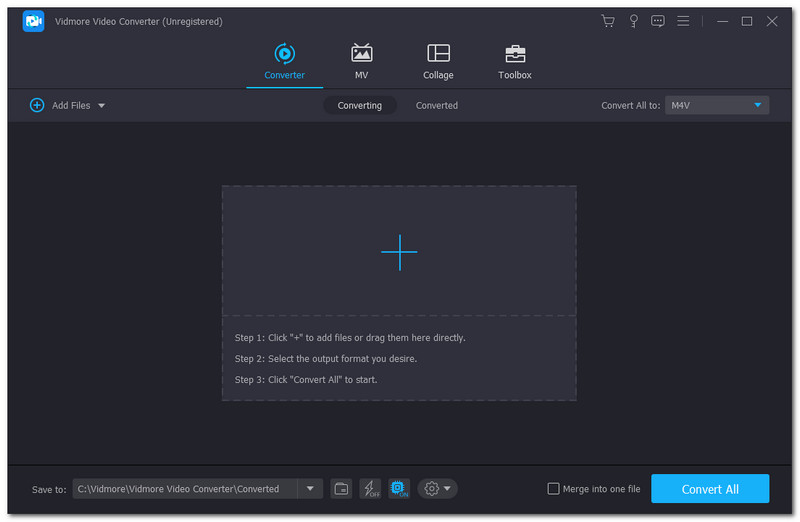 Step 2: On the top middle part of the user interface, the options are visible, like Converter, MV, Collage, and Toolbox. Then, select the Toolbox, find the Video Cropper feature, and launch it.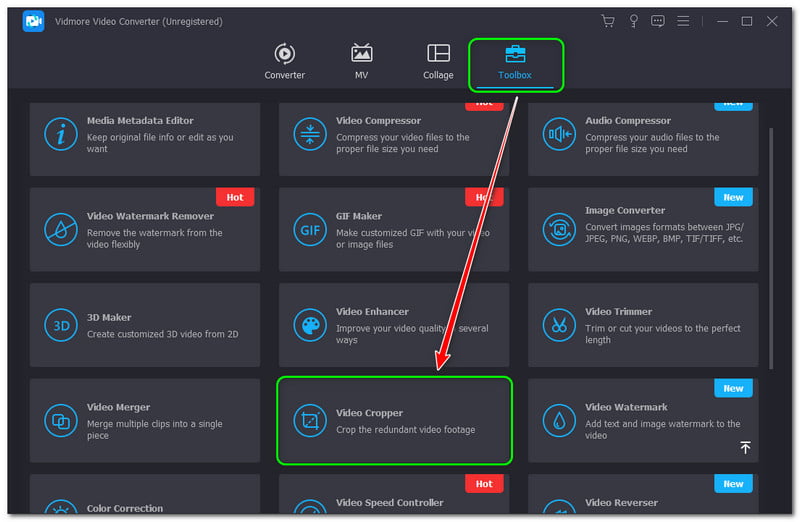 Step 3: In the main interface of Video Cropper, tap the Plus Sign to add a video. Once you successfully added the video, you will see the Aspect Ratio below the Preview. After that, select the 9:16 size.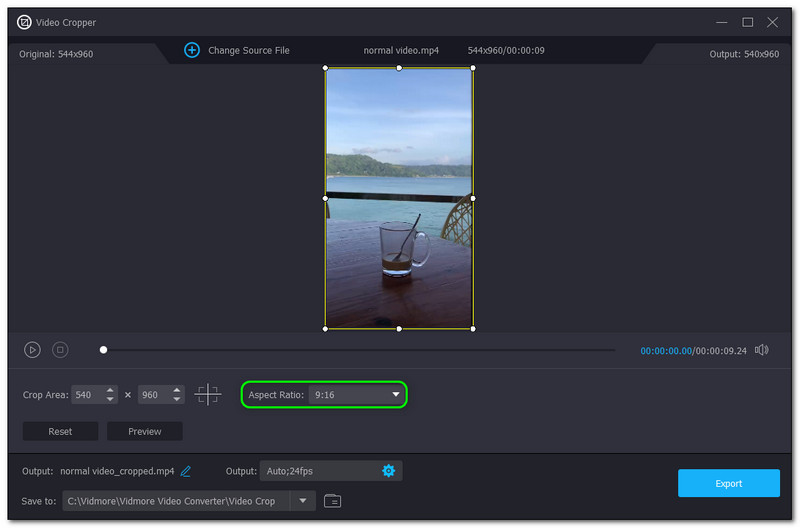 Step 4: Lastly, click the Export button on the lower right corner of the interface. Then, it will start cropping your video and automatically save it on your computer's File Folder.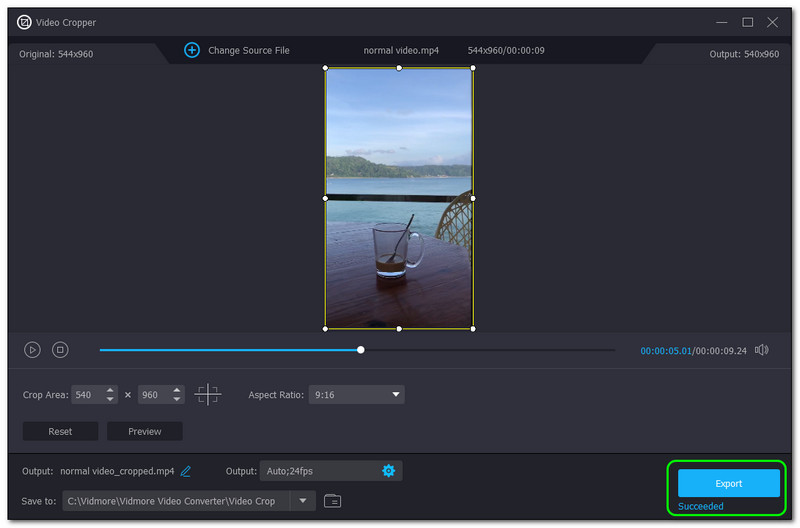 Again, Video Cropper is an additional Vidmore Video Converter feature in its Toolbox. In other words, Vidmore Video Converter has its main features and allows us to share them with you. So whenever you want to use it, you are familiar already.
Part 4: FAQs of Resize Video for Instagram
How to crop a video on Instagram Story?
Before cropping a video, you must know the exact size you will need. For example, you will crop videos to post on Instagram stories. Once you have an idea, start cropping the video using an iPhone and Android device. Also, a software with Video Cropper like Vidmore Video Converter.
Why does Instagram cut my videos?
If you are a beginner of Instagram, you need to be familiar with the fact that Instagram is very strict about the length of the videos you upload. For example, there is a maximum of a second for video Instagram stories, posts, and reels.
What is the Instagram Video Zoom effect?
The word itself is an effect from Instagram, and you can use it to record a video for fun or more.
Conclusion:
Knowing all these ways to resize videos for Instagram is a big help, especially to those who are active on social media sites like Instagram, in short, IG. Moreover, it is also a great idea to use excellent software to crop your videos. Furthermore, to our next upload, we expect you again; see you!