Recommended ID3 Tag Editors- Online, Desktop, and Mobile Tools
Editing ID3 tags is crucial, especially if you are a podcaster. Information like title, album, artists, year, and genre makes it easy for your podcast listeners to recognize that you are the creator. They serve as the bread and butter of your file. Hence, these relevant data are the most important. Otherwise, your podcast will not be remembered and will just float in the field of music.
Considering this situation, using ID3 tag editor programs is recommended to help you quickly and easily edit the ID3 tags. Therefore, we researched desktop, online and mobile programs to help with the process. Read along the post to learn more.

Part 1. Competent ID3 Tag Editor for Windows and Mac
For a straightforward yet convenient ID3 tag editing software, Vidmore Video Converter is second to none. The program is primarily developed for editing videos, but it still does the job well. It lets users conduct basic and sophisticated metadata edits, from editing title, artist, year, and album to adding album artwork. Besides audio files, the tool can also edit tags of videos, such as MP4, WMA, and many more.
What is more, Vidmore Video Converter stands out with its ability to accept a wide selection of video and audio file formats. When it comes to functionalities and features, the crown belongs to this program. It offers other affiliated tools, allowing users to edit, modify, merge, convert, and so much more. For further scrutiny, check out the pros and cons of this ID3 tag editor.
Pros
Edit title, year, composer, genre, track, and artist.
Rename the file name.
Add comments to the file itself.
Insert a cover or a snapshot for the media file.
Easy-to-navigate user interface.
It has a massive collection of tools.
Cons
It cannot add metadata tags.
The tool can only edit metadata one at a time.
Step 1. Get the program and start it
Obtain the program's installer first. Tick any of the Free Download buttons provided below to do so. Next, get the proper installer for your computer's operating system only. After that, run it after finishing the setup process.
Step 2. Launch the metadata editor
Visit the Toolbox tab in the upper portion of the program's interface as soon as it has been launched. From this point on, you may access the tool's numerous connected tools. To access the metadata editor, choose the Media Metadata Editor.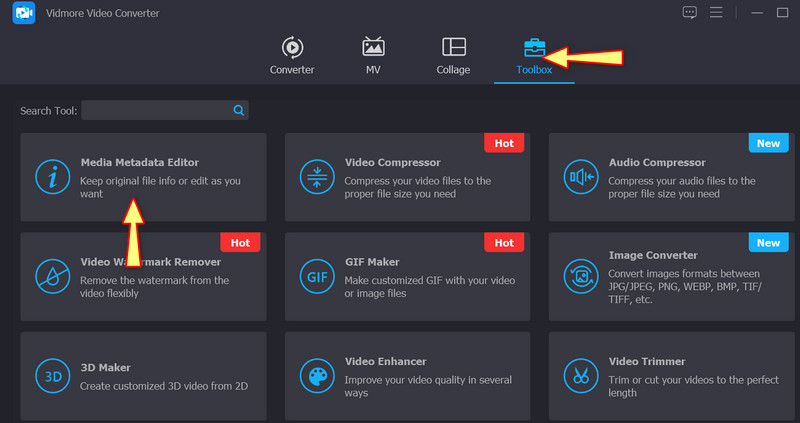 Step 3. Provide a media file
A dialog window where you may add your media file will open once you click on the Media Metadata Editor. Locate the audio file you want to use from your computer's libraries by clicking the plus sign icon. When it is finished, a panel with your song's details will be presented to you.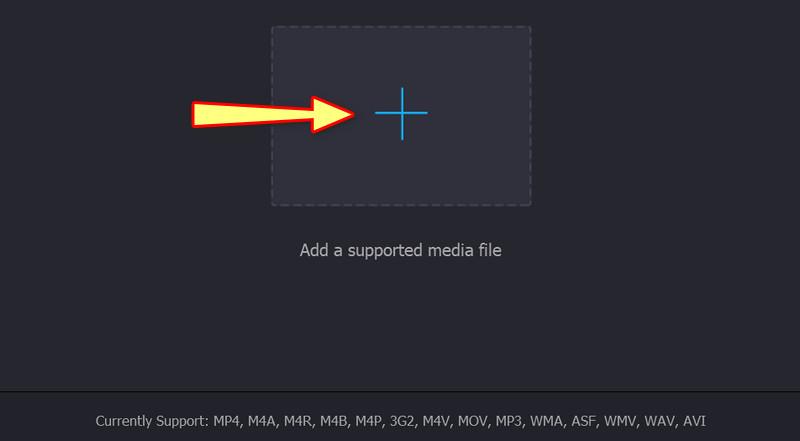 Step 4. Edit and save ID3 tags or information
Now that you have the metadata or information of your file, you may alter the ID3 tags. Then, tick on the specific field corresponding to the ID3 tag you wish to change. Once you have clicked the Save button and are happy with the modifications, you are done.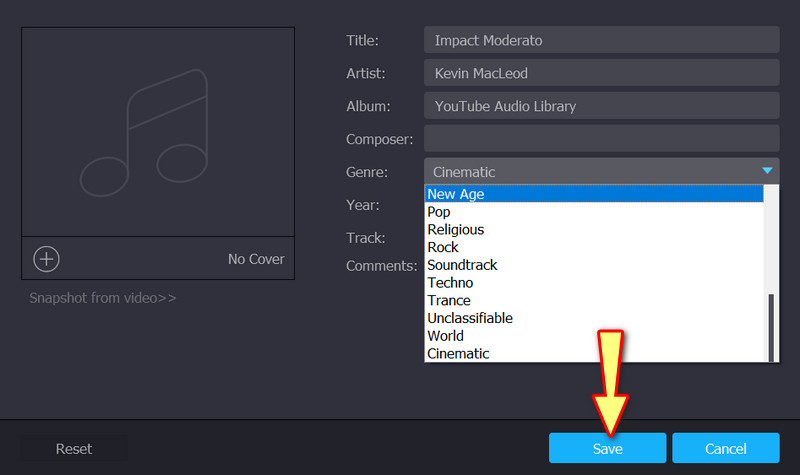 Part 2. Ideal Tag Editor Online
You have to think about utilizing TagMp3.net when you want to edit metadata online. With the help of this highly-specialized tool, you may modify file information straight from a website. The title, artist, album, track number, and MP3 of a song are all editable. Additionally, this online application is compatible with modern browsers like Safari, Edge, and Google Chrome. In line with that, as long as a device or platform can connect to the internet, it may be accessible.
Pros
Majors in editing metadata MP3 audio files.
Available on all platforms and devices.
It can add album artwork to audio files online.
Cons
The interface is loaded with annoying ads.
An Internet connection is always needed.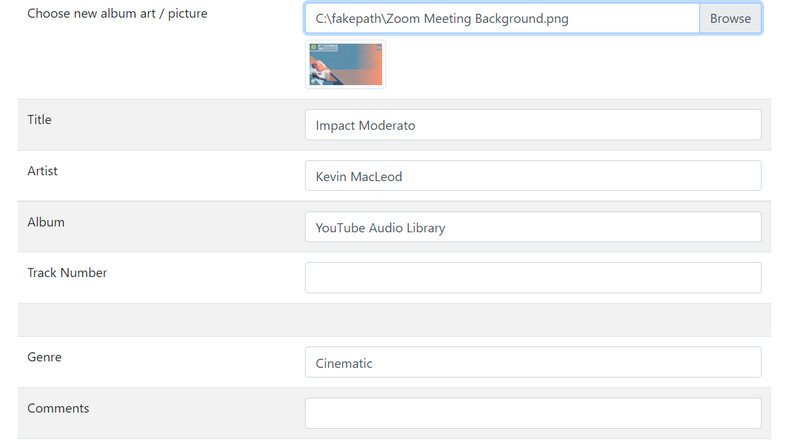 Part 3. Recommended ID3 Tag Editor on iPhone and Android
If you are looking for apps that will enable you to edit metadata tags from the comfort of your smartphone, refer to the introduced apps below.
For Android- Star Music Tag Editor
Star Music Tag Editor is an automatic Id3 tag editor for Android that lets you edit information like lyrics, artist, year, disc number, genre, title, and many more. Along with that, you may edit the art cover by picking from your favorite pictures in the gallery. Overall it is a great ID3 tag editor for Android devices.
Pros
Edit SD card folders directly from the program.
Work on several file formats.
User-friendly interface.
Cons
Advertisements in the application.
It does not offer batch-mode editing.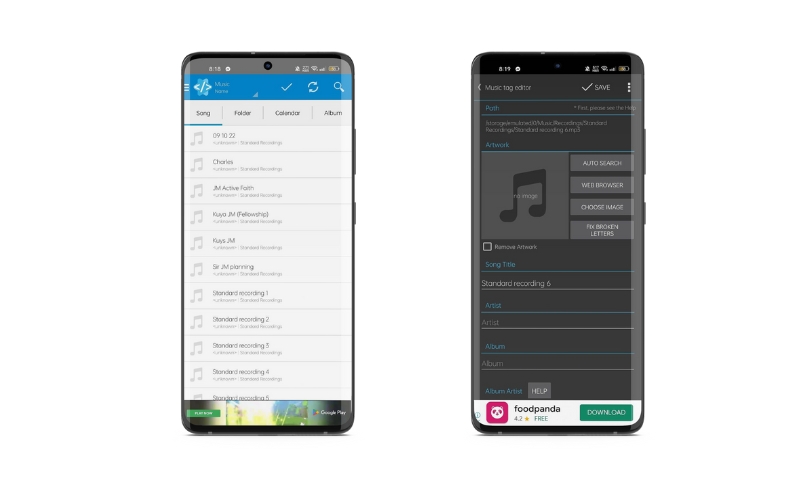 For iPhone- Evertag: Music Tag Editor
Evertag works on both iPhone and iPad devices. It supports myriad audio file formats, including MP3, OGA, OGG, M4A, M4R, etc. Aside from that, it can also edit the tags of your video files. What is so good about this tool is that audio tag editing can be done in batches. Therefore, you will be able to edit multiple metadata tags. If you wish to learn more about this automatic music tag editor app, check out the advantages and disadvantages below.
Pros
Transfer files to the computer via WI-FI.
Interface available in dark and light themes.
It corrects metadata automatically.
Cons
It does not work with DSF files.
Error notification shows up occasionally.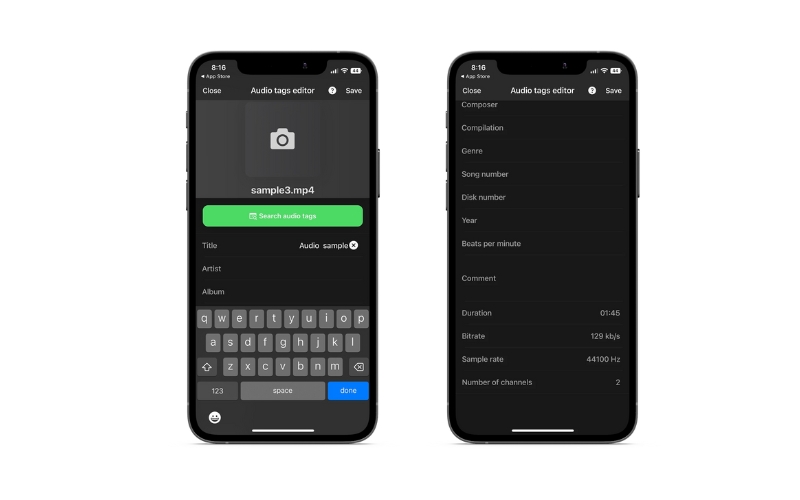 Part 4. FAQs about ID3 Tag Editors
What is a command-line ID3 tag editor?
Command-line refers to the CMD available on Windows PC. If you wish to have an ID3 tag editor using the command-line, you need to use FFmpeg. You can then use CMD to perform tasks like editing ID3 tags.
What are ID3 tags in iTunes?
iTunes users can find ID3 tags, such as artist, album name, artwork, lyrics, options, sorting, and many more. You can also check your song's information by going to the Get Info option.
What is the recommended ID3 tag Linux editor?
Linux systems may also benefit from editing ID3 tags. Apps like Kid3, Easy Tag, Pinker Tagger, and many more are compatible with Linux.
Conclusion
You got it! With these ID3 tag editors, it is easy for your listeners to recognize your podcasts. The procedure can also work when the information in your song is empty or inaccurate. You have to find the right fit for you. Depending on your needs, you can go with online, desktop, and mobile devices.