How to Make TikTok Reaction Videos in 2 Methods
Have you ever found yourself previewing a video on TikTok and wanting that you could react to it in real-time? You can now create a TikTok reaction video, allowing you to react to any video content available on the application. This post will present various tools to help you produce an eye-catching reaction video that will get the attention of your viewers. To learn more about these, please continue reading.

Part 1. What is TikTok Reaction Video
TikTok application enables users to produce various video content from sixty seconds to three minutes in length. It can be augmented with suitable background music and modified with several filters and animations to create a lasting impression on your viewers.
TikTok reaction video is one of the application's features that permits users to create reaction videos without the need to leave the application. This feature adds to the overall intrigue of various video clips, knowing that so many movies of varied categories and moods are available on the application.
TikTok's reaction to a video is one of the best features of the application that sets it apart from other interactive platforms. Users can incorporate their self from the video, which is done to record their reactions, which will be combined with the original video. As a result, there are two video clips combined into a single play simultaneously.
Part 2. Why Make TikTok Reaction Video
If you are the application's creator, consider creating a reaction video as your content. It will allow you to react to various video content according to your liking. It will give your viewers another content to watch and look forward to, knowing that reaction videos are exciting and interactive.
You can react to video content, such as singing, dancing, cooking, make-up tutorials, house tours, movie clips, and more. Too many, right? Therefore, you can react to anything easier to comment on. Undoubtedly, you will produce an exciting reaction video that will gain a lot of hears, comments, and viewers.
Part 3. How to Make a TikTok Reaction Video
1. Vimore Video Converter Ultimate
If you are looking for an excellent video editor that enables you to create a reaction video, you can rely on Vidmore Video Converter. This program has a collage maker, allowing you to import video clips of the video you will react on and your reaction video. It provides thirty-nine bone structure-like templates with different designs and screen numbers. Besides that, it offers various editing options for further editing reaction videos. You can crop, rotate, add effects and filters, a watermark, and background music. To learn how to make a TikTok reaction video using Vidmore Video Converter, proceed to the following steps.
Step 1. To begin with, download the program from the official website. After that, continue to install the program to have complete access. Once done, launch the program to start creating a TikTok reaction video.
Step 2. Please navigate to the Collage tab on the software's main interface; it is the primary feature you will use to create a reaction video. For instance, you will only import two video clips: the video you will react to and your reaction video.
Head to the Template section and select one that offers two screens; it would be better to select the second template presented. After that, click the (+) icons on your chosen template screen to import the TikTok video clip and your reaction video.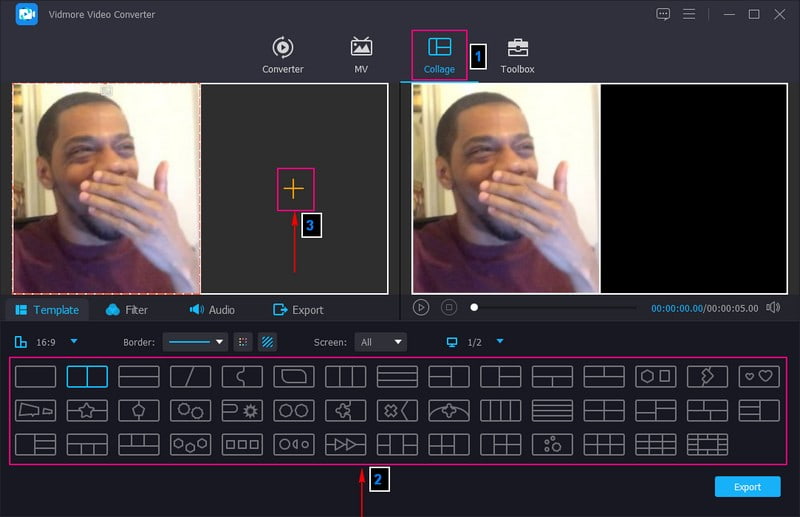 Step 3. Right-click one of the screen and select Edit to rotate and crop your reaction video. Besides that, you can modify the effects, add filters, and add a watermark to your reaction video to make it more stunning.
Note: Do not forget to hit the OK button to save the changes.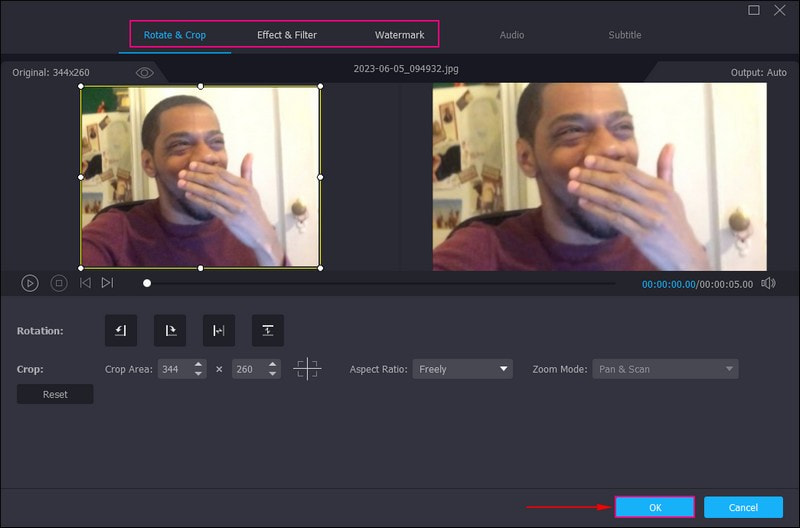 Step 4. Go to Audio and put a checkmark beside the Background Music to enable the function. After that, press the (+) icon to open your desktop folder and add your audio file. Besides that, you can control the volume, delay, and more based on your preference.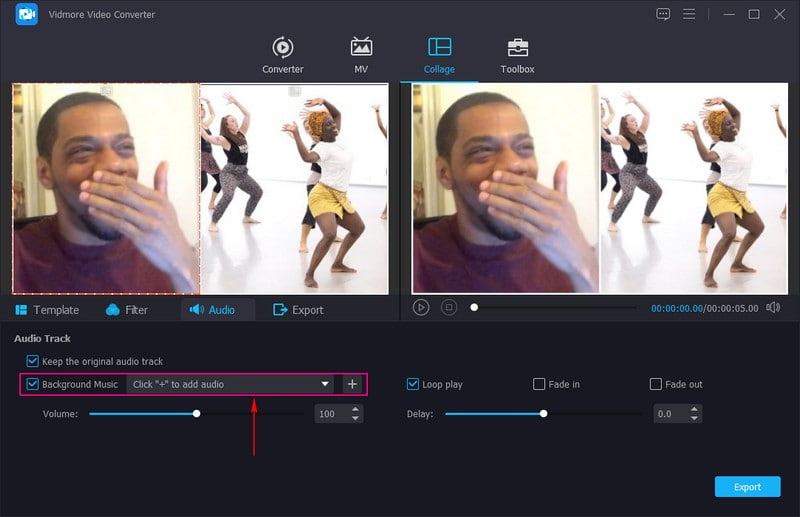 Step 5. Once satisfied with the outcome of your reaction video, move to the Export button. Here, you can change the format, quality, resolution, and frame according to your need. After that, hit Start Export, and your TikTok reaction video output will be saved on your desktop folder.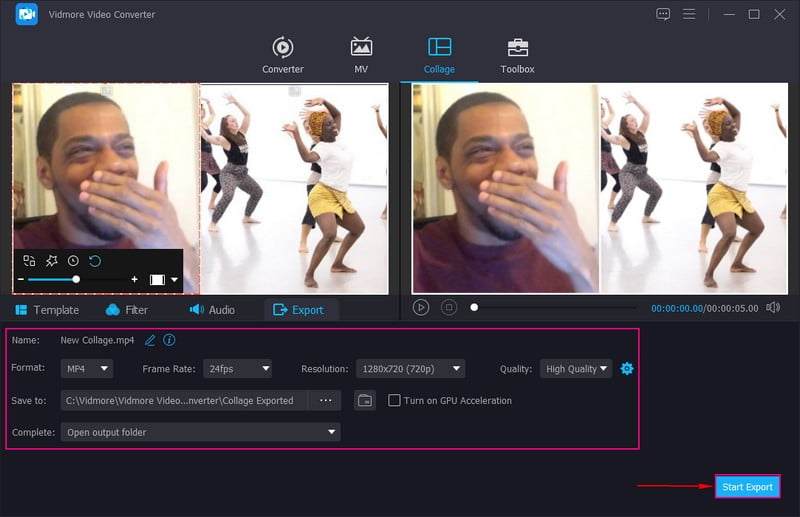 2. Vidmore Screen Recorder
Another way to create a TikTok reaction video is through the help of Vidmore Screen Recorder. It lets you record your screen where your TikTok video is playing and then incorporate your face by enabling the webcam. Besides that, you can enable your desktop's system sound and microphone to add your voice. Are you ready to find out how to make a TikTok reaction video using Vidmore Screen Recorder? If yes, check out the following steps.
Step 1. To have complete access, download the software from the official website. After that, proceed to install the program to begin the process.
Step 2. You will see the built-in screen recorders from the interface when you run the program. Select the Video Recorder, enable the screen, and pick whether to record the full, specific region or parts of your screen. Next, enable the Webcam to incorporate your reaction while recording. To add the sound from the TikTok video, enable the System Sound; to add your voice, enable the Microphone.
Once enabling the essential options, hit the REC button to start making your TikTok reaction video.

Step 3. If you want to stop the recording momentarily, press the Pause button; once you want to continue, click the button again. Once done recording a reaction video, click the Stop button, and your reaction video will be played on the preview screen.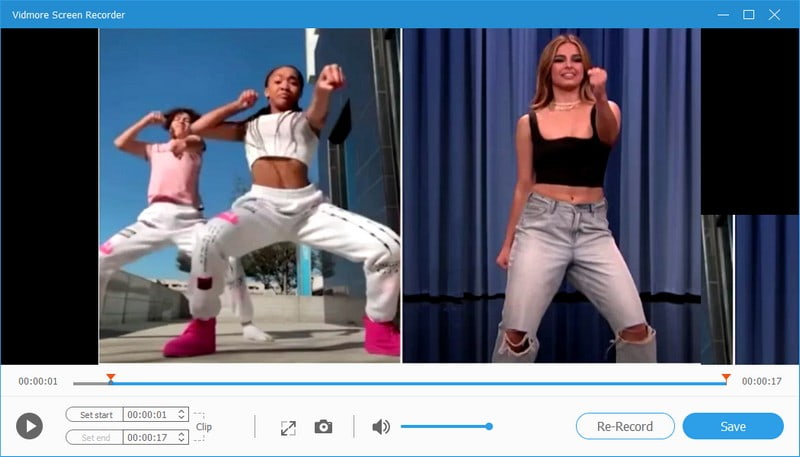 Step 4. Press the Save button if you are happy with your screen-recorded reaction video. Your TikTok reaction video will be saved on your desktop folder and ready to post on TikTok.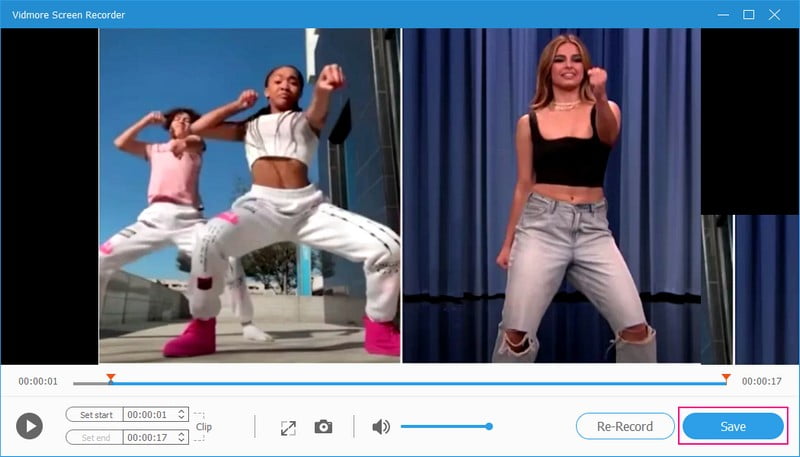 Part 4. FAQs about TikTok Reaction Videos
How to do a reaction video on TikTok?
First, select the video you want to react on, click the Share button, and find the react function. The application will record a video of you while a small floating window is on the upper part of the original video clip. After that, the video will be resized to the original size of the clip, enabling you to position it.
How long should a TikTok video take to go viral?
Twenty-one to thirty-four seconds is the average length for TikTok videos, which is recommended for attracting viewers. It is because most of the viewers prefer to watch short videos than long videos.
What is the difference between reacting, dueting, and stitching?
TikTok's react, duet, and stitch features help creators to create various video content. React feature enables the creator to react to random videos uploaded on the application. In contrast to the duet and stitch feature, it permits creators to add their videos to existing videos.
Conclusion
This post taught you how to make TikTok reaction videos with the help of Vidmore Video Converter and Vidmore Screen Recorder. With the help of these applications, you can produce an enticing reaction video that users will watch. What are you waiting for? Try them now!