How to Use Filters on TikTok: Pick the Filter You Like
Numerous applications in the market provide an extensive library of effects and filters that users can use. One popular application that offers hundreds of filters is TikTok, which is globally used today. Users have access to these filters, which they can use to create video content. These filters can create facial and physical changes, turn them into anime characters, change their voice into something funnier, and more. More and more filters from this application are trending from other social media sites.
To learn more about these TikTok filters, continue reading this post. It will present several filters you must consider using. Also, it will assist you with how to use filters and effects from the application itself. Therewithal, it will give an insight into how to create a filter using an application. Without further ado, proceed to the following information for more ideas and information.

Part 1. Introduce What are TikTok Filters and Several Hot Tiktok Filters
TikTok is known for having several filters that users can use when they are taking video content. It provides hundreds of filters designed to make your content stand out. The filters come in four categories: Portrait, Landscape, Food, and Vibe, and each category has different coloring options. These filters are used in videos to change the feel and color of the video and make it more appealing.
Below are the several hot TikTok filters you can apply to your video:
TikTok Anime Filter
TikTok Anime Filter is a popular and widely used filter on the application. When using this filter, it will transform you into an animated character.
TikTok Disney Effect
Disney Tiktok filter will transform your face into a Disney-inspired cartoon character. This filter allows you to experience being a Disney prince or princess.
TikTok Dog Face
Dog Face filter will put a dog's ears and nose around your face. Also, a dog's tongue will appear when you stick out your mouth.
TikTok Inverter Filter
An inverted Filter lets you see how others see you when facing or talking to you in a video call. Users commonly use their front-facing cameras to see how other people perceive them.
Tiktok Sad Face
Sad Face Filter TikTok will make you look crying and deeply upset. Users commonly use this filter to trip their family or friends. But they did not know that a filter was being used on them.
Part 2. How to Use Filters and Effects on TikTok
This part will assist you with how to use filters and effects using the TikTok application. Without further ado, proceed to the following information.
Step 1. Open your TikTok application on your mobile device.
Step 2. Click the (+) icon at the bottom part of your feed. Next, click the Effects option beside the recording button. You will see numerous filters and effects you can use. Then, pick a particular filter you want to apply to your video. You can try it first on the preview screen before continuing recording.
Step 3. Once done, you can start shooting your video using your chosen filter.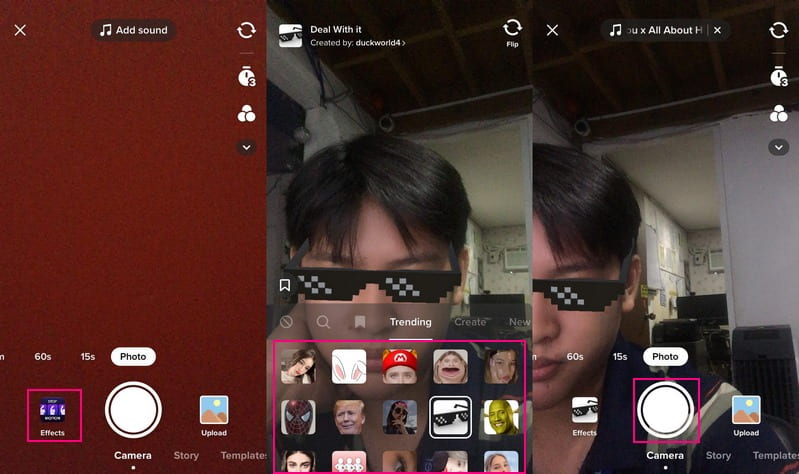 Part 3. How to Find Filters on TikTok
This part will teach you how to find filters on TikTok. With that, you will save time finding the filter section.
Step 1. Click the (+) icon on the lower part of your screen.
Step 2. Head to the Effects option on the left part of the recording button. You will see the different kinds of filters in this section. These categories are Trending, Create, New, Tool, Accessories, Funny, Atmosphere, Interactive, Appearance, Green Screen, Editing, Events, and more.
Step 3. If you want to find a specific filter, click the Magnifying glass icon, and enter the filter name. If you want to save the filter, click the Bookmark icon, and you will see the filter on the top list.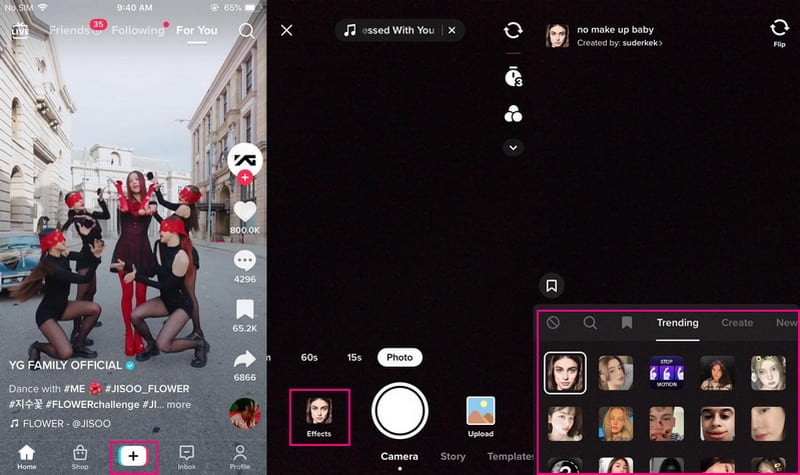 Part 4. How to Make a TikTok Filter
If you plan to create a TikTok filter using your pictures or objects, you can count on Effect House. It enables users to create filters from scratch or use ready-made templates. Follow the steps to learn how to make a Tiktok filter using Effect House.
Step 1. Download and Install Effect House to your desktop device and sign in to your account.
Step 2. Hit the Create Project button, and a new window will appear on your screen, which is the main editing section. You will see the Hierarchy panel and present the layers and objects that can be added to your filter. Also, the Assets panel will store all your imported images and objects.
Step 3. Import your images, manipulate the features using the 3D workspace, and edit your imported image with an effect. Next, head to the Preview panel, and see how your filter will look once used in TikTok. Then, head to the Inspector Panel, and you will see the different components of your filter.
Step 4. the filter is ready, scan the QR code, and test it before putting it live on TikTok. Afterward, click the Submit button to publish your effects to TikTok successfully.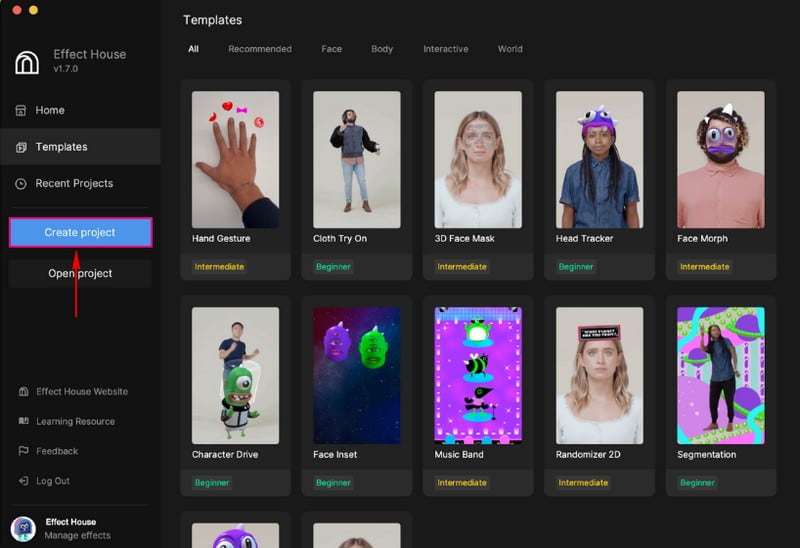 Part 5. Alternative Way to Add Filters to Videos on PC
A program you can rely on to apply filters to your videos is Vidmore Video Converter. It has a built-in effects and filters section permits you to change the basic effects and select a filter for your video. It lets you modify the video's contrast, saturation, brightness, and hue. Also, it has more than forty filters, which you can freely apply to your video. Besides that, you can embed a watermark and add audio and subtitle to your video. On top of that, you can access this program using your Mac or Windows device.
Below is the guide on how to add filters to your videos using Vidmore Video Converter:
Step 1. Download and Install
To have full access, download and install the program to your computer. After that, proceed to open the program.
Step 2. Add Video File
You are directed to the Converter tab when you open the program. Hit the (+) placed on the center part of the interface. It will open your desktop folder and select the video you want to apply a filter.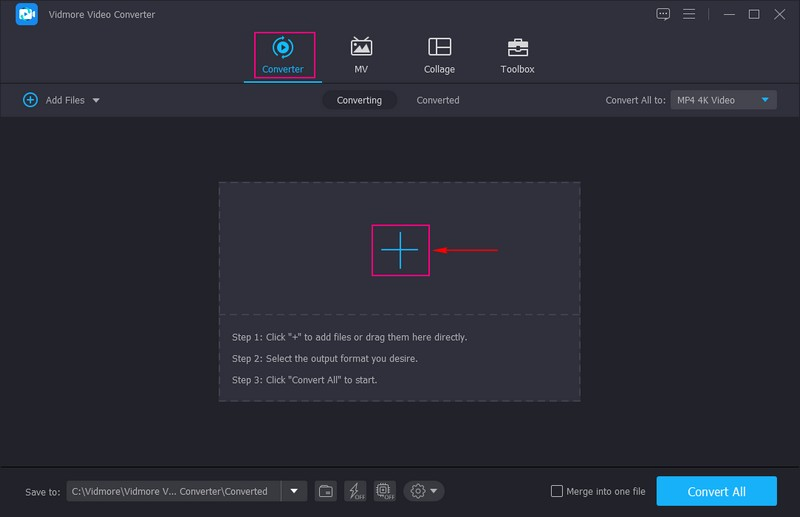 Step 3. Edit the Video
Your video is now added to the converter section. Click the Wand icon beside your video file representing the editing option, leading you to another window. Then, proceed to Effect & Filter beside the Rotate & Crop.
Here, you can modify the basic effects, such as Contrast, Saturation, Brightness, and Hue, based on your preference. On the right side, you will see the filters section and several filters you can select from. Select a specific filter from the list by clicking it, and you will see the changes in the preview window. Once done, hit the OK button to save the changes.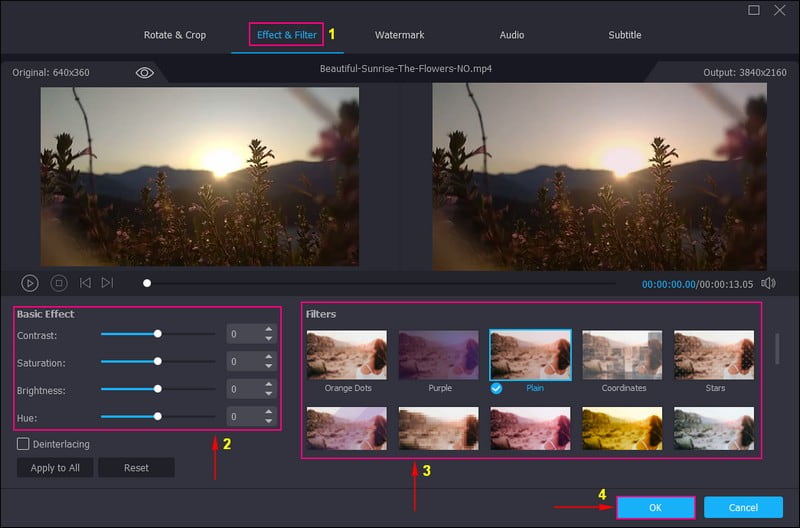 Step 4. Save Video With Filter
You are back again to the converter section. To save your edited video, click the Convert All button, and your output will be saved to your desktop folder.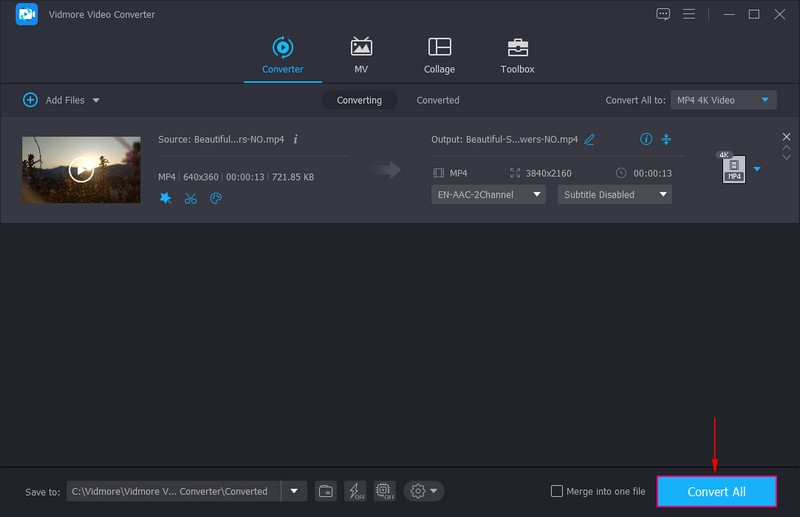 Part 6. FAQs about TikTok Filters
How many filters can you use on TikTok?
TikTok has more than 400 filters and effects you can use for your video content, which can help you gain visibility. These effects and filters can be added to your video to apply transitions that will make your video more interesting.
Why can't I use certain filters on TikTok?
You need to check if the application you are using is the updated version. The reason why you cannot access certain filters is that the application is outdated. To see if the application is outdated, go to App Store or Google Play Store, search TikTok, and update it.
Can you put a filter on one clip in TikTok?
Yes, putting or adding a filter before taking a video or after recording clips is possible.
Conclusion
There you have it! You have learned how to use filters on TikTok and where to find the filter section on the application. You can now use different filters that will get your attention or the ones being trended. To apply filters to your video using your desktop device, you must use Vidmore Video Converter. It offers various filters and lets you modify the basic effects of your video to make it more impressive.