Sony Vegas Review - Pricing, Key Features, Plugins & Alternative
Sony Vegas Pro is a professional video editing program that can create movies, TV programs, music videos, and other video content. Many users commonly use it because it is simple and easy to use, and the learning period is short for novice editors. This article will teach you about Sony Vegas Pro, including its price, key features, and plugins. Besides that, it will present an alternative tool that you can use to produce high-quality and stunning videos. Please scroll down to read further information.

Part 1. What is Sony Vegas Pro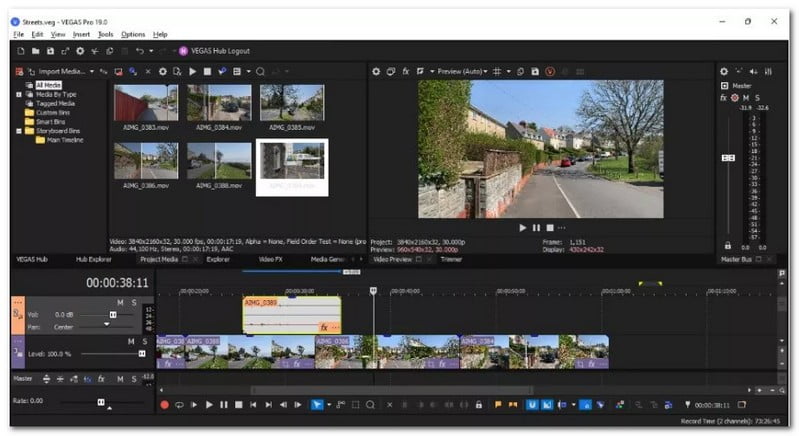 Sony Vegas Pro is a video editor with many editing features and options catering to beginners and professional users. It offers basic trimming, cutting, video effects, transitions, and color grading. Besides that, it offers an extensive range of options to enhance and level up your project. The user-friendly interface makes it easier for first-time users to navigate the options hassle-free.
When on the timeline, you can add and apply effects and change the parameters, which are all straightforward. Users can unleash their creativity rather than get lost in complex options. In addition, Sony Vegas has excellent compatibility with several audio and video formats, making it adaptable and versatile to different project requirements. However, some users experience a slow-rendering process, and importing multimedia clips from one directory is difficult. There are occasional crashing and freezing errors while rendering videos. In addition, the learning curve might be steep for beginners. But, with dedication and practice, users can unlock the program's potential.
Recommended for HD
Recommended for 4K
Operating System
Windows 10/11
Windows 10/11
Central Processing Unit
6th Generation Intel Core i5 or better with 2.5 Ghz and 4 Cores
7th Generation Intel Core i7 or better with 3.0 Ghz and 8 Cores
Graphics Processing Unit
NVIDIA GeForce RTX or GTX 9XX series or higher with 4GB
AMD/ATI Radeon with 4GB and VCE 3.0 or higher (Radeon Pro series with 8GB for HDR and 32-bit projects)
Intel GPU HD Graphics 530 series or higher
NVIDIA GeForce RTX or GTX 9XX series or higher with 4GB (8GB RTX series recommended for 8K)
AMD/ATI Radeon with 4GB and VCE 3.0 or higher (Radeon Pro series with 8GB for HDR and 32-bit projects)
Intel GPU HD Graphics 630 series or higher
RAM
16 GB
32 GB
Hard Drive
1.5GB hard-disk space for program installation.
1.5GB space for program installation, solid-state disk (SSD) for media files.
Part 2. Is Sony Vegas Pro Free?
Is Sony Vegas a free video editor? Sony Vegas Pro is a market-oriented paid program, so users must subscribe to the paid version to access the basic and advanced editing options. However, it has a free version that can only be used for 30 days. After you complete the trial period, users can select whether to subscribe for additional benefits such as royalty-free stock video and more.
| | |
| --- | --- |
| Vegas Edit | $7.99 per month |
| Vegas Pro | $9.99 per month |
| Vegas Suite | $16.99 per month |
Part 3. Key Functions of Sony Vegas Pro
This section will present the program's key functions, so you will learn what to expect and look forward to from the program.
Adjustment tracks
Customized layouts, shortcuts, and workflow
Hundreds of effects, filters, titles, and transitions
Automation control and keyframing
Nested timelines
Multicam editing
Scene detection
Storyboard and Timeline synchronization
Unlimited audio and video tracks
Part 4. Introduce Some Common-Used Sony Vegas Plugins
This part will introduce some common-used Sony Vegas Plugins, which are program elements that add features and effects to an existing application.
1. Video4Youtube - Video4Youtube is one of the Sony Vegas plugins which enables users to share and upload the newly-created video to Youtube directly. It can help you discover the best render settings for importing to Youtube smartly. Besides that, you can get numerous video quality and resolution levels according to the current template.
2. Free Vegas Pro Transitions - It provides eleven free transition templates, which users can use by dragging and dropping them on the timeline section.
3. Boris Continuum Complete (BSS) for OFX - This plugin has more than two-hundred fifty filters, allowing users to apply well-designed visual effects to their working projects. In addition, it offers effects and transitions for users to improve the appearance and outcome of their project.
4. Boris Graffiti - Users can get a vector paint system, three-dimensional text with materials, several filters, and other valuable features.
5. Boris FX - This powerful plugin offers over two-hundred twenty filters; some filters are contained in FEC and BCC.
Part 5. Sony Vegas Pro Alternative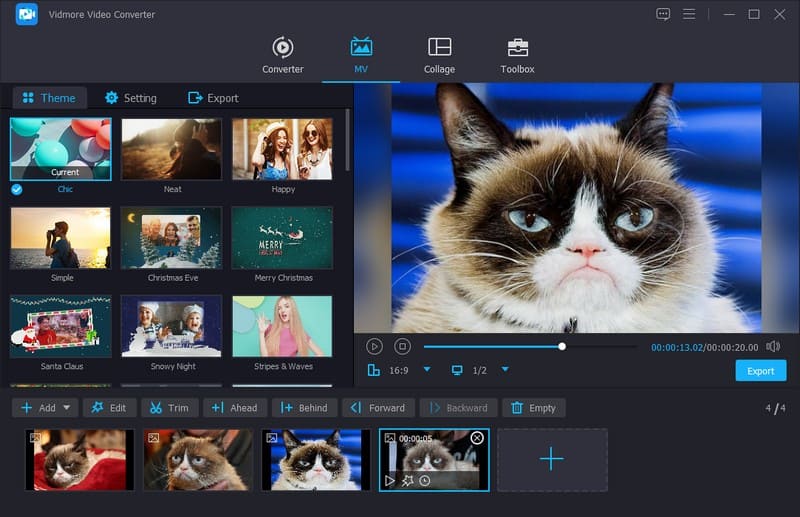 If you are searching for an alternative tool capable of Sony Vegas Pro, you must consider using Vidmore Video Converter. It is compatible with Mac and Windows, unlike Sony Vegas Pro, which is only available for Windows. It provides several editing options beneficial for video editing purposes. Do you want to find out?
This program has a converter to convert audio and video files to different formats. It has a separate option where users can enhance their video quality by upscaling the resolution, optimizing brightness and contrast, and more. In addition, it has a collage maker, where users can import image and video files to produce a collage with background music.
Besides the abovementioned features, Vidmore Video Converter has an MV feature, allowing users to create various video content. They can create a slideshow, movie trailer, presentation, vlog, and more using their imported image and video files. It does not end there; it has options for further editings, like rotating, cropping, effects, filters, and a watermark. Users can also pick ready-made themes and incorporate text and music to apply to their video content.
Undoubtedly, Vidmore Video Converter is the best Sony Vegas Pro alternative. So what are you waiting for? Do not hesitate to use the program and thoroughly explore its built-in features and editing options.
Part 6. FAQs about Sony Vegas Pro
Adobe Premiere vs. Sony Vegas?
Adobe Premiere integrates seamlessly with other Adobe programs, which supports a broad range of video formats. It does not use Graphics Processing Unit (GPU) decoding and encoding and has fewer audio tools. In contrast, Sony Vegas has a straightforward interface, making it easier for users to edit. It uses Graphics Processing Unit (GPU) decoding for more real-time playback and has a digital audio workstation.
Sony Vegas vs. Davinci Resolve?
Sony Vegas Pro is only accessible on Windows. In contrast, Davinci Resolve is accessible on Mac, Linux, and Windows.
What are the video formats supported by Sony Vegas Pro?
The supported formats are MP4, AVC/AVCHD, advanced codecs like HEVC, and professional formats like ProRes, XDCAM, XAVC, and more.
Conclusion
Sony Vegas Pro is a powerful video editing software used by professionals. It has many editing functions and plugins, making editing easier. However, it is only accessible for Windows devices. We highly recommend Vidmore Video Converter, the best Sony Vegas Pro alternative tool available on Mac and Windows. It offers basic and advanced editing options that are beneficial for video editing. Try it now!