Simple Guides on How to Color Correct in Sony Vegas [Alternative Included]
When the video is watched on various TVs and projectors, color correcting ensures no detail is lost. However, video editors typically use color correction for more than just touch-ups. They utilize color correction to accentuate a message and establish the video's tone. To color correct a video, Sony Vegas is one of the editors you can use. It can make your videos better. Go to this guidepost to learn how to color correct in Sony Vegas. In addition, this article will give you another effective procedure for fixing the color of your videos. So, if you want to find more essential details regarding color correcting a video, go to this article now!

Part 1: Best Alternative Way to Correct Color
If you prefer the easiest method to color-correct your video, use Vidmore Video Converter. This downloadable application is available on both Mac and Windows, so users will find it convenient when editing a video. Also, this tool can offer the most straightforward procedure when correcting the video color. You can color-correct in just a few clicks because this tool has an intuitive interface wherein all video editors will understand quickly and instantly. To edit the color of your video, you need to adjust the video's saturation, hue, brightness, and contrast. This way, you will see the changes from your videos.
In addition, you can export your video into various formats, such as MKV, GIF, AVI, MOV, and more, to make it compatible with other programs and devices. You can also change the resolution of your video up to 4K video resolution.
Now, if you want to edit your video's color using Vidmore Video Converter, you can follow the simple instruction below.
Step 1: Open your browser, search Vidmore Video Converter on the search box and download the application. To easily access it, we provided you the download button below. You can download and install it on your Mac and Windows operating systems.
Step 2: Launch the application after the installation process. Then, navigate to the Toolbox panel and proceed to the Color Correction tool.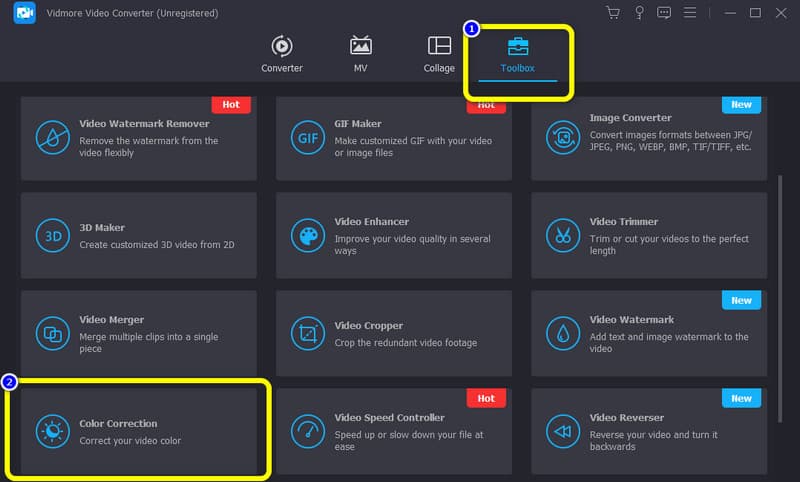 Step 3: After that, press the Plus sign button. After pressing the Plus sign, you will see your folder file on your screen. Then, attach the video file you want to color-correct and click OK.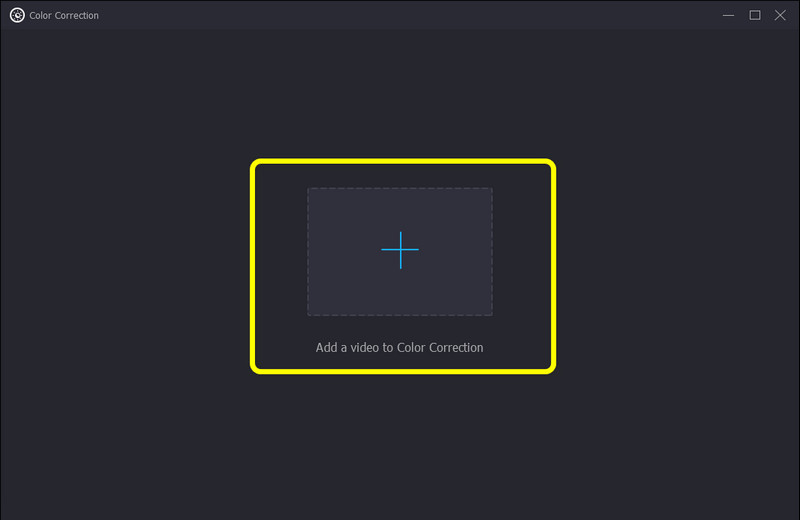 Step 4: Adjust the video's brightness, contrast, saturation, and hue by controlling the sliders. You can slide them left to right and vice versa.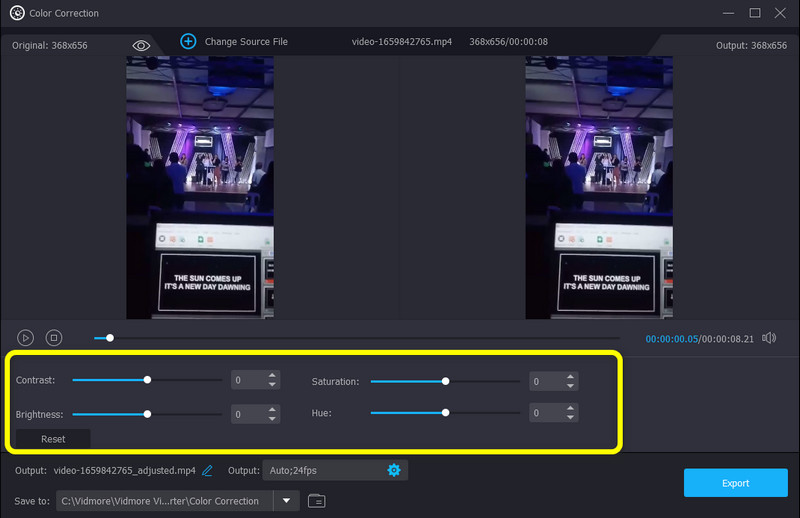 Step 5: Click the Output Settings on the lower part of the interface to change the video format, resolution, frame rate, and other parameters.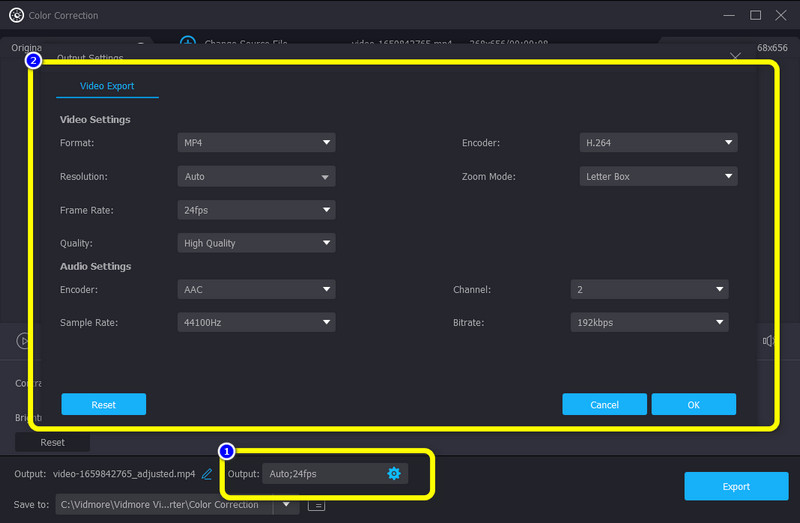 Step 6: If you are satisfied with the result, click the Export button on the lower right of the interface to save your fixed video on your device.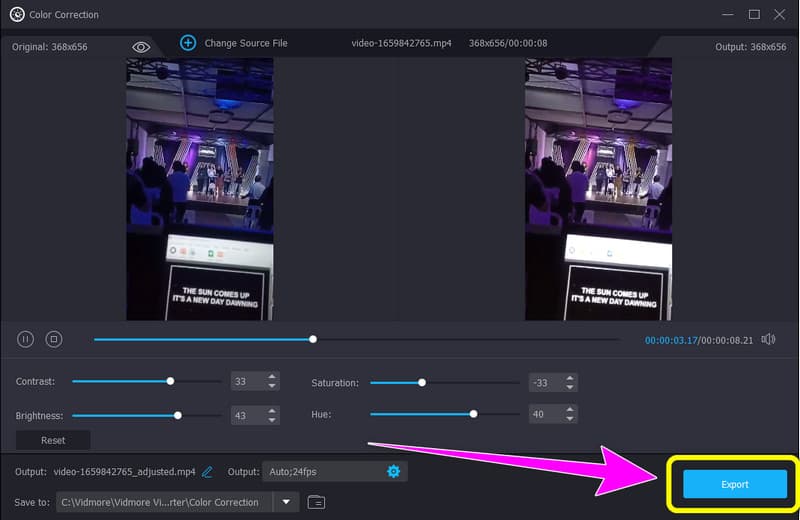 Part 2: Simple Method to Correct Color in Sony Vegas
Sony Vegas is another downloadable application you can utilize to color-correct your video. With this tool, you can make the best out of your video. You can also download this application on your Windows, which is great. With the guide of Color Corrector, changing the color of your videos is a piece of cake.
Furthermore, Sony Vegas is a collection of non-linear editing systems (NLE) video editing software that was first released by Sonic Foundry and is currently owned and operated by Sony Creative Software. It was initially created as an audio editor, but starting with version 2.0, it evolved into an NLE for both audio and video. It can also offer various features, such as complex effects and composition tools, resolution-independent video sequencing, DirectX plug-in effect support, real-time multitrack audio and video editing on unlimited tracks, and more.
However, even though it has numerous great features, Sony Vegas is complicated software. It has a confusing interface and methods, which is not perfect for users, especially beginners. In addition, you must purchase the software to utilize it because there is no free version for Sony Vegas. In terms of downloading and installing it, it has a complicated process. Installing it is time-consuming. The Mac version for this application is not yet available, so if you are a Mac user, sad to say, you cannot utilize this.
And if you want to know how to color correct in Sony Vegas, follow the procedures below.
Step 1:On your Windows, download and install Sony Vegas on your after purchasing it. Then, launch the software.
Step 2: Proceed to the File Menu and select Open. Choose the video you want to edit when the folder appears on your screen.
Step 3: After that, select the Video FX option and click the Color Corrector on the left part of the interface.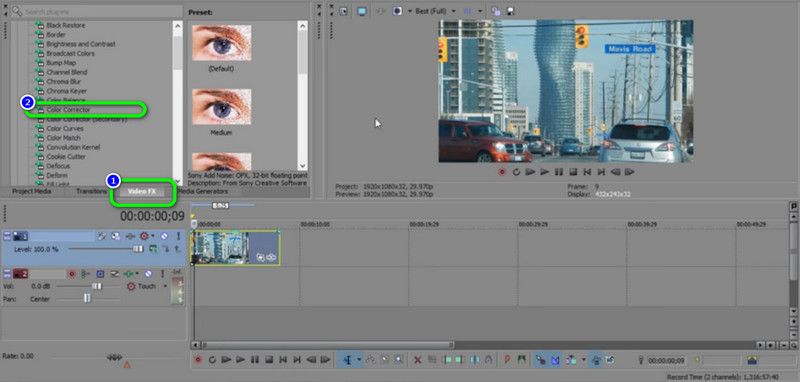 Step 4: When you select the Color Corrector, you can change the video's color by clicking the Sony Color Correction Wheel/Tool. You can click your desired color for your video. Then, you can already save your video on your device.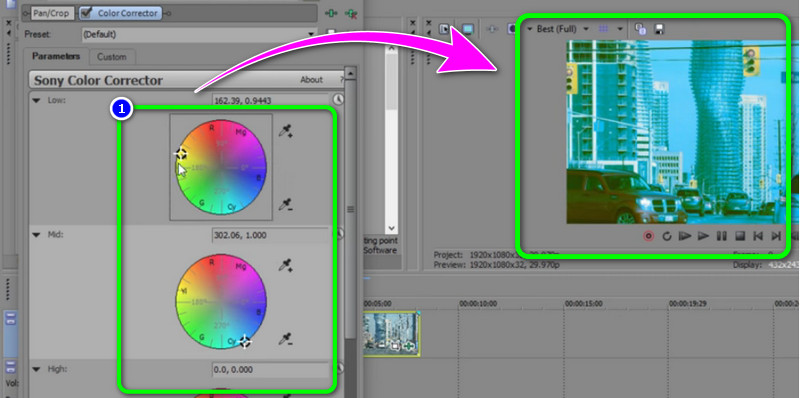 Part 3: FAQs about How to Correct Color in Sony Vegas
1. How can I fix the color of my videos using a Mac using Sony Vegas?
Unfortunately, you cannot use Sony Vegas on your Mac because it has no Mac version yet. If interested, you can install Windows operating system on your Mac computer to access Sony Vegas. Another suggestion is to use another application with a color correction tool, like Vidmore Video Converter. This application is accessible on both Windows and Mac.
2. Is it possible to do color correction without professional knowledge?
It is not. Learning the basics and color correction terms when editing a video is important. If the user doesn't have enough idea in terms of color correcting a video, the result will not be satisfying for the viewers.
3. What is the difference between a color corrector and a color curve?
The color curve helps you improve your video's definition and contrast. Then, the color corrector tool helps tune the level of the color to manage white balance and oversaturation.
Conclusion
Learning how to use Sony Vegas for color correction is great because this application is one of the top-notching video editors you can use on your Windows. However, this application is not accessible on Mac operating system. Also, it is required to purchase the software, which is costly. If you want an accessible, downloadable application, we suggest the Vidmore Video Converter. Windows and Mac users are able to utilize it without spending a penny.