Different Methods on How to Increase a Video's Speed in Quicktime
Have you seen a long film while simultaneously realizing that you are running out of time? Do you find it to be somewhat frustrating? Suppose you are using Quicktime on a Mac. In that case, there is a method to complete the movie you are viewing, and it is possible to do so by pausing the film and then continuing to watch it. You may adjust the settings using the built-in speed controller available to you. You will see a straightforward demonstration of how QuickTime speeds up a video in the next section of this tutorial.

Part 1. How to Speed Up a Video on Quicktime
One of the applications exclusive to Mac computers and gadgets is called QuickTime. You may use this to provide visuals, music, video, and text synced with one another. This utility can do a wide variety of functions. Its functionality includes a movie player, an audio player, a picture viewer, and a virtual reality tool. Aside from that, it allows users to adjust the pace at which a video plays. You may use the following straightforward instruction as a point of reference.
Step 1: To display the A/V controls, choose Windows from the primary menu bar, and then select Show A/V Controls.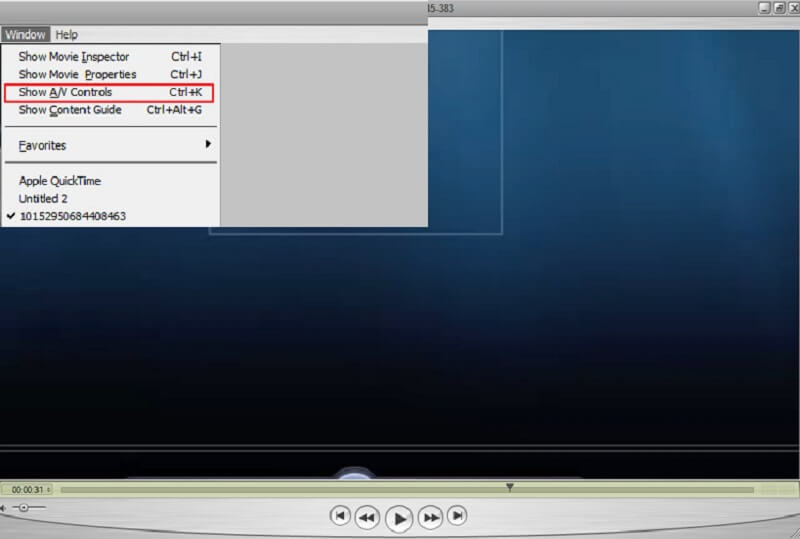 Step 2: In the new pop-up window, adjust the playback speed by dragging the playback slider to the right until you are pleased with the new playing speed. Turning off the audio and video controls will stop the video from playing at the wrong speed.
Step 3: To save the updated video, you may press Control + S or CMD + S on your keyboard. You may quickly accelerate the playback of your movie using QuickTime Player with only a few mouse clicks.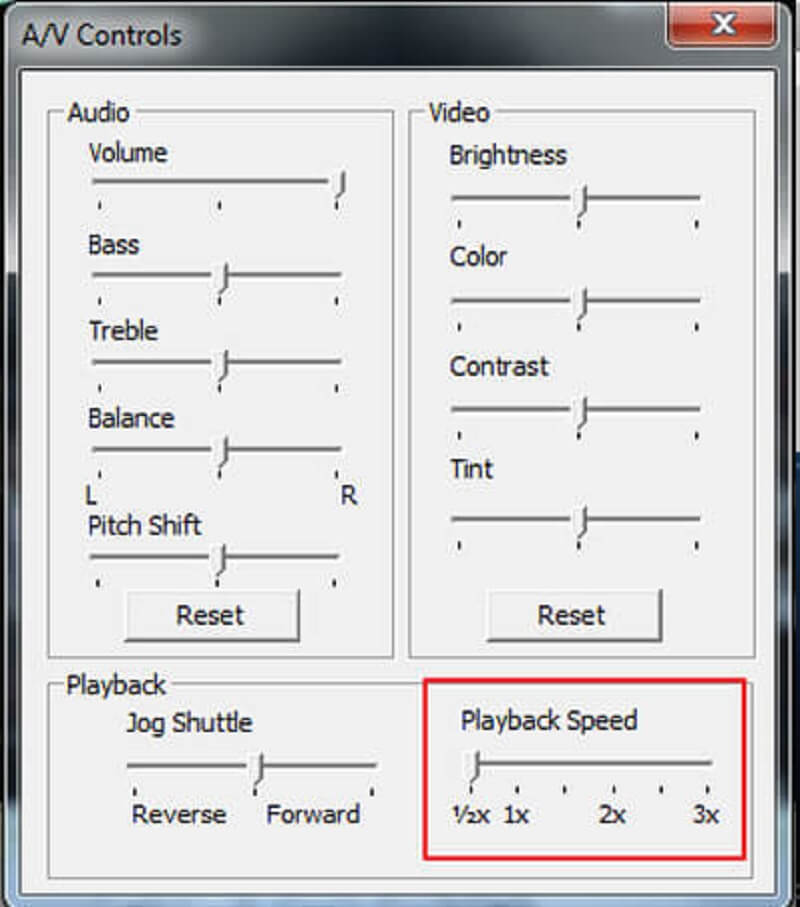 Part 2. Can You Use Quicktime on Windows?
QuickTime Player will not be available on any device that runs Windows until the operating system is updated to Windows 10. You can find alternative speed controllers on your desktop if you do not own Quicktime or a device equivalent to a Mac.
1. Vidmore Video Converter
This software is the first and most helpful speed controller you can use on Windows or Mac. You can also use it to convert clips. It is a multi-purpose piece of software that allows users to edit audio and video in various ways. It is equipped with a speed video controller that can, in a matter of seconds, either slow down or speed up a movie.
Imagine you want to give your videos the appearance of being played at a faster pace. Suppose this is the case, rather than simply rapidly viewing the movies. In that case, it is in your best interest to use Vidmore Video Converter, an all-in-one solution designed specifically for this objective.
You have the option of modifying the sound as well as the graphic settings. You can turn up the volume or go forward to a specific spot in the recording. Even if the editing process could bring about a slight decline in the overall quality of your videos, you do not need to be concerned about losing any of them.
Step 1: Vidmore Video Converter may be downloaded free from the official website, installed on your device, and activated in three simple steps.
To adjust playback speed, choose Video Speed Controller from the Toolbox menu. It allows you to choose how quickly or slowly the action in your movie is played.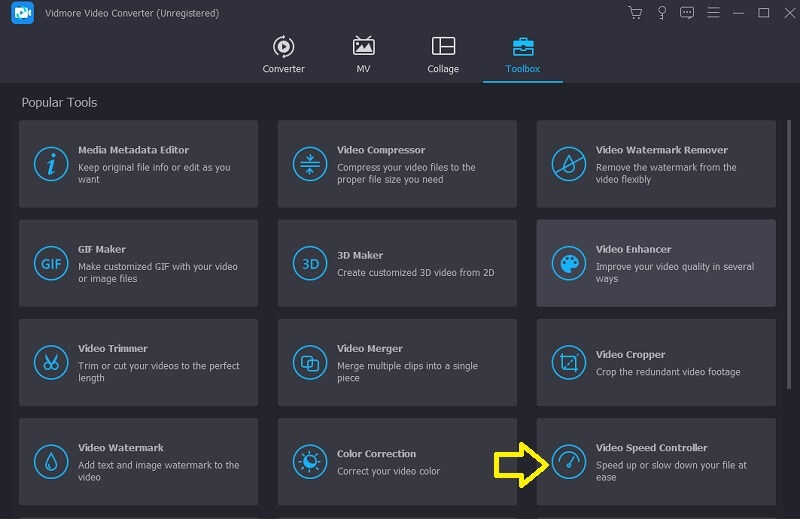 Choose Video Speed Controller from the menu on the side, and then tap the Plus sign in the screen's center to add to the existing value.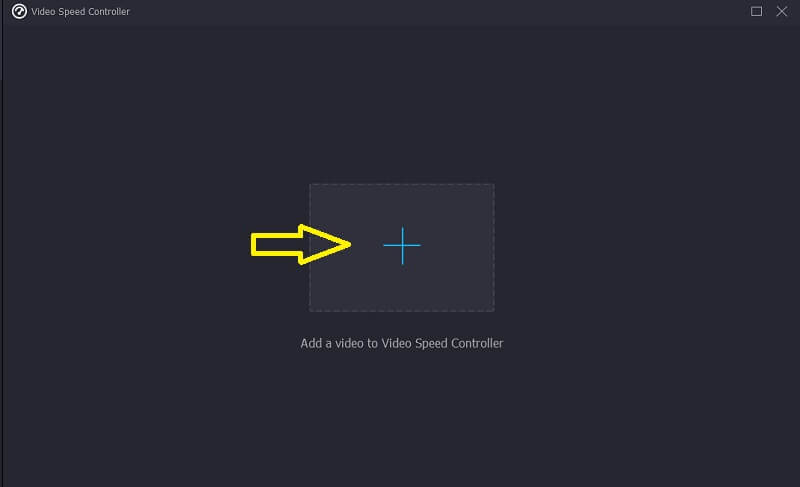 Step 2: The video's pace may be adjusted using a pull-down menu that appears after the movie has completed playing. You may adjust the game's tempo and difficulty by pushing a button.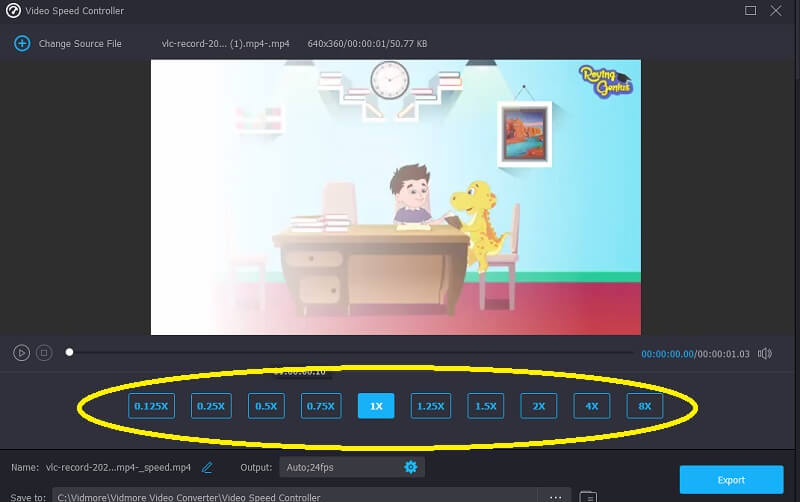 There's an option to adjust the quality of your file under the Settings menu. Get this done by touching the tab. Variables like frame rate, resolution, and others are all at your disposal. Assuming you have no immediate plans to alter these parameters, you may proceed with the conversion.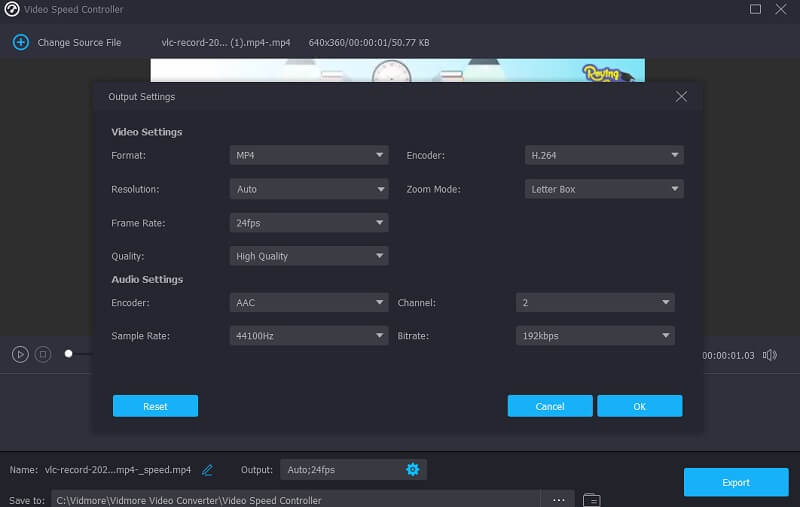 Step 3: You may start the export process by selecting the Export option. Then, you must delay further action until the procedure is complete.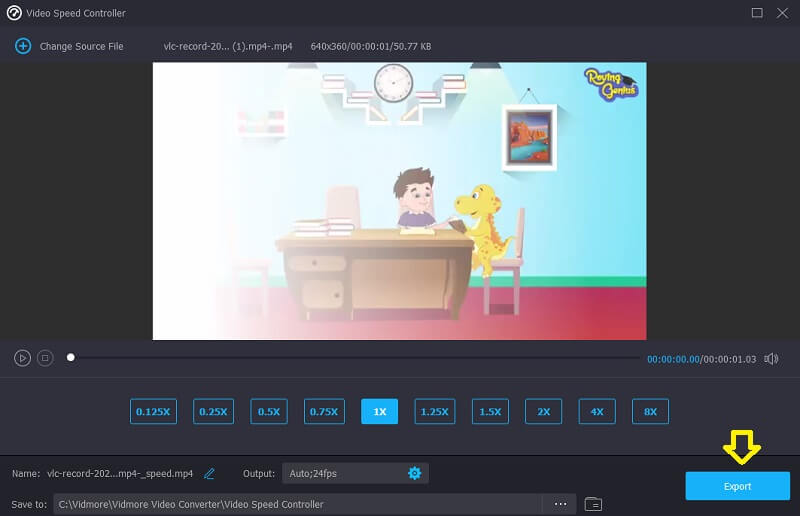 2. Clideo
Clideo is an advanced online video editing tool that also allows changing the pace of videos viewed online. Because of this feature, you can adjust the video's speed to make it run faster or slower. It enables you to alter the pace of your movie in a short amount of time without having to modify it. You have the option of modifying the slider to get the top speed, or you may choose one of the six levels that are the most often used choices. You are allowed to upload a video clip that is already saved on your device at this time.
Step 1: To start, go to the menu of your browser and seek the Clideo option. When you have been led to the site to upload your video, you will need to click the box that says Choose File.
Step 2: After that, you will have the option to change the speed of the video by clicking the slider to the right or picking an alternative from the choice that drops down.
Step 3: To complete the process, click the Export option below.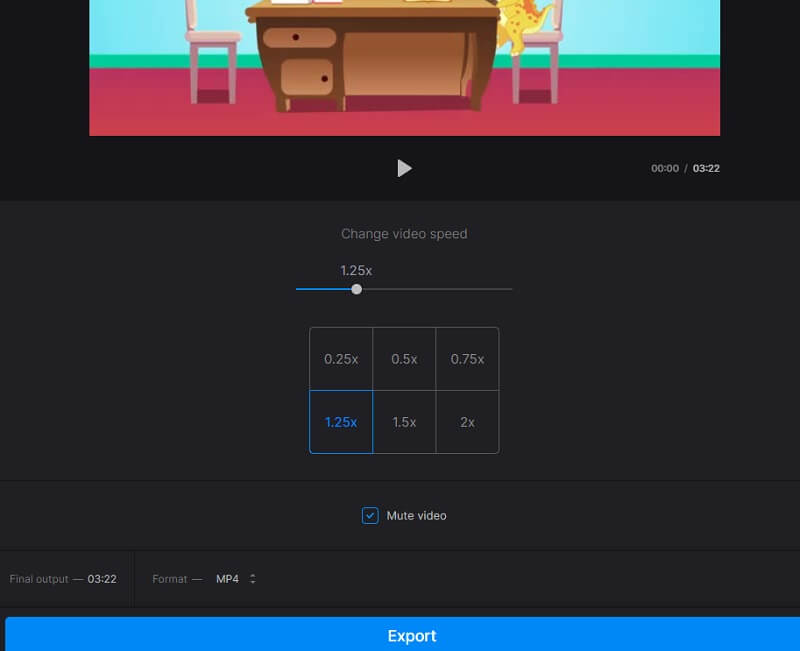 Part 3. FAQs About Speeding Up a Video in Quicktime
What tools does Quicktime have for editing?
You can organize and export altered videos by cutting, adding additional clips, and separating clips if you use QuickTime Player.
Does QuickTime have a quick way to speed up videos?
A speedy method is available for accelerating video playback in QuickTime 10, which is available to users. You can speed up movies in QuickTime by using the Options shortcut, but you can only do so if you use the most recent version of QuickTime. It is not compatible with QuickTime 7 at this time.
Why does my QuickTime-sped-up video not have any sound?
When you speed up movies in QuickTime to 2 times their average speed, the audio quality will suffer. It is recommended that you choose a speed in QuickTime that is lower than 1.9X when speeding up videos. Alternatively, you might remedy this issue using several available professional video speed controllers.
Conclusions
You should know three easy methods for increasing video speed in QuickTime for Mac. You might also play the videos using QuickTime after adjusting the videos' speed with the suggested speed controller, and it is the Vidmore Video Converter.