VN Video Editor and Alternatives: Which is Better?
VN Video Editor is an easy-to-use, free video editing application with a straightforward interface. With that, you do not need prior background knowledge or experience to navigate the application. This application provides numerous basic editing options, which can be used to produce professional and high-quality videos. Did you know that it is accessible on desktop and mobile devices?
This post will focus on the video editor and its best key features. Besides that, it will present video editors alternatives you can access that offer numerous built-in features and editing options. To gather more information about the application and its alternatives, proceed to the following details.

Part 1. What is VN Video Editor
VN Video Editor application has an intuitive multi-track video editor, enabling users to zoom in and out any elements presented. In addition, users can re-order or delete selected video clips using the drag-and-drop method. If you plan to add and overlay images, stickers, and texts to your video to personalize them, you can do that too.
Besides that, it has different options for music beats and allows the users to record voice-overs to make their videos more lively. This application has trending effects and filters, color grading filters, enables users to change the video speed, and uses various transitions. In addition, it offers nineteen keyframe animation effects and creative templates for music and video. Interesting, right?
It offers several text templates, allowing users to select a text template and fonts suitable for their videos. Also, users can select their desired font styles, color, spacing, color, and more, based on their liking. This application makes it hassle-free for users to transfer their projects between mobile and desktop devices using Google Drive or OneDrive. Also, users can change the video resolution, bit rate, frame rate, and more.
Part 2. How to Use VN Video Editor on Computer
This video editor was only accessible before on mobile devices. But because of the booming popularity of the application, the developer decided to launch a desktop version. Today, you can quickly download and use the application on various operating systems and devices. This part will present detailed information on how to use VN Video Editor on the computer, which can significantly help you.
Step 1. To begin with, go to Bluestacks, and hit download. When downloaded, open the file, and please wait until the installation process is complete. Once the installation is finished, you must wait a moment to undergo the extraction procedure. After that, the application will start automatically.
Step 2. Using Bluestacks, head to the Google Play store, search VN Video Editor, and install it.
Step 3. Drag a video from your desktop folder, and drop it into the emulator. Then, press the blue circle with plus sign icon to proceed. After that, hit the New Project, and pick the video you want to add. You will see the various editing options on the bottom part of your screen. Depending on your preferred edit, select from the tools section.
Step 4. For instance, if you want to remove background noise, click the Speaker icon to detach the background noise. However, this method will remove all the sound incorporated in the video. After the edits, press the arrow pointing upward icon to display the export option, and modify the parameters, depending on your preference.
This part will teach you how to have the application on your desktop device. Besides that, it teaches you how to remove background noise in VN Video Editor.
Part 3. Comparison Table of VN Video Editor's Desktop and Mobile Version
This part will present a table comparing VN Video Editor's Desktop and Mobile versions. For that reason, you will gain a broad knowledge about the mentioned versions, despite being the same application but on different devices.
| | | | | | |
| --- | --- | --- | --- | --- | --- |
| | Usability | Interface | Download & Installation | Best for | Basic & Advanced Editing Features |
| VN Video Editor (Desktop Version) | Satisfied | Bigger Screen | It is complicated to use, knowing that no direct or official download website exists. Users will undergo a long process to have the application on their computer. | Intermediate & Professional Users | Key Frame Animations, Varieties of Effects and Filters, Audio Tools, and Exporting Files. |
| VN Video Editor (Mobile Version) | Satisfied | Phone-Size Screen | It is accessible and free to download applications on mobile devices. | Beginner, Intermediate & Professional Users | Key Frame Animations, Varieties of Effects and Filters, Audio Tools, and Exporting Files. |
Part 4. VN Video Editor Alternatives
We got your back if you are searching for VN Video Editor for Mac, PC, and mobile device alternatives. This part will list the leading video editors in the market, whether you use a desktop or mobile device. Without further ado, check them out; these video editors might have what you want and need for video editing.
1. Vidmore Video Converter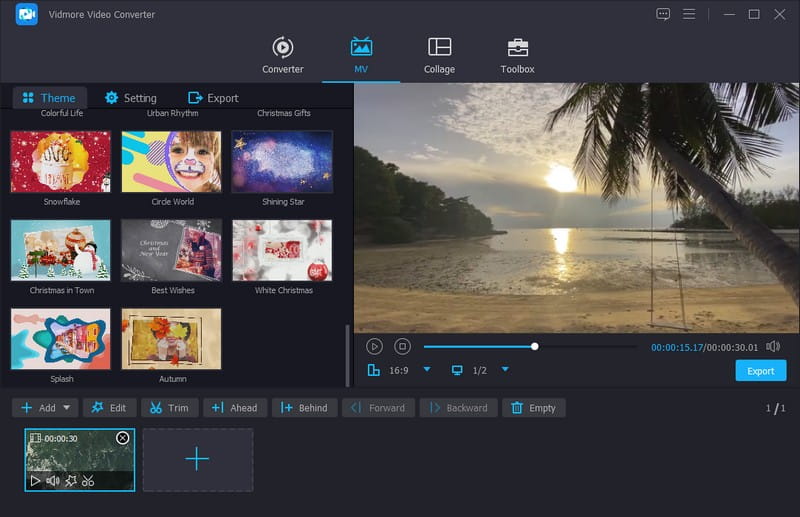 The first on the list is the powerful Vidmore Video Converter, which provides numerous built-in features and editing options beneficial for video editing. Do you wish to learn what they are? Of course, this post will present that. It has an audio and video converter, a collage maker, and several tools, a distinct feature to edit video projects. You can also upload any video file format. Impressive, right? But what it can do continues.
Vidmore Video Converter has a built-in MV feature packed with editing options that meet users' needs and expectations. It offers more than forty ready-made themes with various designs for different occasions. If you want to embed a text, you can do that, too; you can incorporate a text into your project. In addition, you can accompany your video with a song by importing music to your project.
If you wish to correct your video's presentation, you can modify them by accessing the rotate & crop option. If you want to enhance your video to look good on your screen, select a specific filter from the effect & filter options. In addition, you can adjust the basic effects, such as brightness, contrast, saturation, and hue, based on your liking. On top of that, you can embed a watermark if you decide to; it is for ownership purposes. Besides that, you are allowed to customize your video output's resolution, quality, frame rate, and more. Indeed, this video editor is the best VN Video Editor for PC alternative that can help produce astonishing videos.
2. Vid.Fun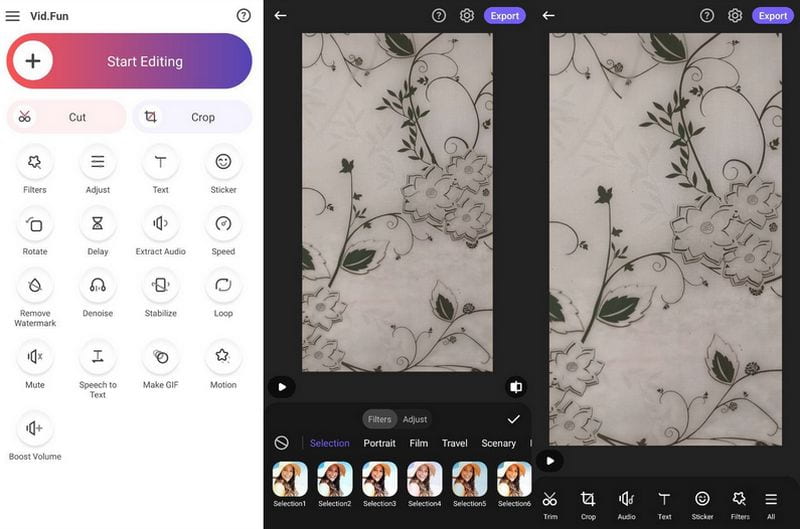 Are you planning to edit your video using your mobile device? Worry no more! We have something for you to count on; consider using Vid.Fun - 4K/HD Video Editor. This application is an all-in-one video maker and editor, allowing you to create, edit, and change your videos according to your need. Its features are; trimming, cropping, rotating, background changing, filters, text, stickers, and more.
Besides that, it has a video enhancer, speed controller, music video maker, and more. Also, it has an intuitive and enjoyable interface that is friendly to users of all levels. Indeed, Vid.Fun is a must-have option for all video lovers and vloggers who want a quick-to-use application.
Part 5. FAQs about VN Video Editor
How to blur in VN Video Editor?
From the editing options, select BG, followed by the Image option to blur the video. Next, modify the blur level based on your preference from the line bar. Then, drag the video to hide it until you see your video will be blurred. After that, hit the Check icon to apply the effect successfully.
Does VN Video Editor leave a watermark?
VN Video Editor is an excellent free video editing application that does not leave a watermark for every video output.
Is VN better quality than CapCut?
Rely on Capcut if you want to use a video editor with many effects and transitions. In contrast, use VN Video Editor if you want to have access to various creative effects and more advanced controls and features.
Conclusion
You have learned that VN Video Editor is available on mobile and desktop devices. However, you must download a Bluestacks first to access the application when using a computer. Therefore, consider using Vidmore Video Converter as a VN Video Editor for PC alternative you can count on. Use it now, and let us hear your thoughts about it!