Dependable Video Creator Apps You Should Not Miss
These days, there are many different video makers available in the market. There are free and paid, and there are also those that offer basic and advanced editing options. With so many applications today, you must figure out what to choose and use for your editing task. Nonetheless, you must consider choosing a video maker app that is quick to use and offers your primary needs, whatever your device used. This post will present the best video maker apps that meet your expectations and standards. Please go check them out!
Part 1. Best Video Maker App for iPhone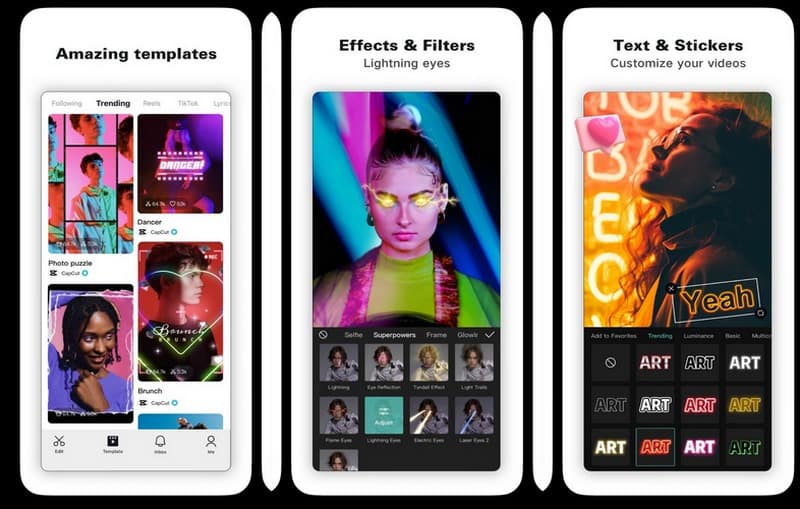 If you are searching for an all-purpose video editing application, you can rely on Splice - Video Editor & Maker. It has a beginner-friendly interface with powerful built-in features and editing functions beneficial for video editing. It lets you crop, cut, and trim your videos and images hassle-free. It can help refine your video clips by changing the contrast, exposure, saturation, and other basic effects. It is also possible to change your video's speed or length. It has different options for modifying the playback speed, whether slow-motion or fast, with speed ramping.
For instance, if you want to overlay photos into your video, you can do that using this application. You can overlay photos into a video and apply masks to make incredible effects. You can use and apply a filter from the section to enhance the appearance or look of your video project. In addition, it has built-in effects, including chroma, glitch, vintage, and more. And if you want the right-time exposure of each photo or video you added, the application offers an editing option. You can control the speed and apply a transition to each multimedia file added based on your liking. Besides that, you can incorporate text and make customization like changing the text's color, size, font style, and more. Indeed, it is the best video maker app for iPhone.
Key Features:
Change the video speed: fast or slow-motion.
Packed with free songs that can be used.
Add text, apply effects and filters, and transition.
Overlay pictures on the video.
Pros
It can import images and videos and set the preferred length.
It can quickly combine and organize your images and video clips from the imported multimedia files section.
Cons
Subscribe to access the additional built-in features and editing options.
Ads are popping on the screen if you are not a premium account user.
Potential copyright issue or problem regarding in-app audios.
Part 2. Best Video Maker App for Android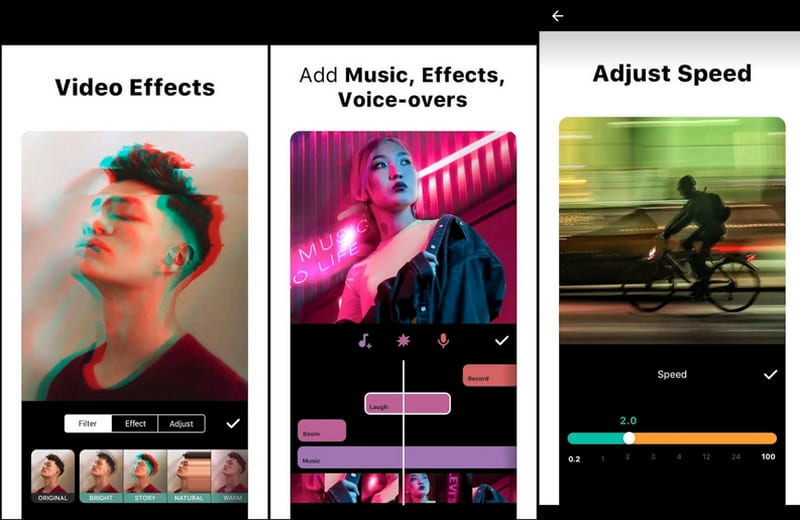 Nothing is better than a straightforward application with plenty of editing options. It allows adding text, music, transition effects, keyframe, emoji, slow motion, blur backgrounds, and video collages. Did you know that Video Editor & Maker - Inshot can do that?
Inshot is a powerful application that can edit and make professional videos with built-in professional features. It offers basic video editing options, such as trim, cut, crop, speed, merge, split video into several clips, and more. If you want to adjust the ratio and duration of your video clip, you can do that too. Select an aspect ratio that fits the standard platform you will upload your video output. Also, you can change the speed of your video from 0.2× to 100× according to your need.
Besides that, you can add music, voice-over, extract audio from video, and use the sound effects it offers. It has a built-in effects and filters library, where you can select one and apply it to your video. Also, it offers more than sixty transitions that can help you guide your audience. Indeed, it is the best free video maker app for Android that offers useful editing options to create stunning videos.
Key Features:
Equipped with basic video editing, including trim, cut, merge, crop, reverse, and more.
Allows users to create picture-in-picture projects.
It offers free sound effects and an option to add music.
Packed with several effects and filters.
Enables users to incorporate text and stickers into the video.
Pros
It has professional features that create video editing more exciting.
It allows video editing, photo editing, and making a collage or slideshow.
It supports 4k video resolution.
Cons
The stickers library does not have a search button.
Ads appear in the free version.
Embed a watermark to the exported video in the free version.
Part 3. Recommendation: Video Maker for Desktop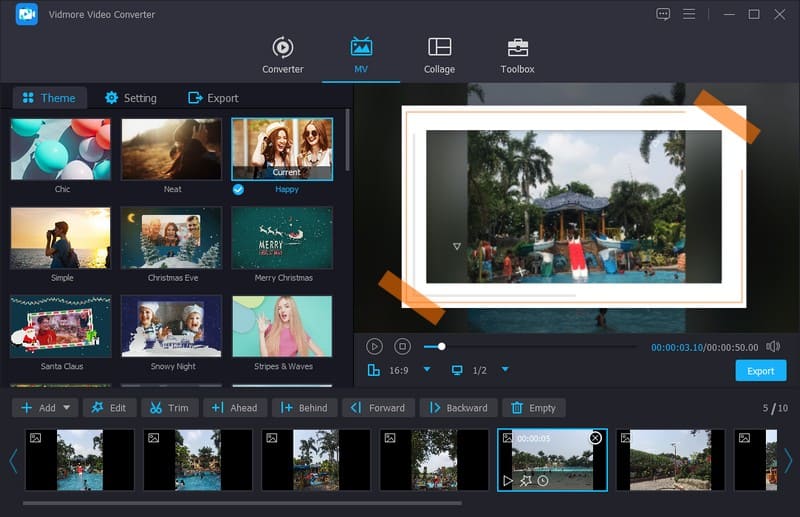 Nowadays, video editing on a desktop is more convenient, especially if you are strict with details. You wanted to create perfect, polished, eye-catching video content you will share with your family and friends. You should consider selecting a powerful program to help you accomplish that kind of output. We will introduce the best video maker app you can access on a desktop, Vidmore Video Converter.
Vidmore Video Converter has numerous built-in features, including a converter, collage makers, toolkits, and MV. The MV feature allows you to import multimedia files and turn them into a video presentation based on your needs. You can upload as many images or videos as you want because it does not have a limited number. It offers more than forty ready-made themes, which you can apply to your project. Sounds good, right?
This video maker also offers editing options to customize the outcome of your video. You can rotate your video clockwise, counter-clockwise, and more. You can manually crop them or set a specific crop area if unwanted portions are in your video. You can also pick a specific aspect ratio according to your need. In addition, you can adjust the basic effects in your video, such as brightness, contrast, saturation, and hue. Also, you can choose your desired filter from the list of filters it offers to enhance the appearance of your video. You can incorporate a text or image to embed a watermark.
Besides those mentioned above, it lets you add text to your video's beginning and ending. It also offers options to keep the original sound or add background music to your video. Also, you can pick your preferred format, resolution, frame rate, and quality before exporting your video. Amazing, right? This video maker can help you produce the excellent video content you wish to have.
Part 4. FAQs about Video Maker Application
Does Splice leave a watermark?
Splice incorporates a watermark on your finished video once you only use the free version of the application.
Does Inshot have a limit?
If you avail of the premium version of the application, there is no limitation in accessing the effects, filters, transitions, and more. Also, there would be no watermark on your video output.
What is the highest supported resolution of the Vidmore Video Converter?
Vidmore Video Converter supports various resolutions, such as 360p, 720p, HD, 2K, and 4K; the highest is 8K.
Conclusion
You get to know the best video maker apps on your iPhone and Android. They are excellent in their ways, providing the best user experience with powerful built features and editing options. But if you are searching for a desktop-based video maker that allows you to add videos without limitation, count on Vidmore Video Converter. This desktop-based video maker has numerous built-in editing features and options, allowing you to create unique video content.