How to Download Music from Last.FM for Free
Last.FM is a music website that provides top music powered by your scrobbles. This website collects spiking artists, tracks and popular songs globally. It is a good choice to listen to music and watch music video online. But what would you do if there is no internet connection. Well, you can download your favorite music from Last.FM for offline listening. In this post, we will tell you how to download Last.FM music with best Last.FM downloader.

Part 1. Best Way to Download Music from Last.FM
If you want to download Last.FM music for offline listening, Vidmore Screen Recorder is a lightweight Last.FM downloader that enables you to download music from online music websites like Last.FM, HulkShare, Yahoo, YouTube, Vimeo, Spotify, etc. Moreover, you can capture computer screen, games, teaching tutorials, online lectures, webcam videos, and take screenshots with ease.
Record music from online websites like Last.FM, Facebook, Spotify, Pandora, etc.
Download music to MP4, MP3, WAC, M4A, WMA and other video/audio formats.
Trim and edit the recorded music from Last.FM, and preset a scheduled recording.
Capture computer screen, gameplay, streaming videos, FaceTime call, online music.
Step 1. Once you have installed this Last.FM music downloader, you can launch it on your Windows computer or Mac. In the main interface, you will see 3 main functions, Video Recorder, Audio Recorder and Screen Capture. Select Audio Recorder to enter the Audio Recorder interface.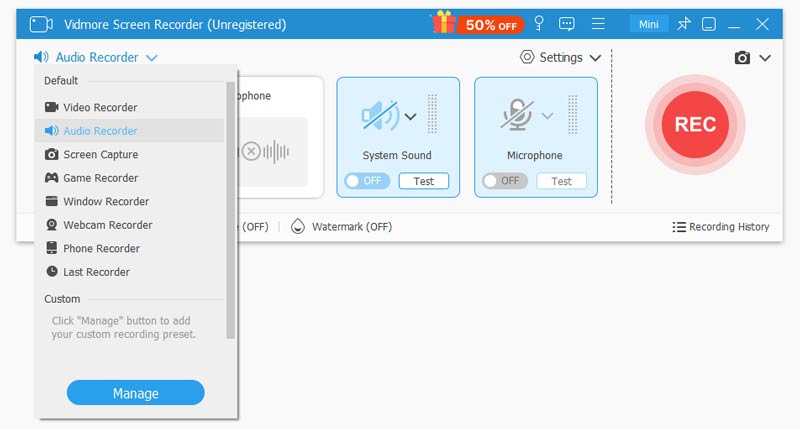 Step 2. In the main interface, you can turn on System Sound and turn off Microphone. If you want to record your voice, you can keep Microphone on and System Sound off.

Step 3. You can click the gear button to set hotkeys, output audio format and quality, and more. You can choose MP3, WMA, M4A or AAC as the output audio format.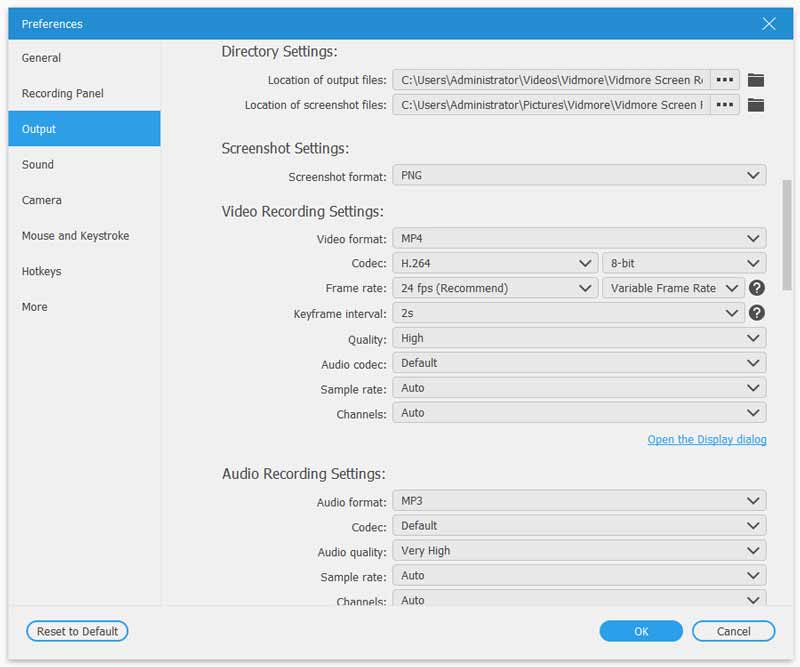 Step 4. Play the music you want to download on last.fm. Then, you can click REC button start recording Last.FM music. After the recording complete, you can click Stop button to pause recording. Then, click Save button to save the Last.FM music to your computer.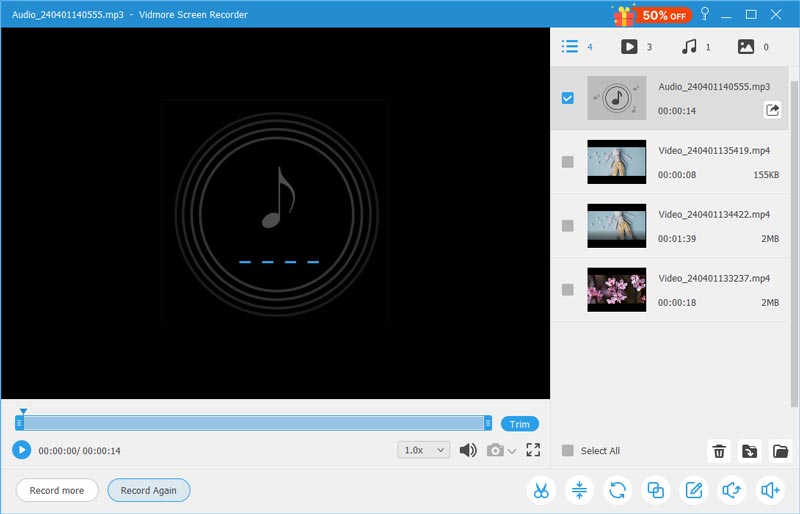 You can listen to the recorded Last.FM music before saving. Just set the start and end time to get the music clip you want.
Part 2. How to Save Last.FM music Online for Free
Actually, you can download music from Last.FM official site. As you jump to the music page, find and click the three-dots button. Then, you will get three ways to get the audio track, from Amazon, iTunes or eBay. But all of them are charged.
If you want to find a free way to save the audio track online, you can try Apeaksoft Free Online Audio Recorder. Just follow the steps to download music from Last.FM.
Step 1. Navigate to Free Online Audio Recorder official website. Click Start Recording, download and run Apeaksoft launcher on your computer.
Step 2. Click to enable System Audio option on and Microphone off. As you search and play the Last.FM music, click REC button to download the music from Last.FM.
Step 3. You can listen to the downloaded Last.FM music in real-time. It also enables you to view the recording list to check all recordings.
Note: To achieve a successful recording, you need to make sure you have installed the latest graphic drive and sound card driver.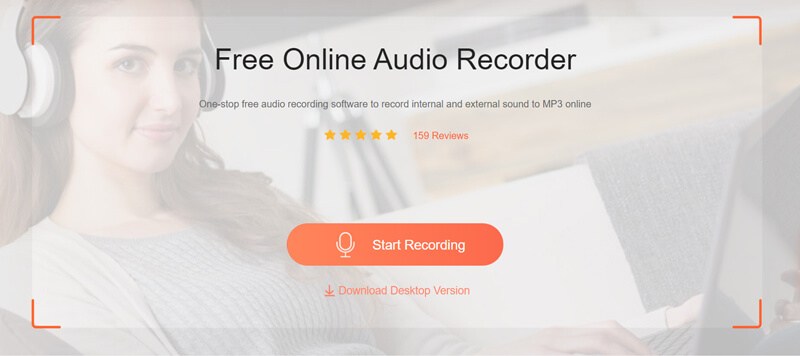 FAQs of Last.FM Music Downloader
1. Is Last.FM free?
Last.FM offers on-demand streaming of millions of tracks. The music at Last.FM is available for free streaming. But if you want to get the track, you need to purchase from other paid platforms, like Amazon, iTunes or eBay.
2. What's the point of Last.FM?
Last.FM lets you stream your favorite music for free while providing streaming music, music video and sharing features. It is a popular music platform where you can check all popular songs and featured artists.
3. Why is my Last.FM not Scrobbing?
Sometimes, desktop or mobile app doesn't scrobble the songs you play to Last.FM. You need to go to Settings, then Music, and toggle off Scrobble to Last.FM. Then toggle Scrobble to Lat.FM back.
Conclusion
If you want to download Last.FM music, you can view the 2 workable methods to save your favorite music from Last.FM. In order to keep the recorded music in good quality, you can try this screen and audio recorder - Vidmore Screen Recorder to record online music, streaming videos, gameplay, FaceTime calls, and take screenshots with ease. More questions, please leave a comment below.