3 Ways to Rip a CD to Digital Audio Formats on Windows and Mac
You can get amazing sound quality from audio CDs. If you enjoy CD quality music, you had better rip music from CD to get a digital copy. Thus, you can protect the physical CD from scratches and other damages. Some people have the question that whether it is illegal to rip music from a CD. Well, it does not matter a lot if you don't share the ripped CD audios to others. You can rip an audio CD to MP3 and other audio formats for personal use.
It is never too late to make a backup of your CD music. To turn your CD collection into digital music collection, you need to get a CD drive to read CD content first. Since many laptops and even desktops do not offer the built-in CD drive, you need to buy an external CD drive that connects to your computer over USB. Later, you can rip an audio CD with the following steps.

Part 1: Best Way to Rip Music from Any CD to Your Computer (100% Working)
To extract music from commercial CD, you need to remove DRM protection before ripping. Though there are some CD ripping software in the market, you may still fail to rip an audio CD due to the latest CD copy protection.
By using Vidmore Screen Recorder, you can rip audio tracks from a CD, DVD, Blu-ray and other discs without quality loss. The software can detect and download the original music from CD for offline listening. You can pause and resume CD audio recording freely. It is also supported to trim the CD audio track after recording. To some degree, you can use Vidmore Screen Recorder as your best CD ripper.
Record the system sound from a CD with no time limit directly.
Cut and trim CD audio with custom start and stop time.
Use hotkeys to start, pause, resume and stop recording CD music.
Set a task schedule to record CD audio. The audio recorder will save the file after recording and then exit automatically.
Work with Windows 10/8.1/8/7 and Mac OS X 10.10 or above.
Step 1. Launch Vidmore Screen Recorder. To rip music from a cd to digital audio, you can choose Audio Recorder in the main interface.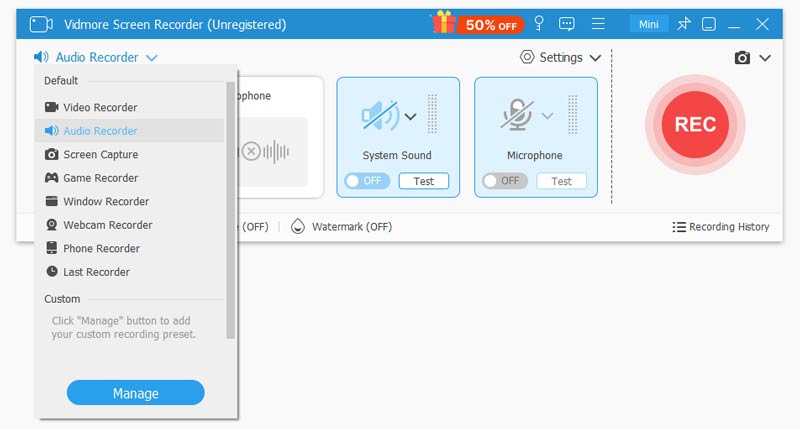 Step 2. Enable System Sound and adjust the input volume. As a result, you can record and download the music from your computer without background noise.

Step 3. The program will rip music from a CD as MP3 format by default. If you want to set the best format to rip a CD, you can click the Menu icon on the top. In the Preferences window, you can adjust the output audio format and quality in the Output section. Then click OK to save changes.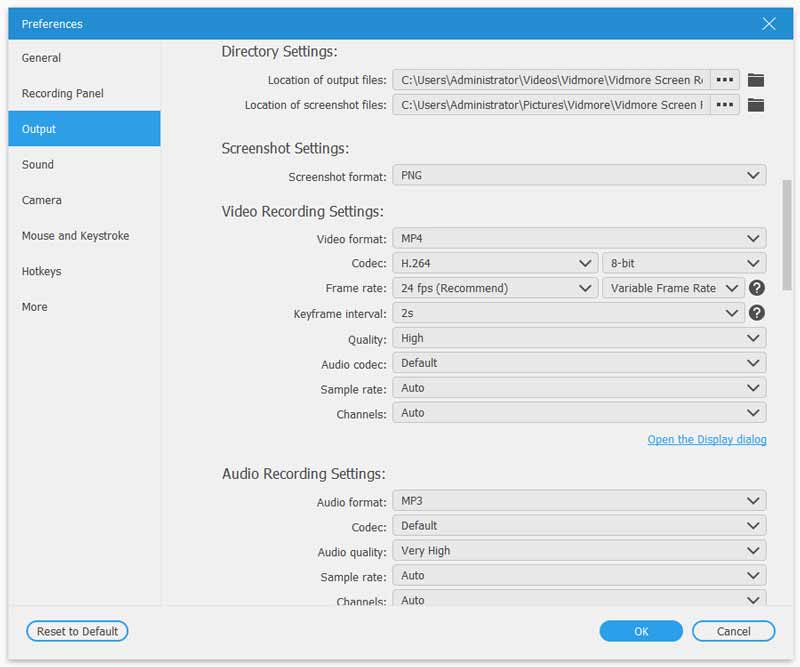 Step 4. After the CD audio recording settings, click REC to start recording the CD audio track. You can pause and continue recording CD unlimitedly. When the audio recording process stops, you will be in the Preview window immediately. Or you can regard it as the pre-listening window.

Step 5. You can use the clip feature to remove the unwanted audio clip. At last, click Save to rip a CD to your computer as any format. You can access all your recording files in the Recording history window.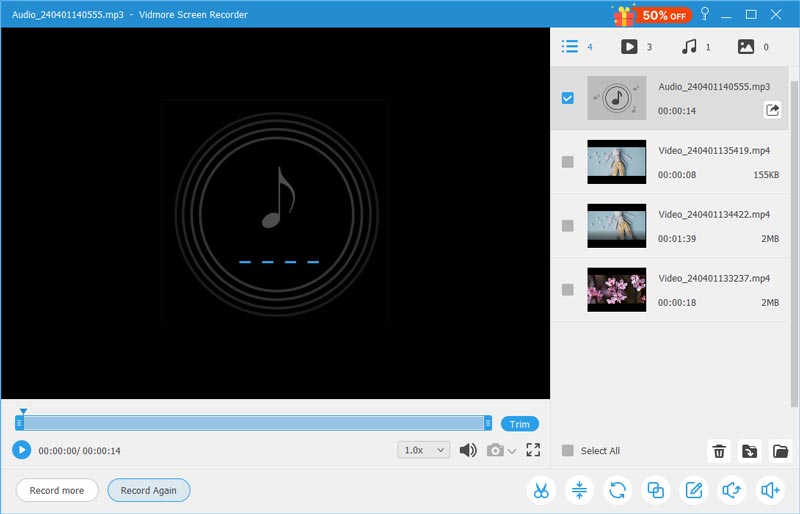 Part 2: How to Rip a CD Using Windows Media Player on Windows
Windows Media Player is capable to rip a CD and copy on your Windows computer. You can use Windows Media Player 10/11/12 to rip audio CDs to MP3 on Windows 10 and earlier OS versions. The most frequently-asked question is where is the rip CD button in Windows Media Player. If you don't know where is the rip CD button in Windows 10, you can continue reading to rip an audio CD to MP3 with Windows Media Player step by step.
Step 1. Insert the CD into the disc drive. Ignore popping-up the autoplay option. Then open Windows Media Player.
Step 2. Select your music disc in the Folders list. Your CD might be identified as unknown album. But it's okay. Just click on the small disc icon to read CD audio.Step 3: Click Rip settings on the top toolbar. You can choose Format and set to rip a CD to MP3, WAV, FLAC, ALAC and more.
Step 3. Click Rip settings on the top toolbar. You can choose Format and set to rip a CD to MP3, WAV, FLAC, ALAC and more.
Step 4. Moreover, you can click Audio Quality in the Rip settings list. Then you can rip an audio CD from 48 Kbps to 192 Kbps.
Step 5. Choose More options from Rip settings list. You can specify CD to MP3 ripping settings with Rip CD automatically, Eject CD after ripping and more options.
Step 6. The Rip CD button can be found next to Rip settings in Windows Media Player. Now you can rip music from an audio CD as MP3 to the Music folder. You can also rip DVD with Windows Media Player.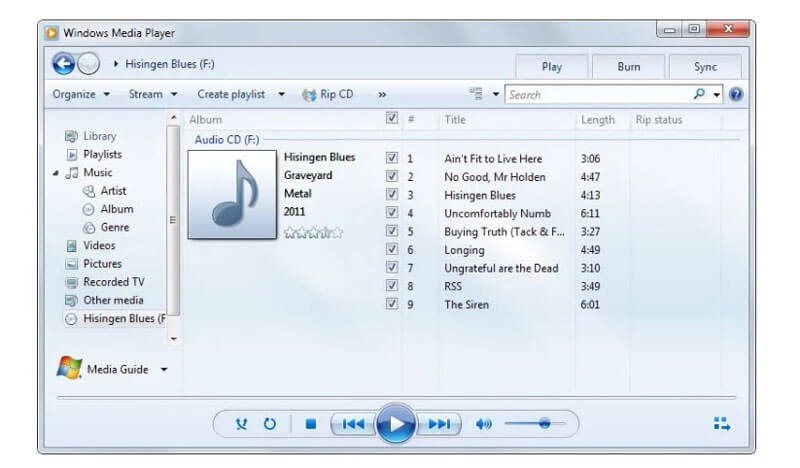 Part 3: How to Rip Music from a CD with iTunes on Mac
To rip a CD on Mac, you can use iTunes to extract audio. The CD ripping capability is available for all Mac users. You can import CD music into iTunes and rip to digital files. The ripped CD audio tracks will be saved as AAC files by default. Well, you can also rip music from CD as MP3, WAV, AIFF or ALAC on Mac within iTunes.
Step 1. Insert the CD disc into the internal or external CD drive on your Mac computer. If any window pops up, just close it.
Step 2. Run the latest iTunes on Mac. Click the CD disc icon on the top toolbar of iTunes. You can access the CD page immediately.
Step 3. Click Import CD on the top right corner. In the popping-up Import Settings window, adjust the output audio format and quality settings. Then click OK to move on. (Check how to improve video quality)
Step 4. Wait until the entire audio CD is ripped. Head to the Music section. Scroll down and select your CD music album.
Step 5. Right-click on the CD song to check song info, add to iTunes playlist and more. You can choose Show in Finder to quickly find all CD songs.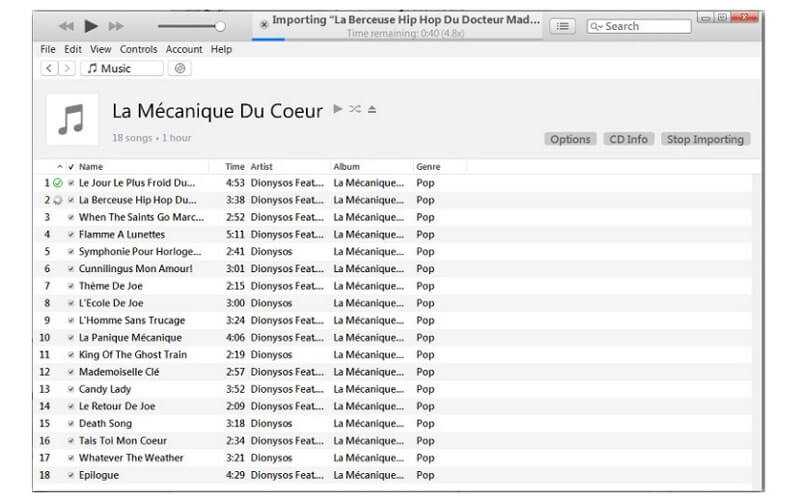 That's all to rip a CD to desktop with 3 different tools. Windows Media Player 12 and iTunes are built-in programs for Windows and Mac users. You can rip music from unprotected CDs to MP3 audio tracks. Since there is no official way to remove copy protection from your audio CD, you can run Vidmore Screen Recorder to bypass the limitation.
The program can help you extract any audio clip from your all kinds of CDs. You can rip a copyrighted CD to your computer or external hard drive by recording losslessly. Actually, it can be your best way to rip CD to MP3, FLAC and more.